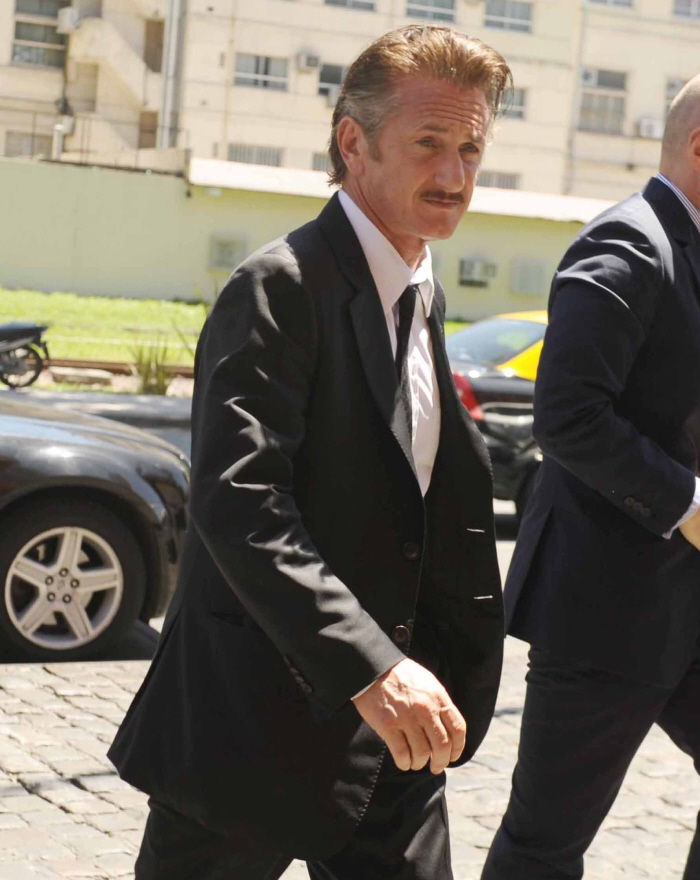 These photos are of Sean Penn last week in Argentina. WENN notes that Penn is "visiting the Casa Rosada"!!!!! Did anyone get a little jump? Who out there loves Evita? On the Balcony of the Casa Rosada?!?! Sigh… Sean Penn wishes he could pull an Evita Peron. Anyway, Sean was in Argentina because he hates the United Kingdom and their colonialism and Prince William specifically, I think. Penn went to Argentina to advocate for the return of the Falkland Islands to Argentina. This really happened:
Sean Penn has waded into the debate over the Falkland Islands by backing Argentina and accusing the British government of "ridiculous colonialism". The outspoken Oscar-winner met with Argentinian President Cristina Kirchner in Buenos Aires to offer his support in the sovereignty dispute.

Using the South Atlantic islands' Spanish name, he urged British officials to enter into negotiations with Argentina as the 30th anniversary of the Falklands War approaches.

He says, "I know I came at a very sensitive moment in terms of diplomacy between Argentina and the U.K. over the Malvinas. I hope that diplomats can establish true dialogue in order to solve the conflict. The world today cannot tolerate ridiculous demonstrations of colonialism. The way of dialogue is the only way to achieve a better solution for both nations… It's necessary that these diplomatic talks happen between the United Kingdom and Argentina. I think that the world today is not going to tolerate any kind of ludicrous and archaic commitment to colonialist ideology."

Both countries' governments claim responsibility for the Falkland Islands.
[Via WENN]
So, as you can imagine, a lot of British people hate Sean Penn now. And Prince William – who is currently training in the Falklands – probably isn't pleased. Do I need to talk about this any further? Eh. Sure, Penn has a point about colonialism (which we as Americans are not innocent of either), but why did Sean Penn even wade into this debate? He's not affiliated with any organization (except for the Haitian charity he started), and his only political agenda is his own personal one. I don't understand why we needed to hear Sean Penn's thoughts on this or any subject.
In other Sean Penn news, he's not always a d-bag:
He may have a reputation as one of the most ornery actors in Hollywood, but Sean Penn also has a major soft (and generous) side, RadarOnline.com is exclusively reporting.

The ex-Mr. Madonna bad boy showed off that deep down he's actually a nice guy after generously footing the medical bill for a wounded war veteran — to the tune of $15,000!

An eyewitness tells RadarOnline.com that Penn had a dinner party at his pad recently and one of his friends brought an Iraqi war veteran as her date. Long after the dinner and dessert was served, Penn got into a discussion with the guy who mentioned that he was drowning in medical bills incurred from injuries he got during the war.

"Sean really took an interest in this guy and was hanging on his every word. He became the guest of honor, really," the source says.

The soldier shared that during his tour, he had suffered a broken tailbone, two broken ankles and problems with his eyesight, and claimed he was still suffering the aftermath of his injuries. Penn asked him how much money he owed in medical expenses, and the soldier estimated around $15,000.

The Oscar winning actor excused himself and left the room. He returned minutes later with a signed check — for $15,000!

"The guy was in total shock! He didn't know what to say and he started to tear up. He felt awkward accepting it and tried to give it back to Sean, but Sean refused," the source tells RadarOnline.com. "He actually went out of his way to make sure the guy felt comfortable accepting it. It was really sweet!"
[From Radar]
Okay, that's nice. I wonder if someone working for Sean put this out there, or if it was really just someone at the dinner? I'm asking if Sean is actually engaging in trying to give himself a softer public image, or if he's just a guy who did a nice, decent thing and really didn't expect to get any recognition from it. I'm assuming the latter. Because I think Sean Penn likes that we think he's a d-bag. Because he is most of the time.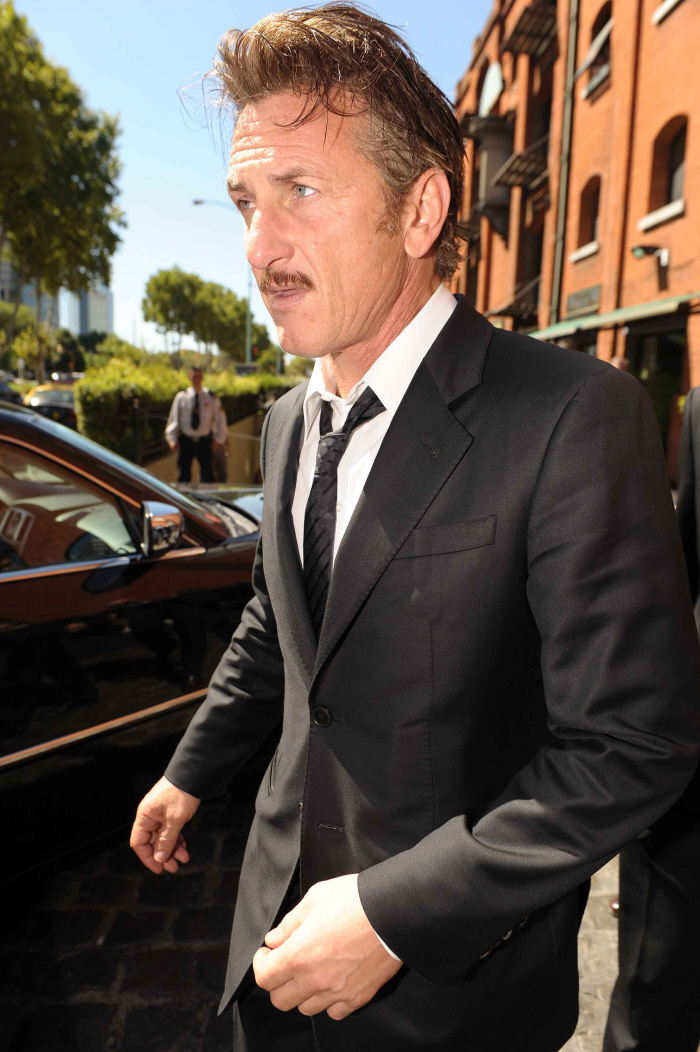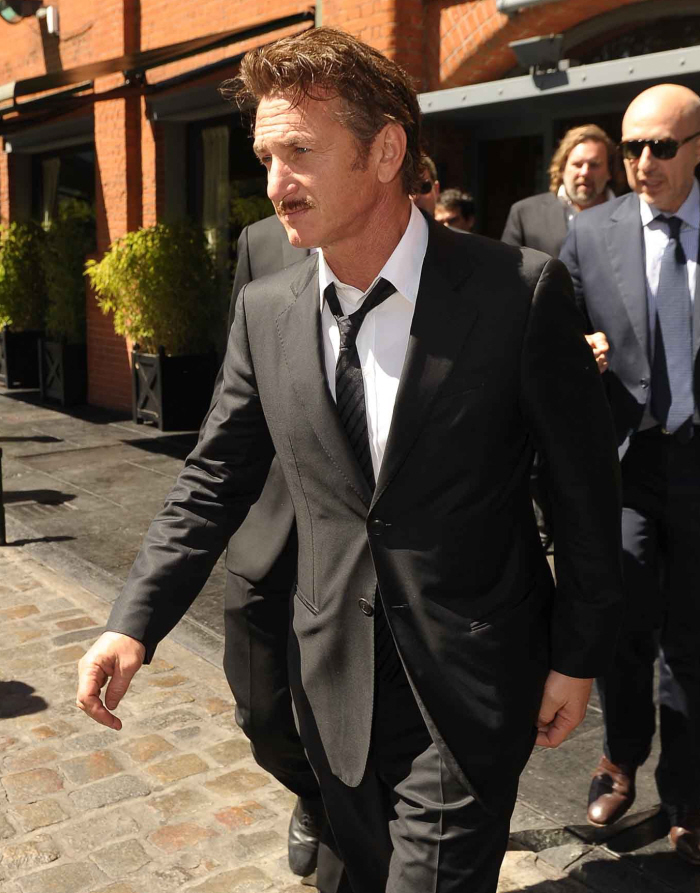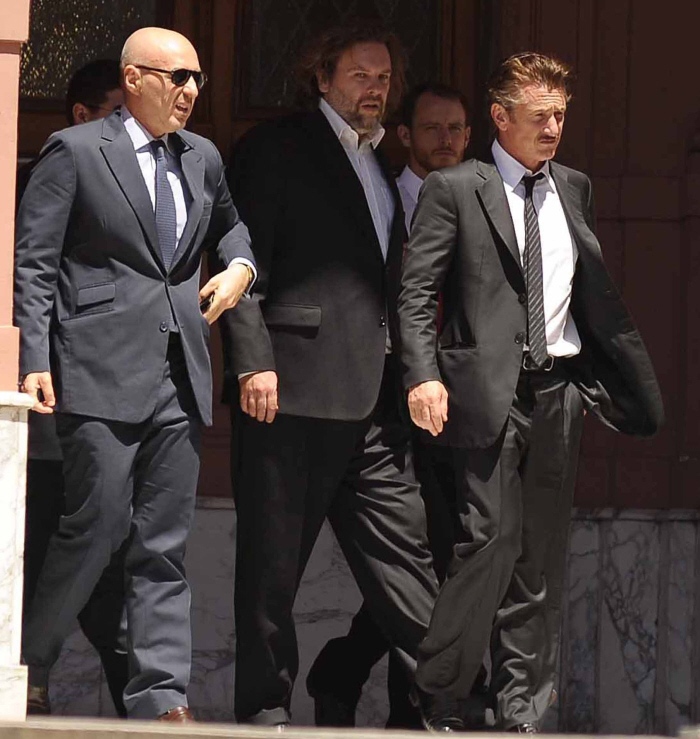 Photos courtesy of WENN.