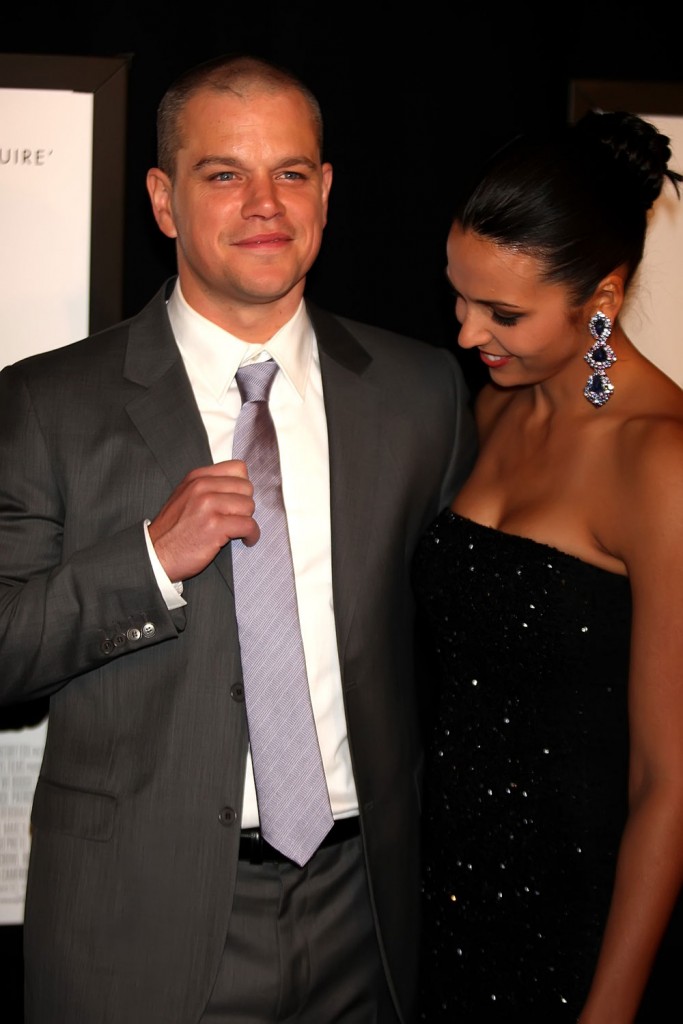 Matt Damon has a new essay in The Guardian in which he goes on at length about his family life and personal values. It's similar to earlier sentiments we've heard from Matt, but the way he puts it all together in one cohesive package is absolutely swoon-worthy. This is a man who adores his wife (he calls her his soul mate for God's sake!), cherishes his family and strives to be a better person every day.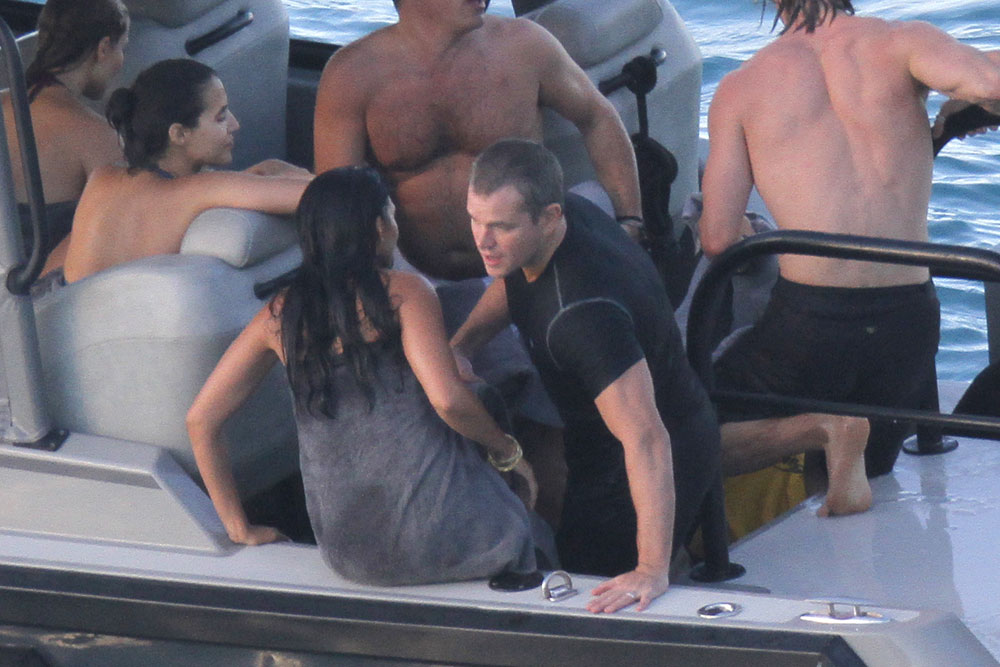 I didn't grow up with great privilege, nor did I grow up wanting for anything. I was a middle-class kid and, relative to the rest of the world, that's great wealth. As a parent, I think the question is, how do you raise any kid with a true understanding and context of what kind of life they have versus what kind of life other people have? It's a constant struggle no matter who you are.

My wife and I have a one year old, a three year old, a five year old and a 13 year old. All daughters. One of the reasons we live in New York is because, without having to explain things to the girls, they can walk around the streets and just by looking around them see that the world is composed of all different people from different walks of life, different languages and different socio-economic backgrounds. They pick it up through osmosis. Eventually I plan to take them on some of the trips that I go on to developing countries. That's what my mother did with me when I was a teenager.

When I was 15, 16, 17 we used to go backpacking across Mexico and Guatemala. We would begin by doing a language school course. They work by immersion therapy – you go to school for six hours a day and then you go home with a Mexican family. Spanish is the only language spoken. After a couple of weeks, we'd be ready to take a bus and travel around the country. I remember travelling on buses stuffed with chickens. Being from Boston, I'd never seen stuff like that and I'd never seen poverty like I saw there. The way people live out in the country. They are very poor, living in shacks – it's a type of poverty you don't really encounter in the north-east of America.

My parents divorced when I was young but I was brought up in two really loving households. I didn't have a contentious relationship with my mom or dad. I am not quite sure why but I never felt the need to lie to them. I never hid anything.

My mother is a professor of early childhood education. When I was two she would say she knew I was going to be an actor. And that she knew that my brother was going to be an artist: he's a painter and sculptor. She could see from the way we played and what we were drawn to. My kindergarten teacher used to say to her I can't get him out of the dressing-up area. My mother would say: "That's fine – leave him there." I was trying on every costume and role playing! My parents said: "We want you to act if that's what you really want to do. But why do you want to do it professionally? Do local theatre. Acting professionally will only interfere with going to college. Why are you so impatient?"

My wife is my soul mate. I can't imagine being without her. Being a parent, as any parent knows, is a lot of work whether you are together or not. Our 13 year old is terrific, and she's a big help, but with the other kids it's just non stop. We like to do a lot of the family stuff together, particularly when we get them to school in the mornings. It starts at 6.30am. Once you get them off to school there's always a sigh of relief. Then we have one hour where we can go and get a cup of coffee together.

Before I had kids I remember Don [Cheadle] saying to me that one of the great things about being an actor is that when you're not working you can be there in a way that most dads can't. And it's true you can be there 100% of the time – with everything.
[From The Guardian]
As a side note on how Matt's parents tried to teach him that they were privileged relative to the rest of the world, I tried to do the same with my kid with laughable results. I told my son that we were better off than 99% of the world's population since we're comfortable and don't want for anything, and he was like "We're rich, right? How much money do we have? Do we have a million dollars?" Then I tried to give him the running water and electricity speech. He sort-of gets it. I loved the story about how Matt's mom took him to Mexico when he was a teenager. I'd like to do something like that with my son too.
I didn't excerpt the whole article, and there's more at the source, including a wonderful story about how Matt paid for his daughter's entire fifth grade class to go to South Africa while he was filming Invictus, just so he could be with his family. If this guy has any skeletons in his closet or a mean bone in his body I would be incredibly surprised. Lucy is a lucky bitch. Do you think there's ever going to be a scandal with Damon at some point? I think he got all his partying out at a young age and that he's completely sincere about loving his family and wife, but that doesn't mean he's immune to temptation. I hope it never happens though.
Matt is promoting We Bought a Zoo, which is out in the UK now and comes out on DVD on April 3rd in the US. I haven't seen it yet and am really looking forward to it.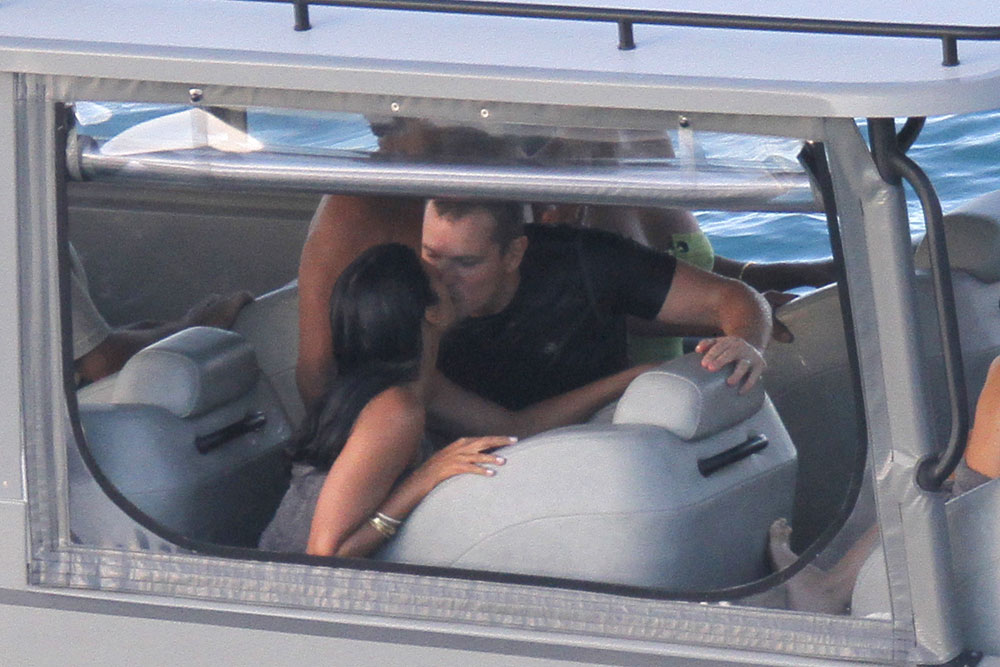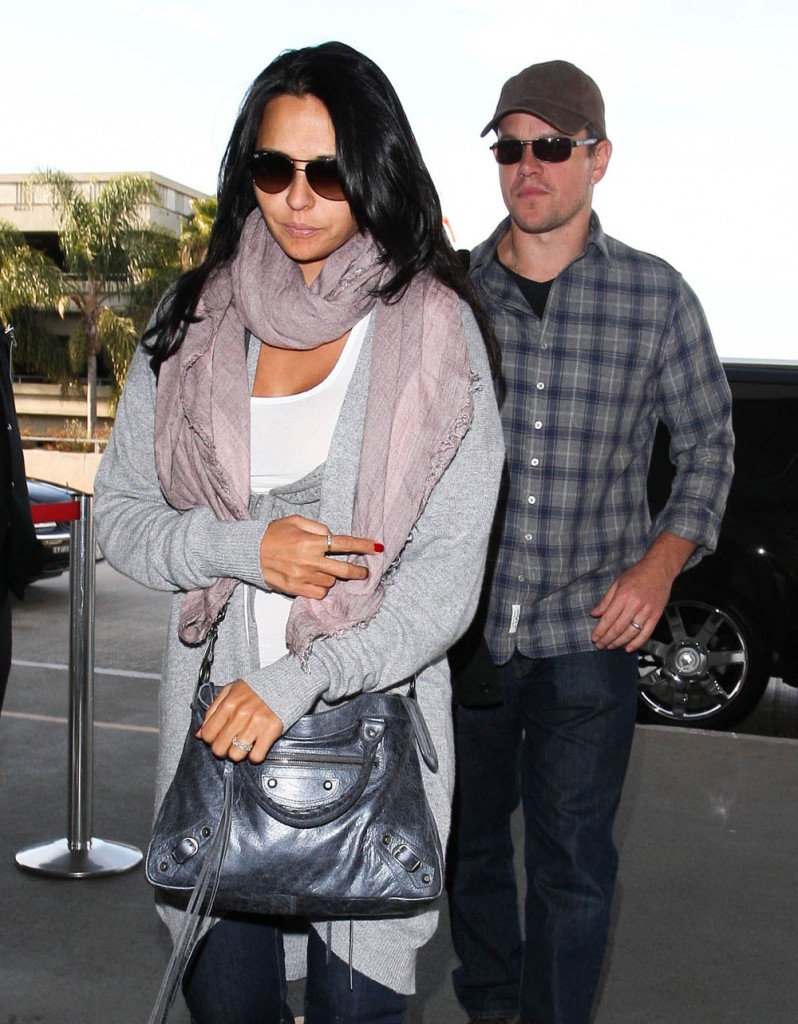 Matt and Lucy are shown on vacation in St. Barts with Chris Hemsworth and Elsa Pataky on 1-19-12. They're also shown at LAX on 3-5-12 and at the We Bought a Zoo NY premiere on 12-12-11. I'm bummed that they didn't go to the London premiere! Credit: WENN.com and Fame