Scarlett Johansson always seems to land a ton of magazine covers whenever she's doing press for a film, so prepare yourself for a ton of ScarJo news between now and May 4, which is when The Avengers arrives in theaters. I'm very much looking forward to the movie — not so much for Scarlett but mostly because of how Chris Evan's tight little butt looks while he's punching that bag in the second trailer. Maybe his waxed-up nips will reprise their former role too, which incidentally is what Scarlett is doing with her Natasha Romanoff / Black Widow character from Iron Man 2.
In celebration of The Avengers upcoming release, Empire magazine has issued special collector's covers for ScarJo as well as Robert Downey Jr., Chris Hemsworth, and Chris Evans. I've included the boys' covers at the end of this post, but for now, here's the poorly Photoshopped group cover. Collectively, they're not Blue Steel-ing as hard here as during that dreadful Entertainment Weekly cover, and here are some excerpts from ScarJo's interview: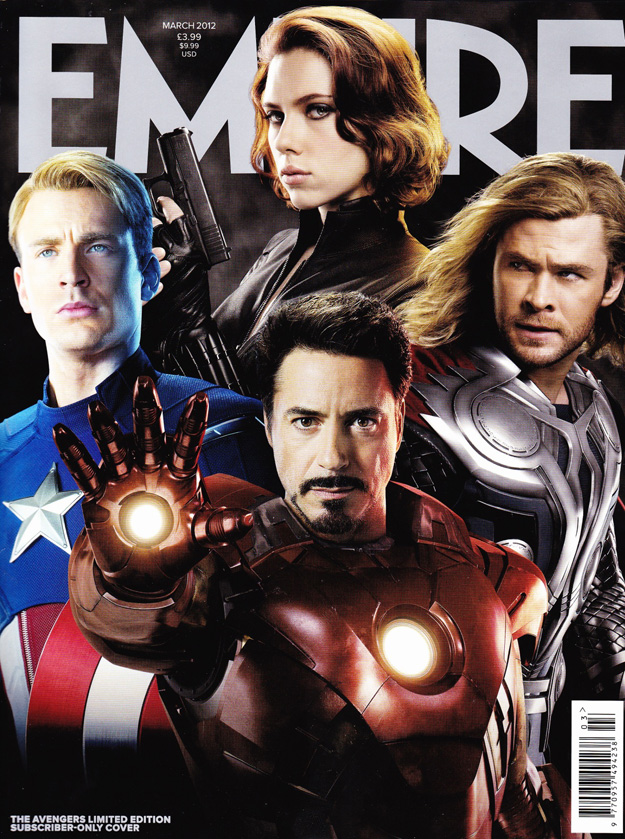 Why Joss Whedon cast her in Avengers: "Joss said to me, 'I want to do everything I can to keep this from being,' in his words, 'a sausagefest.' I said, 'That's disgusting, but okay.'"

On Black Widow: "I knew that I didn't want to play a love interest. That's not who Widow is. I think Joss understood the importance of having a female perspective. He's a very sensitive guy. He works really well with women. He obviously can write for them! He loves strong and independent women and he's got a certain understanding of and an appreciation for, women who take charge of the situation, of themselves so it was clear to me that the character would not be underwritten."

On being sexy: "I don't know, I don't think of myself that way. It's alright for now. I'm convinced that obviously in a couple of years' time it will be somebody else. I won't be as interesting that way. I actually have not played that many sexy characters! Of course you could say the characters I played maybe in Match Point, maybe in Black Dahlia [are sexy]. But the characters I play aren't really traditionally sexy, I don't think. I think it's probably a reaction to the fact that I'm curvy and confident about it, maybe. But I don't think I was particularly sexy in Lost in Translation or particularly sexy in The Other Boleyn Girl."
[From Empire]
C'mon, are we really supposed to believe that Scarlett isn't the least bit flattered by "sexy" descriptors of her physical appearance? Maybe she's really telling the truth, but it's probably under the guise of considering herself one of those elusive "serious actress" types. At least she's not talking about walking with her legs splayed out so that her character will be taken more seriously like she did while promoting We Bought a Zoo. Small mercies.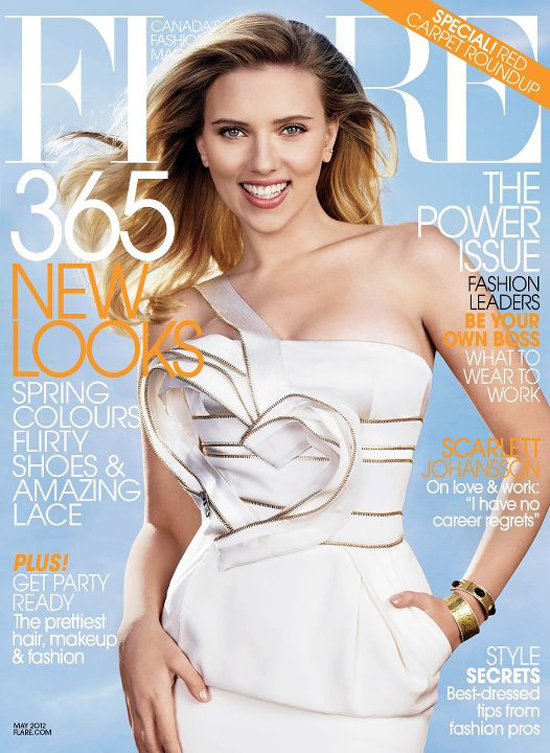 Scarlett also covers the May issue of Flare magazine. The cover itself is a reprint of a shot form a 2010 issue of UK Bazaar, but the interview is new even if not particularly enlightening. Scarlett does discuss how Terry Richardson shot her latest Dolce & Gabbana campaign though:
Terry Richardson did the newest D&G campaign:
"In the past those images were incredibly glamorous and had a movie star feeling to them and I think this campaign will be more intimate and natural, more like myself as opposed to a glamorous character that the boys had in mind. That kind of Anna Magnani sort of character. It's more modern, less golden age of Hollywood."

On her style vs. the red carpet: "I don't really wear a lot of colourful things. I wear a lot of grey and black. I love grey and navy. I think it's nice on the red carpet to wear things that are colourful just because I think there are more options. You can take more of a risk I suppose with colour on the red carpet."

What will she wear for the Avengers premiere? "I'm the only girl in the film so I'm obviously going to be more aware that I'm surrounded by a bunch of suits. Everybody is going to be wearing black and grey and it will be nice to add femininity and some female sex appeal to the lineup. I think I'll steer clear of the tuxedo."

On design collaboration: "I've been very fortunate that I've worked with designers that are also good friends of mine. For different events, whether it's for the Oscars or the Met ball, I've worked with Dolce & Gabbana to design stuff as well as my friends Roland Mouret and Stella McCartney."
[From Flare]
Did Scarlett really just describe Uncle Terry's mad photograpy skills as producing a "more intimate and natural" product? Ewww. Otherwise, this Flare interview is so meh. Let's get on with those aforementioned Empire covers, shall we? May the testosterone flow, and yes, this will absolutely be a "sausagefest" of a movie.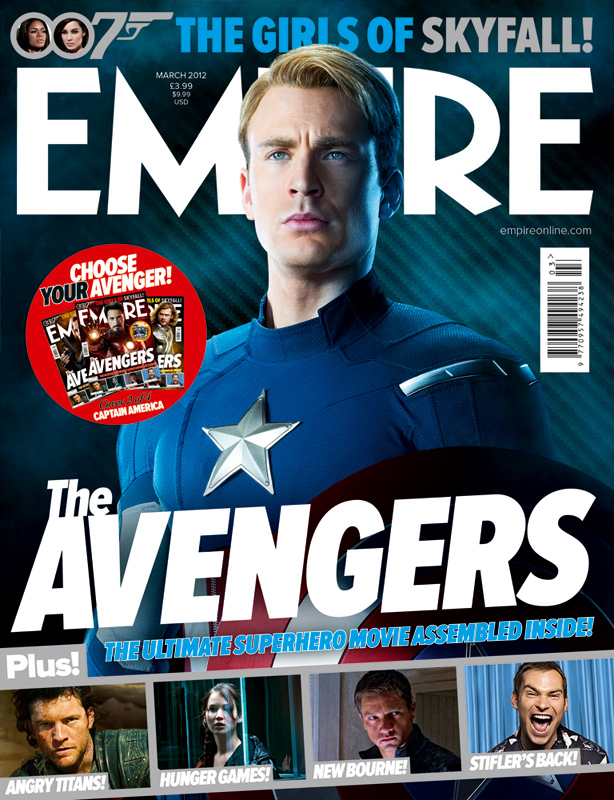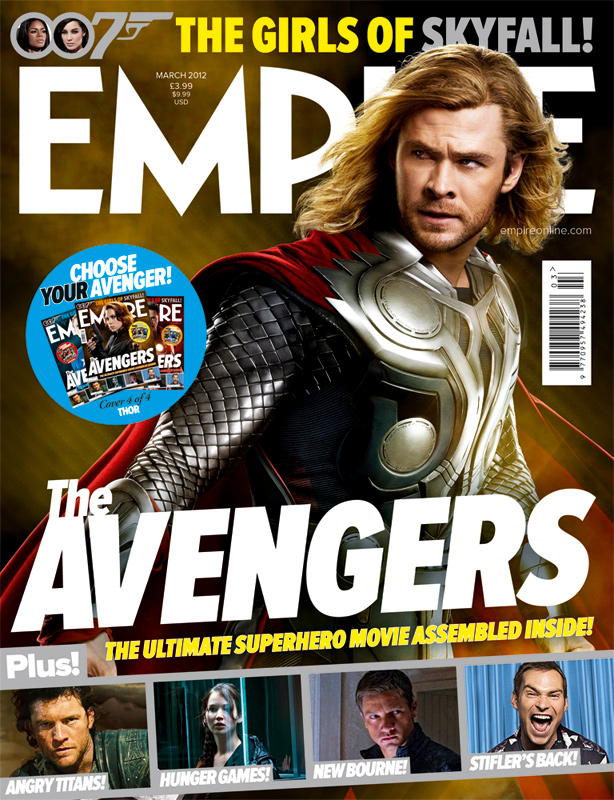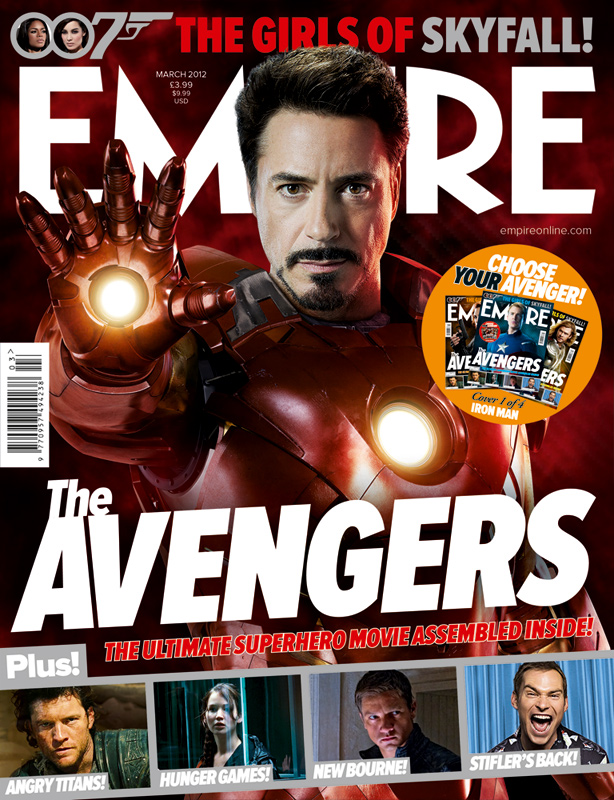 Photos courtesy of Empire and Flare