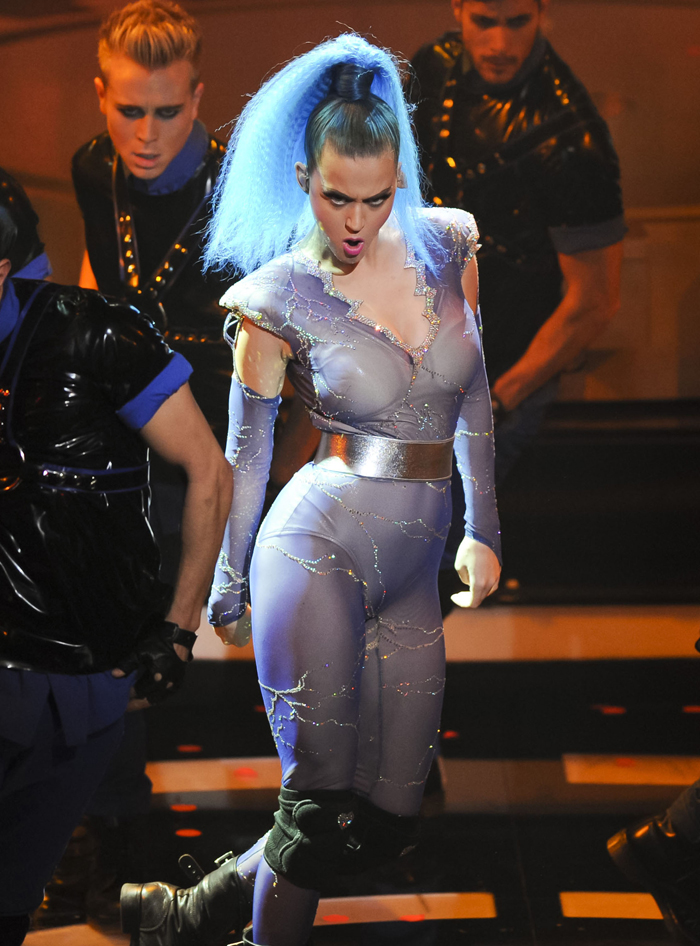 As pointless as it may seem, I'm still trying to figure out how (in merely a few years) Katy Perry's obvious publicity-baiting single, "I Kissed a Girl," translated into a pop phenomonen. Indeed, Katy inexplicably earned $44 million in 2011 from her global "Teenage Dream" tour, which was based upon her own sophomore album. Now Katy's about to become the star of her own 3-D concert documentary, the likes of which are currently all the rage. Last year, Justin Bieber released his own such concert movie that I like to refer to as "the origin story of a dips–t," and The Jonas Brothers have also starred in their own documentary in which they compared themselves to The Beatles. Yes, it's a silly exercise to release such a heavily-edited "documentary" that essentially functions as pop-culture propaganda, but that's exactly what Katy's team is doing.
And why not? Katy might as well capitalize upon her popularity before passing the torch onto the next inevitable ingenue. Katy Perry: Part of Me takes its title from from the single that debuted at the Grammys (which may or may not have been about her marital relationship with Russell Brand) and the video where Katy joins the Marines. The trailer for the movie seems to be based upon a well-constructed origin story of the gumdrop-pooping princess who initially forged out as a Christian rocker but then graduated to exploiting her whipped cream-shooting rack. Here's the trailer:
"I want to take you behind the cotton candy clouds and reveal the highs and lows and nuts of bolts of this extraordinary ride. I promise you, after seeing this film, you will truly know me," the pop-star said in a statement.

The two minute long trailer features footage of the sparkling, fluorescent blue-haired rock-star we know on stage, as well as a few reflective, behind-the-scenes moments.

"It's always about the challenge. What are people saying she can't do? That's what she does next. Every song has something to do with her life," a friend says in the trailer.

The 3D documentary promises to delve past Perry's pop-star-persona, revealing the realities of the 27-year-old's ambitious rise to fame as well as exclusive details about her Christian upbringing and her short-lived Hollywood marriage.

The part-biopic, part-concert film was shot during her 124 show California Dreams tour which began in Portugal in February of 2011 and finished in the Philippines this January. It is set for summer release on July 5th and will be directed by Jane Lipsitz and Dan Cutforth, the team responsible for the 3D Bieber sensation "Never Say Never."
[From NY Daily News]
The movie's release date is July 4, which is perfect for "Firework," right? Since it's in 3-D, we're going to get birds-eye views of Katy's miraculous cleavage and the zany faces she makes while duly grabbing her own crotch and boobs. Does anyone else find it odd that the trailer promises to discuss Katy's divorce from Russell? I mean, Katy's target audience (for this movie as well as her music) is elementary school kids and tweeners. Naturally, Katy brings up her Christian upbringing, and the as-yet-unidentified insider's voice also promises to discuss the pop star's unyielding work ethic.This "documentary" may very well end up being classified as a comedy.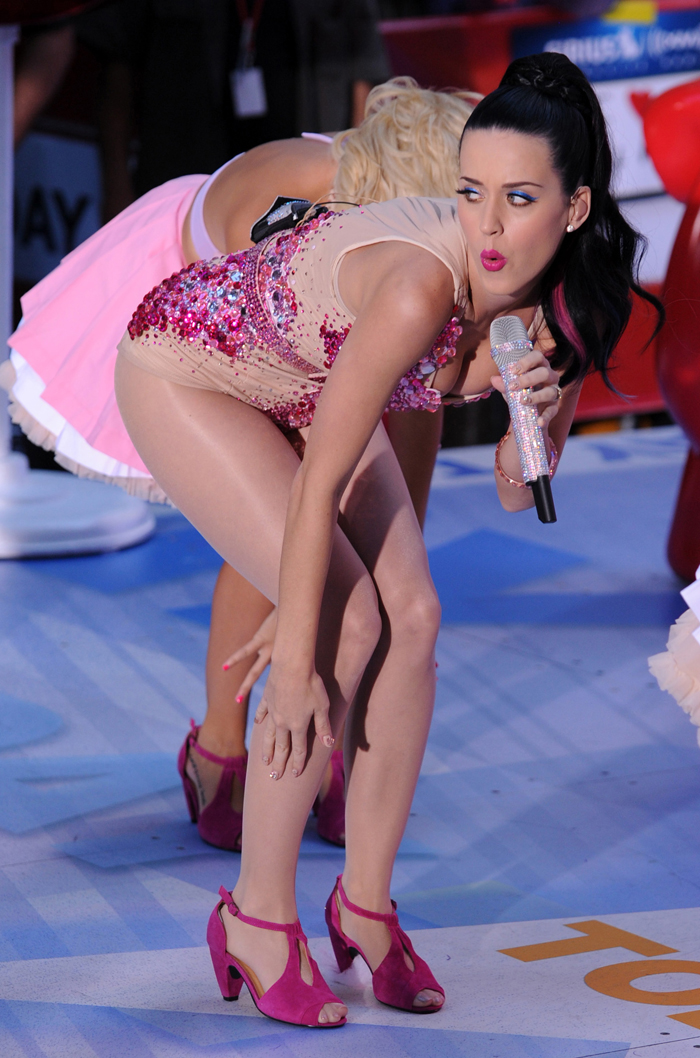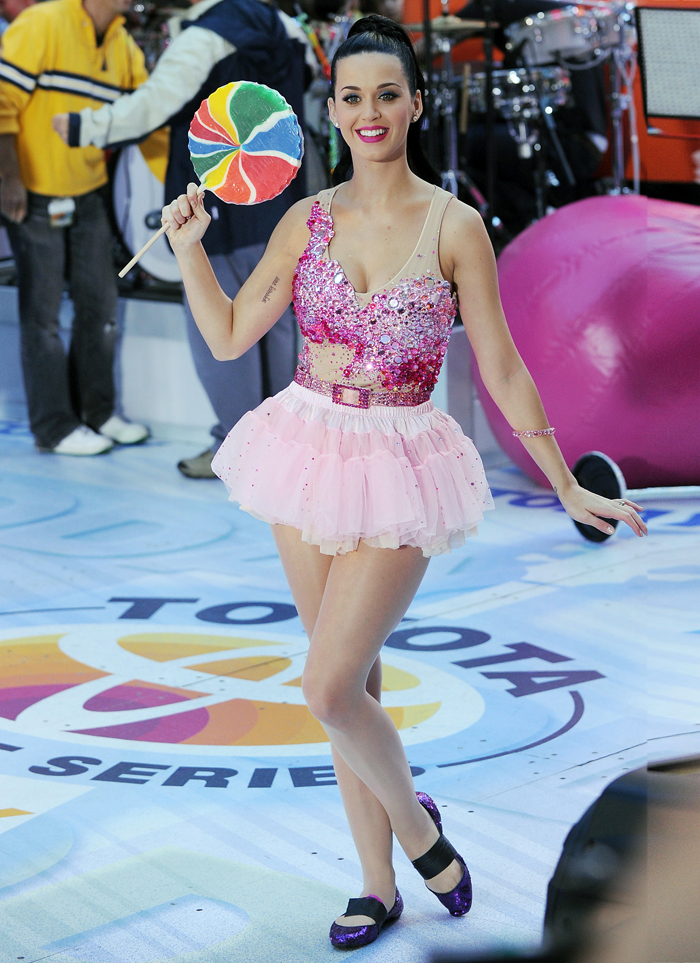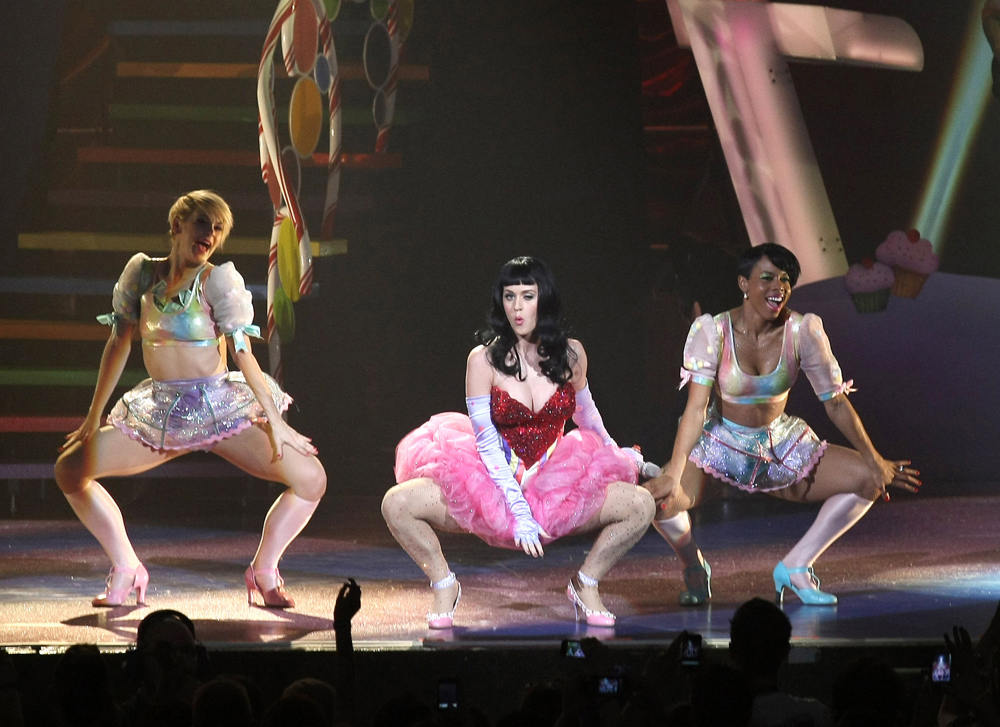 Photos courtesy of Fame/Flynet