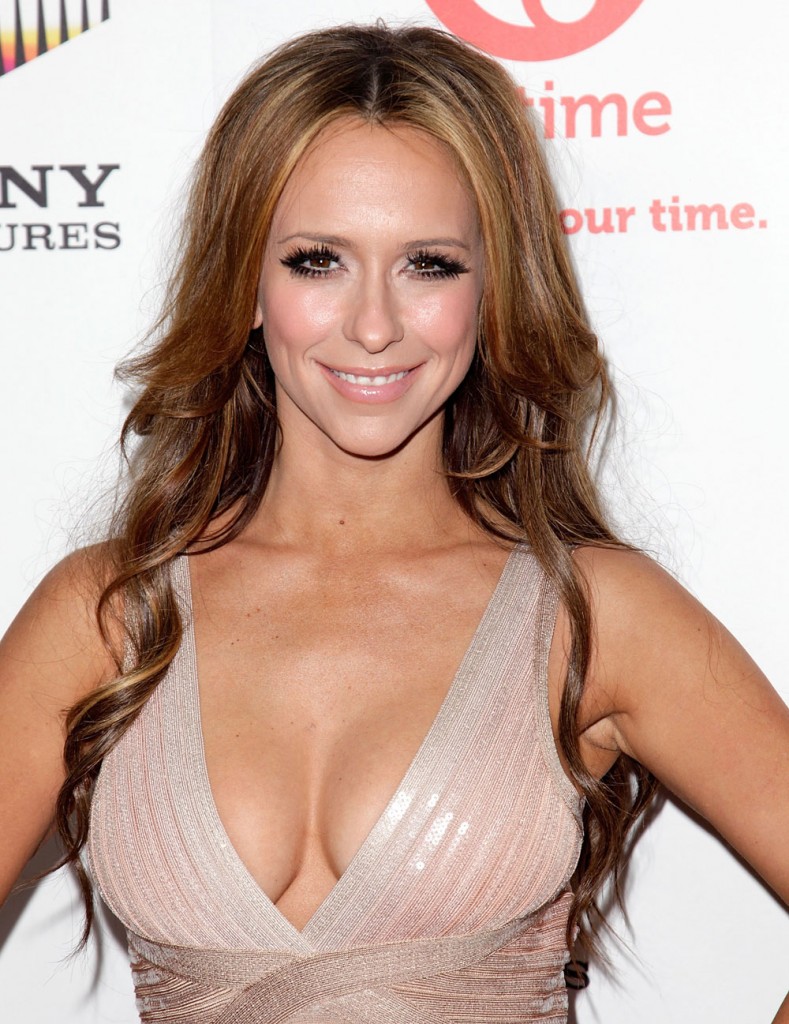 Jennifer Love Hewitt is promoting her new TV series, "The Client List," which premieres this Sunday on Lifetime. As part of that she's doing interviews where she's talking about – what else – her love life. In a new interview with Ellen, Hewitt points out that "The Voice" judge Adam Levine is single and that she'd like to date him.
JENNIFER LOVE HEWITT makes an appearance on "The Ellen DeGeneres" on Thursday, April 5th. Ellen talks with Jennifer about being single and what Hollywood star she would like to date.

Ellen: Are you in a relationship, right now?

Jennifer: I am not. I am very single.

Ellen: You're very single. Is that good, very single?

Jennifer: It's good. Yes, it is. It's good.

Ellen: Do you have you're eye on anybody?

Jennifer: Well, yeah, I always have my eyes out… I just read two days ago that Adam Levine is single again…I'm just saying.

Ellen pretends to call him…

Jennifer: Look, we would be cute…(photo of Adam). His haircut is hot.
[From EllenTV.com received via email]
When it comes to Adam Levine, all J.Love has to do is Google the guy. He's a notorious player, he "allegedly" dumped Jessica Simpson by text message, and he just admitted on Howard Stern to regularly having unprotected sex. How is he at all a catch?
I know this is J.Love's go-to topic, her love life. Why does she have to be so obvious about it, though? She pursued Bachelor Ben Flajnik (after he got rejected by Ashley and before he landed his own segment), she admits having engagement rings picked out and visiting them every month, and she even publicly pressured a boyfriend to propose to her – really she did this.
In a "What's in My Purse" inset in US Weekly this week, J.Love shows several items that are all about attracting men. Some of her purse contents she's willing to share:
"I love Booty Parlor's Kissaholic Aphrodisiac Breath Spray. You never know when a makeout moment is coming!"
"I carry McCormick's Pure Vanilla – the baking kind – and dab it on my neck. Men are attracted to the scent! One time, I put it on and four different guys were like, 'You smell amazing!'"
"My passport is always with me. I love to feel like at any moment, I could hop a plane and go someplace exciting!"
There's a reason why all the women's dating advice books say basically the same thing. It's not about being a doormat, being always available (to travel, etc.) or announcing you like a guy. It's about being cautious and figuring out if someone is right for you. If they are, they're not going to bolt because you weren't clingy enough. Hewitt's like the poster girl for what not to do when you're looking for love. Obviously it has little to do with how hot you are, since she's a knockout.
Here's J.Love on Ellen. The relationship talk happens around 2:20.

And here she is at The Client List launch party last night in her standard Leger bandage dress. Credit: Brian To/WENN.com. Ellen photo credit: Michael Rozman/Warner Bros.