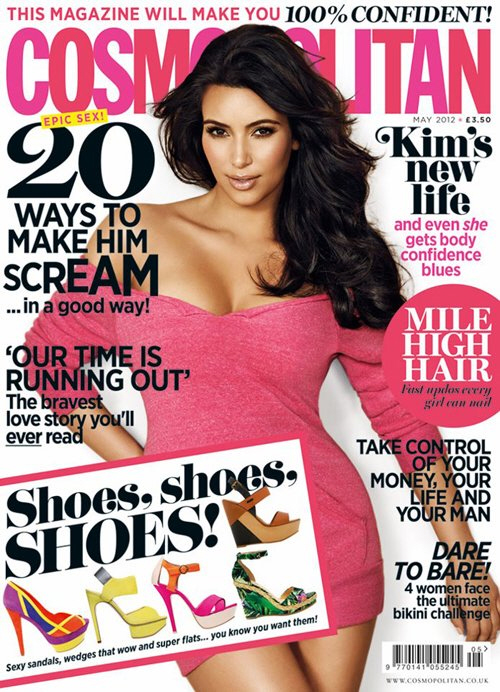 Kim Kardashian covers (kovers) the May issue of Cosmo UK. She was just on the cover last summer too, which makes me wonder what the Cosmo UK editors are smoking. Kim also kovers several tabloids this week, for various reasons. Let's just do everything in bullet points, shall we? First, some highlights from Kim's Cosmo interview:
2012 will be a good year: 'I've got a feeling this is going to be a good year for me – I'm putting the past behind me and have never felt more confident about my future.'

On dating: 'I'm not even close to dating again! And it's just ridiculous when I'm linked to people I've never met or heard of… I've learnt to not care. There are always going to be ridiculous rumours. I'm just going to work on me for a bit.'

She hasn't always been confident: 'I didn't always have a lot of confidence – especially not early on… But as I've got older, my confidence has grown and I like the person I am today because of that. I get a lot of my confidence from my sisters. If I don't feel confident about my body, I'm not going to sit at home and feel sorry for myself and not do something about it. It's all about taking action and not being lazy. So you do the work, whether it's fitness or whatever. It's about getting up, motivating yourself and just doing it.'

Confidence: 'It's the inner confidence that makes you feel sexy, especially when doing a lingerie shoot. It's always uncomfortable because there are a million people around doing the lighting and stuff, so it's not the intimate thing you think it is when you see the photo. You just have to give your best. It's a whole production but no one even pays attention.'

On soul mates: 'I think you have different soulmates throughout your life; that your soul needs different things at different times. I'm sure my soul will meet a mate one day in the future. I do believe in love, I will always believe in love, but my idea has changed from what I've always thought… I just don't believe in one soulmate now.'

She doesn't want to have an on-camera relationship anymore: 'We know that we put ourselves in the public eye. We love doing our reality show, and it's opened doors for us to have clothing lines… and to do things we've always dreamt of. So it comes with the territory and we know that. But as I get older and go through certain things, it's made me want to be more of a private person. I don't think I would stop doing the reality show – I love doing it – but I wouldn't have another relationship shown on the show. That might be too personal, especially when you're just meeting someone. It's taught me to be more private.'
Whatever, do I have to discuss this stuff? There's nothing incredibly notable here, and Kim isn't even claiming to be a size 4 anymore. I don't have a problem with anything she's saying, but I still think she's full of it, especially about the whole "I'm not dating right now" stuff and the "I won't have a relationship on camera anymore" stuff.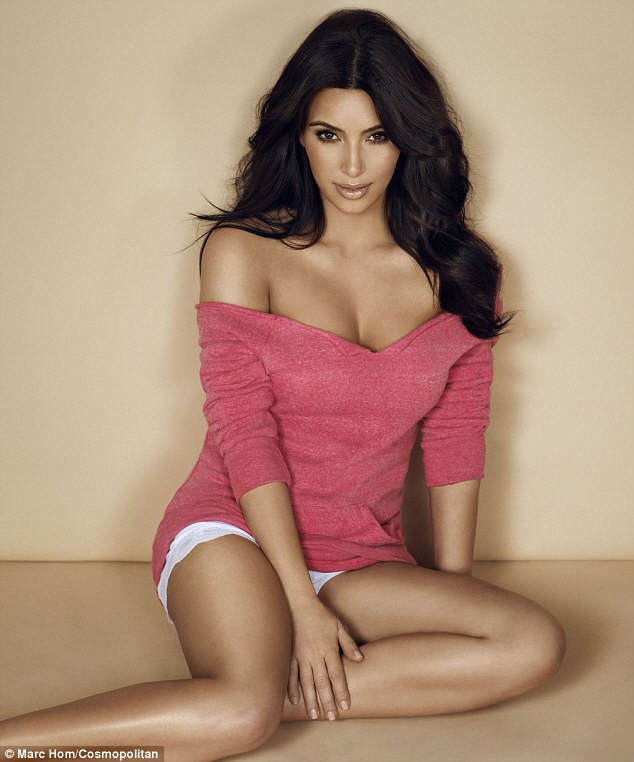 As for this week's tabloids, here are some highlights:
*Life & Style continues to get info from Kris Humphries and his lawyers. Team Basketball is still pursuing a "burn the house down" legal strategy, and now they're even threatening to call Ryan Seacrest in the divorce case.
*Kris claims he has proof that Kim was still in contact (and/or boning) with Reggie Bush and Kanye West during their engagement and marriage. Kris has the text messages!
*Kanye's new song might be about Kim and how he fell in love with her? Also something about Jay-Z and the Nets?
*Kris has a new magazine photo shoot, and it's gross.
And that's all I really have to say about this mess. I can't believe people are actually taking sides between Kris and Kim. They both suck as people.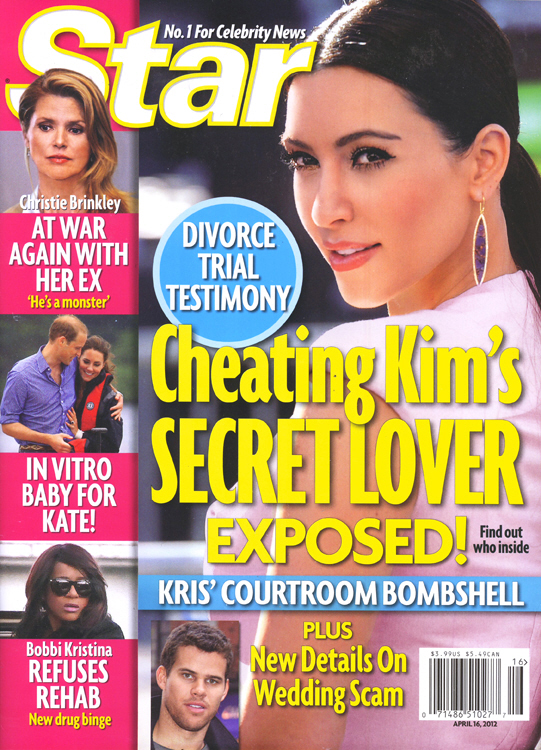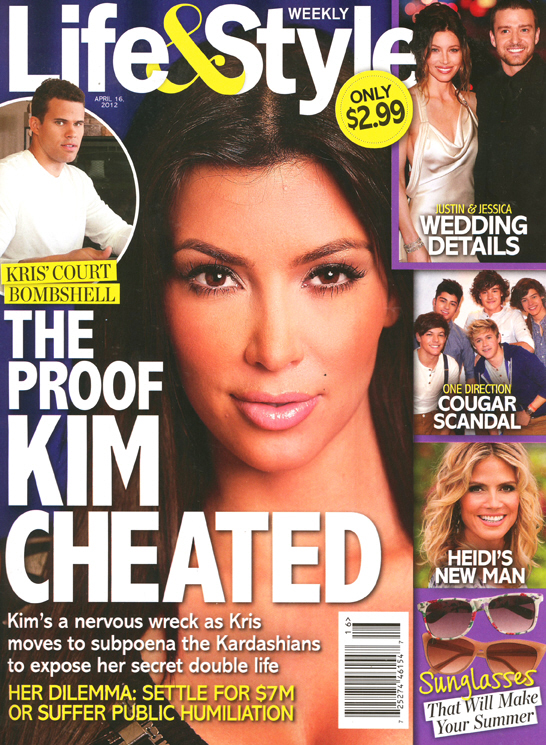 Photos courtesy of Jezebel, The Mail.