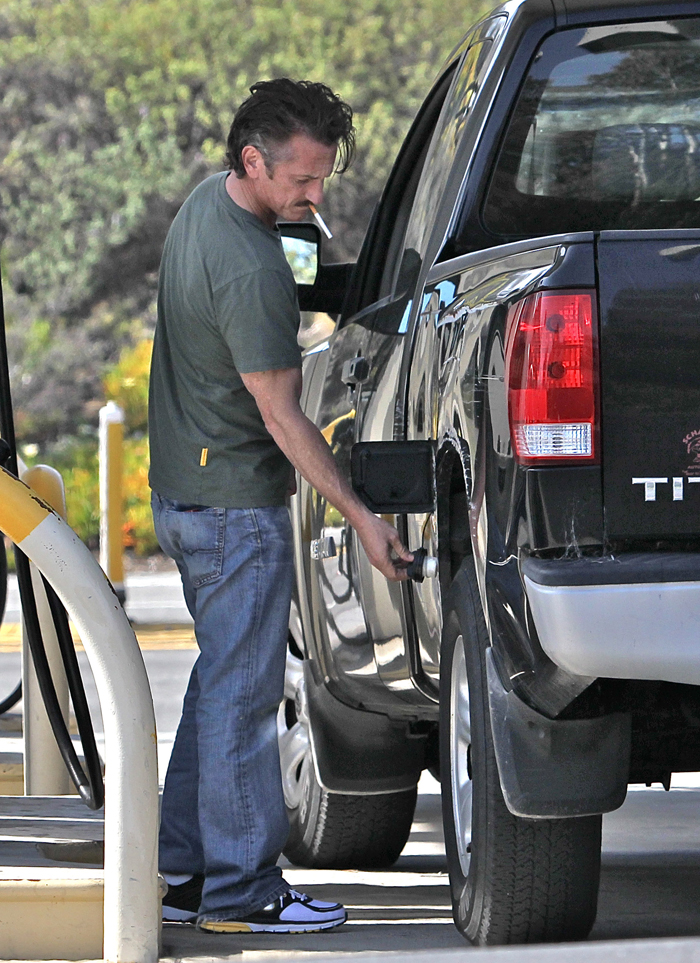 I really do love an opportunity to write about Sean Penn's toupee (or weave or whatever), so I was actually kind of thrilled to see these images of Penn filling up at the gas station while holding a cigarette in his mouth. This man is such a walking contradiction. Of course, that cigarette is unlit, but the illusion is there — Sean Penn, danger boy who plays with fire. (Side note: Give me a break — I'm on lots of ibuprofin for dental pain and obviously not thinking clearly.)
At any rate, Penn really is a man of opposing viewpoints. He's a champion of the environment but is clearly driving a gas-guzzling truck in these photos. Beyond his lifestyle choices, he's currently being honored by Nobel laureates for his relief work in Haiti, and he'll receive the 2012 Peace Summit Award in Chicago at a ceremony where the Dalai Lama is scheduled to attend. However and as Kaiser recently discussed, Penn is still mostly a douchebag, and England is still largely quite irritated with his stance on the Falkland Islands as belonging to Argentina. Now an MP is speaking out on Penn and Morrissey for their ill-advised rantings on the topic:
A Government minister has hit out at "ill-informed" celebrities who have endorsed Argentina's claims over the Falkland Islands.

Westcountry MP Jeremy Browne, the Foreign Office minister with responsibility for the South Atlantic islands, criticised US actor Sean Penn and singer Morrissey who contend the territory should be handed back to neighbouring Argentina.

Mr Browne, Liberal Democrat MP for Taunton Deane, told the Western Morning News that support for the 3,000 inhabitants of the islands to determine their own future – namely British sovereignty – remained "completely solid." He added: "The Oscar for the most ill-informed contribution to this debate definitely goes to Sean Penn. I'm not quite sure on what basis Sean Penn and Morrissey feel that they have insights to provide on this that people who don't act in films or sing for the Smiths fail to possess. What matters for the future of the Falkland Islands is what the Falkland islanders think, rather than what Hollywood actors or middle-aged pop stars think."

Sovereignty of the disputed territory, located about 300 miles off the southern tip of Argentina, has been British since the 1830s. The minister's comments came ahead of the 30th anniversary of Argentina's then fascist junta invading the Falklands on April 2, 1982. The war, involving Westcountry-based 3 Commando Brigade and Plymouth-based warships, saw 255 British soldiers and three islanders die.

Mr Browne will be the British Government delegate sent to the Falklands to mark the Argentinian surrender and liberation on June 14, 1982.

The Hollywood actor criticised Britain's "ludicrous and archaic commitment to colonialist ideology" and the deployment of Prince William to the islands on a tour of duty as a search and rescue helicopter pilot. The outburst was followed by former Smiths frontman Morrissey telling a crowd in the Argentinian city of Cordoba: "We know the islands belong to you."
Naturally (and as Kaiser also pointed out), Penn isn't entirely off base with his discussions of colonialism in relation to the Falklands. However, Penn seems to have forgotten all about how the United States came to possess Malibu, California, where Penn lives in a luxurious mansion. As such, the Telegraph has now called for appropriate action on the part of Penn:
I'd like to make a statement about the growing crisis in the Americas. It's time for justice. It's time for liberty. It's time to end the ludicrous and archaic commitment to colonialist ideology. It's time Sean Penn handed his Malibu estate back to the Mexicans.

Sean Penn pretends to be a friend of the developing world, but really he is not. To be fair, his recent call for the Falkland Islands to be returned to Argentina was an admirable strike against capitalist imperialism. Moreover, I and the entire North Korean press corps cheered him on when he flew to Iraq to parley with Saddam Hussein, or when he spoke about Hugo Chavez in such glowing terms. But there have always been hints that his sympathy isn't really with the workers at all. Aside from that time that he spent 32 days in prison for hitting an extra, his net worth of an estimated $150 million is a bit of a giveaway.

His continued occupation of Malibu is an unacceptable mockery of national self-determination. The Mexicans owned that stretch of real estate well into the early 19th century and it was stolen by the Americans in a naked act of imperialist aggression. America's claim over Malibu is tenuous and rooted in patriarchy. Sean Penn's house is a mocking reminder of that brute chauvinism, with its high white walls and spacious interiors. Its swimming pool is an insult to the honour of the Mexican people.
[From Telegraph]
Eh. Penn will ignore this (even though it is funny as hell) just like he probably ignores his carbon footprint by driving such an environmentally unsound vehicle. Just like he ignores the fact that he smokes while giving the appearance of being an avid runner. Yes, Penn will always be a man of contradiction, and no matter how serious he attempts to be in the political arena, I will never stop thinking of him as Jeff Spicoli.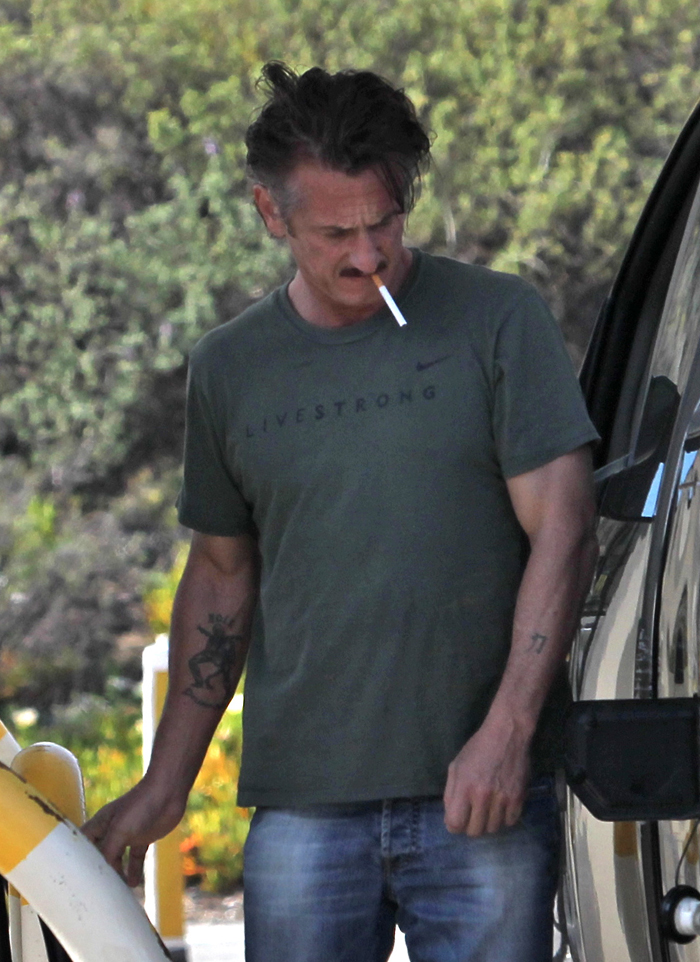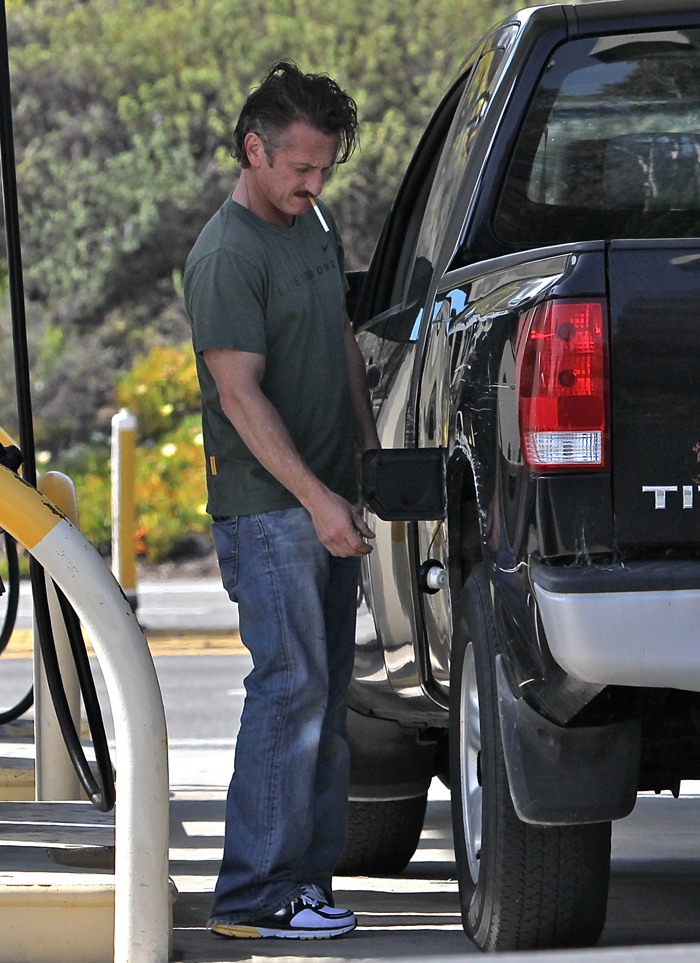 Photos courtesy of Fame/Flynet