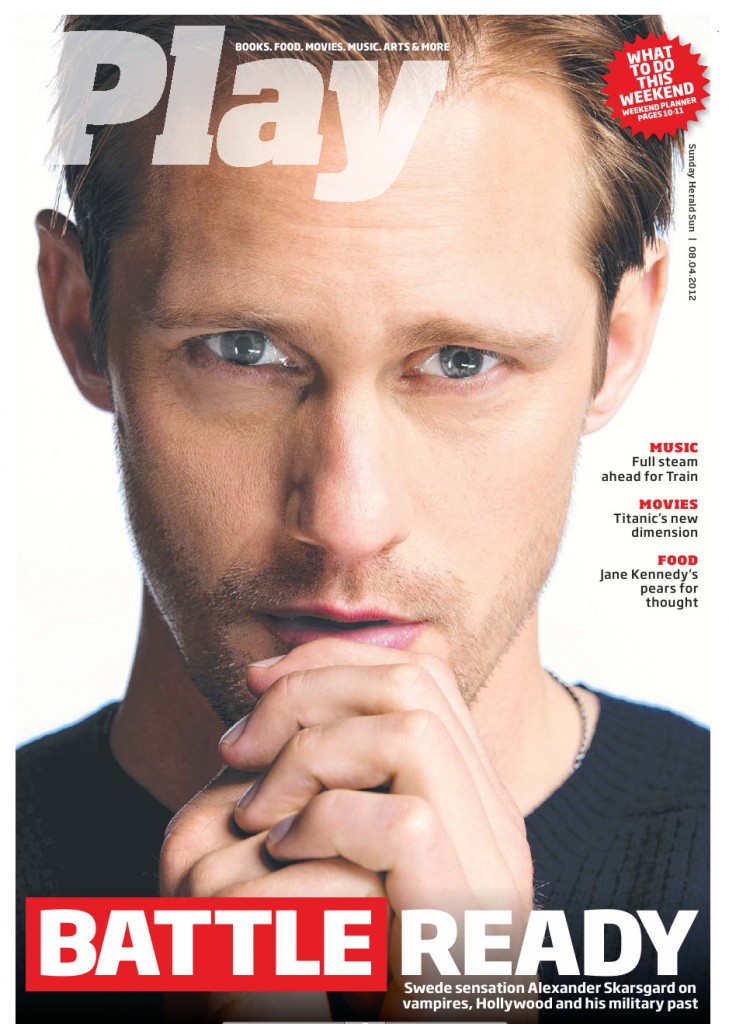 True Blood's tall drink of Nordic water, Alexander Skarsgard, is on the cover of the Sydney Herald Sun's Sunday magazine supplement. He's promoting his role in Battleship, that film version of the popular peg board game, or another flimsy excuse for epic scenes of stuff getting blown up. I wonder what kind of action films based on kids' games will be around when my kid is old enough to watch them. Maybe Chia Pet: The War of the Sprouts, Connect Four or Die and Hungry Hungry Hippos Revenge. On one hand I hope Battleship doesn't do well at the box office so we won't be subjected to more of these movies, but on the other it's got Askars and lovely Liam Neeson in it, so I hope it does well for their sake.
In his interview with The Herald Sun, Skarsgard emphasizes that he doesn't talk much about his private life, which we've heard from him before. It's a good strategy and one more stars should adopt. He does say some really nice things about his dad, actor Stellan Skarsgard, and the experience of working with him in Melancholia. He also reminds us that Battleship is his first studio film, which is surprising to me because he's gotten so much press that I think of him as a much bigger star. He should be. Here's more:
On his career: "I'm fighting really hard not to get typecast, because to me that's creative suicide in a way."

On working with his dad: "Dad is one of my best friends, so I love him so much. He is a really, really cool cat, and we worked toegther in 1983, my friend movie (Ake och hans varld), back in Sweden and we have done an animated movie – where we don't work together you just do voices. But this was the first time [Melancholia] we actually had some scenes together, and it was an amazing experience."

On why he chose to do Battleship: "I read the script, it's big, epic, fun, a really cool story, but I care more about the brothers, the relationship than the explosions. The process of making the movie, that's what's fun as an actor obviously, and this is my first big studio movie, so I didn't really know. I heard stories from other actors on other movies where sometimes they feel that they are being micromanaged and there's no creative freedom, they can't really have fun with it. [But] Pete Berg, who is an actor himself, is very open."

On adjusting to life in Los Angeles: "In Stockholm, all my friends live within five blocks of each other, we wouldn't even have to call each other, I would just go down to the local coffee shop and I would run into friends and see them. In L.A. that doesn't really happen to me."

On how his father Stellan Skarsgard taught him to keep his life private: "He was always very protective of the family, and us kids and he could be very open and talk about his work and himself and his characters, but you wouldn't see like 25 house tours or 'Welcome to the Skarsgard family and this is my home, what's in my fridge'. I think that keeps you kind of sane, and that's important for me as well, to not share every thing with everyone."
[From Play Magazine via Just Jared, Skarsgard News]
In terms of the photo shoot, it seems like the same brooding look we always see from Askars, but that's fine with me. It really works for me. I just wish there were more photos.
Skarsgard seems up to doing these cheesy action movies. He would make a great romcom star. I don't necessarily want that type of career for him, but he would be a swoonworthy leading man. Channing Tatum needs some competition. We'll soon get to see Alex expand his acting chops. He's got three more films coming out this year.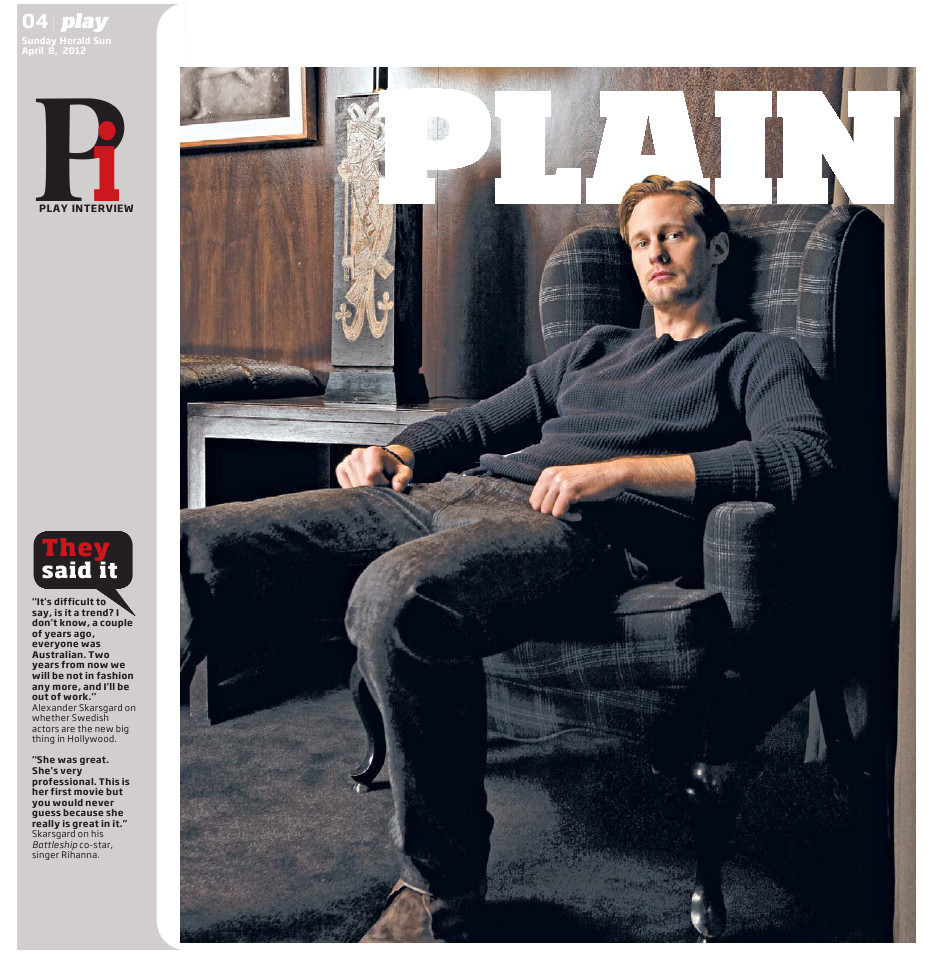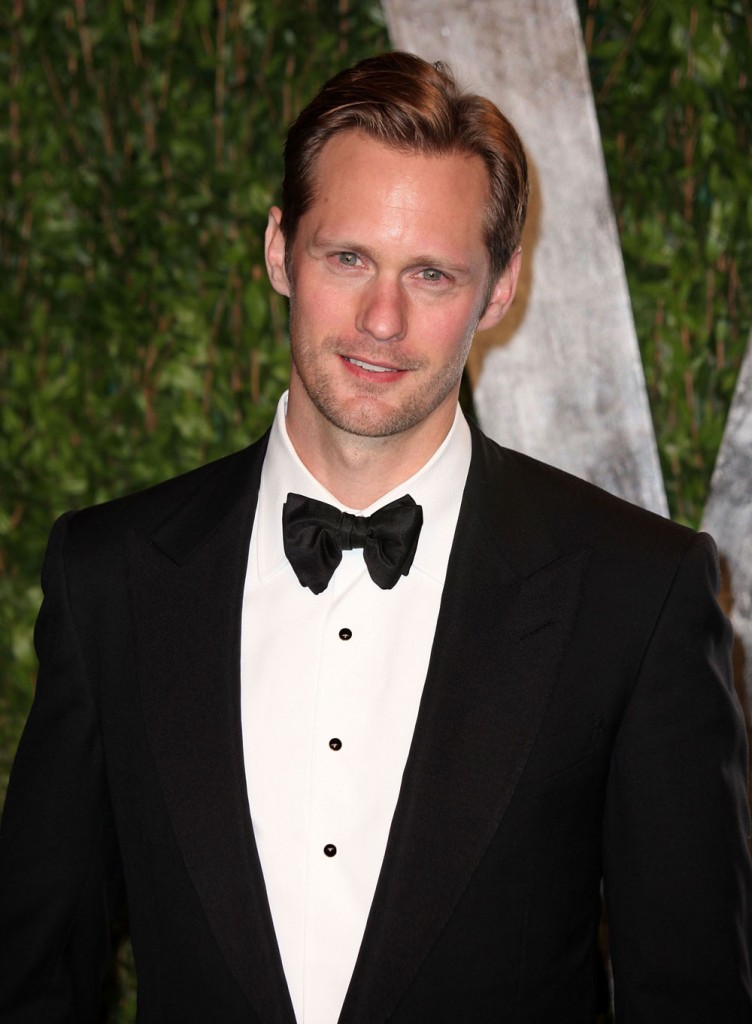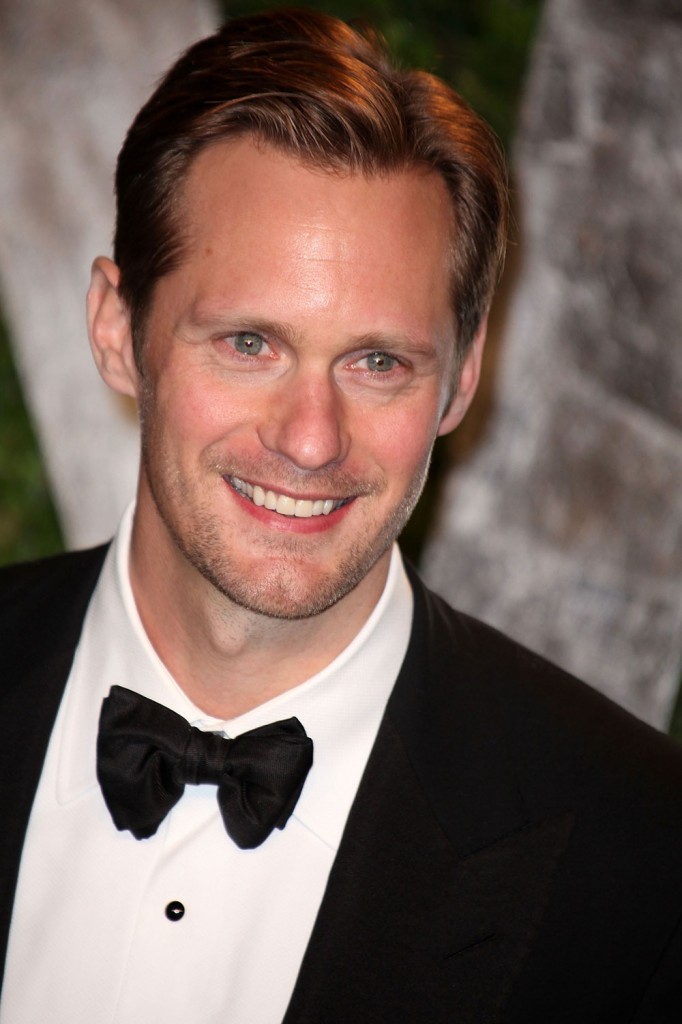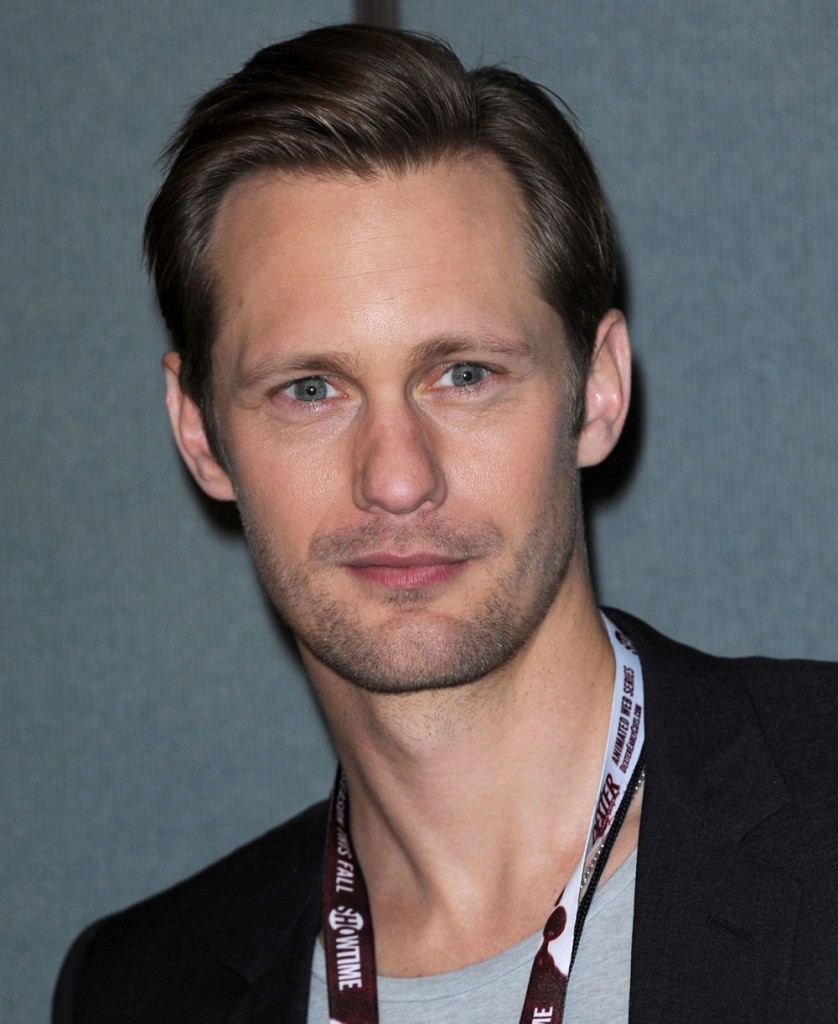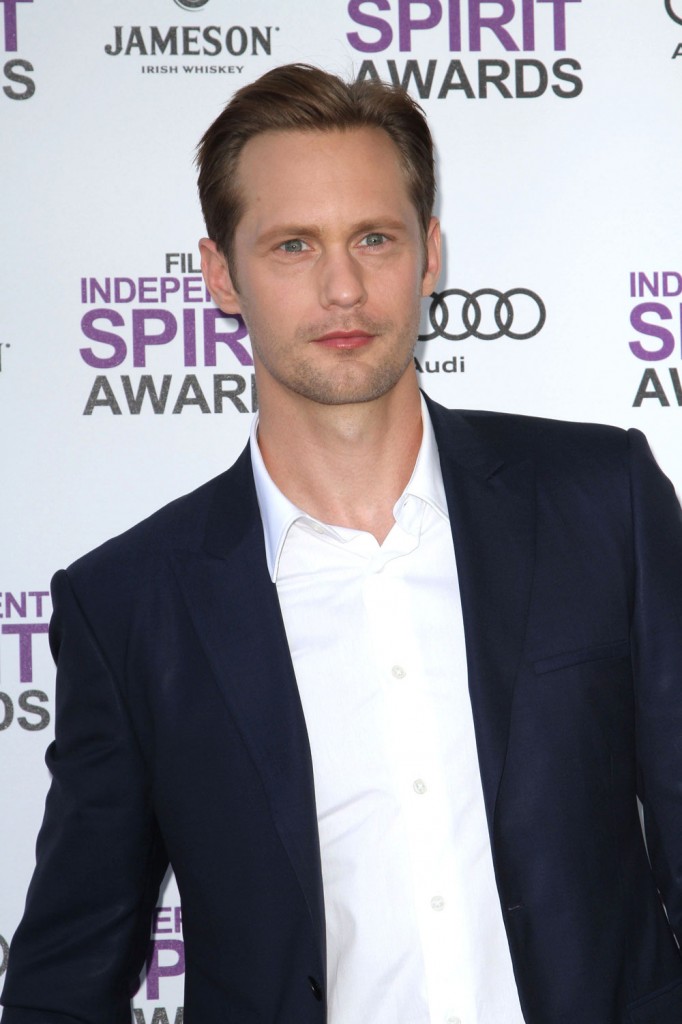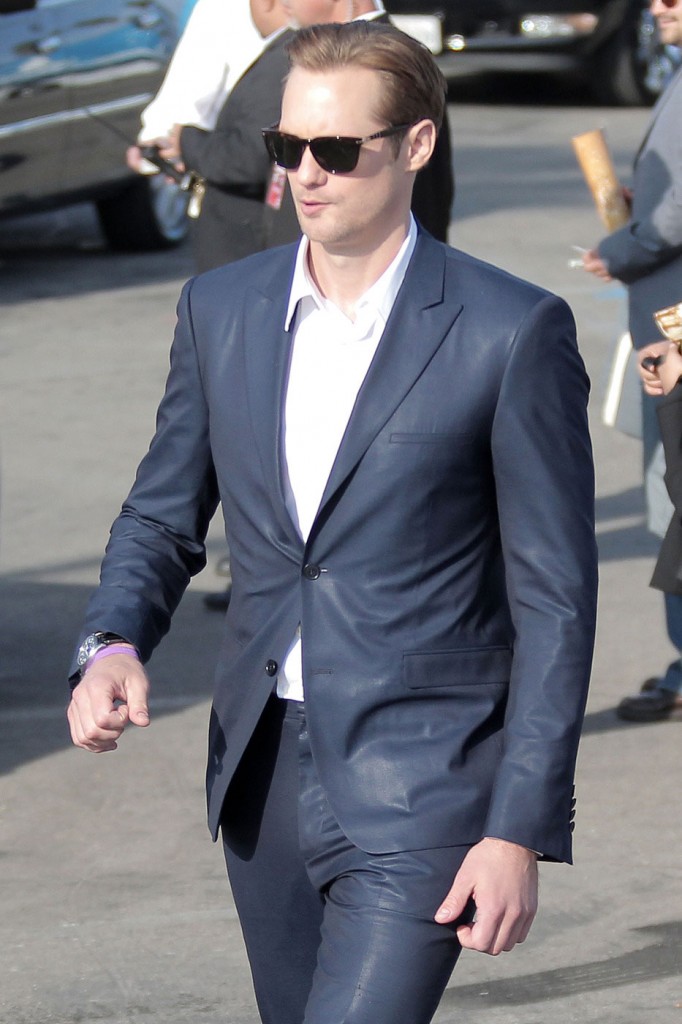 Alex is shown at The Independent Spirit Awards on 2/25, at the VF Oscar Party on 2/26 and at Wondercon on 3/17. Credit: PCNPhotos and WENN.com. Scans via Skarsgard News