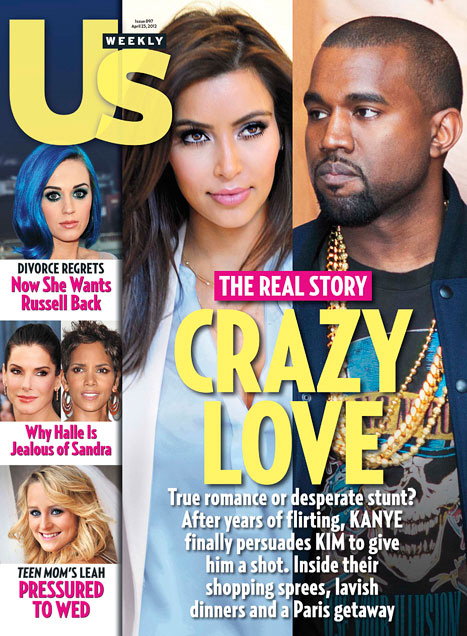 Another week, another motherload of Kim Kardashian tabloid covers. Kim's ass might have finally eclipsed the Uncool Bermuda Triangle. May it rest in peace. The best story, in my opinion, is from Us Weekly. They put the Kim-Kanye thing on their cover, and the story is absolutely priceless. Kanye thinks Kim is his Beyonce!!! OMG.
Imagine it: A double date between Kanye West, Kim Kardashian, Jay-Z and Beyonce (with Blue Ivy in a stroller!). Stranger things have happened. A pal tells the new Us Weekly, out now, that Jay-Z's close friend and collaborator West, 34, has fallen "genuinely head over heels" for Kardashian, 31, with whom he was photographed gallivanting around NYC late last week.

"It's not a PR stunt," the source insists of the rapper and reality star. "They're perfect for each other. He thinks she's his Beyonce!"

(Jay-Z, 43, and Beyonce, 30, celebrated their fourth wedding anniversary last week — their first since welcoming daughter Blue Ivy Jan. 7.)

Indeed, after years of a flirty friendship — West pursued Kardashian "for a long time," another source says — the stars were finally aligned for the twosome (who share a fondness for luxury and the spotlight) to finally get romantic.

The "Otis" rapper split with model Amber Rose in 2010, and Kardashian is famously in the midst of an ugly divorce battle with Kris Humphries five months after she filed papers.

"Now that Kim has gotten over the Kris drama . . . she sees how much Kanye loves her," a Kardashian source tells Us.
[From Us Weekly]
Do you buy this Kardashian-approved, Kardashian-pushed, Kardashian-imagined side of the story? I think it's interesting that Kanye said he "loved" Kim in the lyrics to "Theraflu" and I'll also buy that Kanye is probably enamored with that ass. But I don't think this is some grand love story or anything, or that Kanye was hopelessly pursuing Kim for months. She's not Elizabeth Taylor. She's just a random cat-faced p0rn star. She will never be Kanye's "Beyonce".
Also – Radar has a slightly interesting story about how Kim was really trying to get back with Reggie Bush before all of the Kanye stuff went down. Kim and Reggie met up in South Beach, Florida several weeks ago and a source claims:
"Kim spent a lot of time with Reggie at his house, and the two had very long and thoughtful conversations about what their future could look like together… Kim absolutely wanted to get back together with him, but Reggie pointed out that they both want very different things out of life. Reggie is much more low key than Kim and does not want to live his life in the public eye the way she has chosen to. Remember, when Reggie and Kim first started dating, she didn't have a reality show; that came about a year into the relationship. There will always be a lot of love between Kim and Reggie, but he just doesn't see a future with her."

Bush also expressed concern about the timing of the attempted reconciliation.

"Yes, Kim is no longer is with Kris (Humphries) and the divorce will become final soon, but it hasn't even been a year since the wedding. Reggie felt that getting back together with her would be a step backwards for him and he moved on a very long time ago," the source says. "Reggie doesn't have any bad feelings towards Kim and he only wants the best for her but he told her she should spend some time on her own for awhile. Several weeks after he had that conversation with her she went public with Kanye, affirming that he made the right decision."
[Via Radar]
Eh. I kind of buy that. Kim was shopping around for a new boyfriend and she went back to Reggie and Reggie was all, "Meh." And then Kim lucked out when Kanye was all, "Let's give a try, girl. Imma let you be my muse, girl."
And the final Kardashian story of the day (hopefully) comes via Page Six – Kim now claims that she's going to give all of her wedding gifts to charity. One guest, speaking anonymously, says, "What is a charity going to do with a Tiffany picture frame or an onyx vase? And, this is nine months after the wedding. Why is she doing it now?" That's in addition to donating $200,000 to the Dream Foundation as a way of "paying back" the wedding gifts. So now Kim doesn't even want to keep her haul? Interesting.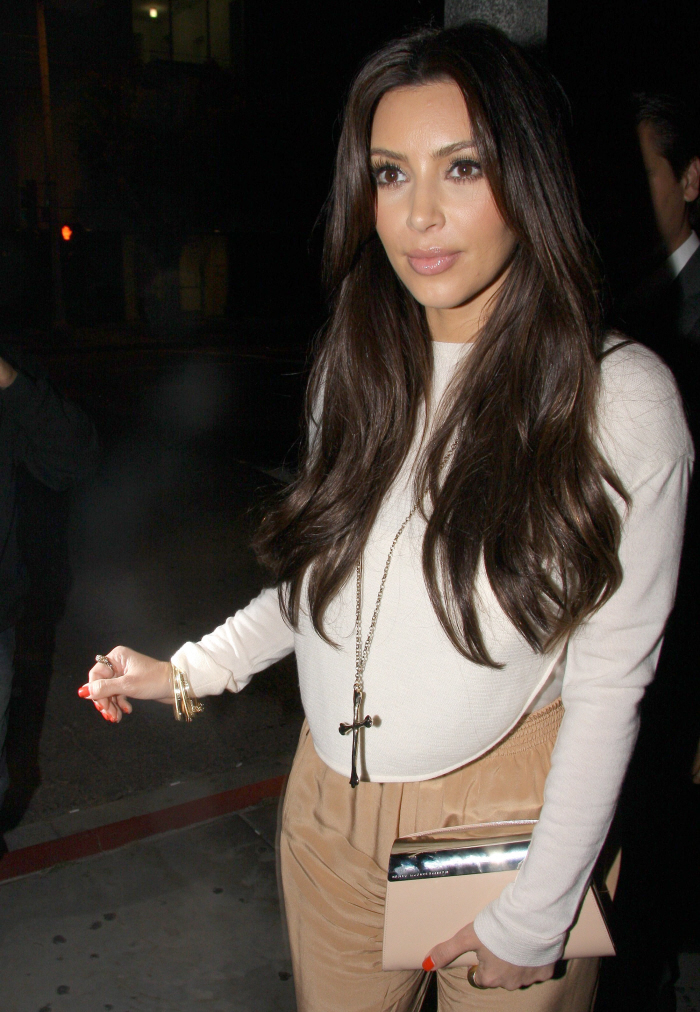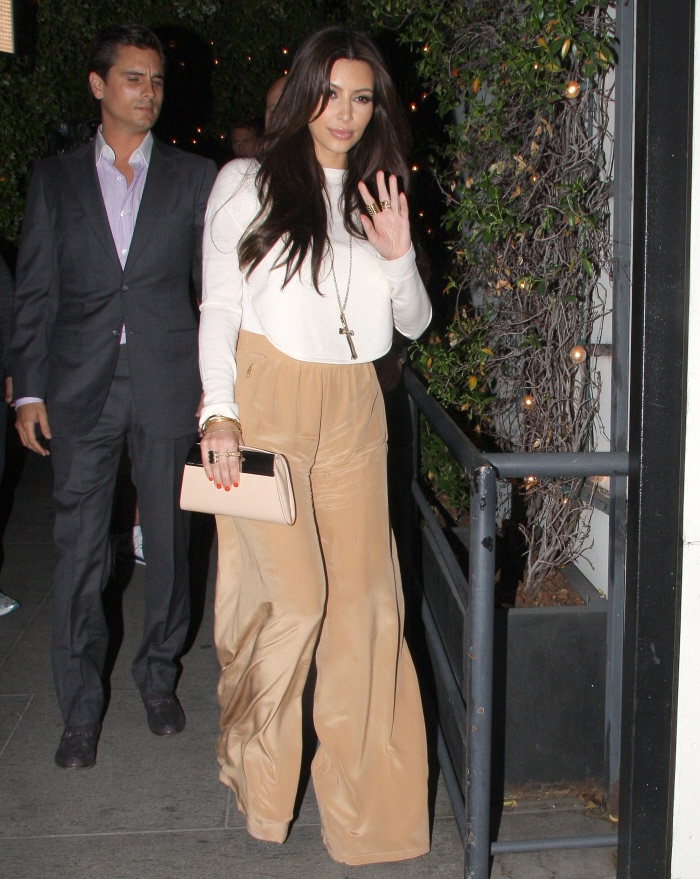 Photos courtesy of Us Weekly, WENN.