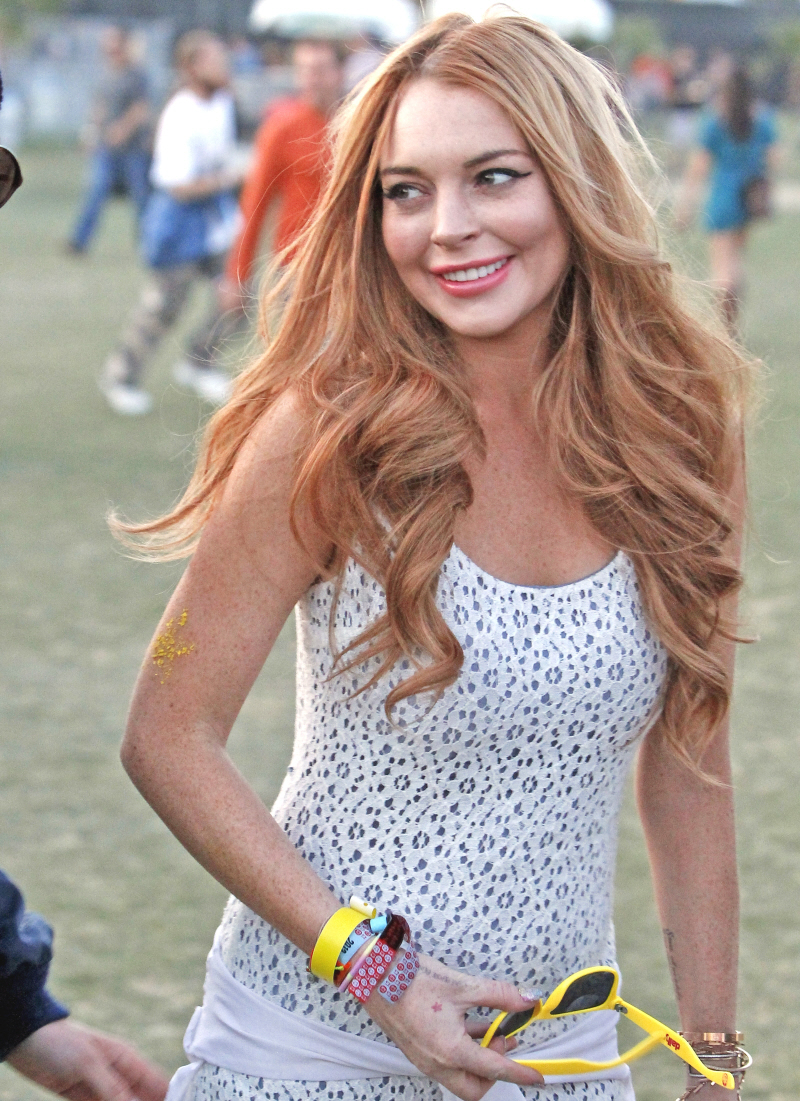 Earlier this week, I was all set to write about Lindsay Lohan's latest cracked-out shenanigans at the Coachella festival. I had already prepared myself for a standard-issue tale of Porta-potty sex, cocaine, a Botoxy, puffy crackface, liquor and maybe a fistfight involving someone in a wheelchair. Instead, I got these relatively pleasant photos of a not-puffy, sober-looking (sort of) Lindsay, with no stories of her Coachella shenanigans. Has The Cracken changed? Maybe. OK! Mag has an interesting theory about LL's de-puffed face. Their source claims that Lifetime producers (of Liz & Dick) were aghast when they saw LL's puffy Botox-face, and they ordered her to stop messing with it. And she might have complied! Because she's broke as hell and she needs this gig like a crackhead needs her… oh.
Lindsay Lohan has a plum role waiting for in Lifetime's Liz & Dick… but in her desperation to look the part of one of the 20th century's great beauty icons, Lindsay submitted to cosmetic procedures that bloated and distorted her face – and nearly lost her the job.

An insider close to the Lohan camp reports that before flying from LA to NYC for several big meetings, including one with Lifetime executives, Lindsay "was overdone with fillers, Botox and God knows what else. Word is that she had so many shots she went way overboard. And when they took one look at her – they were repulsed and shocked."

According to the insider, Team Lohan has explained to the execs that Lindsay had indeed undergone some aesthetic touching up – but that the actress "was not told by doctors that she wasn't allowed to fly immediately afterward – and well, it was a catastrophe. In the course of Lindsay's five-hour flight, the change in air pressure obviously did much damage and caused unexpected side effects."

The Lifetime execs want to set conditions, says the insider. "I heard someone ask if Lindsay's people would take a few photos of her with proof of date over the next few weeks, and that if her face was less swollen and back to normal, they'd use her," the insider tells OK!

For Lindsay, there's a lot more than her reputation riding on Liz & Dick: apparently, Lindsay is flat broke.

"She's as poor as poor can be, doesn't have two nickels to rub together and she owes more than $3 million in debt," the insider tells OK!. "Lindsay's recent Playboy magazine spread only paid a small pittance compared with what she owes," adds the source, "and she's desperately looking, pitching and offering to do absolutely anything to take her back to something like the lifestyle she had become accustomed to."
[From OK! Magazine, print edition]
The obvious plotline failure is this: if LL is so f–king broke (which I believe), how can she still afford to jack up her face and lips all the time? My answer: she can't. So instead of going without, Lindsay and her mother go in for the cheapest, most budget procedures they can get. And they're probably paying their bills – ALL of their bills – in "trade". But seriously, how easy it to believe that LL has already blown through her $900K Playboy paycheck? Those aren't all legal bills too – remember, she's a cracked-out hoarder who loves to shop. And she's got significant drug bills too. Plus, some of her debt could be years-old – in 2010, it was widely reported that LL had $500,000 in credit card debt.
Still, let's enjoy the hint of her old, natural face once again (just don't look at her lips).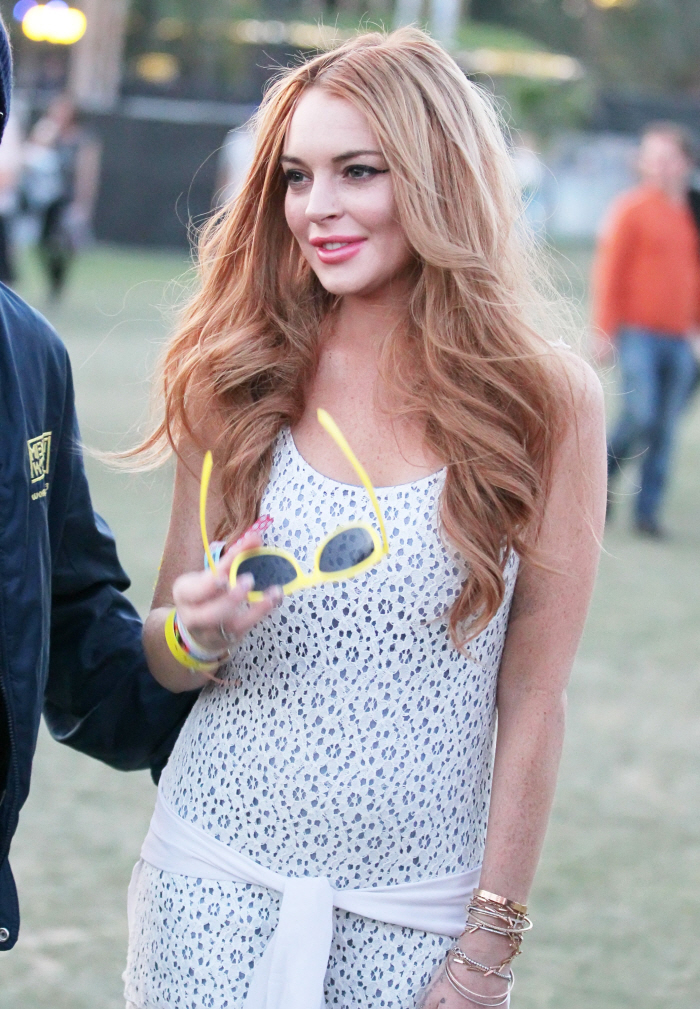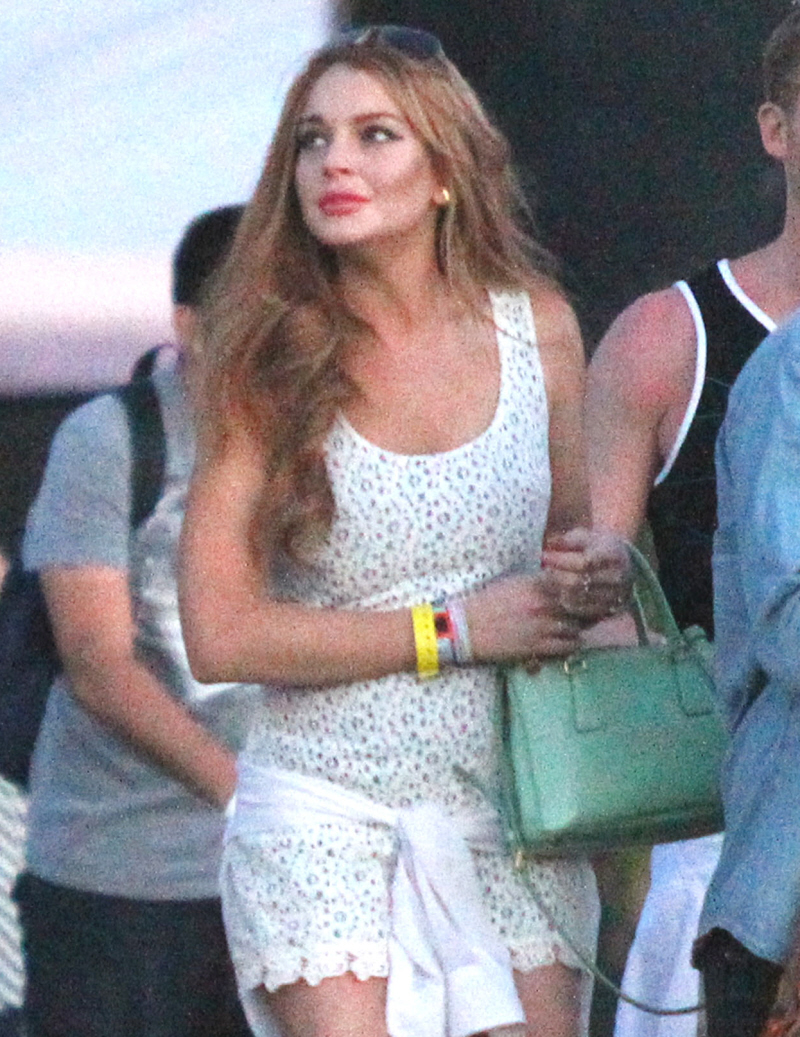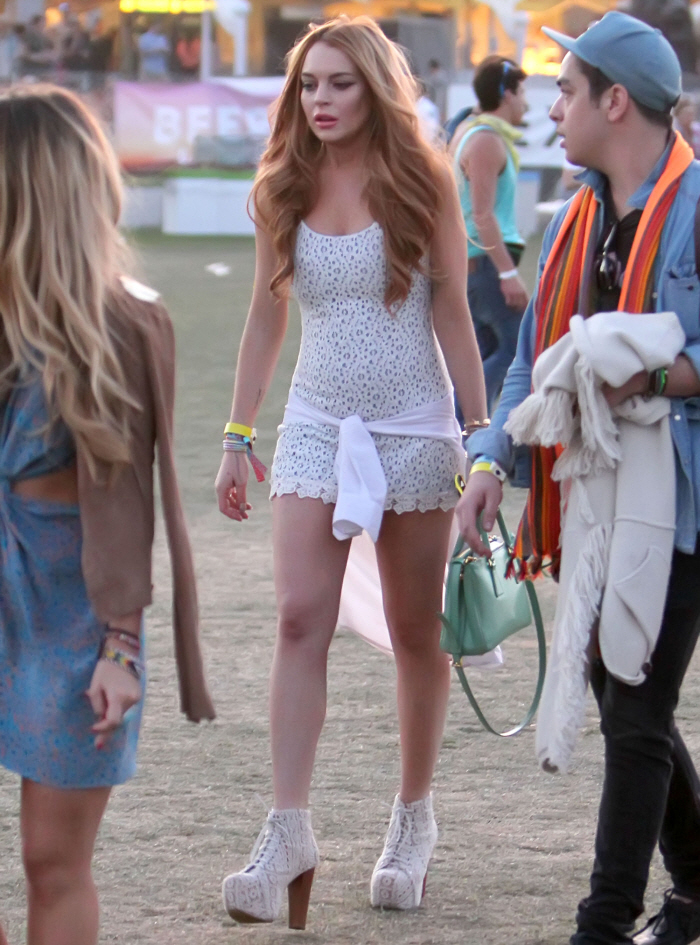 Photos courtesy of WENN, Fame/Flynet.