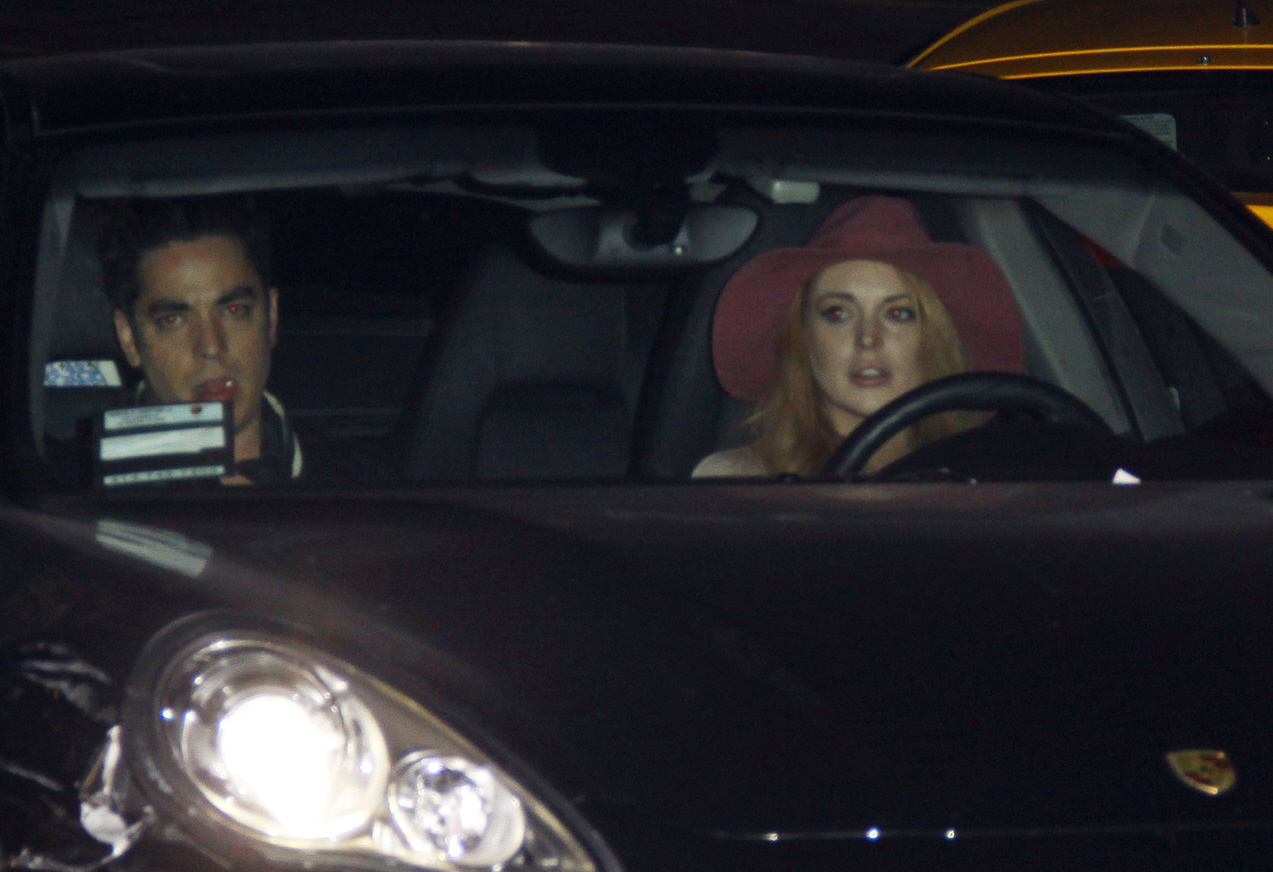 The header photo is of Lindsay Lohan and an "unidentified man" leaving the Chateau Marmont two nights ago. You know, because the Marmont is "home" to this crackie, so when she claims she's a "homebody," she's just saying that she only drinks and does drugs at the Marmont these days. Anyway, we have some standard-issue crackhead stories today. Let's go with chronological – yes, that makes sense. Two weeks ago, a woman accused Lindsay of slapping the hell out of her inside The Standard. LL claimed that she was nowhere near The Standard, and that she was at "home" watching Homeland. Guess what? Crack liars tell crack lies.
Detectives from the Los Angeles County Sheriff's Department have officially received the surveillance video from The Standard Hotel in West Hollywood from the night that a woman claims Lindsay Lohan assaulted her, and the video clearly shows Lohan at the club, despite her claims that she was at home watching television, RadarOnline.com is exclusively reporting.

As previously reported, Lindsay is being investigated for allegedly assaulting Marisa Dugas almost two weeks ago. The actress vehemently denied being out that night, claiming she was at home watching television when the incident allegedly occurred, even though three people – including the accuser — have now filed police reports.

"Investigators obtained the surveillance video from the Smoke & Mirrors nightclub at The Standard Hotel and it clearly shows that Lindsay was there on the night of the alleged assault," a law enforcement source tells RadarOnline.com. "The investigation is still ongoing and follow-up interviews will now be conducted as necessary. Of course, investigators want to interview Lindsay about the incident, but she hasn't been interviewed yet, nor is she under any obligation to do so. Remember, two other witnesses besides the alleged victim filed police reports, including the bouncer of the nightclub."

When contacted for comment, Lohan's rep initially denied his client was at the hotel and told RadarOnline.com, "Whomever is responsible for this lie will be held accountable for their misguided actions." However, he is now saying, "We're going to wait for the Sheriff's Department to release their findings before we comment any further."

Lindsay's rep had no comment on this story.
[From Radar]
That's when you know sh-t just got serious – when poor Steve Honig couldn't even push out some delusional crack theory about what really happened. So… I guess LL really did assault someone, and everyone was just saying it was Amanda Bynes because why not? I'm sorry, Amanda Bynes. You were falsely accused.
In addition to that, TMZ reports that LL was at The Standard again two nights ago, and yet another assault took place. But this time, LL was the victim!!! Wow. That never happens:
Lindsay Lohan returned to the scene of the (alleged) crime!!! We've learned she showed up at The Standard Hotel on the Sunset Strip Wednesday night … went to Smoke and Mirrors, the same nightclub where she allegedly pushed a woman 2 weeks ago, and got into it with ANOTHER woman … and it ended with LiLo on the receiving end of a flying drink.

Here's how it went down. Lindsay's friend drove her car to the hotel — LiLo was in the passenger seat. The driver pulled into the parking garage and hit another car. Witnesses say Lindsay then called her dad, Michael, for help, and he dutifully showed up.

So what did Michael do? He took Lindsay inside the club and the two hung out for hours … we're told without any alcohol.

Around closing time, a woman in the booth next to theirs made a snide comment about Lindsay showing up with her dad. Lindsay then got up and screamed at the woman, "Shut the f**k up." We're told that's when the drink drenched the actress.

We're told Michael then grabbed his daughter and made a beeline for the door.
[From TMZ]
This story is so ridiculous, it must be true, right? Or have I just become completely inured to cracktastrophes? Here's what probably went down: Lindsay decided to leave the Marmont on Wednesday night, so she and her friend decided to hit up The Standard. Lindsay drove, and she hit another car because she was drunk and/or high. She didn't want to call Dina because Dina demands payment in blow. So LL called her dad, who did nothing to help LL clean up the car accident, but did take her into the club where father and daughter shared two dozen tequila shots. At one point, LL threatened a chick ("Because of HER FACE.") and the chick threw a preemptive drink on LL. Michael then ushered his daughter out of the club, and she drove them home, only crashing into two babies on the way. The end.
UPDATE: …. And of course Lindsay was the one to throw the drink. Of course.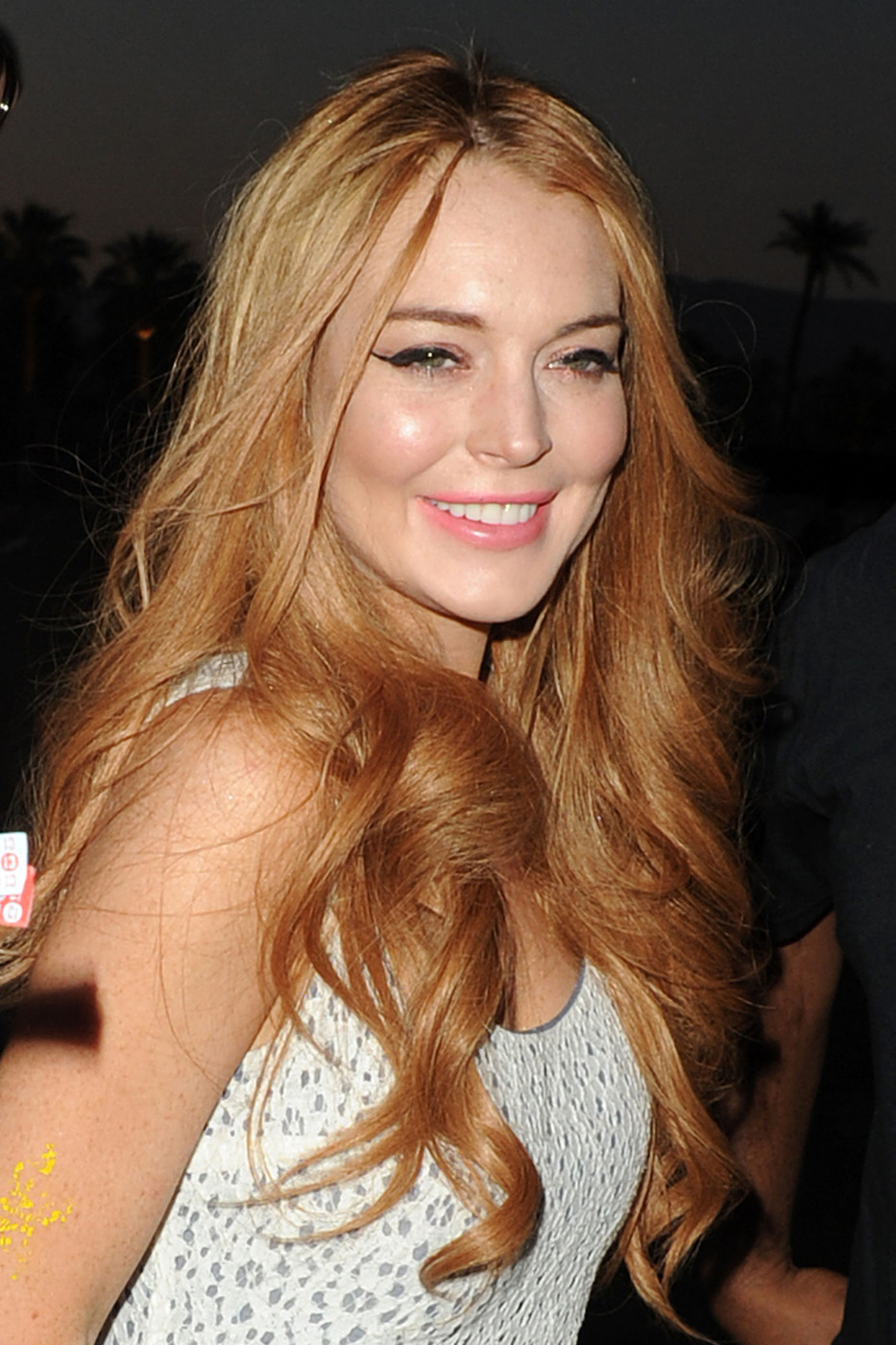 Photos courtesy of Fame/Flynet, Pacific Coast News.