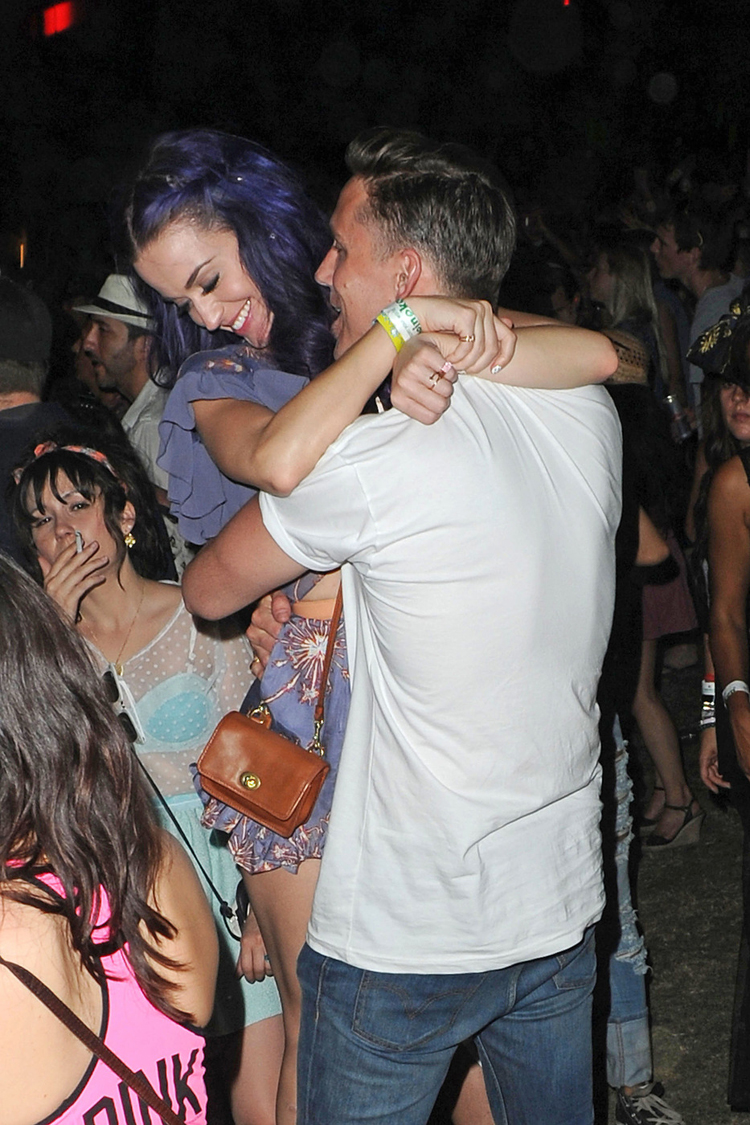 Katy Perry was at Coachella again for the second weekend in a row, and she had a new "boyfriend" in tow. I put that word in quotes because it seems far too soon for Katy to actually have a boyfriend. Not that she shouldn't move on after her divorce — Russell Brand certainly has done so with several women already — but this dude wasn't even around with Katy during last weekend's Coachella jaunt. Also, one would think that Katy would be reluctant to hook up with anyone after Baptiste Giabiconi tried to get with her for her musical connections, right? Now it seems that Katy is already dating another relative unknown, and they were photographed holding hands and embracing all over during the weekend's festivities. This guy's name is Robert Ackroyd (no relation to Dan), and he functions as the guitarist and backing vocalist for the London-based Florence + the Machine. So Katy's getting with another English dude, and he's very … tall: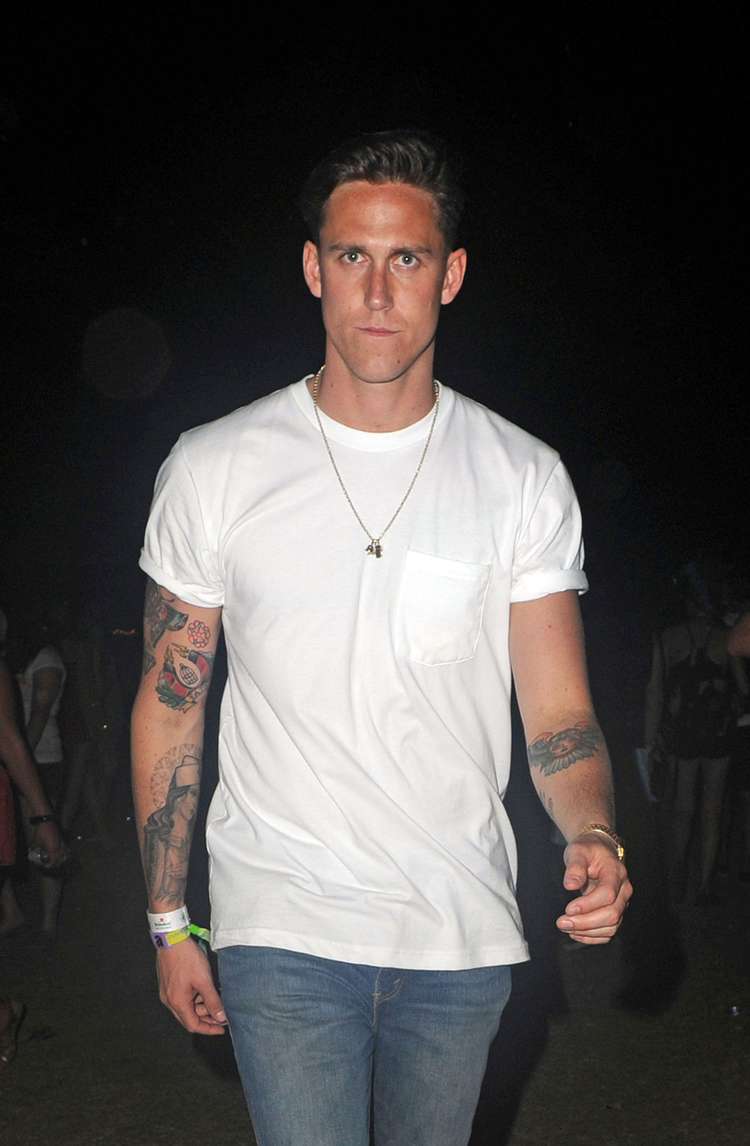 Love is in the air AGAIN for Katy Perry!

Life & Style can exclusively reveal that the pop songstress is dating Florence + the Machine guitarist Robert Ackroyd.

"Backstage at the Artist Lounge at Coachella last weekend, Katy kept saying her boyfriend was the guitar player for Florence + the Machine," a source tells Life & Style. "She and a bunch of friends were supposed to go see Dr. Dre together, but Katy said she was waiting to watch her boyfriend perform!"

And it seemed that they couldn't get enough of each other at the music festival — the two were spotted holding hands (see photo above) while they watched Katy's BFF, Rihanna, perform during Calvin Harris' set on April 15. Days later, Robert even started following Katy on Twitter.

He also referred to her by her initials in a Tweet on April 17, writing: "Best Coachella ever. Scratch that, best weekend ever. Dre, Snoop, Pac, Nate, Fiddy & KP."

This relationship comes nearly four months after a judge granted a divorce to Katy and Russell Brand. It becomes final in July after the six-month waiting period required by California law.

Since her split from Russell, Katy has also been linked to French model Baptiste Giabiconi.
[From Life & Style]
So what should we make of Katy's new man? He's very bland looking but has a decent body. He's also an up-and-coming musician, which sends out warning flags that he could be interested in Katy for reasons other than mere romance. Hopefully, she's aware of this potential (since she considers fame to be so disgusting) and will keep this guy in line. Of course, I've described Robert as a "relative unknown," but that only applies on this side of the pond. In the UK, Florence + the Machine has enjoyed much Top 40 success with their two albums. Maybe this guy really digs her and isn't just looking for stateside publicity. It must suck for Katy to have to worry about being used like that when moving on from a divorce, but maybe I'm mistaking her for the type to dwell upon that sort of thing. What really bugs me though is that this guy doesn't wear socks with his Nike sneakers.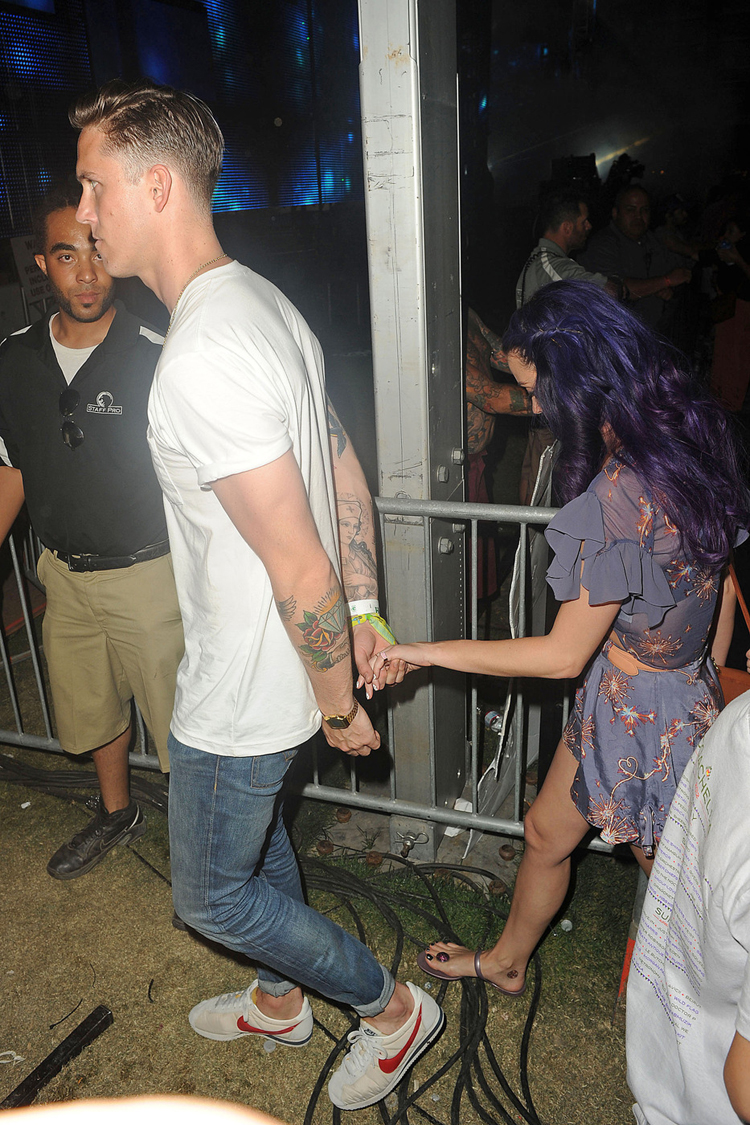 Let's talk about Katy's outfit for a moment, not that it really matters. This midriff-baring number is okay, and Katy certainly has the figure to pull it off. She also looked slightly classier than while wearing last weekend's see-thru dress and granny panties. That hair is icky though, and Katy should get rid of those extensions because they weigh down her locks. She's cuter with a shorter, peppier 'do.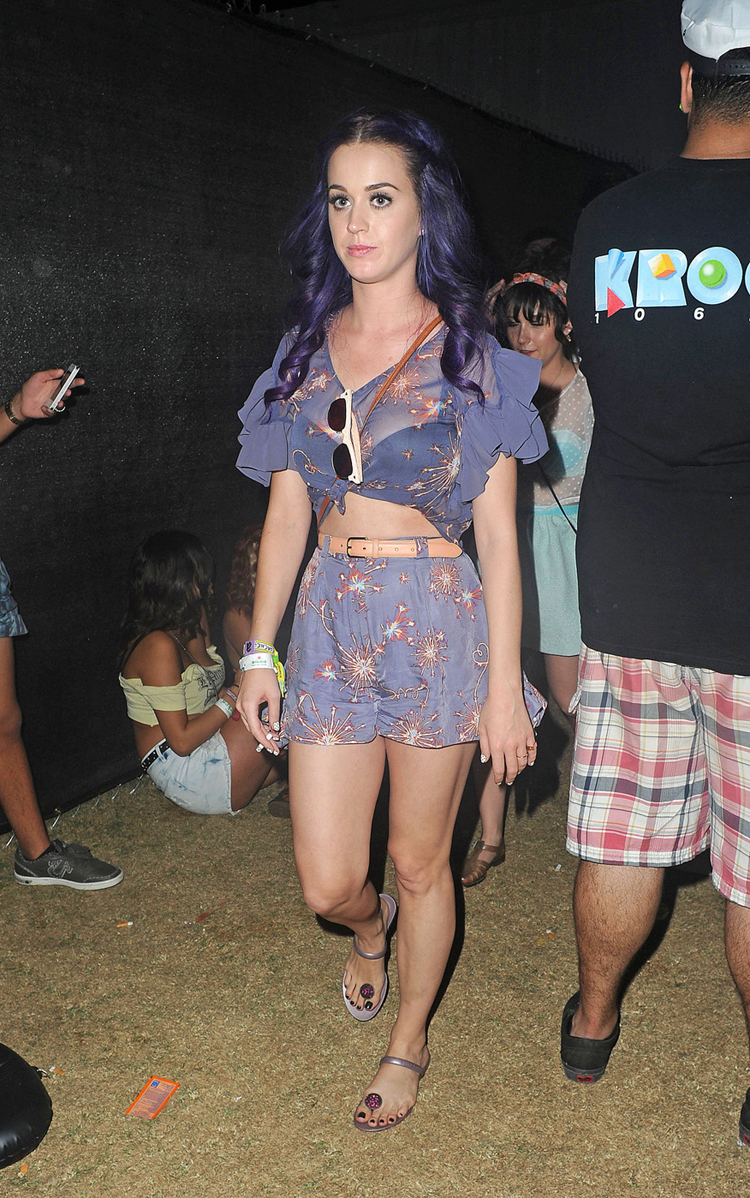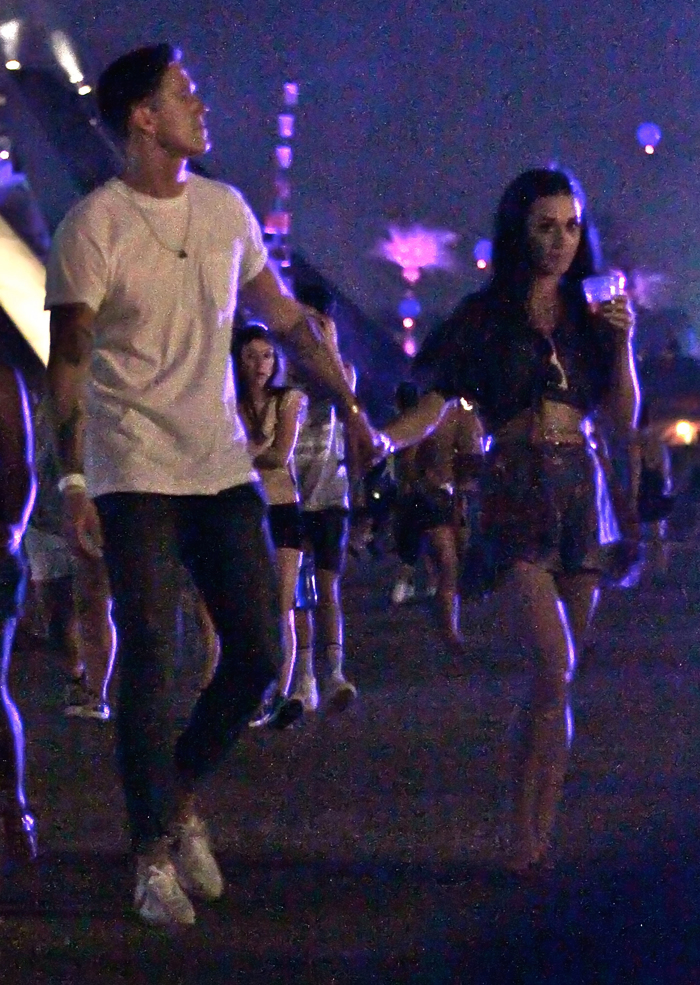 Photos courtesy of Pacific Coast News and WENN