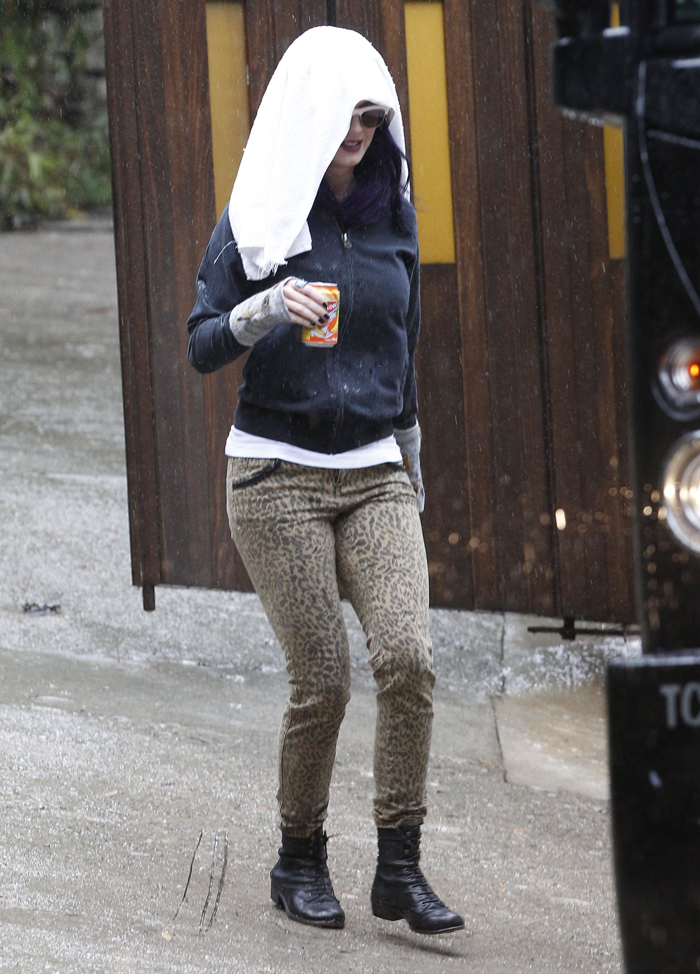 Over the weekend, Katy Perry was one of many celebrities to attend the Coachella Music Festival in Los Angeles, and she chose to use the event to show off her brand new hair color. However, the element of surprise was very important for some reason, so here's Katy on Friday in two separate outfits as she made her way to her tour bus. In both instances, she's covering her head under the guise of protecting herself from the rain, but let's not fool ourselves into believing that because Katy could've easily found some lackey to hold an umbrella for her. She was really just hiding her hair because she wasn't yet wearing one of her "adorable" quirky outfits.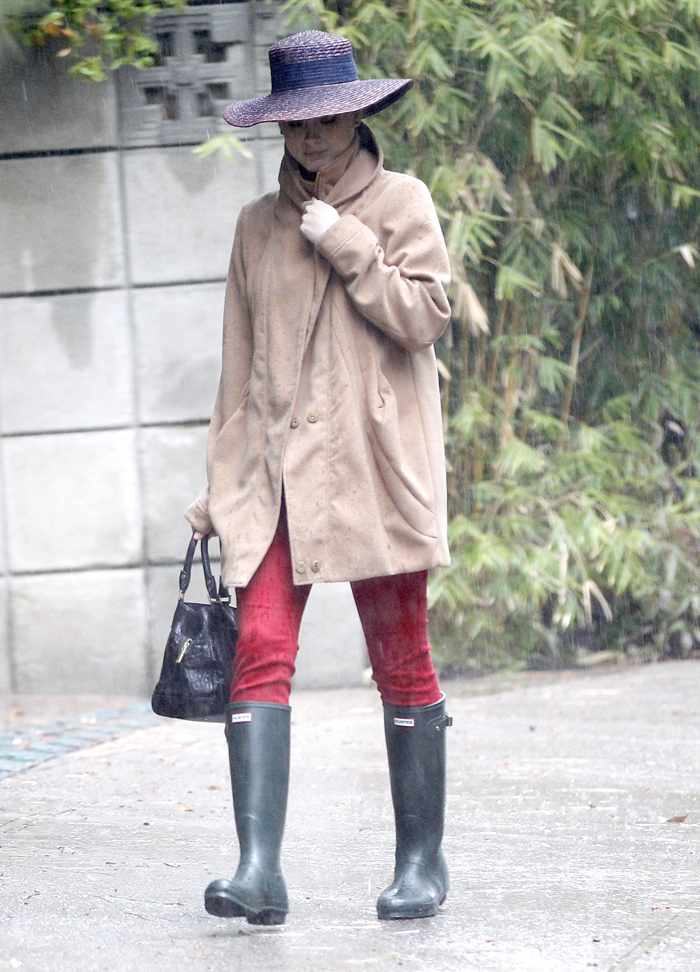 Now before we discuss her official Saturday concert-going outfit, here's the big reveal on the violet-purple hair (with some new extensions too):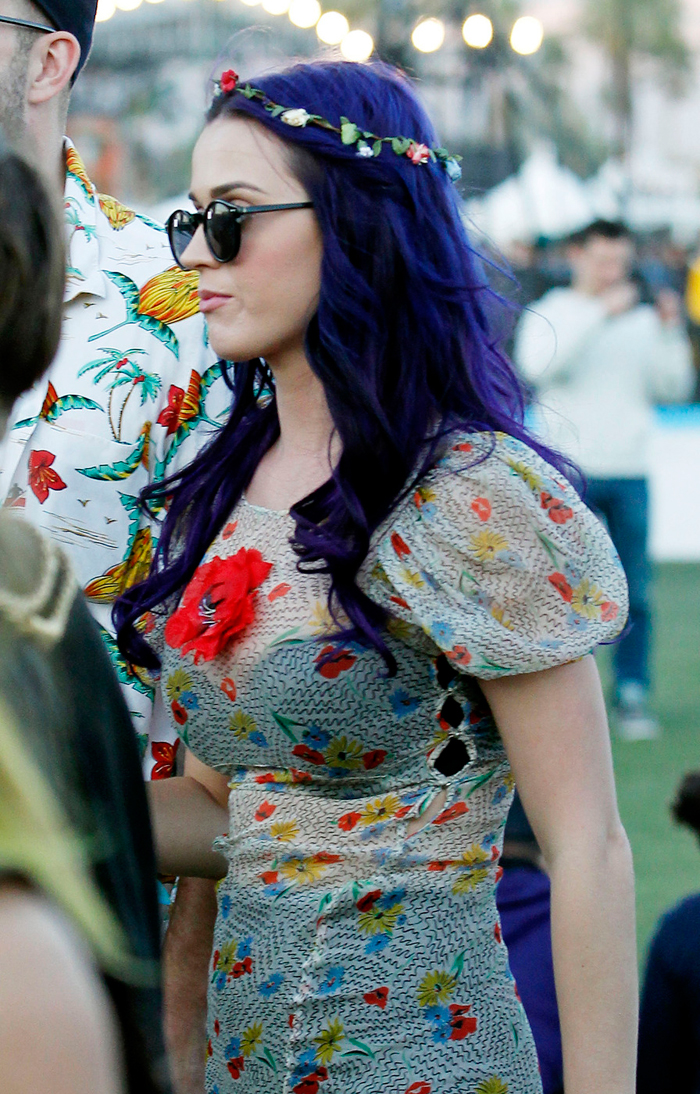 Katy Perry can't seem find a hair color that suits her.

Perhaps that's because she chooses unconventional shades, like the dark purple color she debuted at the Coachella Music Festival in Indio, Calif. over the weekend. The singer, 27, most recently rocked a bright blue hue.

In the past year alone, Perry has dyed her hair black, blonde and bubblegum pink. After Perry unveiled her cobalt coif in January 2012, her colorist Rita Hazan told Us Weekly: "She wanted to go this particular color blue for a few weeks now. Katy is the ideal client because she loves to be creative and unpredictable with her look."

It's been a year of change for Perry, whose husband Russell Brand filed for divorce in December 2011. The British comedian, 36, recently surrendered all rights to the $6.5 million Hollywood Hills home he shared with his ex-wife, according to a quitclaim deed. They purchased the sprawling seven-bedroom, nine-bathroom pad in June 2011.
[From Us Magazine]
Is it wrong to admit that I actually liked the blue hair better than this violet hue? At least blue played up Katy's eyes a bit, but the dark purple seems to wash her out. Perhaps it's the longer length that does so as well because I prefer her with a shorter, kickier hairstyle. At least we know this color and style won't last long, for Katy doesn't like to settle down with just one look. The purple is much better than the recent pink though.
As far as Katy's outfit goes, she tweeted that "Today's lewk is sponsored by courtney love, virgin suicides & fern gully #nymph." Nice quirky misspelling there, right? But the outfit itself — a transparent, flower-child like dress, leather lace-up boots, and very visible bra and granny panties underneath — isn't very flattering at all. Much like Katy's recent mint-green, butt-flashing number from Paris Fashion Week, this is a very "look at me" sort of outfit.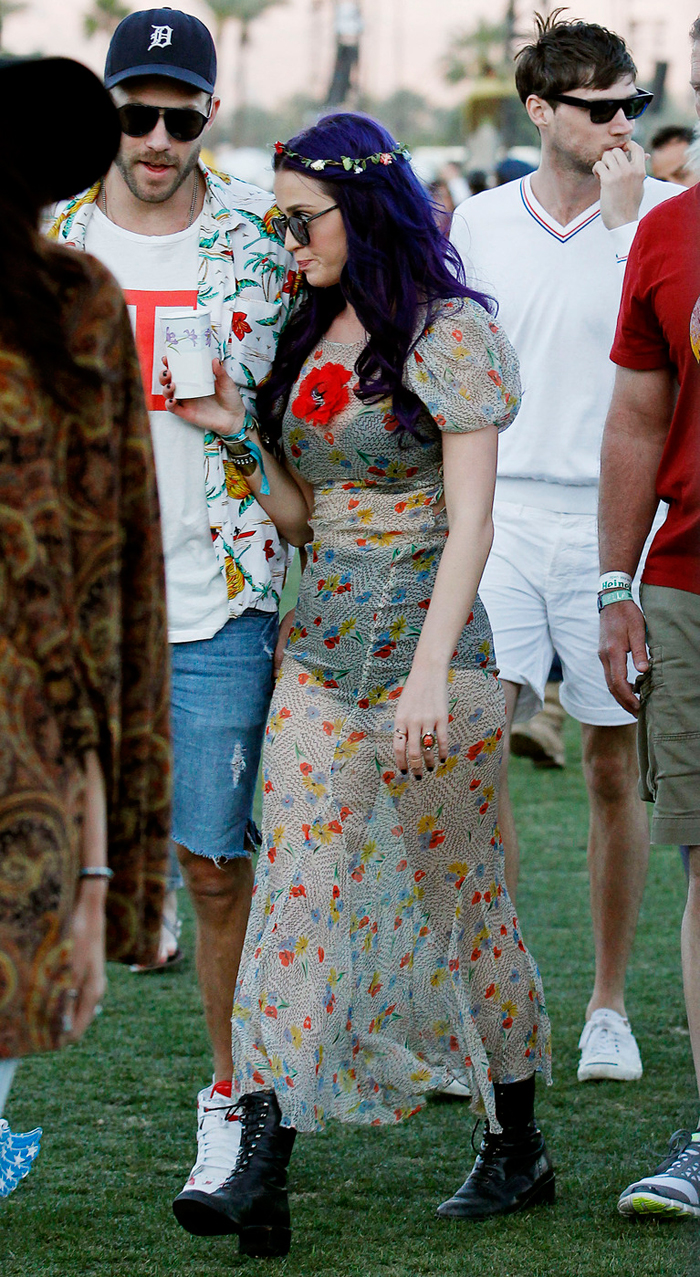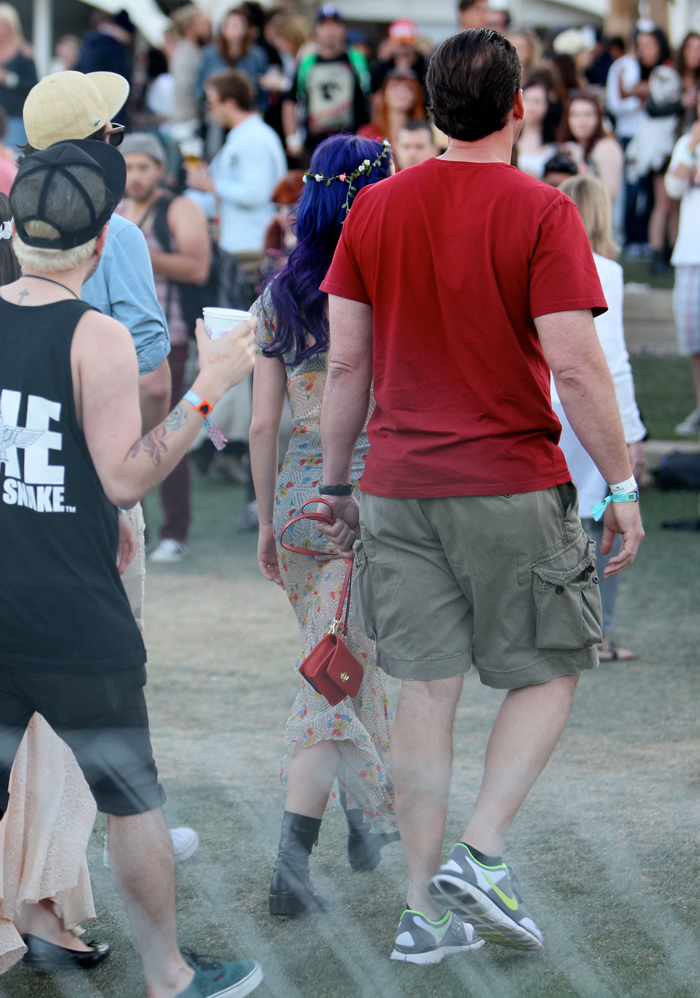 By the end of the evening on Saturday, Katy added a studded, black leather jacket to her ensemble.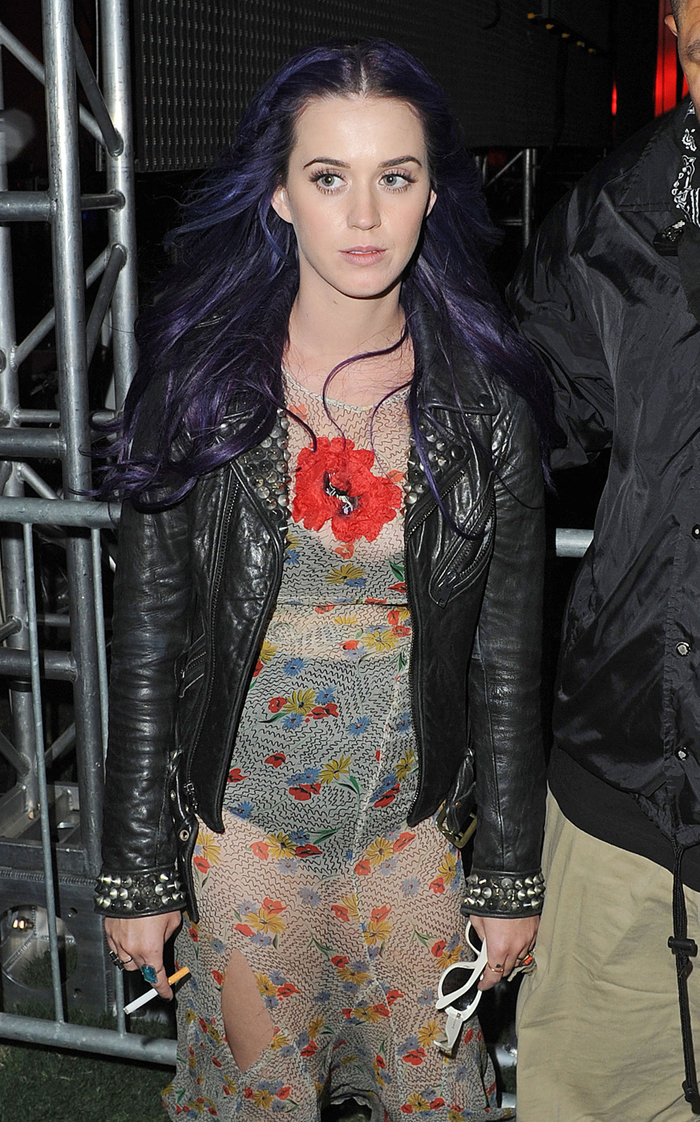 Photos courtesy of Pacific Coast News, Fame/Flynet, and WENN