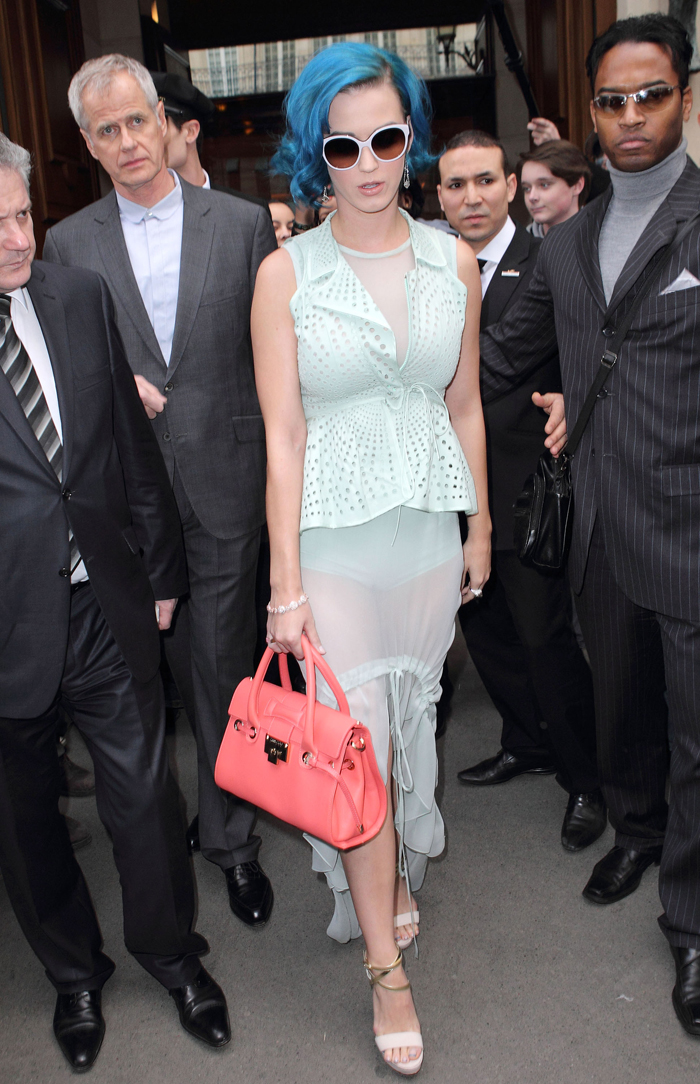 Somehow I doubt that when Lady Gaga said that mint would be big this spring that she was talking about this. Katy Perry is currently attending Paris Fashion Week and doesn't look nearly as "incognito" as she did while shuffling through Heathrow a few days ago. Katy has also abandoned all pretenses of appearing tasteful and fresh as well. Instead, Katy stepped out on her way to the front rows of fashion while wearing a disastrous mint-colored Vera Wang number that left half her butt cheeks exposed for all to see.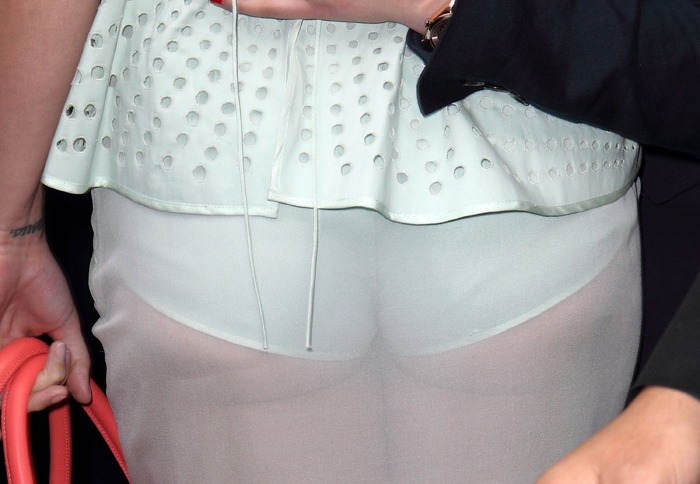 Such a classy move, right? What's even classier is that Katy is reportedly supporting Rihanna in her ongoing dance with death, i.e., getting back together with Chris Brown:
A source close to the newly divorced singer tells HollywoodLife.com that if Rihanna and Chris truly get back together, Katy will be happy for Rihanna!

Katy Perry, 27, only wants what's best for Rihanna. Reports have been swirling for several weeks that Rihanna and Chris Brown are trying to work things out, and if they do, her number one supporter will be Katy!

"Katy and Rihanna are best friends. Katy will support anything that Rihanna does," a source tells us. "Rihanna has been there for Katy through everything and they want the other to be happy."

We told you that Rihanna, 24, and Chris, 23, are spending a lot of time together outside of the studio.

"They love each other, pure and simple. Looks like this is the beginning of them getting back together," a source says. "Some people around her aren't happy and are trying to stop [the relationship], but it's looking like it can't be stopped."
[From Hollywood Life]
I don't see what would make Rihanna so "happy" about getting the hell beat out of her again, but I guess that's what she wants, which is pretty dark stuff. In keeping with that theme, Katy has declared that her next album won't be nearly as sugary as her usual fare and will be quite "dark" too.
Katy Perry has hinted the direction she's going to take in her next studio installment. The singer, who's known for her pop sugary anthems in the beginning of Teenage Dream, will do more exploration in the "dark" side instead of sticking on the "fun and vibrant" road.

"Well, my music is about get real f*ing dark," the West Coast artist spilled in a recent chat with Kristen Wiig for the cover story of Interview magazine's latest issue. "I'll be shoe-gazing. You'll never see my face because my hair is in my face."

Perry said she would be back to her roots in the next album. "I am ready to make a new record and maybe try another approach artistically, and I will close the book on Teenage Dream soon. I just think that it's time for me in some ways to show where I came from."

Perry elaborated her vision as stating, "I've always just been me and my guitar; and I'm not saying I'm going to make that record, but I do want to get back to my roots. I've been changing my hair color too much!"
[From Ace Showbiz]
Yeah, I'll believe it when I see it. Katy simply can't go "dark" and keep her target audience of tweens and dance recital teachers coming back. However, if she does start writing heavier, more depressing material, then maybe that'll be the end of her #1 hits of which she has seven. Seven.
Anyway, this mint outfit is truly terrible. In addition to the butt-flashing problem, Katy's massive rack looked about as uncontrolled as it did at the Grammys. She makes so many millions of dollars — can't she afford a proper bra?
Update by Celebitchy: Here's Katy Perry arriving at the "Maison Du Caviar Party" in Paris last night. The photo agency Fame writes that she was there with Karl Lagerfeld, so I'm assuming this trashy over-embellished too-short dress is Chanel. Bedhead is right, she has no idea what to do with her boobs.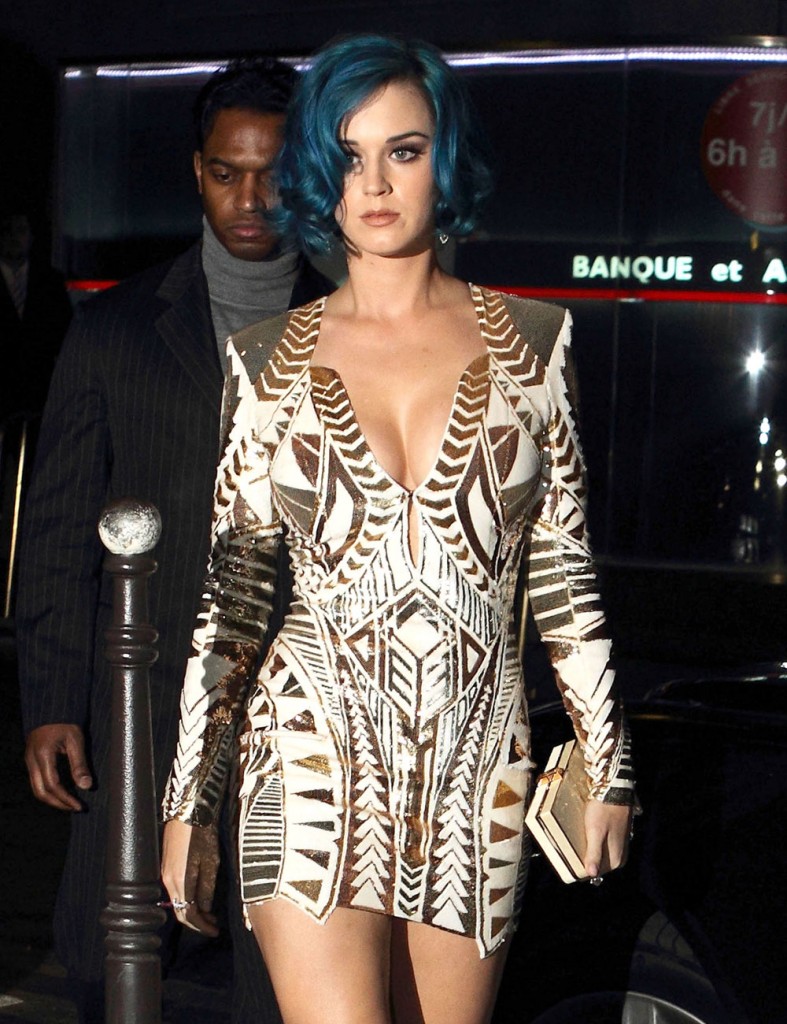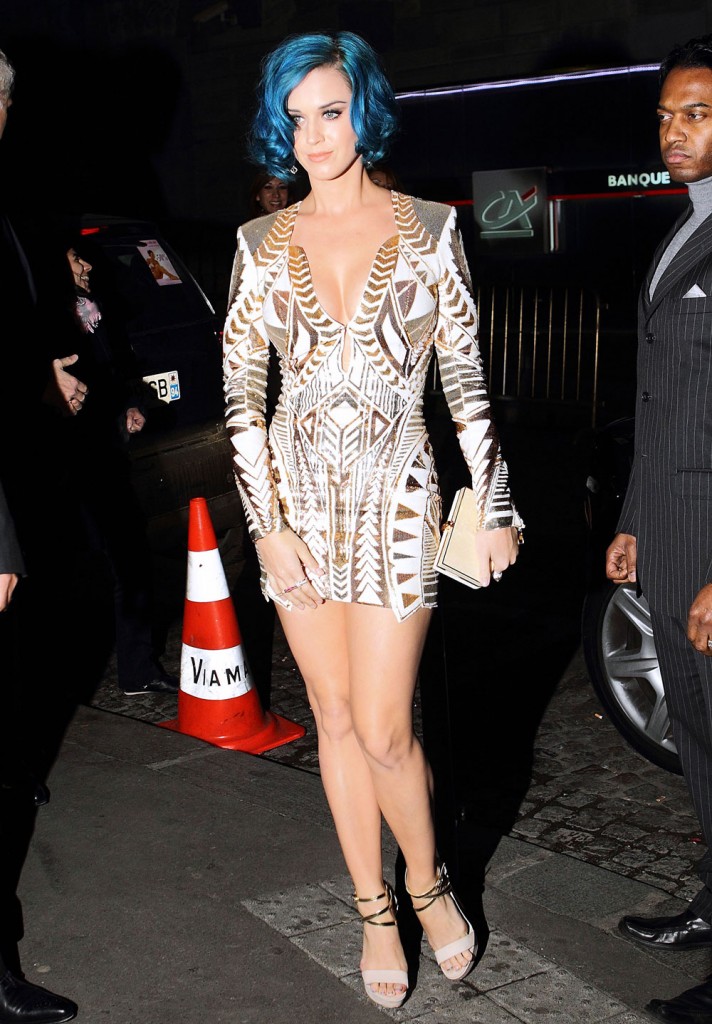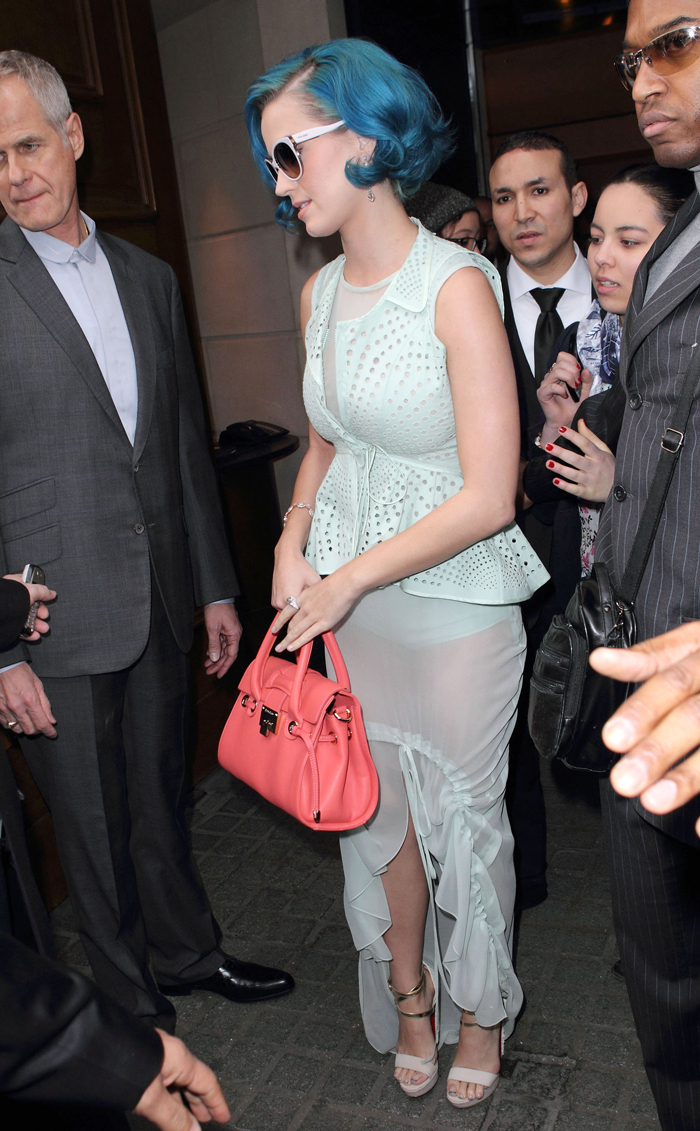 Katy's dark roots and blue hair combo continue to defy the laws of hair logic. I hope she's actually serious about quitting the color-changing nonsense soon, but I won't hold my breath.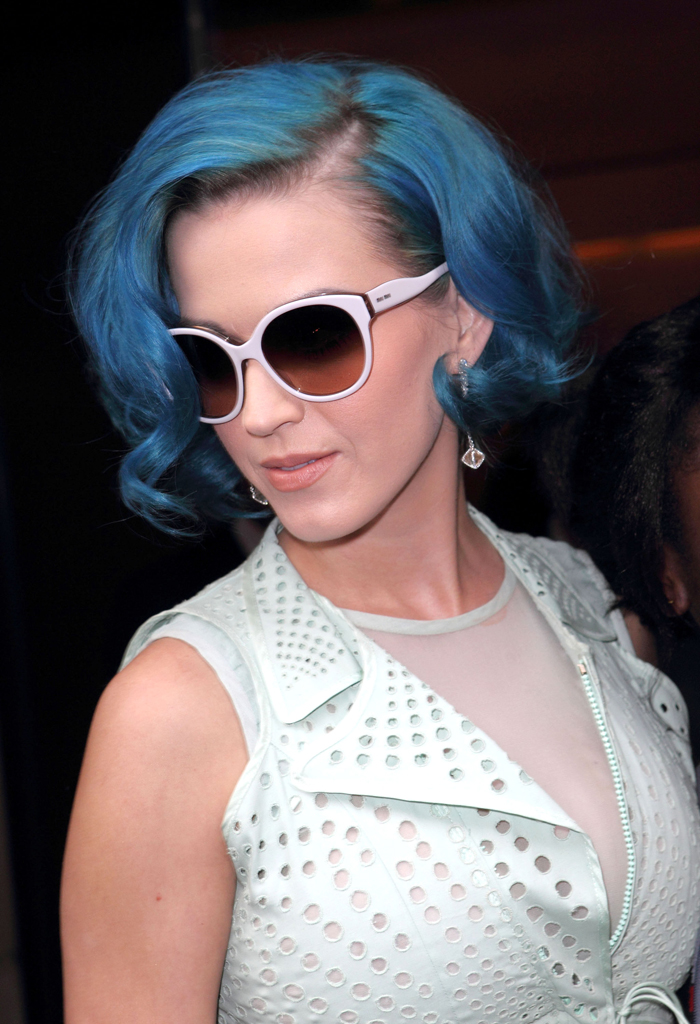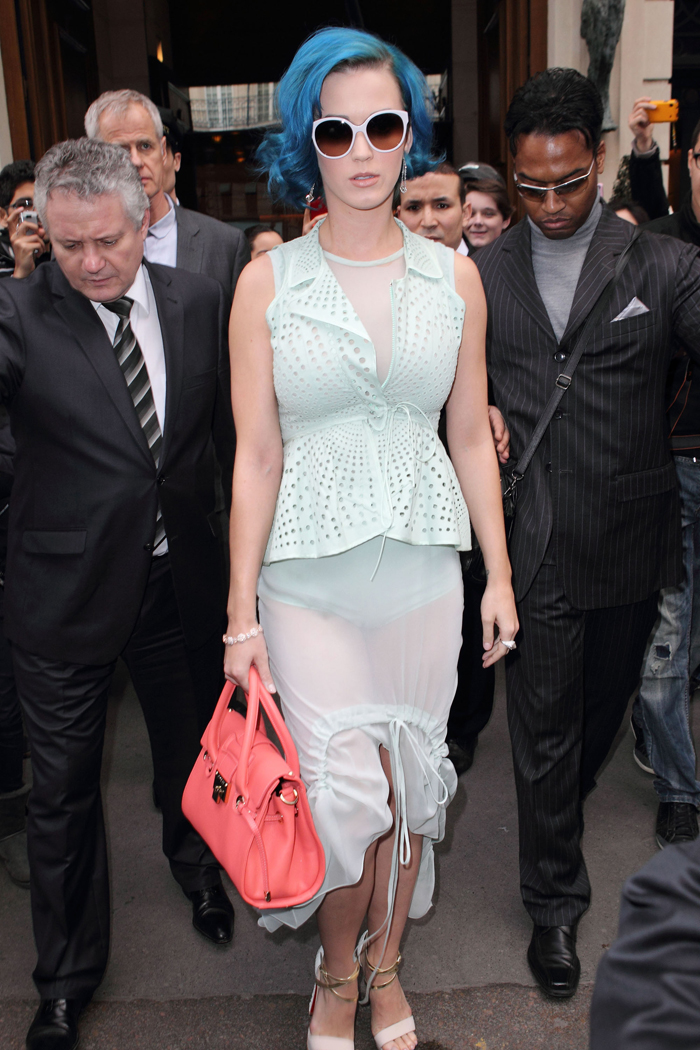 Photos courtesy of Fame/Flynet