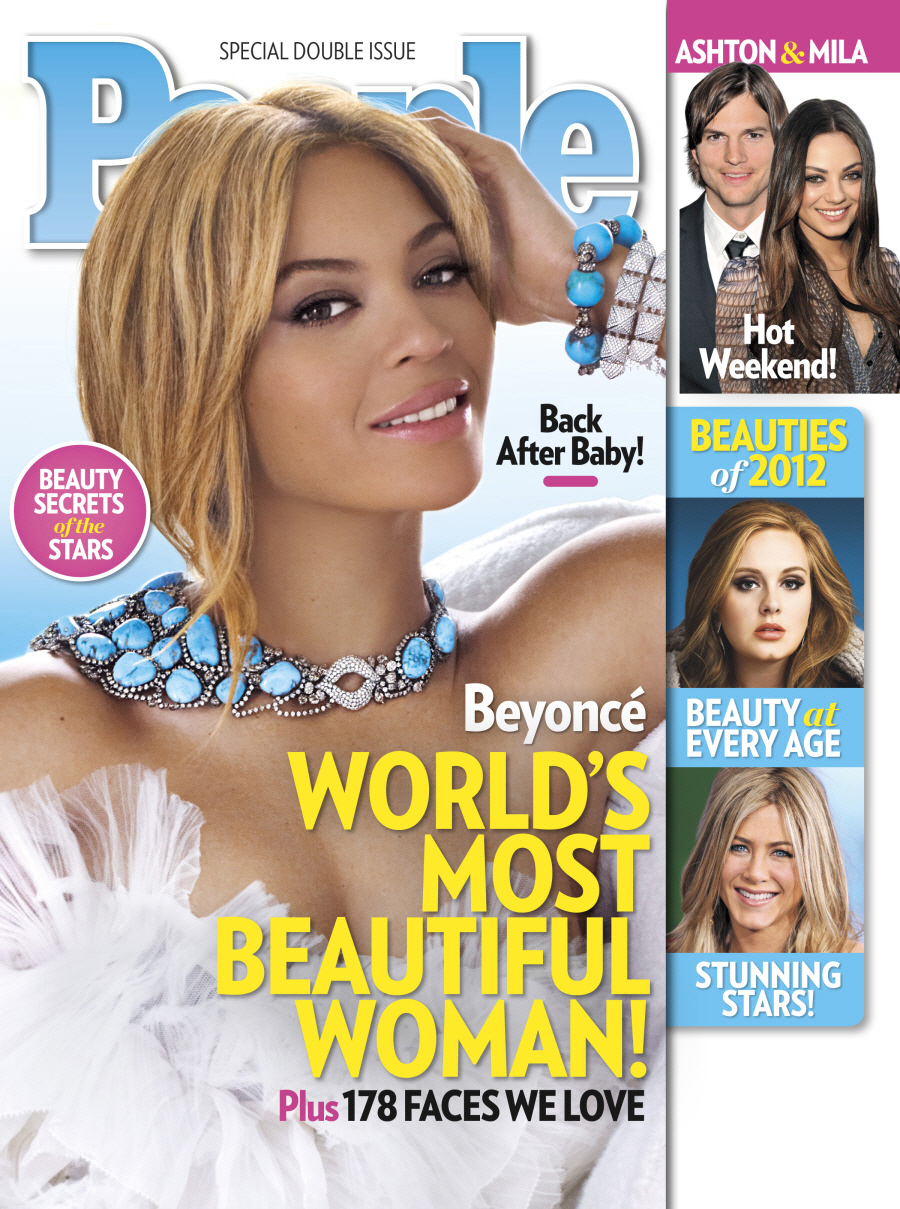 Beyonce's appointment as People Magazine's "Most Beautiful Person of 2012" is the gift that keeps on giving. As I said at the time, I'm cool with Beyonce being named the "Most Beautiful" – she's very beautiful, she's talented, she has a great work ethic, and I think it's nice that People Mag has gone back-to-back with women of color for the "Most Beautiful" issue. Now, all that being said, Beyonce's interview in the magazine is cray-cray. Beyonce is trying so hard to convince us of EVERYTHING, from her natural hair to her breastfeeding Blue Ivy to her "legacy." Was Bey always this try-hard? No, right? She used to be much more reticent. She didn't have to show us everything about her life. Personally, I blame Gwyneth Paltrow – but that's my default. I also think Bey's PR has gone to hell in a hand basket since Mathew Knowles, her dad, was pushed out as her Svengali-like manager. Since Mathew was pushed out, Beyonce seems like a different person. Which brings me to this – People Mag just released more excerpts of their cover story, and Beyonce tries to tackle the whole "did she fake her pregnancy?" issue.
From the moment she stepped into the spotlight, Beyoncé has been the center of her fair share of rumors. But even PEOPLE's 2012 Most Beautiful Woman was caught off guard when, while pregnant with her first child, whispers started swirling that she and husband Jay-Z had settled on a surrogate to carry their daughter.

"That was crazy. It wasn't hurtful, it was just crazy," the songstress, 30, tells PEOPLE. "[I thought] 'Where did they come up with this?'"

But perhaps the person most affected by the surrogacy speculation was not the expectant mom herself, but rather her own mother, Tina Knowles.

"I thought it was very unfair and very cruel that someone would think that someone would be that diabolical to keep up a charade like that for nine months," she says. "As a mother it was painful for me to hear the crazy rumors. And I even had people ask me, which was so ridiculous."

Alluding to an Australian interview in which it was later suggested that Beyoncé had been sporting a prosthetic bump, Knowles says, "It was a fabric that folded — does fabric not fold? Oh my gosh, so stupid."

Fortunately, the protective mom adds, her daughter's global fan following offered plenty of support. "There was so much love and well wishes from all over the world — it made it easier to deal with the stupid rumors."

But the dust didn't settle once the couple welcomed their baby girl.

Amidst the joy of welcoming Blue Ivy on Jan. 7, the new parents were said to have upset the hospital with their high list of security demands — a rumor that Beyoncé clarifies is "so crazy" and "ridiculous."
[From People]
Where did they come up with this? From your collapsible, pillowy bump, Beyonce. And beyond that, none of us ever claimed that she was "pretending" to be pregnant for nine months. When she "announced" her pregnancy at the MTV Music Awards in late August, she was allegedly well into her second trimester, and basically four and a half months away from "giving birth" ("naturally"). That's one of the main arguments for the conspiracy theorists – that Beyonce's pregnancy was very, very sudden and she was very far along so quickly.
By the way, do you notice how Beyonce carefully avoid explicit denials? She calls those conspiracy theorists "crazy" and she blasts all of the reports about all of the hospital drama as "so crazy" and "ridiculous." But she doesn't say, "We never shut down the whole maternity ward, of course not. We never had our bodyguards deny parents the ability to see their newborn babies. We never issued a huge payoff to the hospital to keep their mouths shut about what went down." But whatever. I guess we're all just crazy.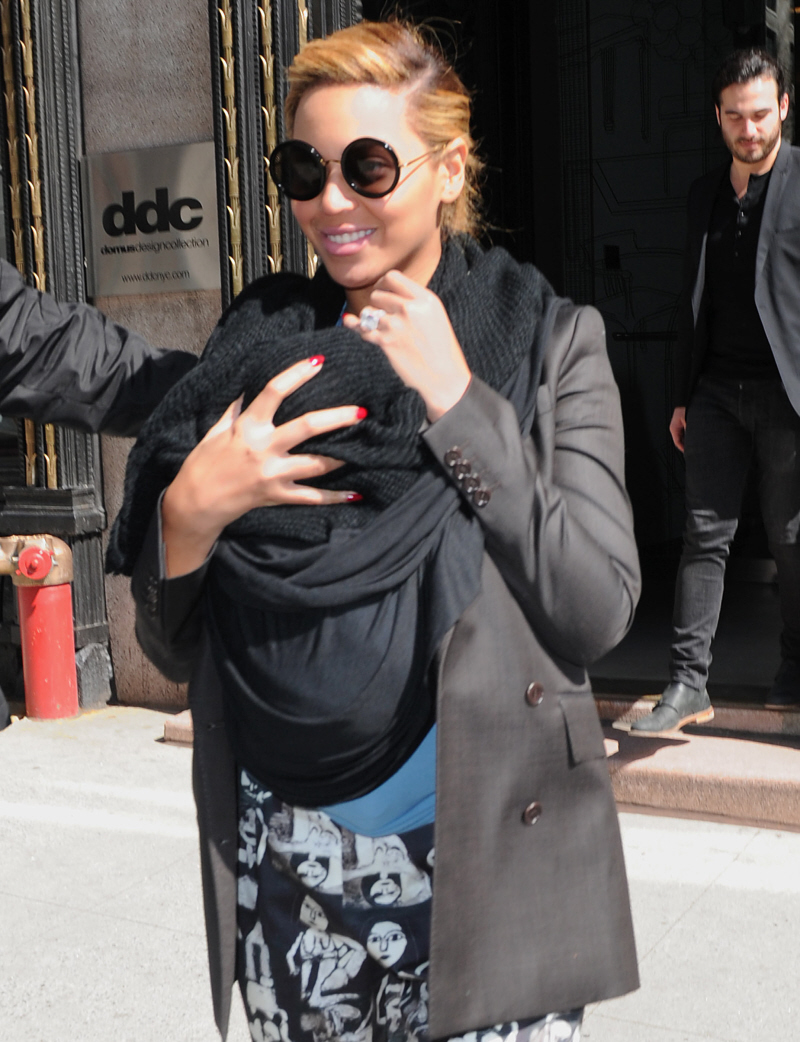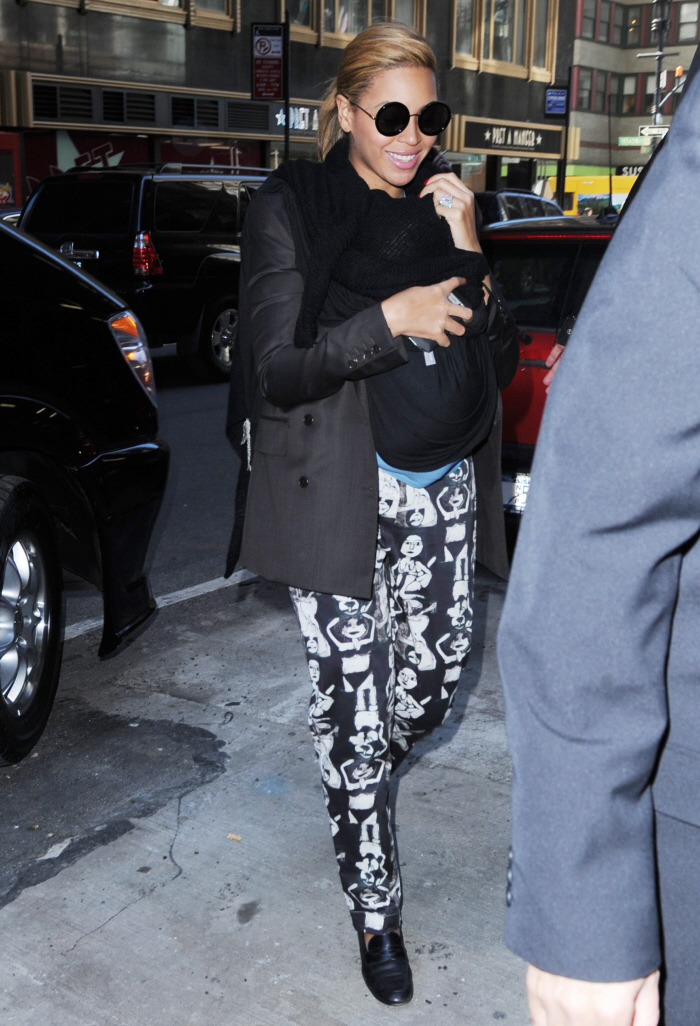 Photos courtesy of Fame/Flynet, People cover courtesy of People.