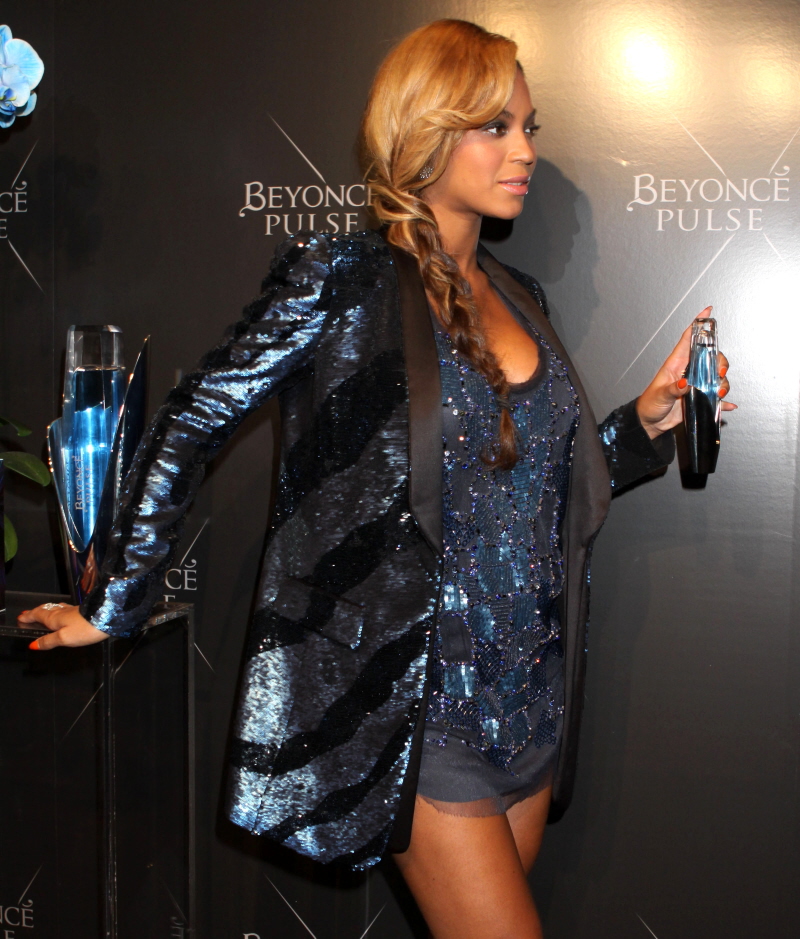 Here's what I don't understand: why is everyone bending over backwards to insult and patronize Beyonce's critics? Ever since the video of Beyonce's Sunday Night interview came out – complete with her baby bump "magically" folding in on itself as she sat down, Bey's stans have been pulling out their hair that anyone would dare question The Beyonce Bump. She's a celebrity, not Jesus. She's not untouchable, and in my mind, I think it's perfectly valid to ask "WTF?" when viewing the collapsing "bump". You want to see it again?
Now legitimate, mainstream media outlets are getting into to it too – from People and Us Weekly to ABC News and the Washington Post. They've all run stories about the "bump conspiracies". It's getting so bad Beyonce's publicist Yvette Noel-Schure even had to come out and do some damage control, telling ABC News, "Stupid, ridiculous and false." BITCH PLEASE.
But since everybody is debating the bump and whether or not it's real and why it looks like it's collapsing on itself, let me just lay out my theory. I'm sorry I haven't done this clearly before now, but I thought I already said some of this when the bump conspiracies came out. My conspiracy theory:
* Beyonce is actually pregnant. This is not a surrogate situation where Beyonce is wearing a fake bump to simply pretend she's pregnant, and she's going to pass off a someone else's baby as her own.
*It's debatable whether she's due in February, but that's what she claims, so I'm guessing it's probably true-ish. Maybe the baby will be "late" and she'll end up giving birth in March. We'll see. My take is that she's not as far along as everyone thinks she is. If she's due in late February/early March, that means she's about 4-and-a-half months right now.
*Beyonce is wearing a fake bump for the simplest of reasons: famewhorin'. She started wearing a prosthetic bump at the VMAs, when she did her big bump "debut" – when she was only about 12 weeks along and she magically had a nice-sized "bump" which she cradled lovingly for the cameras. She didn't have a big enough bump on her own (remember how flat and fit she was just days earlier?), and she wanted to be the center of attention at the VMAs. She strapped on a prosthetic, and she created her own media-storm.
*For why? Because her latest album sucked, and it was the worst-reviewed album of Bey's career. Beyonce did what any good con artist does: draws your eye to something else. Plus, she now gets to play the "I'm going to be a mother!" card to the hilt and introduce herself to the Mother Mafia fanbase.
*So now that Bey is presumably showing, why is she still wearing a prosthetic bump? I don't know. But I do know that over the past month and half, every time Beyonce is photographed, her bump is a different size, and it goes up and down constantly. I honestly think Bey just wants the visual to be very powerful, and she thinks wearing a fake bump will be a bigger impact. Sometimes. Other times, she still wants to wander around NYC in a what amounts to a blouse and nothing else.
*Epilogue conspiracy theory: It might have something to do with deflecting attention from her recently tweaked face too. Several months ago, Bey debuted a new "look" that I've had difficulty describing. I think it's a nose job, but there's something else in the eyebrows/eyes too. Now she gets to say that her face just changed because of pregnancy, I guess.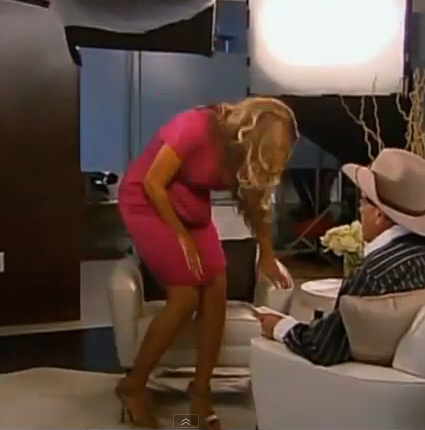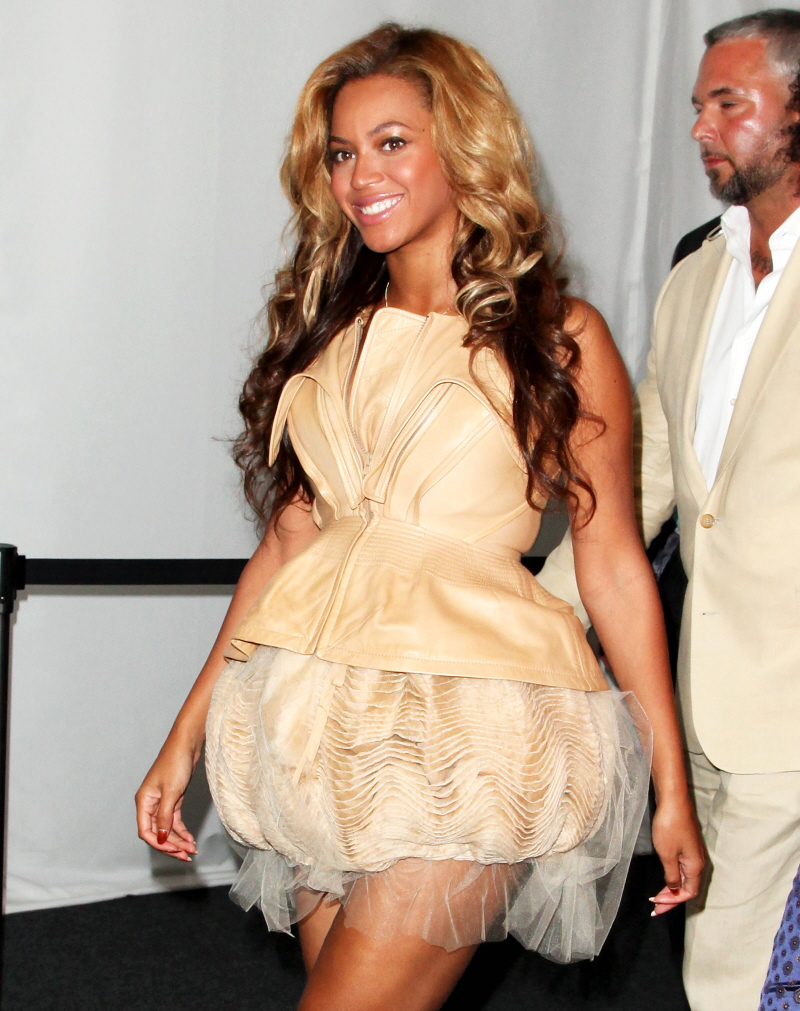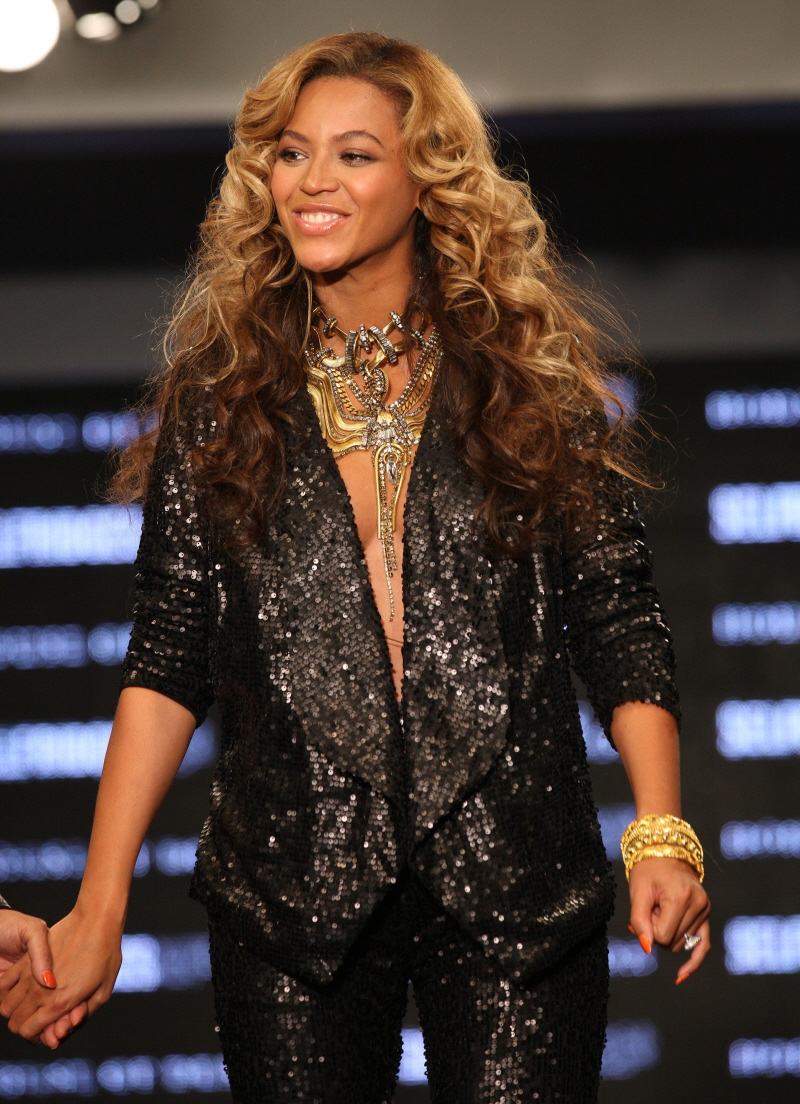 Photos courtesy of Fame.