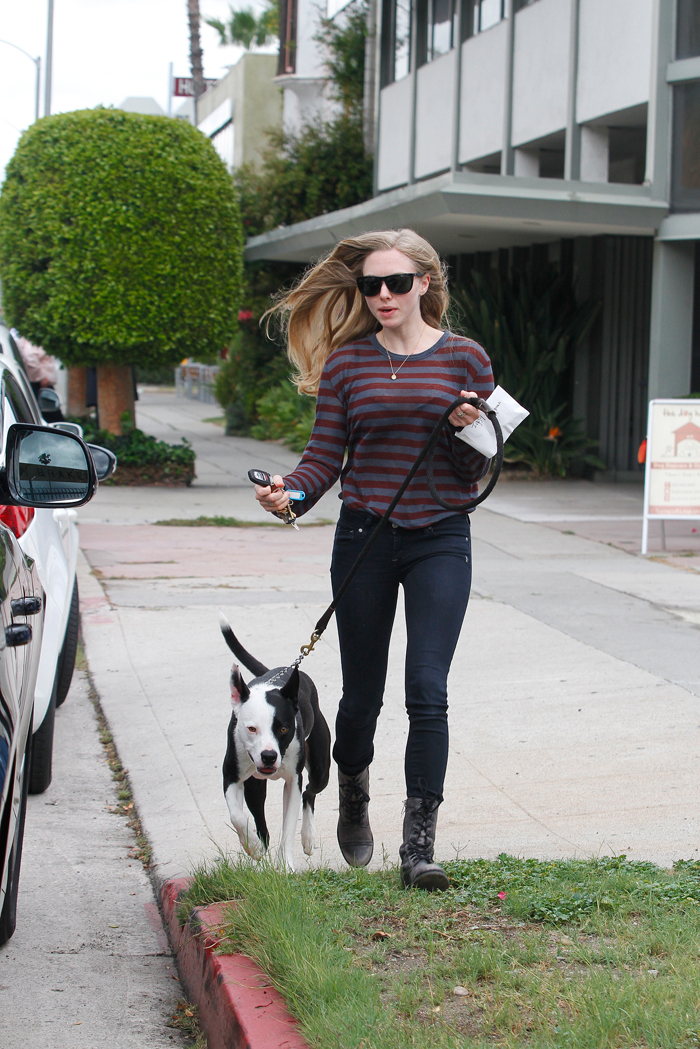 Here's a photo of Amanda Seyfried walking a dog in Los Angeles last week, and WENN mistakenly identifies it as her dog. But it's not! Amanda only has one dog, an Australian Shepherd named Finn, and the dog she seen walking in this photo is actually Josh Hartnett's mixed-breed pup, Iggy. Weird, right? A few weeks ago, we reported the regretful news (via The Mail) that Amanda had dumped Josh, thereby ending a 4-month, canine-centered romance, and The Mail theorized that she was still hung up on her ex-douche, Dominic Cooper. Apparently, this wasn't true because, within a week, Josh and Amanda were strategically papped together on two separate occasions. Here they are out for lunch together in Venice Beach on 4/21: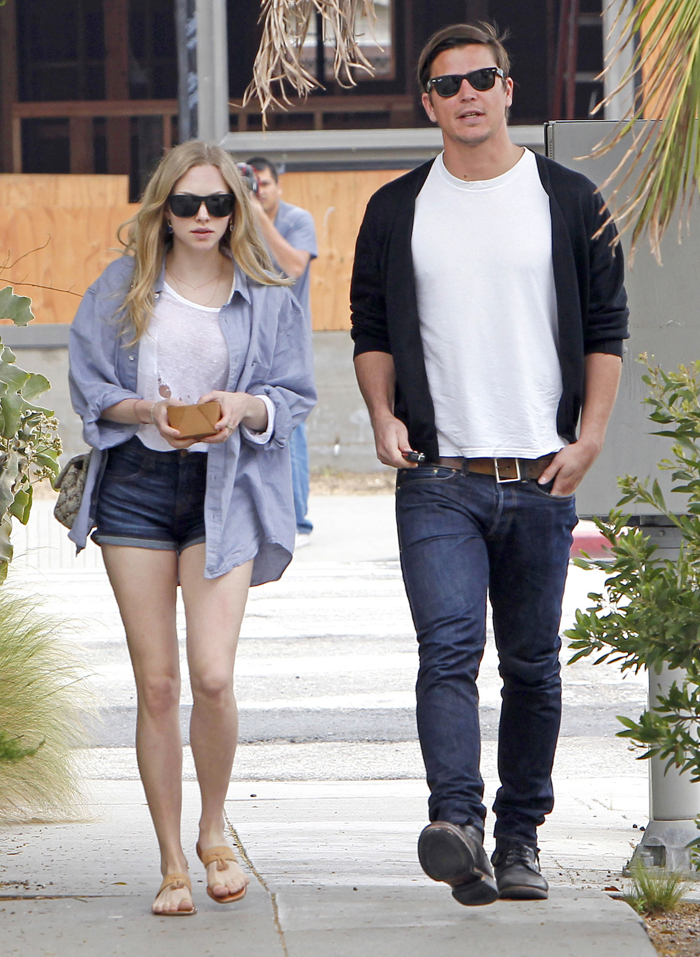 And here are Amanda and Josh heading out to breakfast together (waka waka) in Los Feliz on 4/23: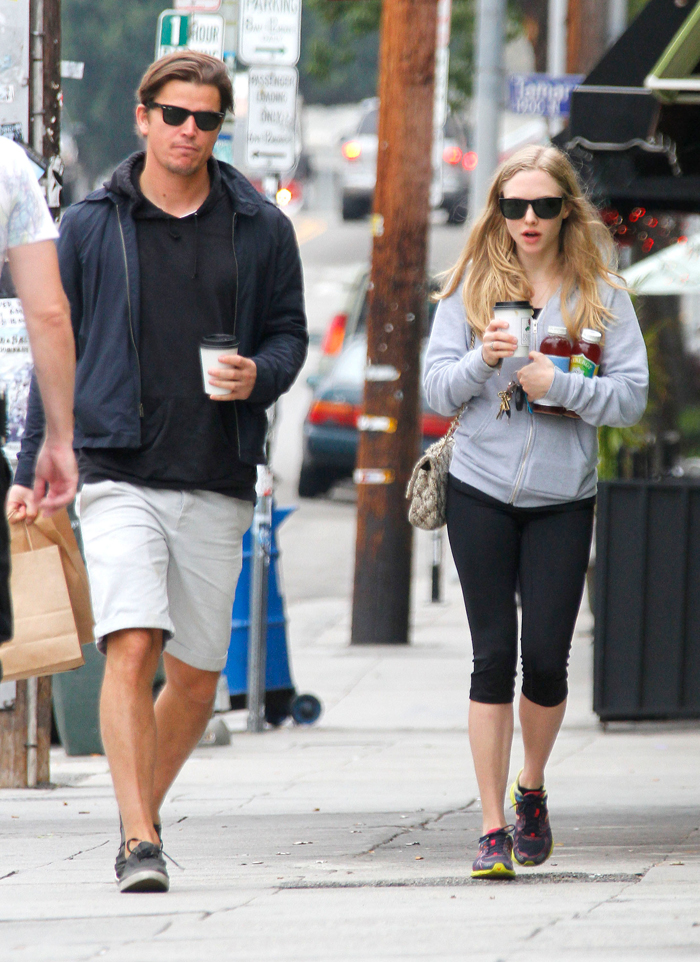 So judging by these photo ops, it would seem that Josh and Amanda are still going strong, right? Well now The Mail has a new story about how Amanda is hooking up with Dominic whenever she's in London shooting Les Miserables. Even though she and Dominic were sort of back together last June, I am inclined not to believe that Amanda would screw around on Josh or engage in an open relationship simply because she's so terrified of being promiscuous. I especially hope that Amanda wouldn't dump Josh for a guy who cheated on her with Lindsay Lohan at Cannes in 2010. However, The Mail absolutely insists that Amanda and Dominic are getting it on while she's in London:
Mamma Mia! actress Amanda Seyfried has been spotted with old flame Dominic Cooper after splitting from Pearl Harbor actor Josh Hartnett. Just two weeks ago I predicted that stunning Amanda, 26, would not be on the singles market for long – and it seems I was right.

Amanda, who called time on her romance with 33-year-old Josh earlier this month, was seen being dropped off at a gym by former co-star Dominic, prompting rumours of yet another reconciliation for the on-off couple.

Dominic and Amanda first got together in 2008 after falling in love on the set of Mamma Mia! But they split in 2010 when I revealed that Dominic had become romantically involved with his stage co-star, beautiful Ethiopian-born actress Ruth Negga, 30. Last summer Dominic, 30, and Amanda had a rapprochement but he then started dating Ruth again.

Now I'm told Dominic is no longer seeing Ruth and he has been secretly meeting up with Amanda – who is filming Les Miserables in London.

Dominic was spotted outside the gym in West London with Amanda and has apparently told friends that he is not ruling out a reconciliation with her. "It's hard to keep up with Dominic – he is definitely a ladies' man," one source tells me. "He was with Ruth, but things appear to have cooled off. Then about a fortnight ago he was in London with Amanda driving her around town. He's been very coy about whether they are back together."

Last night, agents for Amanda, Ruth and Dominic declined to comment.
[From Daily Mail]
I hope this story isn't true because while Dominic is undoubtedly a hell of an actor (I really liked him in The Duchess alongside Keira Knightley), he's certainly a terrible boyfriend. Even if he's very sweet behind closed doors, any good behavior is negated by his womanizing and especially by the fact that he slept with a Lohan.
Also, I have a very selfish reason to want to doubt that Amanda is screwing around on Josh as well — I want to see more photos of Iggy. On his own, Josh doesn't really get papped, but if Amanda remains in the picture, we'll get to see more of the adorable Iggy. And maybe more of Finn and Iggy together too! God, I am so pathetic.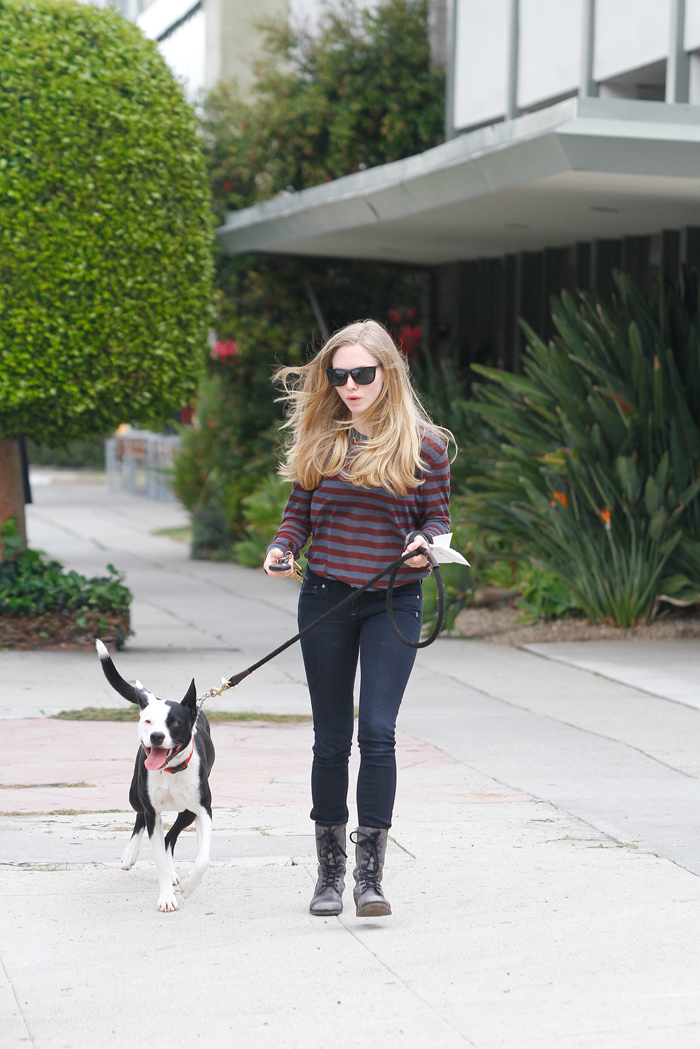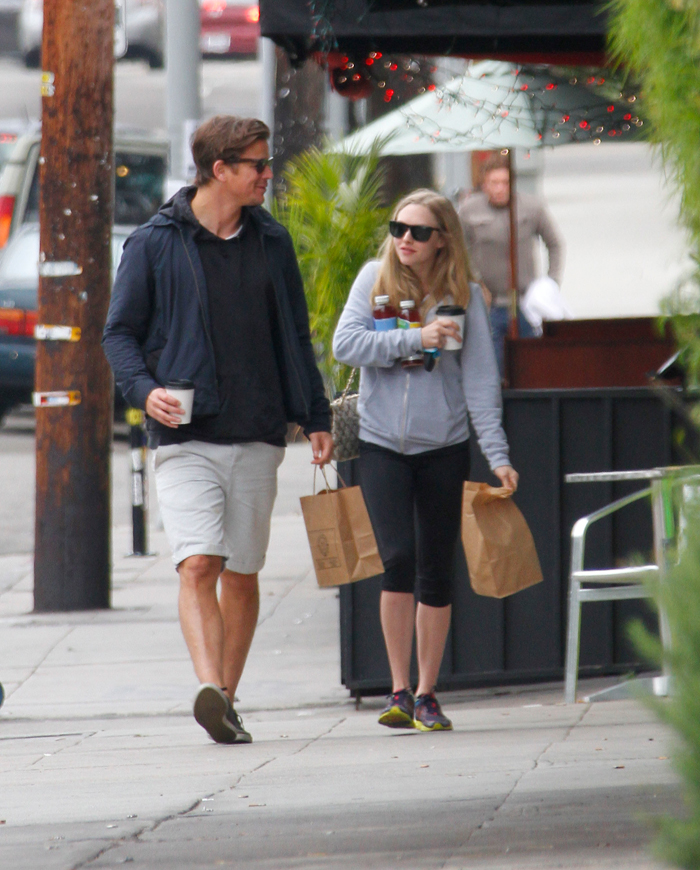 Photos courtesty of Fame/Flynet and WENN