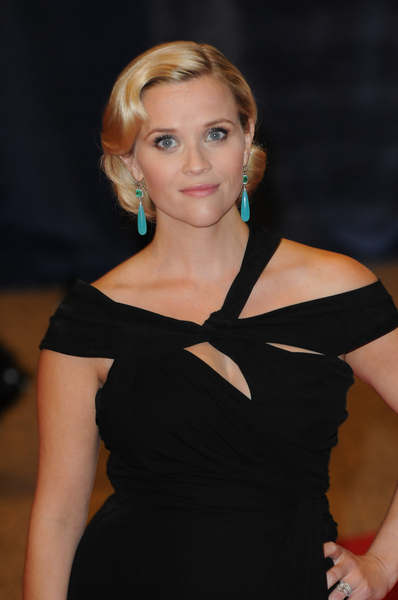 Anna Paquin and Reese Witherspoon both made their first post-pregnancy event appearances this weekend at the White House Correspondents Dinner. We've seen plenty of paparazzi photos of each of them lately, and it was nice to see them looking relaxed and dressed to the nines for an event. They each wore similar black flowing gowns that made it hard to tell that they were pregnant, sadly. I kind of love it when newly-pregnant ladies wear tight dresses and work it, but I also get the urge to not draw attention to yourself. They were dressed appropriately for a semi-formal event like this, and their dresses hit just the right balance of looking semi-formal without seeming too prom-like.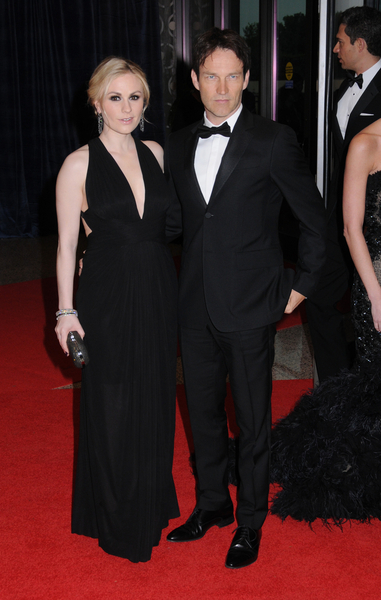 Anna was in an elegant v-neck empire waist Hervé L. Leroux gown. It's hard to tell from this smallish photo, but the dress was actually sheer through the skirt and she had a slip underneath that hit about mid-thigh. Here's a link to a higher resolution photo of the dress. She looks about four or five months along, although that's just a guess and it's hard to tell. Anna, 29, made her pregnancy announcement almost two weeks ago. It will be her first child with her husband and co-star, Stephen Moyer, 42. It will be Moyer's third child.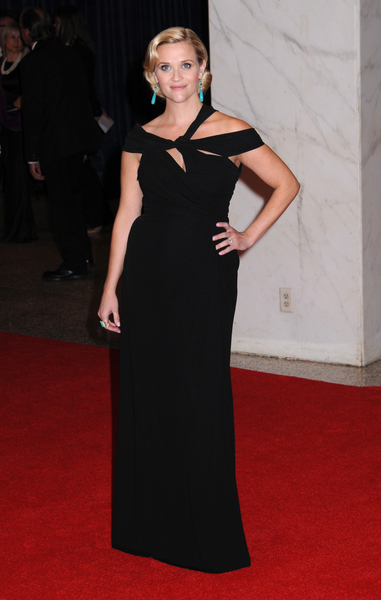 Reese wore a more opaque Monique Lhuillier with a complicated tied neckline. I'm not a fan of whatever is going on at the neck with Reese's gown. It just looks like one of those dresses that you struggle trying to figure out where neck and the arm holes are. I hate those! Still, Reese looks so pretty here and I love her flapper-inspired soft waves and simple drop earrings. She's stunning. I would have loved to have seen her husband, Jim Toth, on the red carpet but he was probably busy at home watching the kids. Reese, 36, made her non-announcement pregnancy announcement via US Weekly on March 21, when she was reportedly just 12 weeks along. So that would make her a little more than four months pregnant, although I bet she's a little farther along than that.
Reese went to the White House Correspondent's dinner Vanity Fair dinner after party where she was seen hugging up on Uggie the dog. I'm jealous!
Here are some other photos of Reese and Anna. They're both seen out in LA on 4-24-12. (Anna photos credit: KVS/ Pedro Andrade, PacificCoastNews.com. Reese photos credit: Brabus, PacificCoastNews.com. Event photos credit: Janet Mayer / PRPhotos.com)