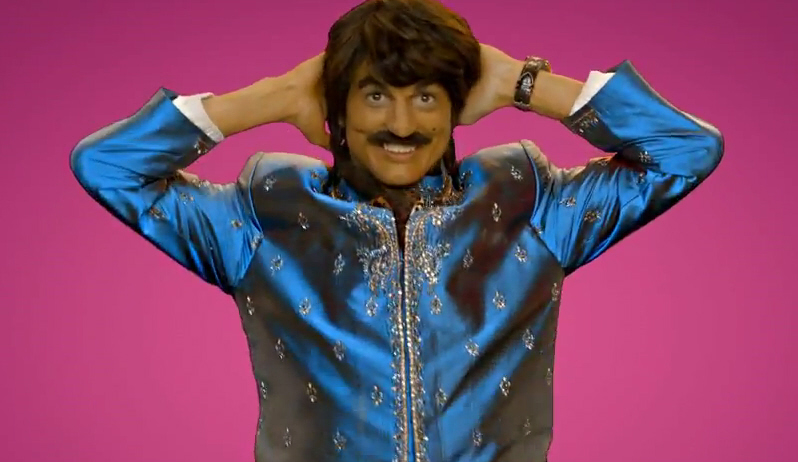 CB asked me yesterday whether or not we should cover Ashton Kutcher's new commercial for "Popchips". I vetoed the idea without even watching the commercial, just because my default position is "Ashton is a d-bag who doesn't deserve attention." Unfortunately, this PopChips ad is now a "thing." A bad thing. In the ad, Ashton appears in various costumes, doing various bad accents, pretending it's a dating commercial or something. One of the "costumes" involves Ashton wearing "brown-face" and doing a bad Indian accent and pretending he's a horny Bollywood producer. Here's the ad:
Yeah, he also does the "fey" thing when he's in the Karl Lagerfeld get-up. So he possibly offended gay people as well as Indians. As well as anyone of even moderate intelligence. Anyway, this ad just got pulled and now Ashton and PopChips are facing a lot of criticism:
Ashton Kutcher's new Popchips commercials were meant to be funny and lighthearted, but one has been swiftly pulled – and an apology issued – following a grim reaction from Indian Americans.

The ad in which Ashton plays "Raj," a Bollywood producer – complete with brownface makeup and a heavy Indian accent – has been removed from the Popchips website and other online channels amid an outcry that it is racist, reports The New York Times.

The most blistering critique came from Anil Dash, the tech entrepreneur. "I can't imagine I have to explain this to anyone in 2012, but if you find yourself putting brown makeup on a white person in 2012 so they can do a bad 'funny' accent in order to sell potato chips, you are on the wrong course," he wrote on his website.

The Two and a Half Men actor, 34, has yet to respond to the controversy. But Keith Belling, founder and CEO of Popchips, posted the following message on the company's website: "We received a lot feedback about the dating campaign parody we launched today and appreciate everyone who took the time to share their point of view. Our team worked hard to create a light-hearted parody featuring a variety of characters that was meant to provide a few laughs. We did not intend to offend anyone. I take full responsibility and apologize to anyone we offended."

Added a company rep: "The new Popchips worldwide dating parody featuring four characters was created to provoke a few laughs and was never intended to stereotype or offend anyone. At Popchips we embrace all types of shapes, flavors and colors, and appreciate all snackers, no matter their race or ethnicity. We hope people can enjoy this in the spirit it was intended."

The ad series spoofs dating videos. In other executions, Kutcher plays a diva, a hippie and a biker. Kutcher was named "president of pop culture" for Popchips in 2010, and worked on the commercials with the ad agency Zambezi in Los Angeles.
[From People]
Throughout the past… decade or so, I've become kind of jaded about this kind of "racism". While I completely see the critics' points about "brown-face" and the racism of the stereotype, I'm mostly offended by the stupidity. That's what bugs me: this is just stupid. This is an awful idea, and I can't believe someone thought, "Hey, what a great idea! This will be a perfect way to promote chips! Let's hire Ashton Kutcher and get him do an Indian minstrel show!" How f–king dumb are they?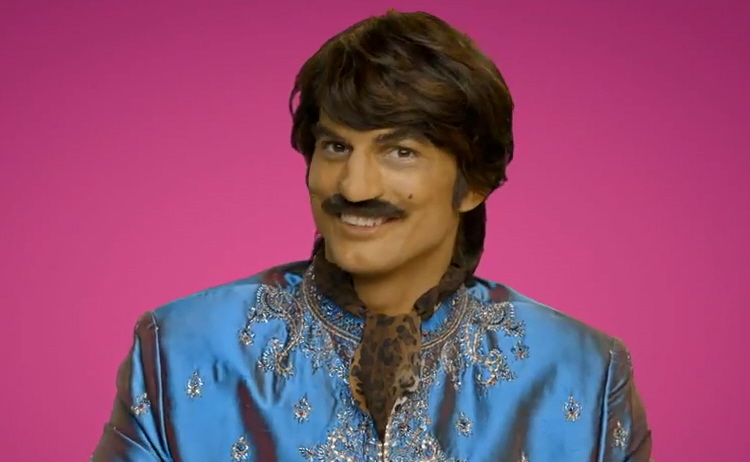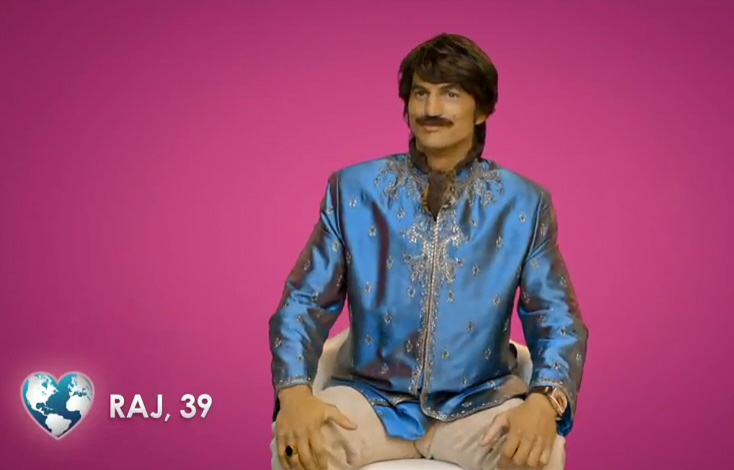 Screencaps from the ad.