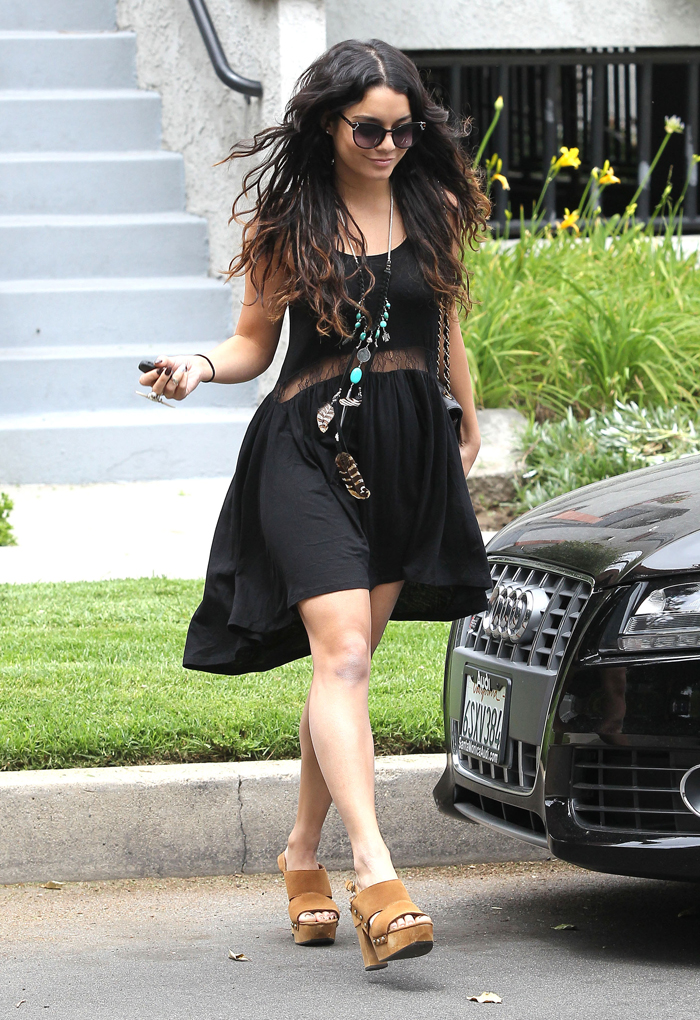 Vanessa Hudgens is a sly one. Here are some photos of her out shopping at a psychic store for the paps, which is a nice change from her usual routine of frolicking in a bikini for the paps. I guess she's got some downtime after filming on Spring Breakers (the Harmony Korine movie with James Franco as K-Fed) wrapped last month. Speaking of which, a story in this week's In Touch has a story about how Justin has totally fallen for Vanessa after visiting girlfriend Selena Gomez on the set. It further follows that Justin allegedly now prefers Vanessa to Selena because the latter isn't a "goody-two-shoes." The implication there is that if one hasn't been the subject of multiple nudie shots that have circulated around the internet, then one is a prude, right? This story is nonsense: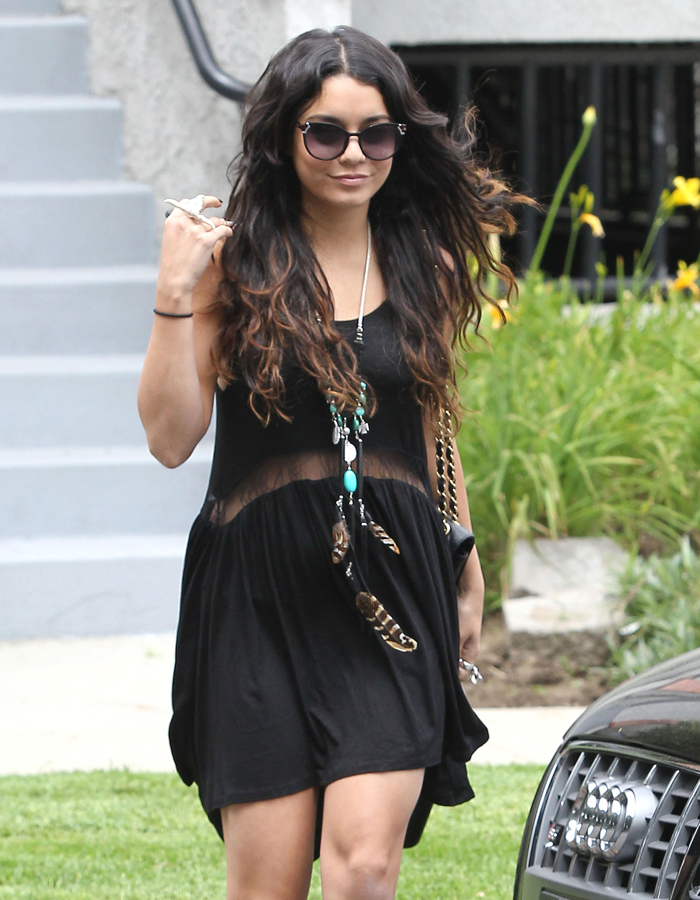 Justin Bieber has the hots for Vanessa Hudgens, and it's left his girlfriend Selena Gomez steaming mad!

"High School Musical" cutie Vanessa, 23, co-stars with Selena, 19, in the upcoming movie "Spring Breakers," and insiders say "Baby" singer Justin, 18, flipped for Vanessa while visiting Selena during filming.

"Justin spent a lot of time on the set in Florida during the late winter and early spring," said a source. "He was there to see Selena, but he wound up falling hard for Vanessa. He couldn't stop raving about how smart, sexy and talented she is. Plus, he loves the fact that Vanessa is like Selena, but minus the goody-two-shoes personality."

The two struck up a friendship even though Vanessa is dating 20-year-old actor Austin Butler, and they've been secretly texting each other since "Spring Breakers" wrapped, said the source. "Their banter tends to get very suggestive," the source revealed. "A mutual friend told Selena about it, and she freaked. Now Selena is threatening to dump Justin unless he cuts ties with Vanessa."

Meanwhile, Vanessa — who dated her "High School Musical" co-star Zac Efron for over four years before they split in 2010 — is still hot 'n' heavy with Austin. "Vanessa thinks Justin is adorable and talented, but she's devoted to Austin and she doesn't want to betray Selena," said the source.

"Still, Justin's crush on Vanessa is creating major tension between him and Selena. Now Justin is trying to get back in Selena's good graces by vowing she's the only one for him."
[From Enquirer, print edition, May 14, 2012]
Kaiser and I were talking about this story, and she totally thinks that the source is firmly planted within Vanessa's camp. I agree — especially since the story takes such great pains to describe Vanessa as "smart, sexy and talented." I'll buy sexy (and maybe smart too) but talented? No comment. Also, the story conveniently makes a huge deal about how Vanessa is so devoted to Austin Butler and wouldn't dream of betraying poor, innocent Selena. Those details sound like they're straight from a publicist's mouthpiece.
Here are Selena and Justin on 4/21 together on the set of his new music video. Quite obviously, he's no more into Vanessa than Selena is into Franco. These two kids are just fine together.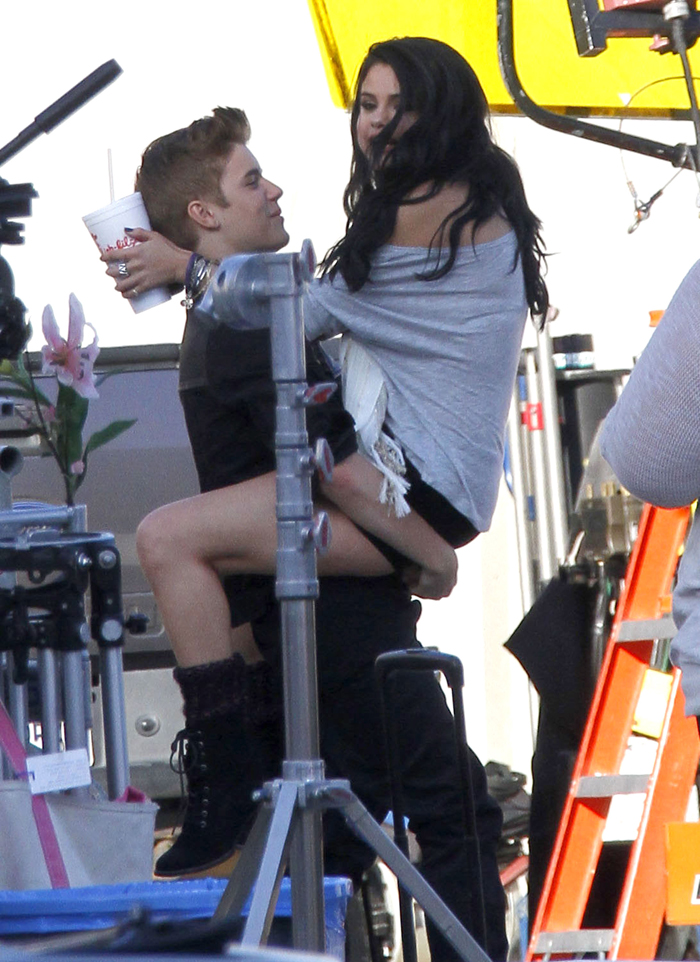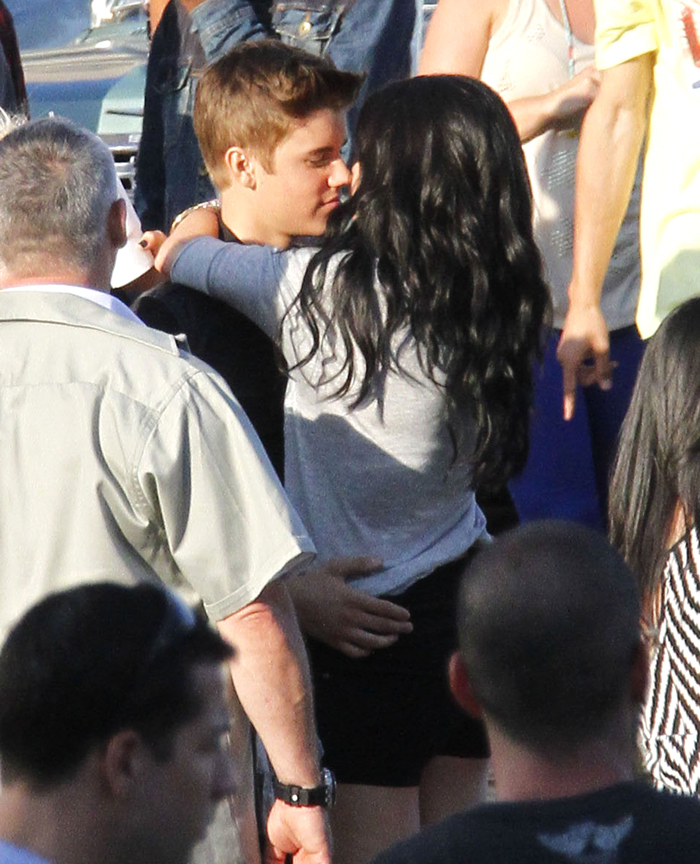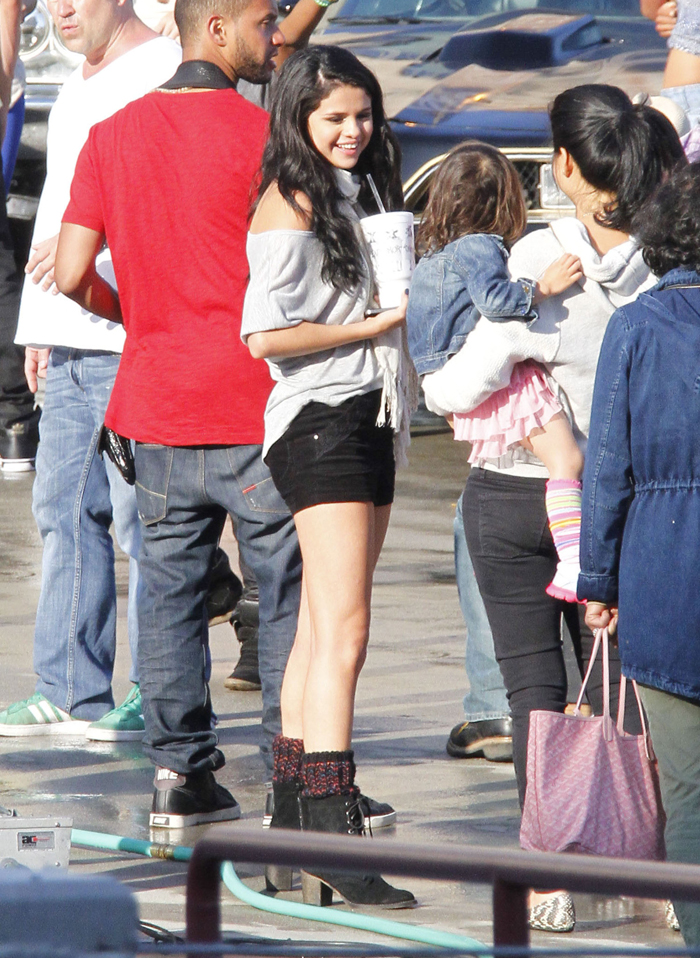 Photos courtesy of Fame/Flynet