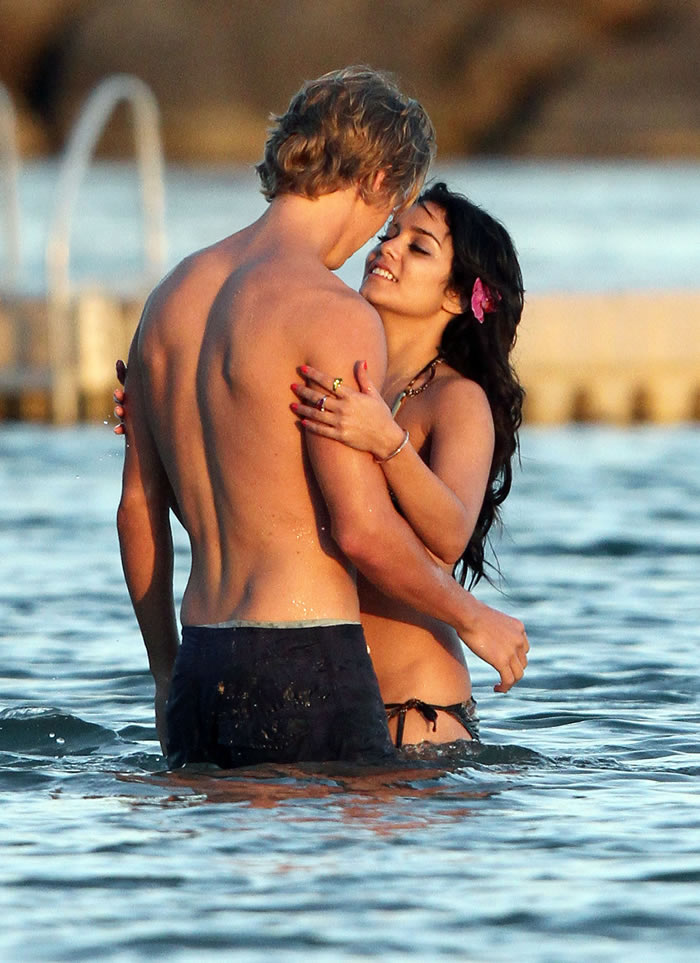 Over the weekend, Vanessa Hudgens was papped in a bikini while frolicking at the beach with her latest boyfriend, Austin Butler. The whole thing is so obviously posed, and one gets the feeling that she's got the paps on speed dial. Vanessa certainly has a history of releasing photos when it suits her career to do so. Everyone remembers those infamous 2007 nude cell phone shots that Vanessa took of herself during her High School Musical days that somehow (oops!) ended up in the hands of the public. Then last March, Vanessa feigned outrage at a conveniently released set of nude photos that surfaced right ahead of Bandslam although that little "mistake" didn't exactly pay off at the box office. Still, racy photos are her go-to move, so she shall not be deterred for long.
Now Vanessa's got a new movie — Journey 2: The Mysterious Island — which also stars one of Vanessa's ex-lovers, Josh Hutcherson, coming out on February 10. While we haven't seen any top-secret cell phone photos yet (but there's still time for that), Vanessa has taken to the beach for some strategically staged photos in and out of the water with poor, unaware Austin:
Since being reunited in Hawaii earlier this week, Vanessa Hudgens and her boyfriend Austin Butler haven't been able to keep their hands off each other.

And it was no different yesterday, as the couple put on yet another public display of affection in the waters of Hawaii.

With her bikini body on display in a tiny black patterned two piece, Vanessa, 23, leaned in to hug and kiss her shirtless beau on Saturday evening.

The two tanned actors splashed around the water and watched the sun set after going kayaking together.

Vanessa and fellow Disney actor Austin, 20, who have been dating since last September, are clearly very much in the honeymoon period of their relationship.

This is the third straight day the love birds have frolicked in the surf and shared a steamy kiss in public.

Their affectionate displays have left onlookers with no doubt as to who has Vanessa 's heart now.

It's been a whirlwind week for the brunette beauty who was in Australia last Sunday with former boyfriend Josh Hutcherson promoting their new movie Journey 2: The Mysterious Island.

Journey 2: The Mysterious Island centres around a woman and her boyfriend on a mission to find his grandfather, who is thought to be missing on a mythical island.

It co-stars Dwayne 'The Rock' Johnson who was brought in to replace Brendan Fraser who starred in the last instalment titled Journey to the Center of the Earth.

The action-adventure will hit theatres in the US on Friday, February 10.
[From Daily Mail]
Well, let's not completely jump to conclusions here. Perhaps Vanessa just happened to plan a beach vacation for this weekend well in advance of knowing the date for Journey 2's premiere date. Or maybe she just got a lark and decided to go to the beach and show off her cute booty for no reason at all. I mean, she's got a really cute booty that must be very difficult to hide.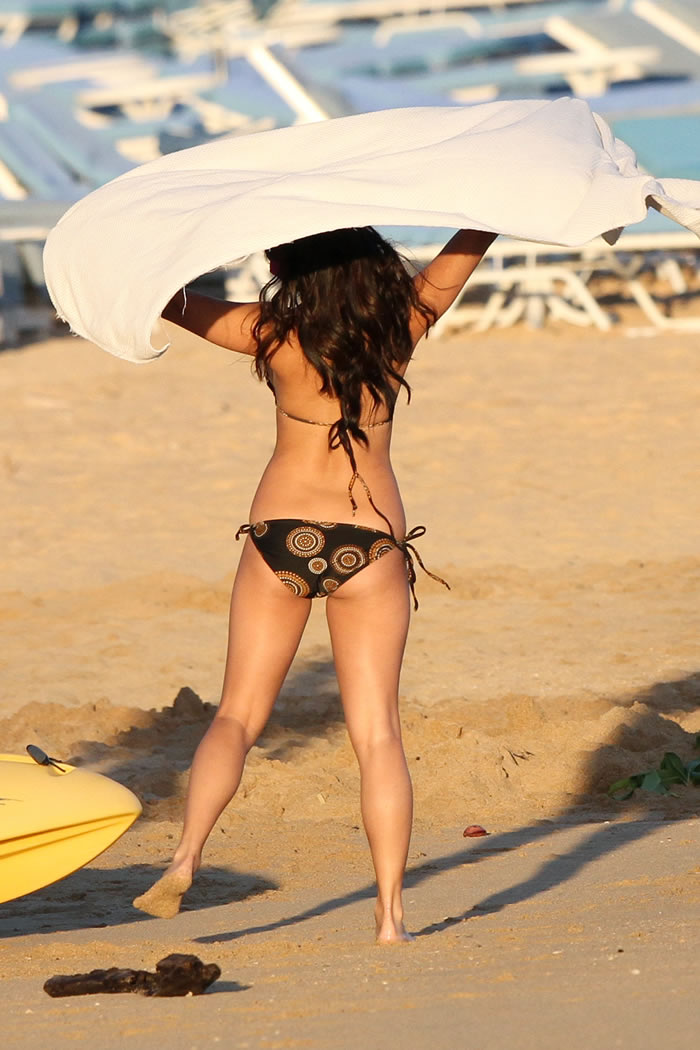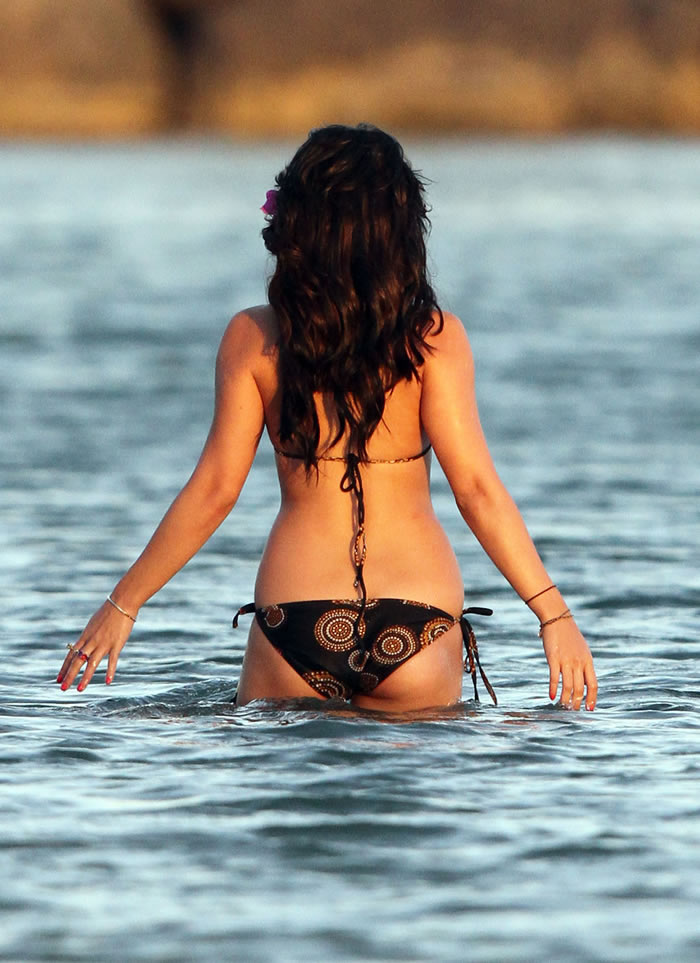 Still, something about this screams "Look at me in a bikini! Look at my beautiful boyfriend! Go see my movie now, okay?" Eh, the movie's going to do well anyway regardless of whether Vanessa's showing off her great figure or not. As the sequel to Journey to the Center of the Earth, which was a hell of a lot of fun and grossed $241 million worldwide, Journey 2 already had a head start at success even before the casting process began. As a bonus, the filmmakers have swapped out Brendan Fraser with Dwayne Johnson. Slurp!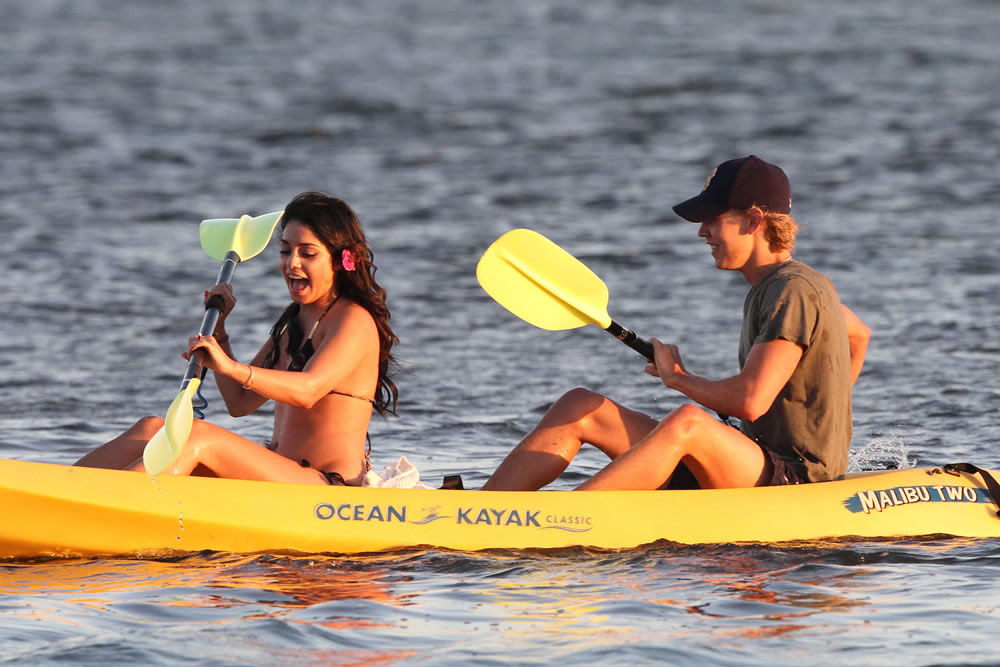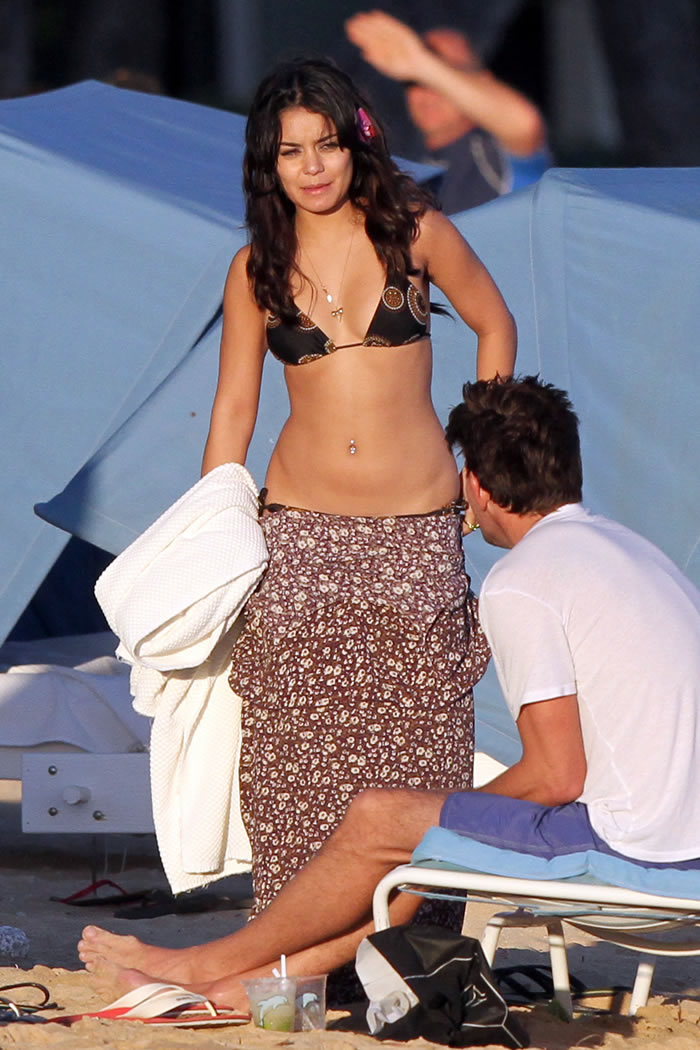 Photos courtesy of Fame/Flynet