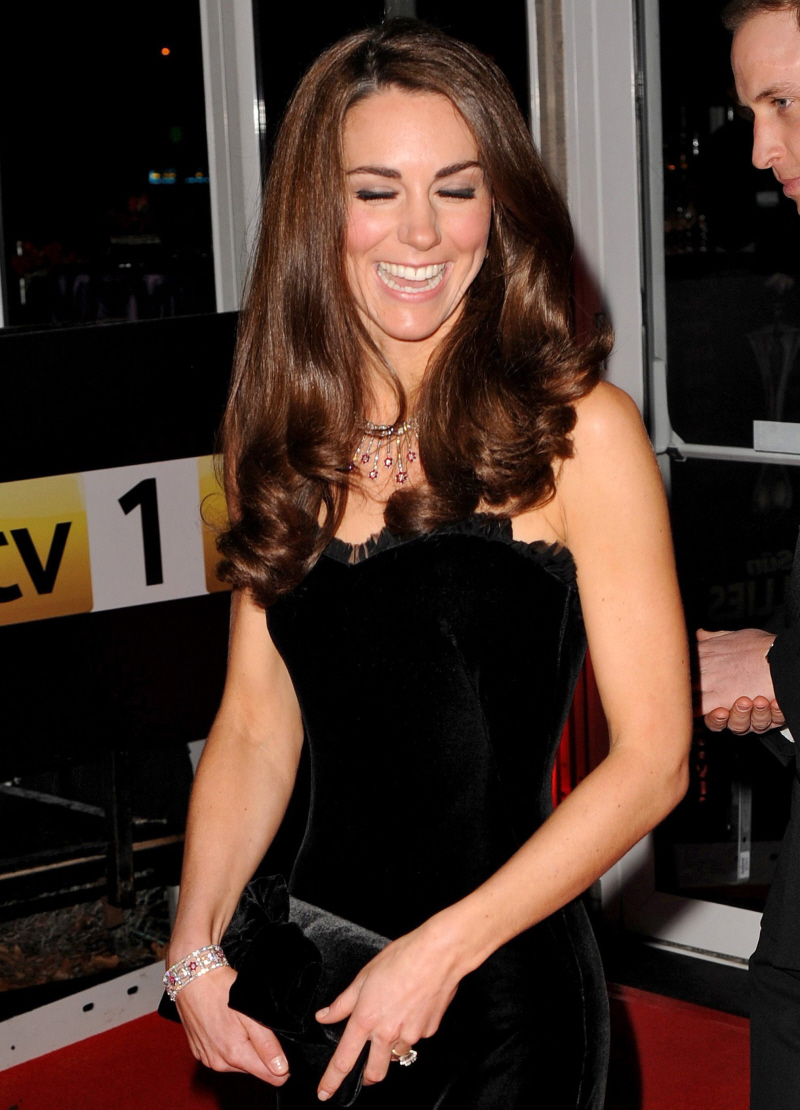 The Daily Mail has an extensive article/opinion/essay today about Duchess Kate's epic hair. The thesis seems to be "Kate should cut her hair and find a more mature, professional and elegant hairstyle." Which is a bit rich, because The Mail – and several other UK papers and tabloids – have treated Kate's hair like "The Curls That Saved A Nation" ever since Kate and William got engaged. You can read The Mail's piece here, and here are some highlights:
No one can be in doubt that The Duchess of Cambridge has behaved impeccably in her first year of marriage to Prince William. Middle-class Middleton has crossed the class divide with grace — she's courteous, elegant and never stops smiling, especially when her beloved husband is at her side. But is it just me or has something rather strange happened to Kate recently? It's not her whittled-down waist. Nor is it her fashion sense, the love of High Street brands such as Reiss and LK Bennett, which earns her brownie points with the public and is turning her into a fashion icon.

No, it's those famous locks, which seem to be getting longer by the day. Her Royal Highness is turning into her Royal Hairness with that dark, glossy mane. And I'm wondering if now, a year on from her wedding, it might just be time for the chop.

Now I'm not suggesting for a moment that Kate should be sporting a Mia Farrow crop or middle-aged bob. But the blanket of hair which arrives five minutes before she does has to go. Take last week, when Kate was greeting children at a charity event. Dressed in a dark blue tweed skirt and jacket, she looked stylish, professional and charmed everyone. Yet every time she bobbed down to talk to one of the youngsters, her face was completely obliterated by a cascade of dark curls. She would flick it out of the way, fondle and fiddle with it and I lost count of the number of times she had to tuck it behind her ear. At one point she looked like Cousin It from the Addams Family — all hair, no person. It was so distracting.

Even Princess Diana realised early on in public life that people wanted to see her face. She cut her droopy bangs and settled for a much more sophisticated short style. It worked, showcasing her enormous blue eyes and strong features.

So why is Kate clinging to her own over-long mane? Even she must have been infuriated by being overshadowed by her hair, because at her very next event she attended at the Imperial War Museum she'd put it in a back-teased half-up, half-down style. But even that style was more WAG than HRH. For goodness sake, she's a member of the Royal Household now, not Cheryl Cole. Every time I see her fondling her hair I'm waiting for her to look into the cameras and coo: 'Because I'm worth it.'

Kate's mane has none of the elegance of Mary, the Crown Princess of Denmark, also a young woman of ordinary birth who has risen to the highest position in the land. On Kate and William's trip to Copenhagen in the autumn, Mary's shiny, shoulder-length brown hair looked far more elegant than the Duchess's tumbling curls.

Surely an image-conscious young woman like Kate can't be oblivious to this? Yet there are probably a number things stopping her cutting her hair. First there is a long Royal tradition of establishing a look, then keeping it. The Queen is the perfect example. Apart from the colour, her hair has hardly changed since she took the throne six decades ago. Less successfully, Princess Anne revels in the same unflattering hairstyle (and the same frocks) she wore half a century ago. It's widely known that Camilla's hair-stylers have tried for years to tease her out of the rather dated 1970s Farrah Fawcett flick she's been sporting since she was a girl. Yet she always responds: 'Charles loves my hair this way.'
[From The Mail]
The piece goes on to say that Kate might be clinging to her long hair and sausage curls because that's how she looked when she met William, and he may prefer her hair like that too. Another theory: Kate is clinging to the youthful long hair as a way to cling to her youth. The writer goes on to admit that she wore long hair for years, and she recently got four inches taken off (it now comes to her shoulders) and now she loves it and feels and looks younger. Which is always what the short-hair brigade says!!!
Look, I have long hair too. My hair is probably about at Kate's length. I love long hair. It suits me. I barely do anything to it (Indian genes!) and it looks fine. I don't have an issue with Kate having long hair – at all. She had long hair in college and throughout her 20s, and this is the length that makes her comfortable, and so be it.
My problem isn't with the length – it's how she styles it. In her 20s, before the engagement, Kate wore her hair in a much simpler fashion – like, she probably just gave herself a blow-out, and her hair had a natural wave, and it was fine. But since she's become a royal, Kate is obsessed with the giant, time-consuming sausage curls, and the look is pretty tired. I'm exhausted just thinking about how long it takes her to get ready. The Mail is right on that count – her hair is simply "too big" in general, and "too big" specifically for public functions. Plus, she does spend so much of her time in front of the cameras fiddling with her hair, stroking it like a security blanket in outing after outing. My thesis: Kate just needs to learn how to style her hair and mix it up according to the occasion. For black tie events, her hair should be up. For professional day outings, do it half-up so it's not in her face. Try French twists and chignons. And don't fall back into the "sausage curl" comfort zone every single day.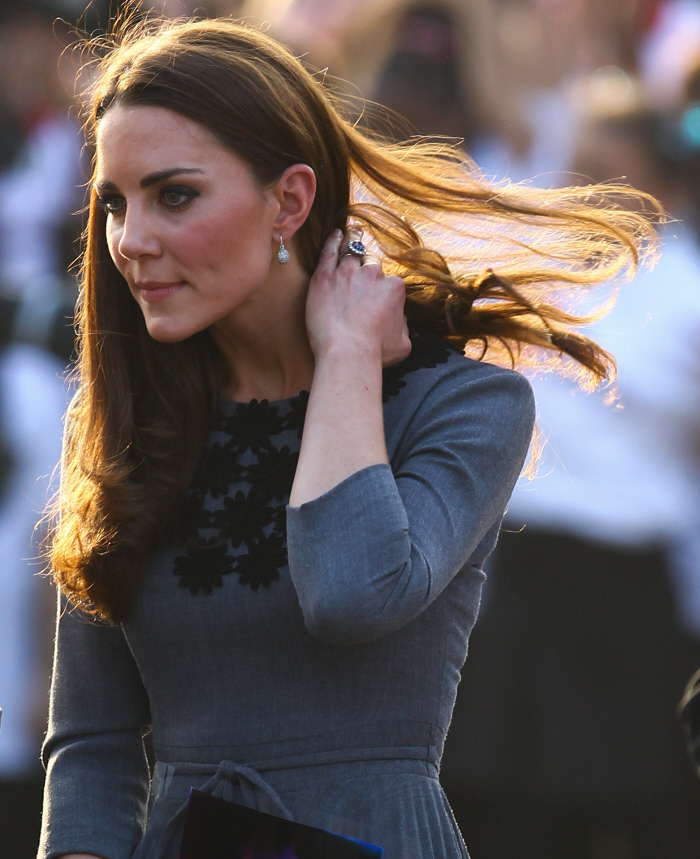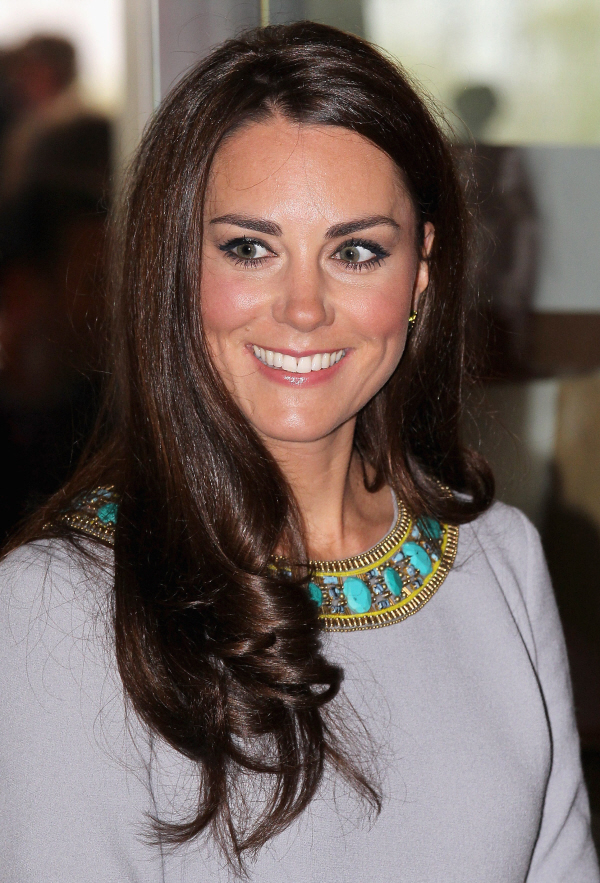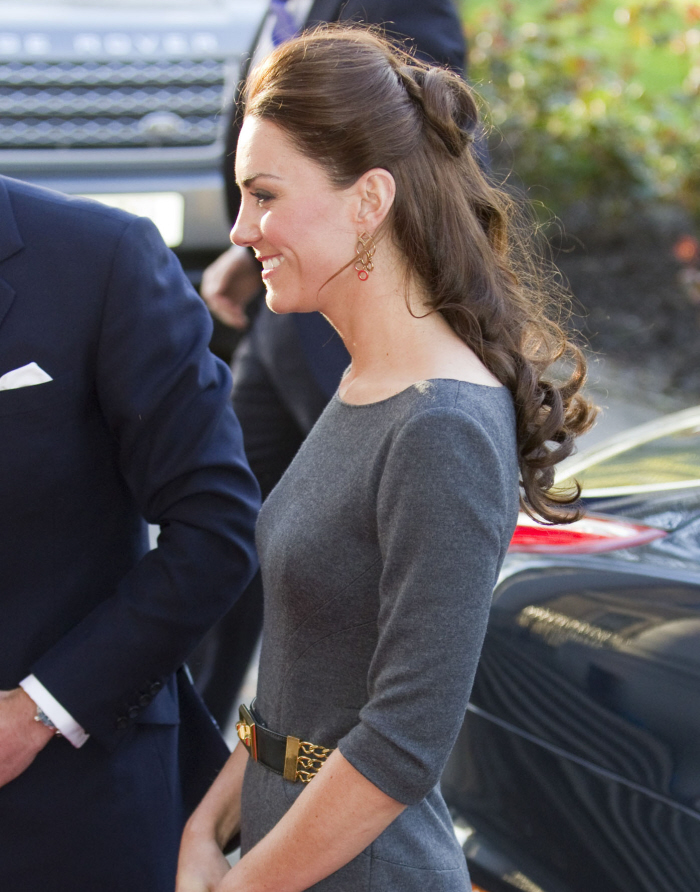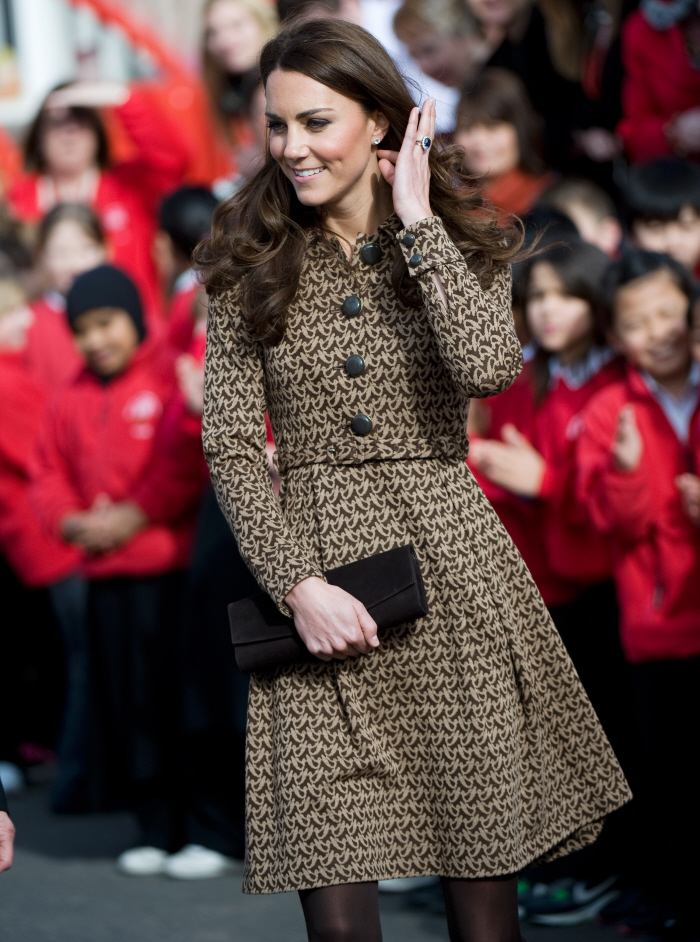 Photos courtesy of Fame/Flynet and WENN.