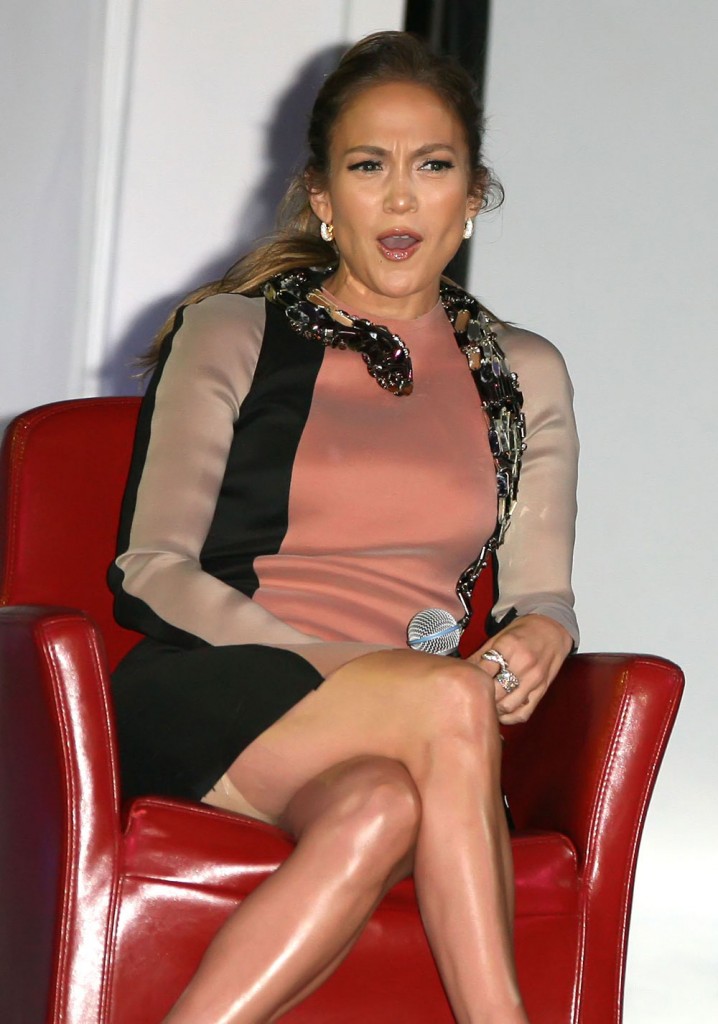 Jennifer Lopez is in that bad-looking ensemble parenting comedy, What To Expect When You're Expecting, which is out next Friday, May 18. I blame Love, Actually for this phenomenon. What once seemed like a sweet, sentimental mediocre film has set the bar surprisingly high for all the films in that genre to come. I'm not saying that Love, Actually was a crappy movie, just that it's average in general but superb in comparison to some of these other movies of that type. I could be wrong and What to Expect could have some redeeming factors. One of the trailers is mildly funny (the other one is dumb) as long as it didn't reveal all the laugh out loud moments already. Plus, Rodrigo Santoro is in it. Jennifer Lopez is playing his lucky wife. In terms of her own future plans, she she told People that more children "would be a blessing," but added that she has her hands full with her four year-old twins. Lopez has also said during promotion to the film that she is open to adoption and – spoilers but who cares – it's something that she was exposed to through her character. Here's what she told People:
Now that the relationship of Jennifer Lopez and boyfriend Casper Smart appears to be stronger than ever, does the pop star possibly have more babies on the brain?

"It would be a blessing," Lopez, the mother of 4-year-old twins, Max and Emme, told PEOPLE about the prospect of having more kids. "Every day … they just bring so much joy and happiness to your life, [and] they just bring you right back down to earth."

But as the star of the new movie What to Expect When You're Expecting, who's been juggling her American Idol duties while preparing for her upcoming tour, also admits: "I've got my hands full."

Besides, being a single mom is never exactly easy.

"There's the guilt that comes along with it," Lopez said. "You leave and they go, 'Don't go to work, Mommy!' "

So how has the star – who last year split with husband Marc Anthony – managed to balance it all? By putting her twins first.

"That's my philosophy. So as long as that's … working in the right way, then I can dedicate whatever time I need to dedicate to my career," she said. "You just do the best you can, and say no when you have to say no."
[From People]
Well we've heard that she's trying for a baby with Casper, and that she is considering adoption. Of course she's in this baby-centric film so the topic is coming up repeatedly, but if she wasn't open to more kids she would shut it down and say that door is closed. US Weekly just had a whole spread on how Lopez is going to marry her man-boy a hot minute after her divorce is final. Plus she promoted him to "lead choreographer" on her tour, at least according to Casper.
So I could see her being so head over heels for this boy that she wants to have babies with him. If they get to that point it might prolong the inevitable, but I don't see them lasting. I could be wrong, but I doubt Casper is powerful enough to hold her interest. As I've said before, she's already divorced another backup dancer, and a waiter. The minute another pseudo celebrity comes along she's going to drop Casper.
Have you seen Wisin and Yandel's new video for "Follow The Leader" featuring Lopez? (Below) At least Casper isn't in it. (Update: he directed it though.) The music starts at :49 in, with Lopez sporting big fake tattoos, "Lideres" across her breastbone, which I guess means leader in Spanish (which makes sense given the title) and a big inkblot dragon-looking thing on her back. I have to admit that the urban running stuff is cool, but there are better YouTube videos of it that are real. Plus it seems so 7 years ago. Lopez's outfit is ridiculous. As for the song, it's not terrible but it's not my taste either. I would find it annoying in an aerobics class.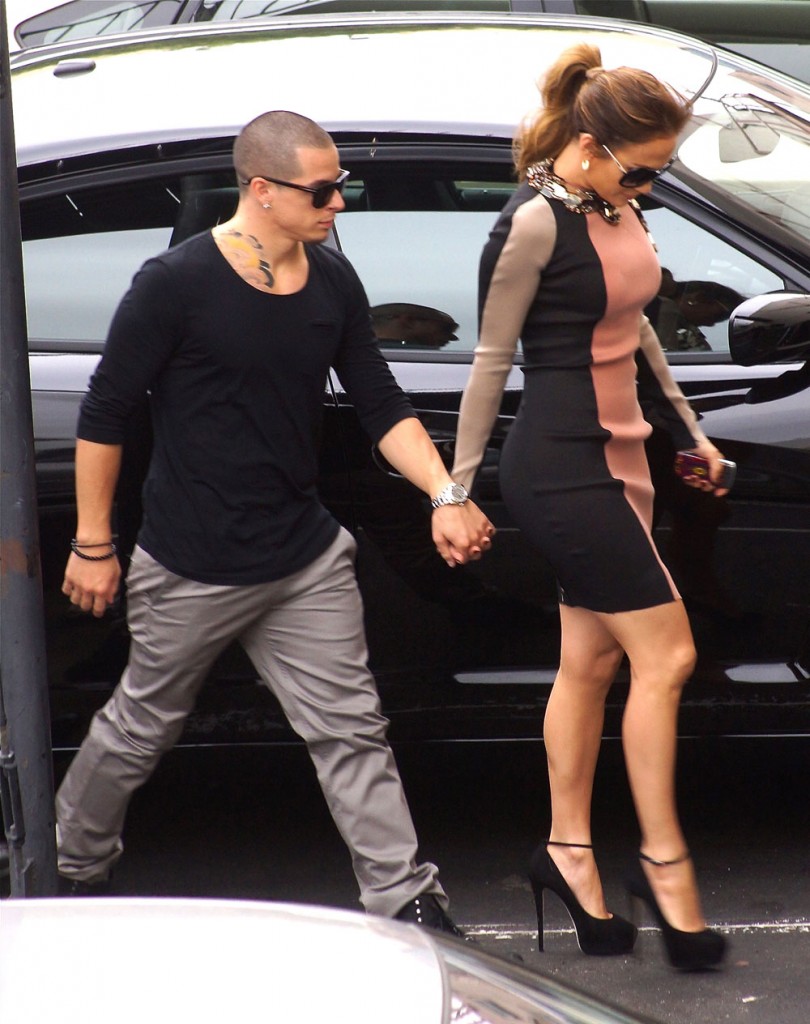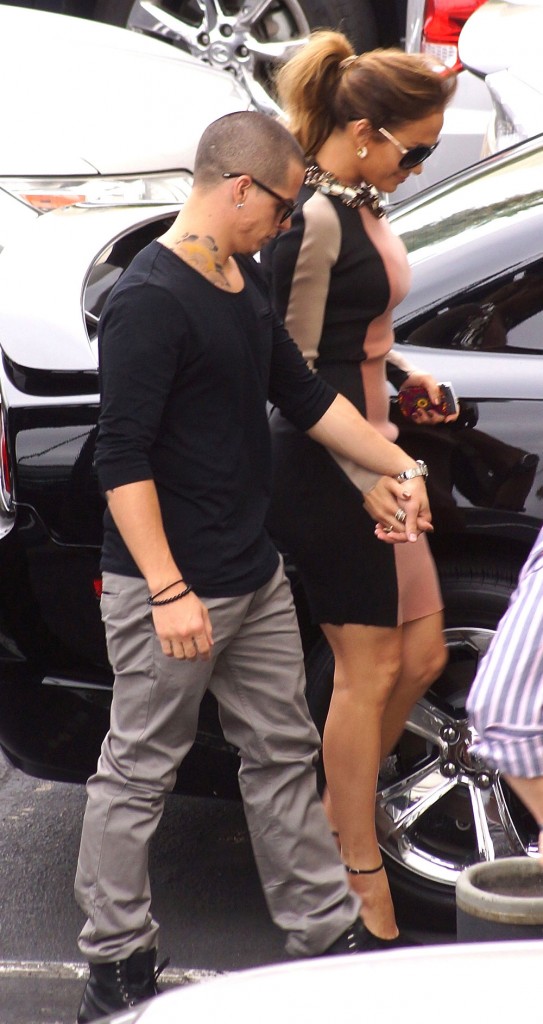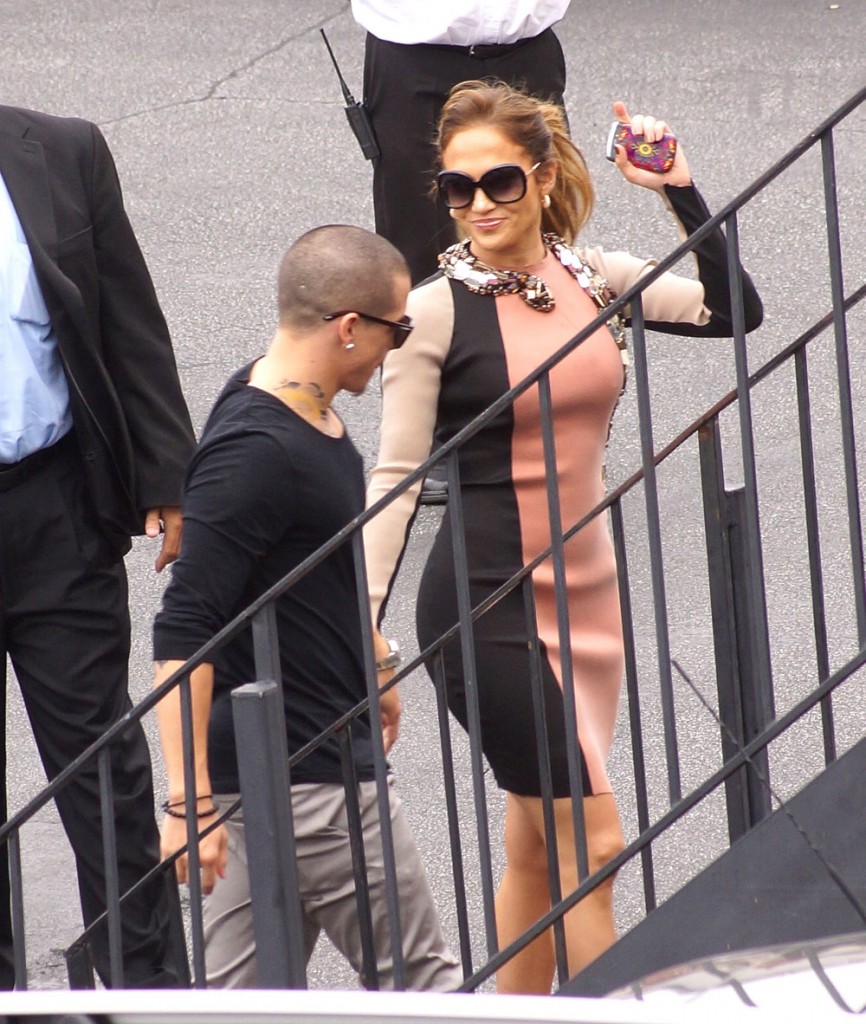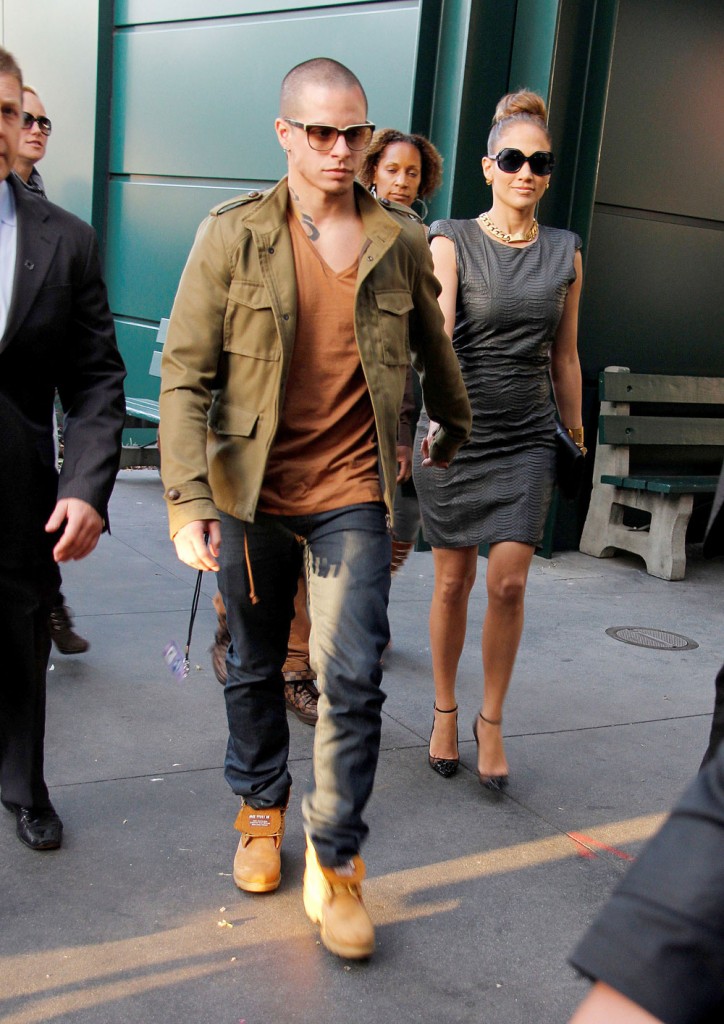 Photos are from 4-5-12 and 4-30-12. Credit: WENN.com