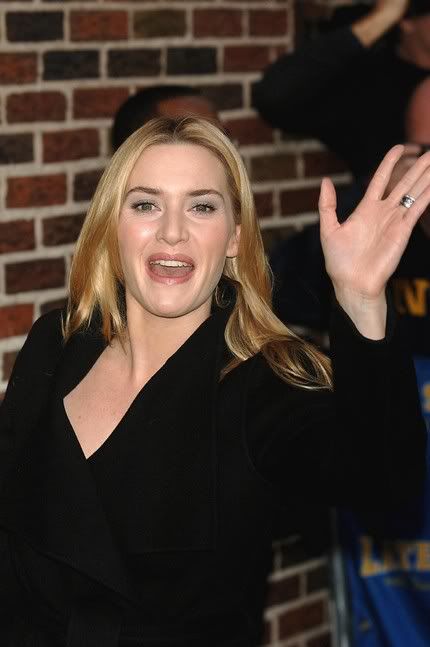 Kate Winslet told a funny story on David Letterman about how she made an inadvertent play on words during a recent interview. She said the journalist asked her what was the most surprising thing she learned about Diaz while working with her on their upcoming film "The Holiday." She wanted to explain that she was surprised how much Cameron eats considering how thin she is and said "Cameron Diaz could literally eat me under a table!"
Dave responds "Now there you'd have a move."
Here's the video, which also includes a promo for tonight's episode featuring Richard Simmons:

Kate had another funny mishap during yesterday's appearance on "Good Morning America." Diane Sawyer showed an old breakfast ceral commercial clip featuring an 11 year-old girl that was thought to be Winslet. It was some other child actress, though, and Winslet didn't have the heart to tell Sawyer on the air that it wasn't her!
She explains, "Recently, I've been doing a lot of press. Odd things keep happening. People keep digging up little nuggets of research that they think no one has ever seen before and it's not going quite according to plan. I was on Good Morning America with Diane Sawyer, who is a wonderful, lovely woman and they thought they would surprise me by showing a clip of a breakfast cereal commercial that I was in when I was 11 years old, but it wasn't me. I just didn't have the heart to say, 'Oh, God, Diane, I'm really sorry, but your researcher got it wrong. It's just not me.'"

A stunned Winslet didn't say anything at the time about the faulty clip because she didn't want anyone to lose their job. She adds, "I just didn't want the researcher to get fired!"
Here are pictures of Kate outside the Late Show studio, courtesy of ICYDK.