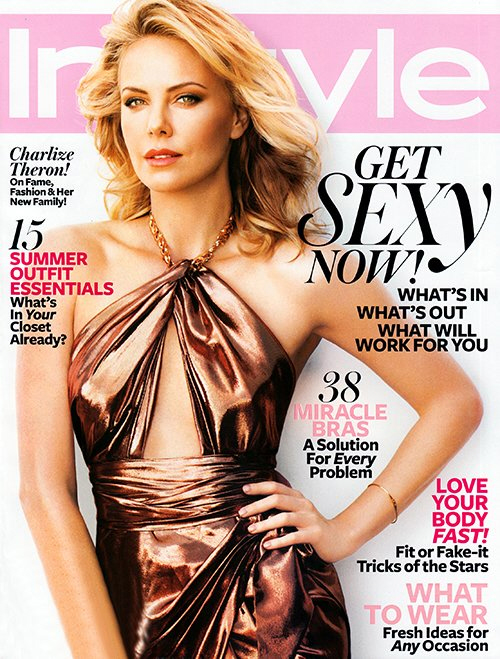 Charlize Theron is the cover girl for the June issue of InStyle Magazine (US). She's also on the cover of the Australian magazine Madison – I'm including the cover image at the end of the post. I really like Charlize's InStyle cover shoot, for what it's worth. Charlize has been churning out some really great photo shoots lately, but usually InStyle's pictorials aren't this… fierce…? Is that the right word? In any case, Charlize looks gorgeous. As you know, she's promoting Snow White and the Huntsman AND Prometheus, both out in June. And she has no problems talking about babies and boys and she even comes close to claiming that she hasn't had any work done – do you believe her? Hm… anyway, here are some highlights from both InStyle and Madison:
On aging: "I don't feel like I'm aging at all. I don't think about that stuff. Especially not at 36. I see my face and my body changing, and they're all changes I'm OK with. Part of me understands I may not be in front of the camera forever, and maybe not just because of age, but because of me. I wouldn't have started my own production company if I didn't feel that way."

Becoming a mom: "So far I'm not surprised by anything about being a mom," she said. "It's all pretty great, but that's what I expected."

On her single status: "I'm always open to a relationship, but I'm not putting those feelers out there now."

On having adopted son Jackson: Charlize recalled a letter she'd written when she was 8-years-old. "My mother found [it]. It said, 'Would you please take me to orphanage, so that I can go and adopt a baby?' I always knew I would adopt – always… It was never a question that one day I would have a child."

On what she would do if she could switch careers at her current age: "I would be an amazing butler. I'm very good at organizing a house."

Being a single mother: "You know, I don't think any mother aims to be a single mum. I didn't wish for that, but it happened."

She's not looking for a husband: "It's never been a fantasy of mine. Marriage has never been that important to me. I don't know why exactly. Some might say it's because my parents didn't have a good marriage, but I don't think so. I treat my relationships like marriages. The ceremony isn't that important to me," she adds.

She hates pretentious people: "You know what I can't stand? I hate actors who come and quote Nietzsche. I don't like pretentious s**t. I like being around people who like to live life and understand the value of it. I need to be around people who understand we're not curing cancer here. I like professional actors who show up, do the job and are not a pain in the a** to either myself or the crew. I don't believe in this idea that if you're f****d up and Method, that's the only way to do good work. It's bulls**t. A professional actor does their homework beforehand and they do their job. Then when it's all said and done, they have a beer with the crew. That's what a professional actor does."
[Excerpts via the NY Post, Become Gorgeous and The Gossip Girls]
I love her diatribe against pretension. I want to know if she's directing that at a specific actor. Who has she worked with recently? Michael Fassbender. Uh, no, not pretentious. He probably buys the first round for the crew. Idris Elba? God, I hope not. Noomi Rapace? From what I hear, Noomi's pretty low-key and sweet. Kristen Stewart? Hmm. Charlize seems to like her. Chris Hemsworth? Doubtful. Damn, I want to know who she's calling out!!
As for her statement about marriage – I believe her. I don't think she's one of those "Oh, I don't want to get married unless you've got an engagement ring YES A MILLION TIMES YES!!!" women. I think Charlize's marriage apathy is for real. And I do think it has a lot to do with her mom and dad's situation.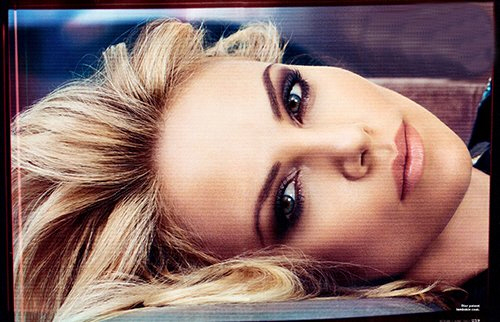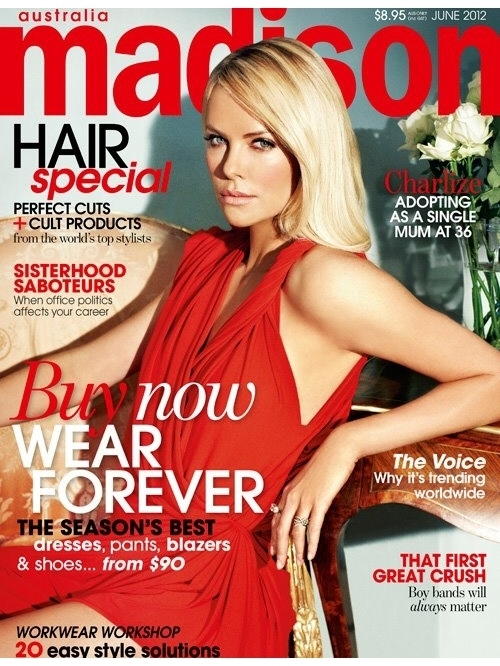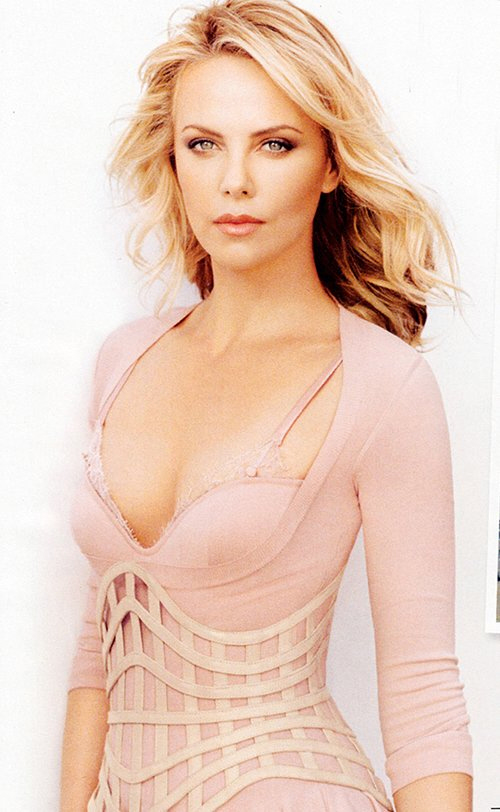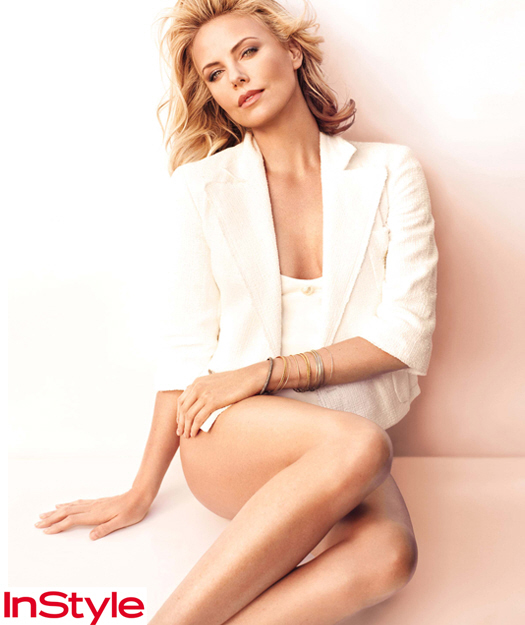 Photos courtesy of InStyle, Madision.