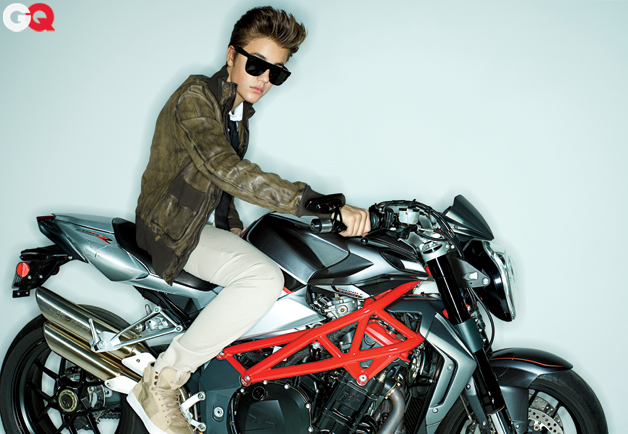 Justin Bieber appears in a feature interview for the June issue of GQ, which just happens to be the issue covered by Michael Fassbender. That's almost a cruel contrast in masculinity, and it doesn't help that Justin's piece is entitled, "Man Up, Bieber." The interview was conducted back in March just and was intended to commemorate the birth of "Bieber 2.0," but the journalist treats the entire piece like a joke and even kicks things off by noting that "his voice is so high, it sounds like a ringtone." Indeed, I almost feel sorry for Bieber because the vast majority of the interview itself is a narrative that discusses just how much the journalist hates spending time with an 18-year-old object of tweener fantasies. Not that Bieber doesn't deserve a little bashing though, but his attitude and remarks must be taken in context, for he's not some evil entity but merely an immature manchild. Here are some excerpts: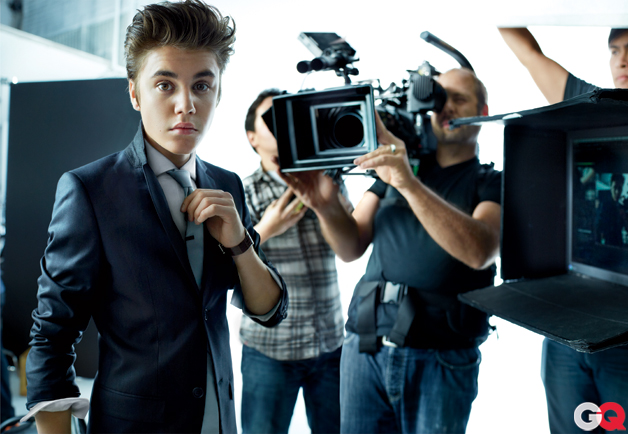 On not getting wasted: "For me, it's just like, I like to be in control of myself. I mean, I've had a beer, like, before…. But I never get out of control."

On fame: "I mean, I keep my guard up a lot, because you know, you can't trust anyone in this business. That's what's sad. You can't trust anybody. I learned the hard way." I assume he's talking about the paternity suit that was filed against him (reportedly withdrawn).

He loves pre-"Black Album" Metallica: "Those are my jams."

He wants to f–k his newest car: He is euphoric. So much so that he has decided to pledge his loyalty to West Coast Customs forever and to decry its rival, Platinum Motorsport. "F–k Platinum. Platinum can suck a d-ck, man. West Coast all day."

On maturity: "I'm 18 years old and I'm a swaggy adult!" he yells. "Come on, swaggy bros!"

On his music: Bieber himself puts it to me, with casual bravado: "I've never made a bad song."

He sticks up for Kim Kardashian: "You guys are so mean, bro…. People say she doesn't do anything; she actually does do stuff…. She works hard."
[From GQ]
Okay, I can sort of see why he'd defend Kim Kardashian because she comes from the same internet-spawned school of fame as Justin, who was a YouTube sensation. Other than that, I can't really hate on him for being an 18-year-old boy who has been living within a bubble of delusion for the past four years since shooting to fame. He'll grow up eventually, and he'll be embarrassed for wearing the waist of his pants around his ankles. Or so we can hope.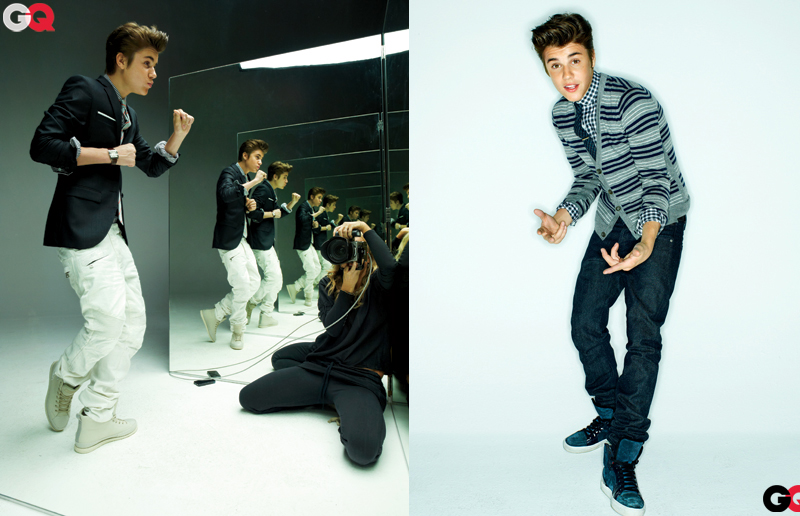 Photos courtesy of GQ