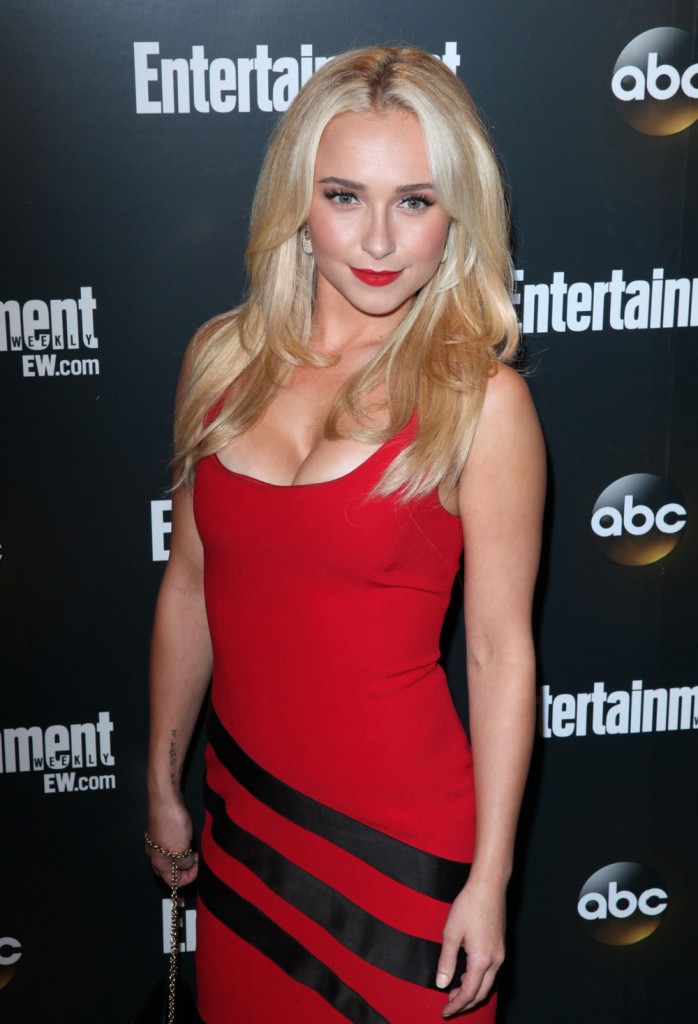 Hayden Panettiere rocked a tight red vintage Moschino Couture sheath dress and a ton of cleavage at an Entertainment Weekly party celebrating the ABC upfronts this week. At first I thought that the bottom just featured some diagonal stripes, but The Fashion Patrol clued me in that it's actually a "wraparound devil's tail appliqué!"She looked hot, if a little cookie cutter with her new blonde extensions and boobs busting out. There's been speculation in the past that Hayden had a boob job, but I think she just uses push up bras and/or chicken cutlet. Those things look boosted to high heaven.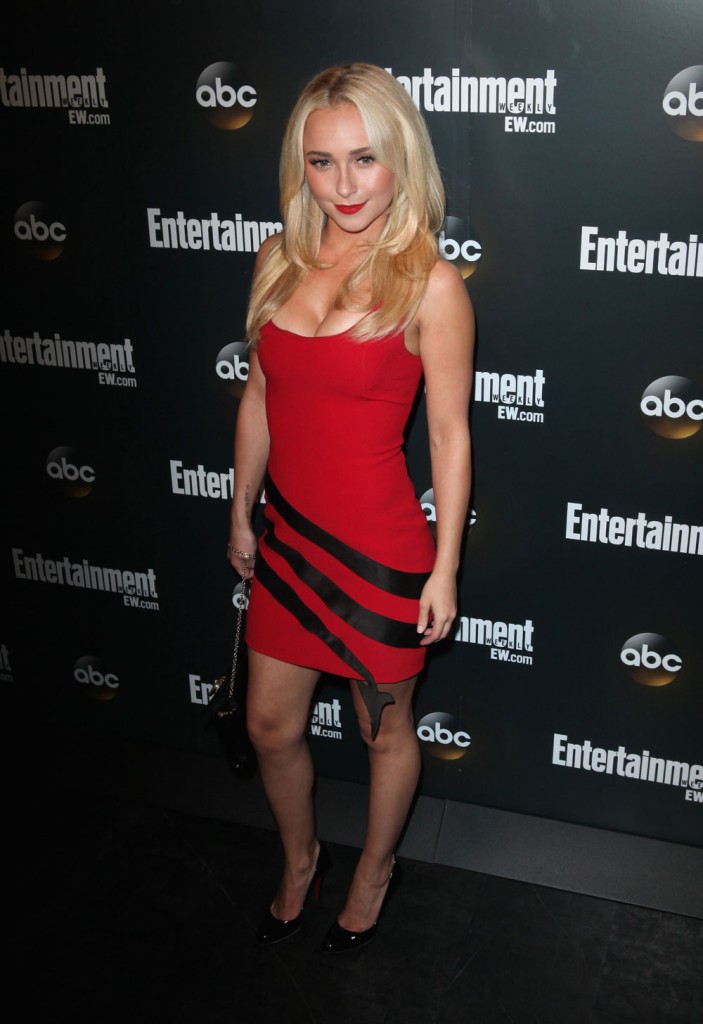 I'm also wondering how long she's had those extensions in, and it's hard to tell because she often wears her hair up. Here's a link to a photo of one of the last times she wore it down, in October of last year. What a difference in her look this is! I thought she was cuter before, but she's sexier now that's for sure. Hayden will star in "Nashville," along with Connie Britton. This photo of her getting hugged by Britton is so cute.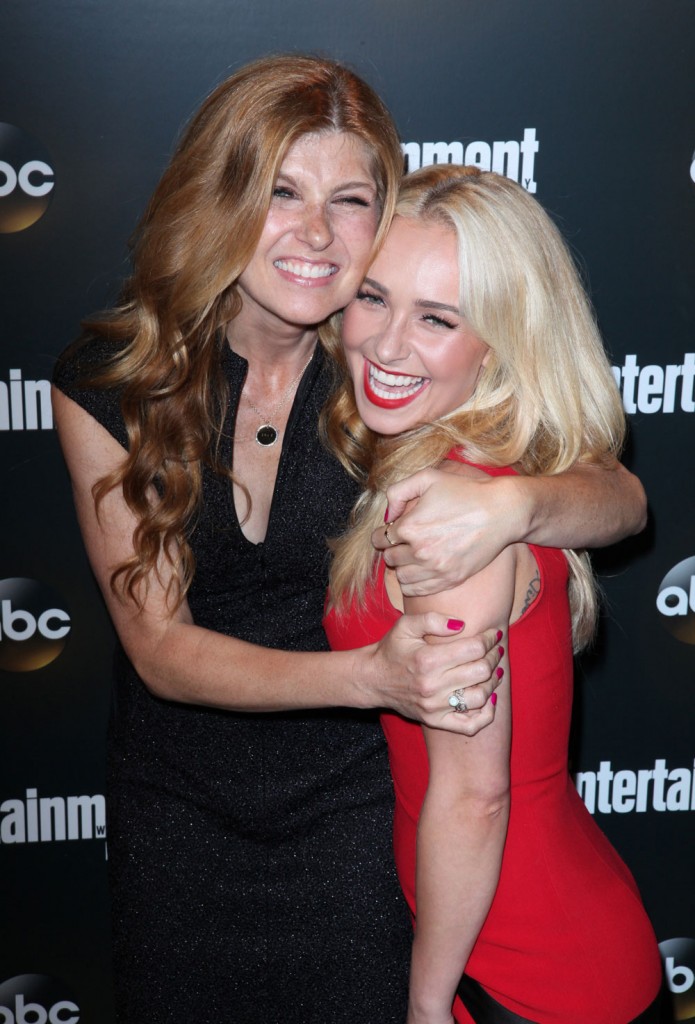 Here's Connie working a simple sparkly LBD with a mesh hemline. I just love her. She's going to sing in Nashville! She plays Hayden's country music rival. It seems like Connie and Hayden get along very well off screen, though. Hayden told E! that she's a huge fan of Connie's and that she loved her on "American Horror Story" and "Friday Night Lights."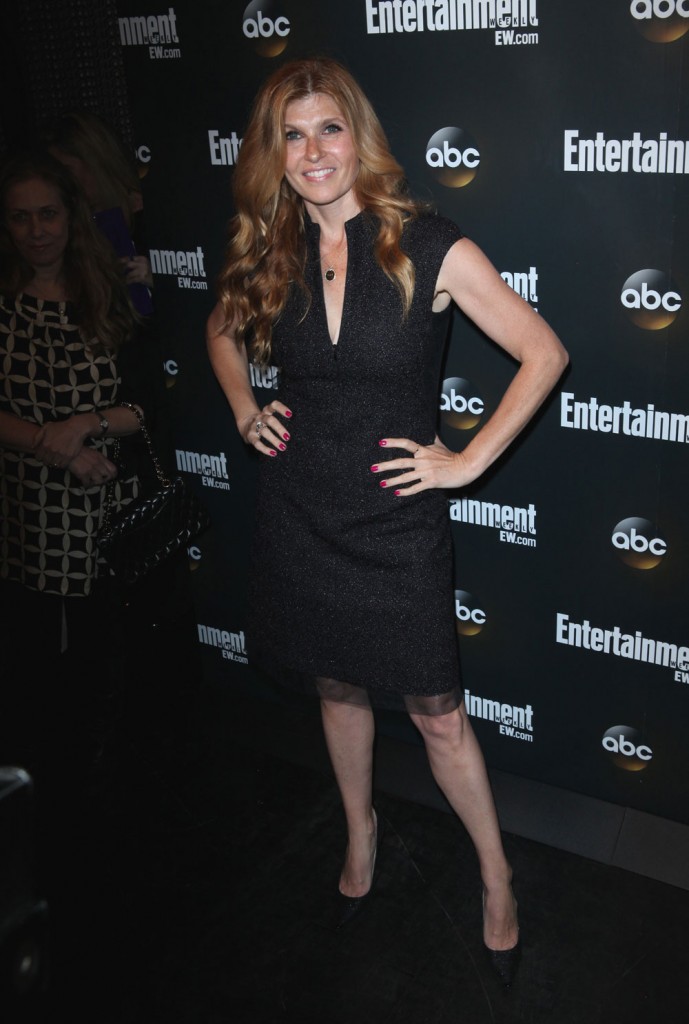 Does it look like Kelly Clarkson lost weight recently? It does to me. The last photos we saw of her were from just a month ago. I would bet she's lost 10 to 15 pounds in the interim, although it could be just a more flattering dress. Kelly will be a mentor on a new ABC show called "Duets." We only have this photo of her with Lana Parilla of "Once Upon a Time." I can't stand her character on that show, which probably means she's a good actress considering that she plays the evil queen.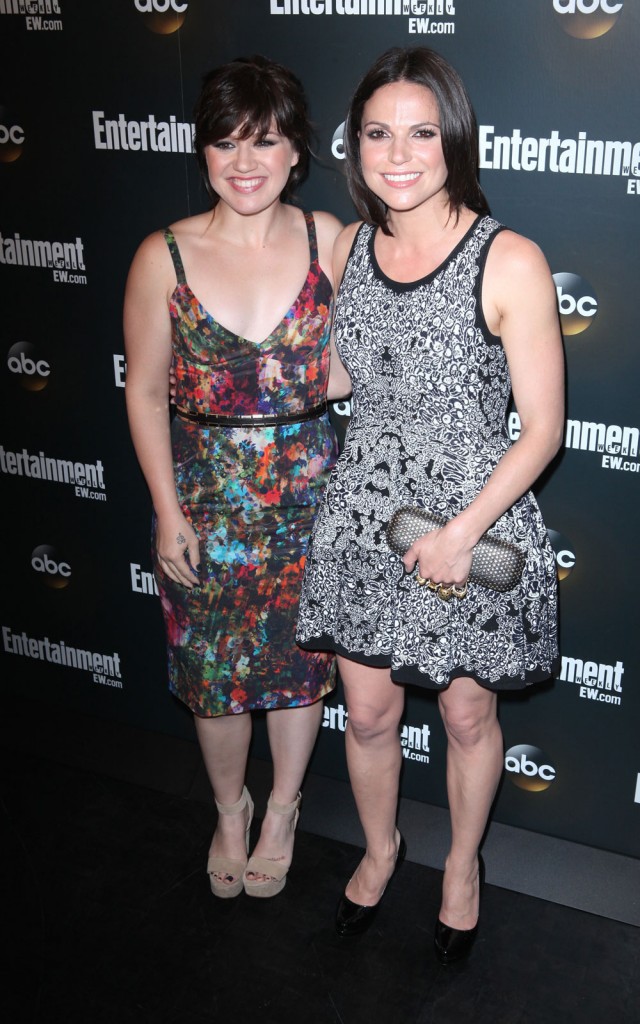 "Once Upon a Time's" Jennifer Morrison was there with her new auburn hair in a black and white formfitting dress. This is how you do a peplum dust ruffle. It's a great look for her.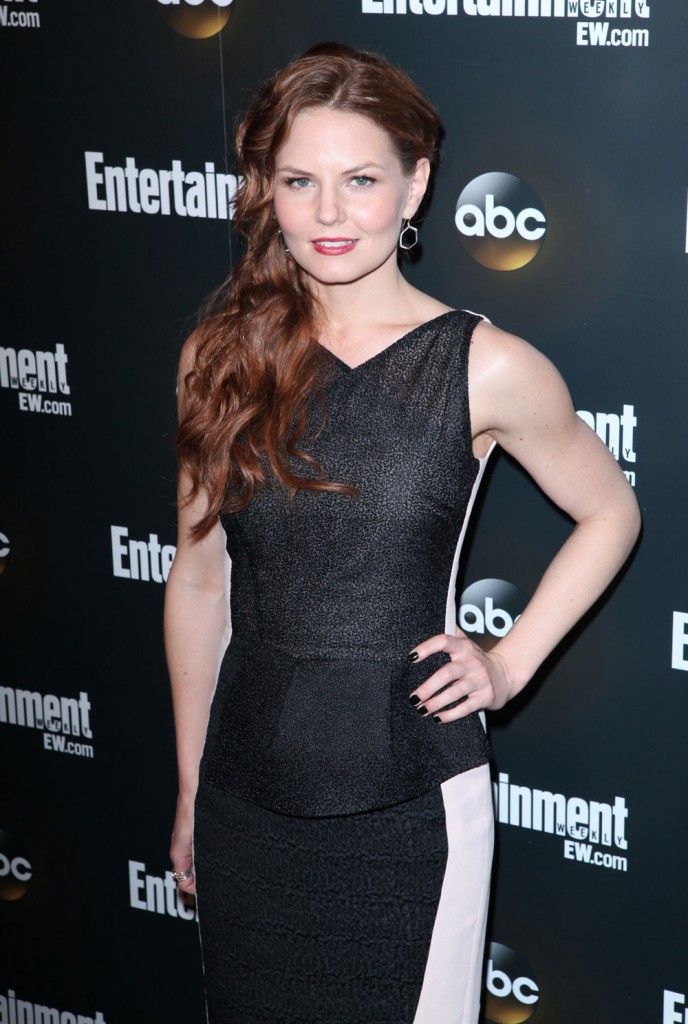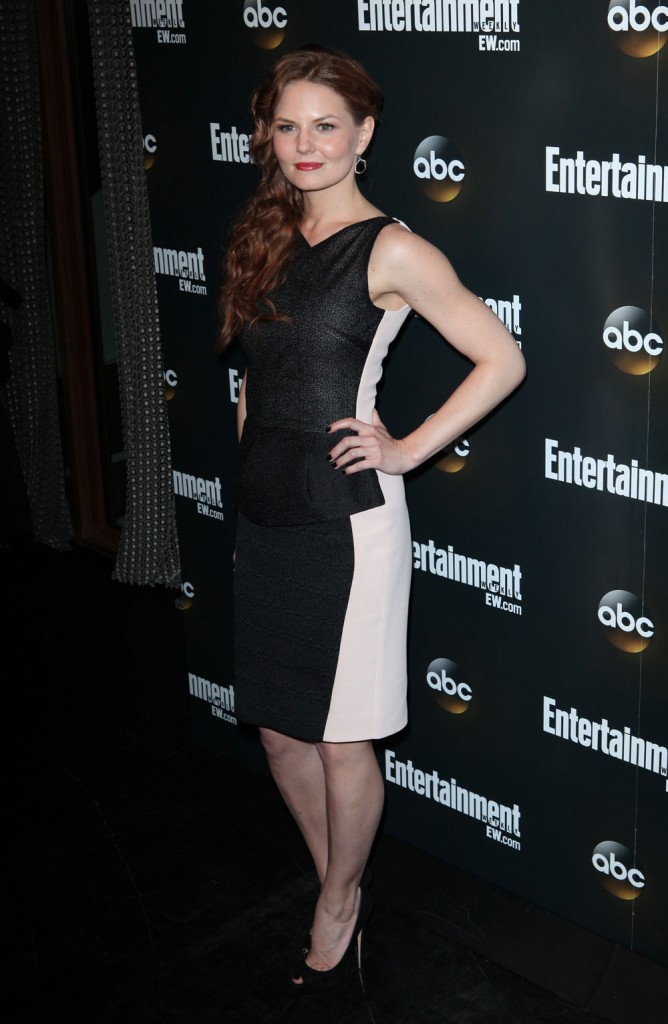 Jennifer's co-star Ginnifer Goodwin was in a fashion-forward Jonathan Saunders dress featuring a bizarre empire waist, a leather or PVC-looking pink-red top and a busy checked skirt. This isn't cute. Ginnifer often wears contemporary styles and sometimes she takes too much of a risk.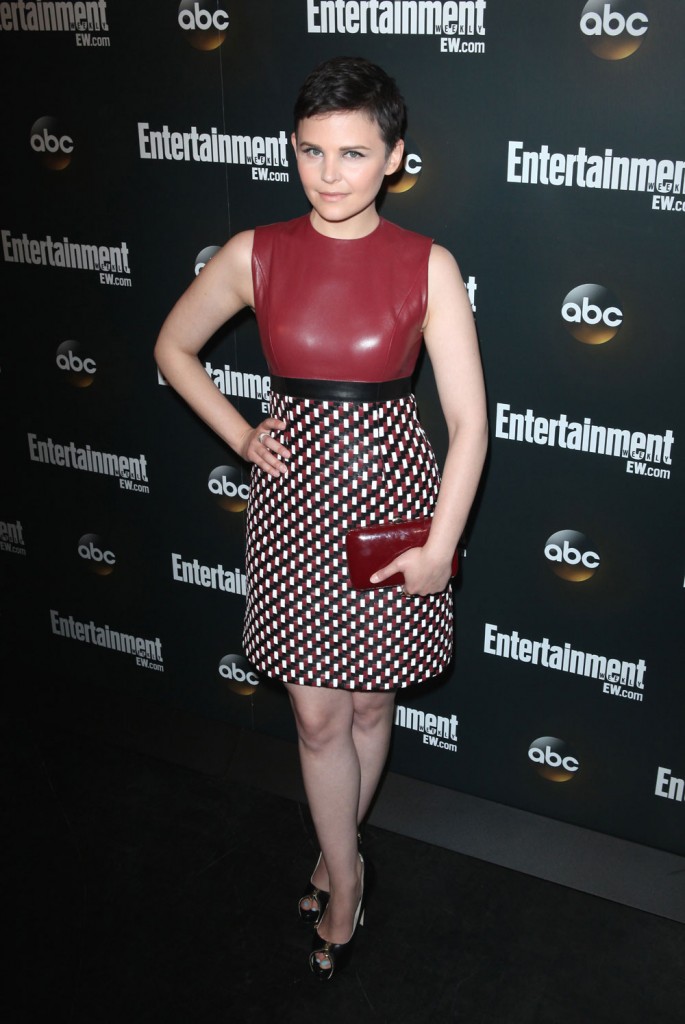 Alyssa Milano stars in the new show "Mistresses." She wore a black sleeveless flutter top and a black and white striped skirt with a large split up the front. I really like her and am happy she's still working on TV. She usually doesn't nail her red carpet looks, and I'll leave it at that.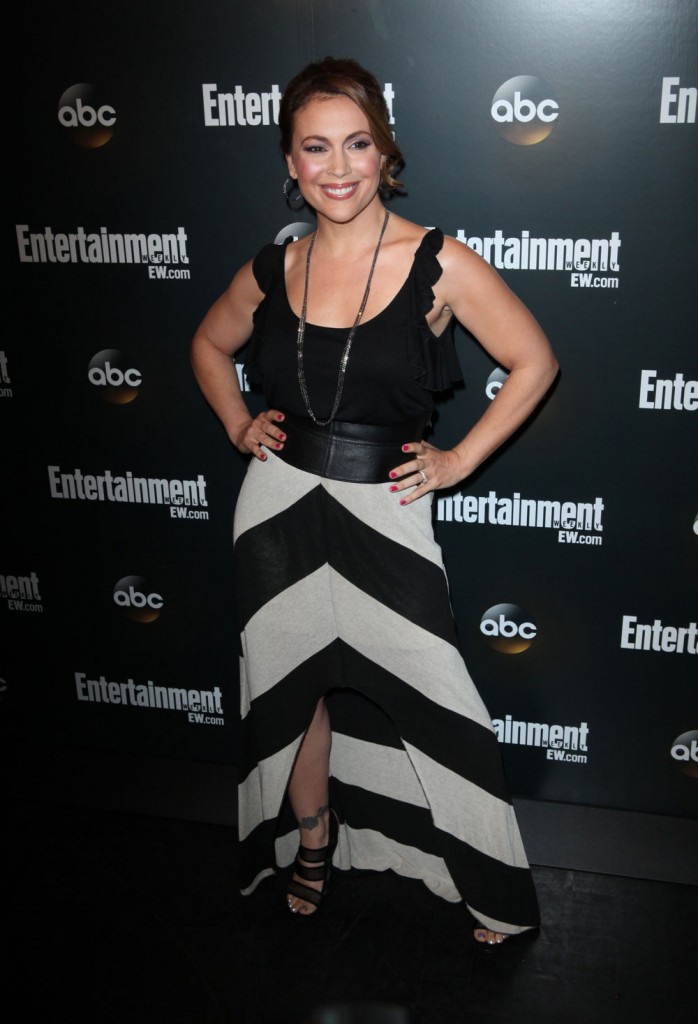 Here's a link to ABC's announced fall lineup.
Photo credit: WENN.com