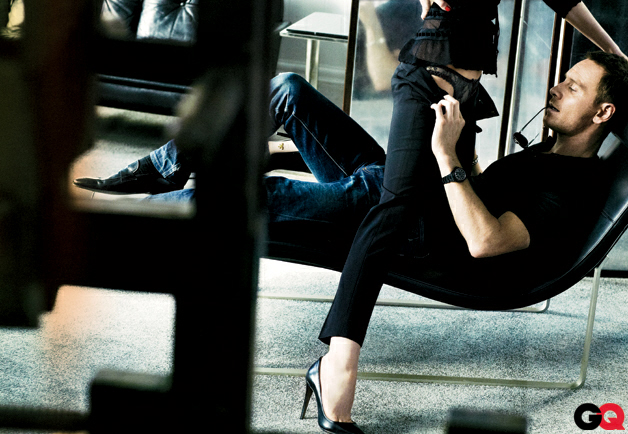 This is a Michael Fassbender post, but it's also about Prometheus and how much this film is going to rock your panties off (if your panties come off for dark, scary sci-fi). I'm including some shots of Fassy's GQ shoot, which we already covered earlier this week. Also, did you get a chance to see him in motion in the GQ video? This is, hand of God, the best p0rn ever. I could stare at his face forever and a day. As for his bulge, his eyes, his ALL-BOY-ness, and his natural accent… well, you know.
Second video: the latest viral ad to promote Prometheus. I already covered Fassy's dong-bot David viral video here. This one is Noomi Rapace's and it really messed with my head.
Next: Fassy has a new interview with Shortlist Magazine. Unfortunately, there are no new photos. Fortunately, the interview is pretty good (as always – Fassy is a great interview). You can read the full piece here, and here are some highlights:
On his new fame: "It's funny… I've become… 'popular' isn't the word. More interesting, suddenly. I don't have a lot of friends, so it's nice to have a lot of people sit down and want to talk to me [laughs]. No, it's been a hectic year. I actually haven't done any acting since July. It's weird. I'm used to preparing a character, going to work and presenting it. This is a bit of a new deal. It's just airports and hotels. That's all I've really seen. In the past five months I've spent, collectively, three weeks at home. No one wants to hear it because I've got a very privileged life, but that can get to you after a while."

He doesn't stay in character all the time: "No, I bounce in and out. It allows me to see things I might not see if I were in character all the time. What I thought was interesting was him being programmed to react in a certain way. And part of that is him blending in with humans, so does an ego develop to facilitate that? He's there to serve them, but he's sort of disliked because they think he might be superior to him. Or just different. Because humans have that thing where they're like, "Something's different? Persecute!""

He does creepy really well: "[Android David is] less developed than Ian Holm [laughs]. That's the way I'm going to describe him from now on. Ridley said, "He's like the butler," but there's a vanity to him. And he always has the answers so there's a swagger to him, too. In fact, I think he might be kind of creepy. I do creepy well… Yeah. If you're looking for weird or creepy in a robotic style, call me."

Not everyone loves him: "I'd been working a lot and suddenly everything came out back-to-back. My friends were saying, "Jesus, we can't go anywhere without seeing you." So I'm thinking, "I'd better back off here – familiarity breeds contempt." And I try not to read things about myself, but occasionally you can't help it. People who've never met you can have really strong opinions about you. And not everyone likes me. It's kind of scary."

George Clooney's comments at the Globes, and Brad Pitt being nice: "Actually, George did come over to me, like you say, and said, "How are you finding all of this?" He's been through it. He's really supportive and nourishing. And very generous with his time and encouragement. And I had that with Brad Pitt on Inglourious Basterds, too. Brad Pitt, Quentin Tarantino – it was a big deal, I was nervous, and inside I'm going, "Holy sh*t!" But it was my first scene and Brad starts laughing when I do my character and says, "That's far out. That's excellent," which put me at ease. And then he went back to Los Angeles and was talking to people in the industry over there about me."

Hobbies: "I tried jet-skiing in Mexico on holiday and I turned the thing upside down. The guy with me wasn't happy – we had to swim back to shore. I like go-karting, though. That's what I'll do if I get free time on my hands. In terms of a hobby, that's my favourite thing to do."

Another Clooney story: "It was just funny. Earlier that day [before the Globes], we'd been hanging out playing ping pong. It's like, "I'm playing ping pong with George Clooney." It's those moments where you do sort of pinch yourself – "Is this really happening?" But he gave me a little precursor to it."
My favorite part is the Brad Pitt thing – Fassy has shown Brad some love before, in other interviews, but I like that Fassy always name-drops Brad as a supporter of his career, and someone who has helped get him work in Hollywood. Brad and Michael are going to be working together on 12 Years a Slave, with Steve McQueen, and maybe even The Counselor too – Brad successfully blocked Angelina Jolie from the project, it seems. Because although Brad loves Michael, Brad doesn't want his lady anywhere near the Fassbender.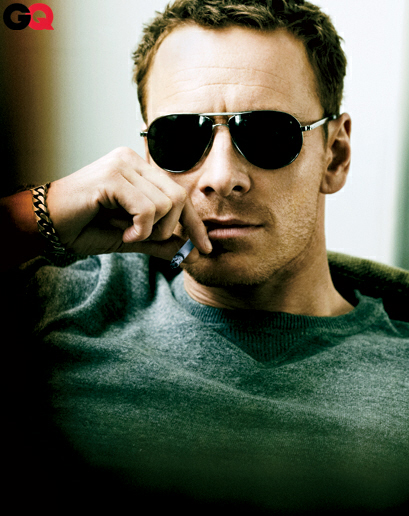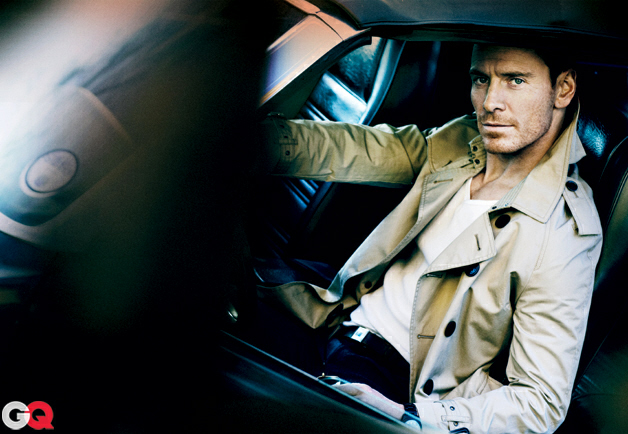 Photos courtesy of GQ's slideshow.