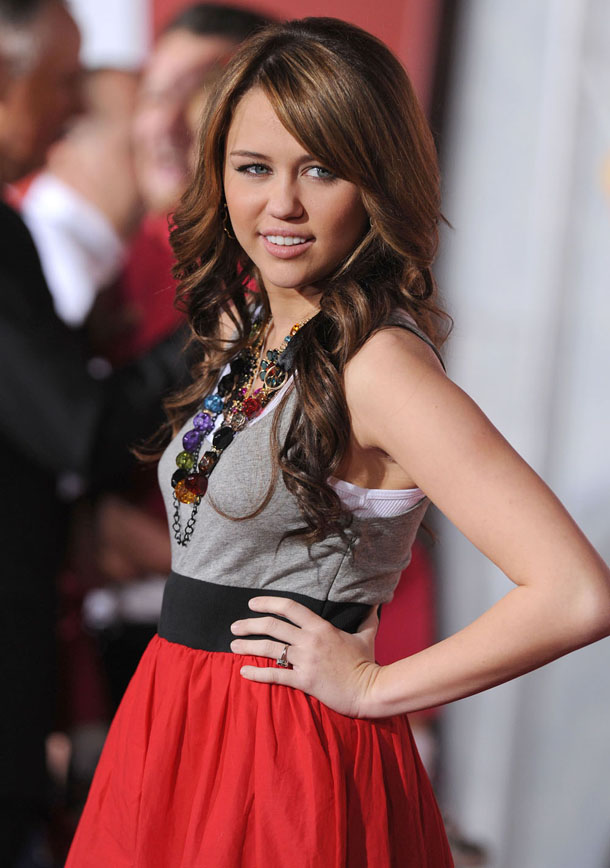 Miley Cyrus got all giggly when asked about her boyfriend on the Ellen DeGeneres show yesterday. I've read a lot about Miley lately but haven't actually heard her speak in a long time – I'd forgotten how utterly grating her voice is. She sounds twenty years older than she is. Somehow the combination of her sounding so old and acting so young is really annoying.
When Ellen asks about boyfriend Justin Gaston – who Miley refuses to confirm even is her boyfriend – she starts giggling hysterically, throwing her body sideways on the chair with her legs flung over the arms, as though she weren't on a stage but instead in her rec room. It's hard to tell if she's really that giggly or if she's just playing it up for effect.
Miley Cyrus continues trying to be coy about her relationship with Justin Gaston, but her body language on Ellen gives it away.

Just watch how giggly and squirmy she gets as Ellen DeGeneres tries to make her admit they're dating.

"No," says Miley, before breaking into a fit of laughter. Then she adds: "I giggle about everyone!"

Right. While Miles refused to dish on dating, she did say he was accompanying her to the Bolt premiere later that night. "He's funny!" she exclaims, cracking up maniacally again.

Clearly.
[From E! News]
Maybe I'm cynical or perhaps it's just been too long since I was a teenager – but my first thought was, "Is she on some sort of drug?" I swear it seems like Miley is under the influence of something. But it's probably just the influence of love. Yuck. If love makes people act like they're half as old and twice as stupid as they really are, I want nothing to do with it. I know the segment was supposed to come off as all cute, adorable, and innocent, but really it just made me feel uncomfortable. It was so cheesy.
Although to be fair, if I ever saw half my celebrity crushes in real life, I'd probably act the same way. I'm going to have to start carrying around a chair so I can fling myself over it hysterically.
Here's Miley Cyrus at the "Bolt" World Premiere on Monday. Images thanks to Bauer-Griffin.