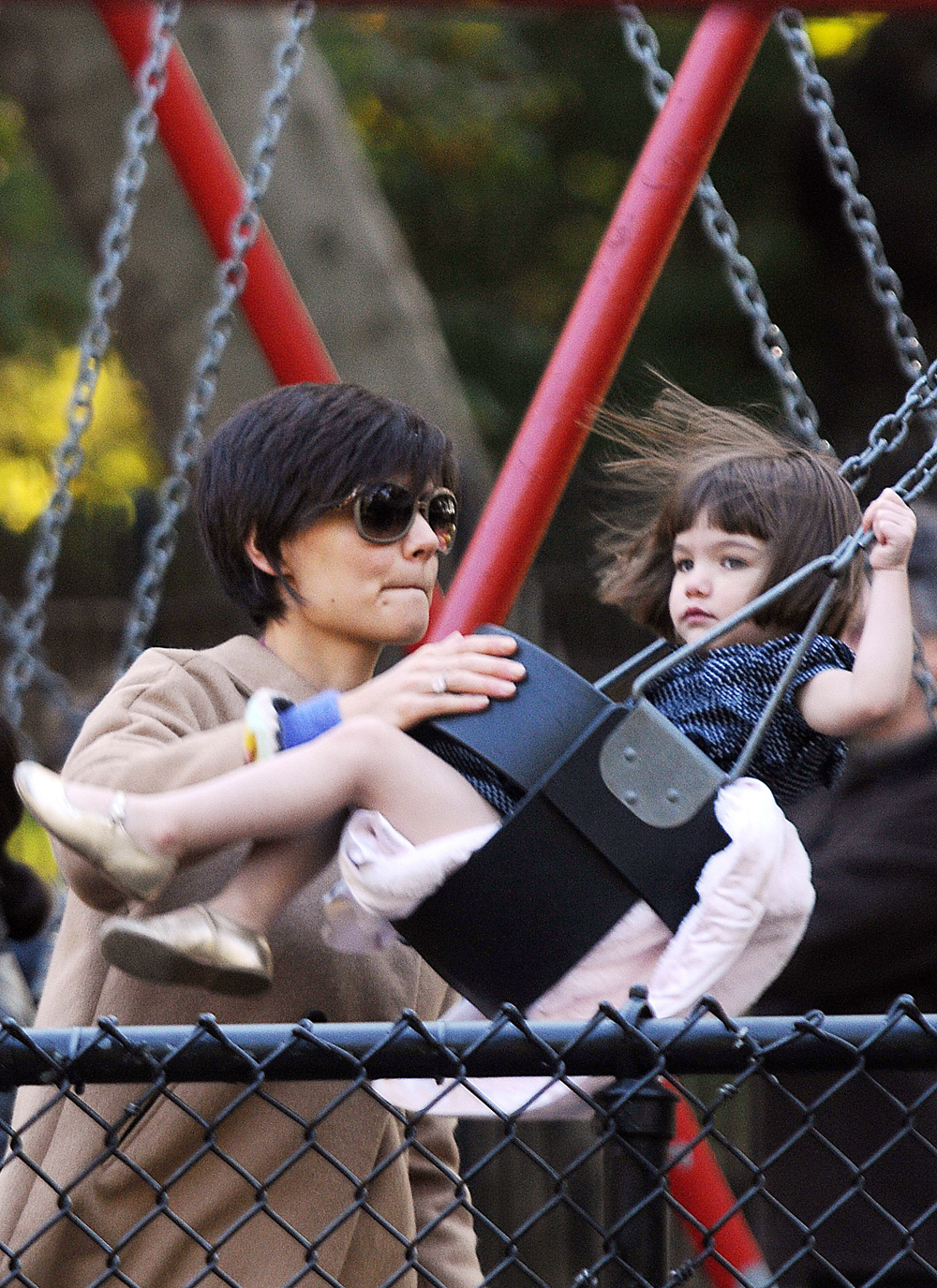 Suri Cruise is so hot right now. At least if Forbes has anything to say about it. They put an exhaustive amount of research into their findings, studying all the hottest celeb kids under the age of five. They even employed a polling firm. Lest they be anything but totally thorough about who the most popular tot is.
Suri Cruise is the most popular kid on the playground. The 2-year-old daughter of Tom Cruise and Katie Holmes tops Forbes.com's second annual list of "Hollywood's 10 Hottest Tots." Forbes.com, which ranked celebrity children 5 years old and younger based on media attention and their parents' popularity, said Suri _ known for her stylish outfits and haircut – popped up in more news articles and blogs than her peers.

Three of Angelina Jolie and Brad Pitt's six children made the list: Shiloh Jolie-Pitt, 2, is in second place after coming in first last year; Zahara Jolie-Pitt, 3, is in third place; and Pax Jolie-Pitt, 4, is fourth on the list. "Though not quite the tabloid stars his sisters Zahara and Shiloh are, his recognizable mug and A-list parents give him space in the top five," said Forbes.com of Pax.

Rounding out the top 10: Sam Alexis Woods, daughter of Tiger Woods and his wife, Elin; Cruz Beckham, son of David and Victoria Beckham; Matilda Rose Ledger, daughter of Michelle Williams and the late Heath Ledger; David Banda, son of Madonna and Guy Ritchie; Sean Preston Federline, son of Britney Spears and Kevin Federline; and Sam Sheen, daughter of Denise Richards and Charlie Sheen.

Forbes.com looked at a year's worth of press clippings and Web presence for more than 50 Hollywood kids. The Web site then narrowed the list, recruiting the polling firm E-Poll Market Research to get awareness scores for the children and consumer appeal rankings for their celebrity parents.
[From the Huffington Post]
I have to say that, considering their criteria include the parents' popularity, I'm surprised Suri did so well on the list. You've got to believe Tom Cruise's popularity brought Suri's down significantly. Imagine how hot she'd be if she had a normal dad. If she drops in position in a few years I can just see a potentially diva Suri screaming at her dad about dragging her down. Man I hope that happens.
Something tells me there is going to be a major Shiloh/Suri rivalry until the end of time. It'll just exist in the tabloids' imaginations, but they're so close in age – and hotness – that they'll be in constant competition. Who gets into the better nursery school. Gets the better score on the SATs. Who joins the better cult. It'll be madness. Luckily the people at business magazine Forbes will probably be there the whole way, tabulating childhood hotness for us. Otherwise, they might have to talk about the stock market.
Suri has actually been remarkably absent from the photographers lately. There have been no new pictures of her since November 7th, which is very unusual. Here's Suri with mom Katie visiting a playground in Central Park on October 23rd. Images thanks to Fame.