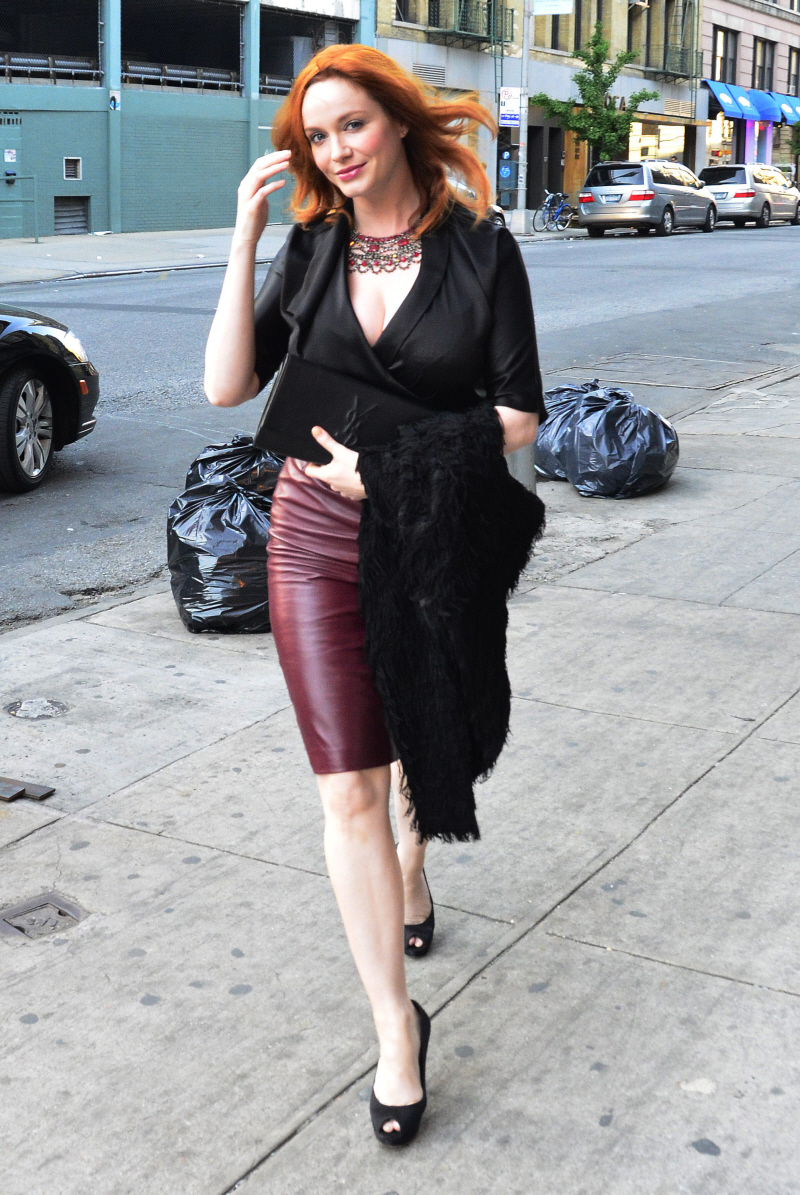 Christina Hendricks and her husband, The Nerd King, were in New York City all last week, and there were lots of street photos of them walking around, looking cute. As you know, I'm not a huge fan of Christina's street style. Or her red carpet style, for that matter. She seems like a girly-girl who loves frills and beading and everything "cute" – and most of it looks like hell on her. Still, I do want to note that Christina's hair is improving, and she seems to have finally figured out that pencil skirts are a great look on her figure. Well done, Christina.
***Spoilers for this season of Mad Men and last night's episode***
Before last night's Mad Men, I had been kind of depressed about the lack of Joan/Christina on the show this season. Joan really is a supporting character on the show – I think it was Season 3 where she disappeared for, like, half a season. This season, the premiere episode teased us with a good Joan storyline, and then there was that awesome episode a month ago when Joan finally, at long last, left her husband, Dr. Rapist. Oh, sorry. Captain Doctor Rapist. That was a stellar episode, and a great emotional payoff for those of us who love to see Joan stand up for herself. And then… not much. Joan went back to being in the background for other character's storylines. Incidentally, how much did you love Joan's bitchy comments about Megan Draper and the "kind of women" Don Draper goes for?
And then last night – finally – another great emotional payoff for fans of the show. Don Draper and Joan circle each other like prize fighters, both equals in each other's eyes, both equally hot, tragic and smart. Joan got served with divorce papers ("like he has the moral high ground," she sniped) and when she first got served, that was Christina Hendricks at her best, wasn't it? Joan LOST IT. And she took it out on one of her "girls" – the dumb little receptionist. And Don came in to save the day, and it was perfect between them. All of those scenes between Joan and Don – they were so sexy together, so amazing. They were like sex scenes, only they were just talking and drinking and looking at Jaguars. Loved the "Aly Khan" joke (he married Rita Hayworth, another buxom redhead). Loved the convoluted, drunken conversation about what "he" and "she" need and want. Love that Don's advice to Joan was to "go all the way" with a guy before telling him that she's a single mother. Love that Don walked away at the end of the night, where the Old Don would have taken Joan to a hotel.
Hated that Megan threw a hissy fit when Don came home. While I like that Megan stands up to Don, her "standing up for herself" moments are becoming more like childish tantrums.
Sigh… Joan and Don. They need to take Peggy out, and all three of them need to get wasted and really talk about everything – life, love, work, all of it.
Okay, Roger can come too.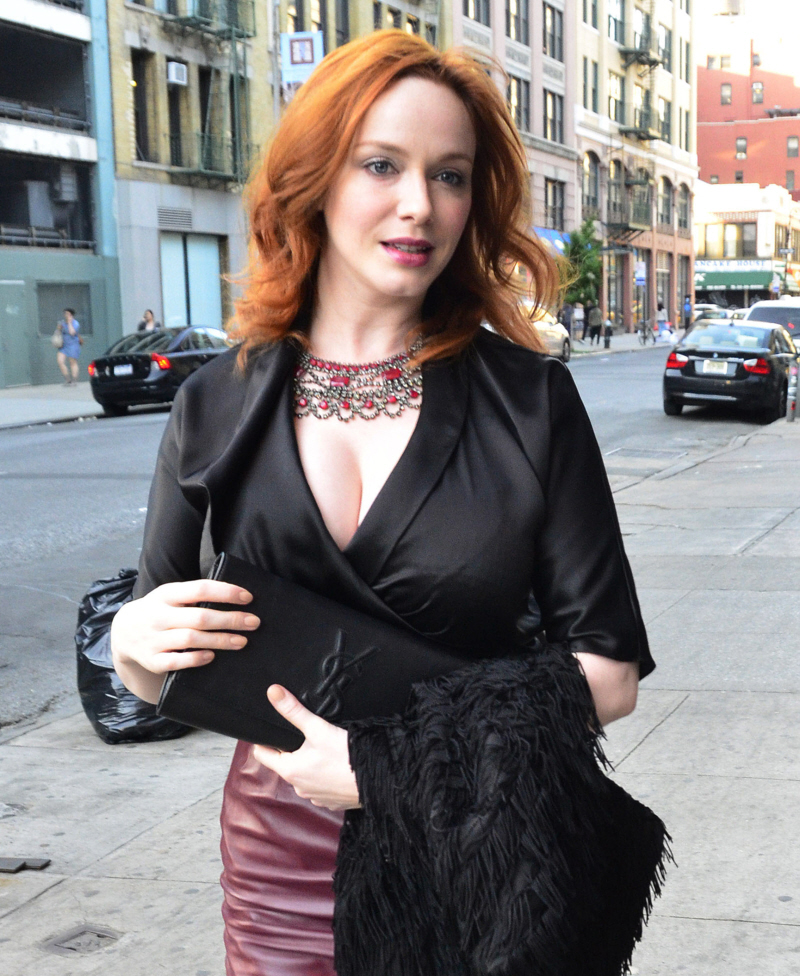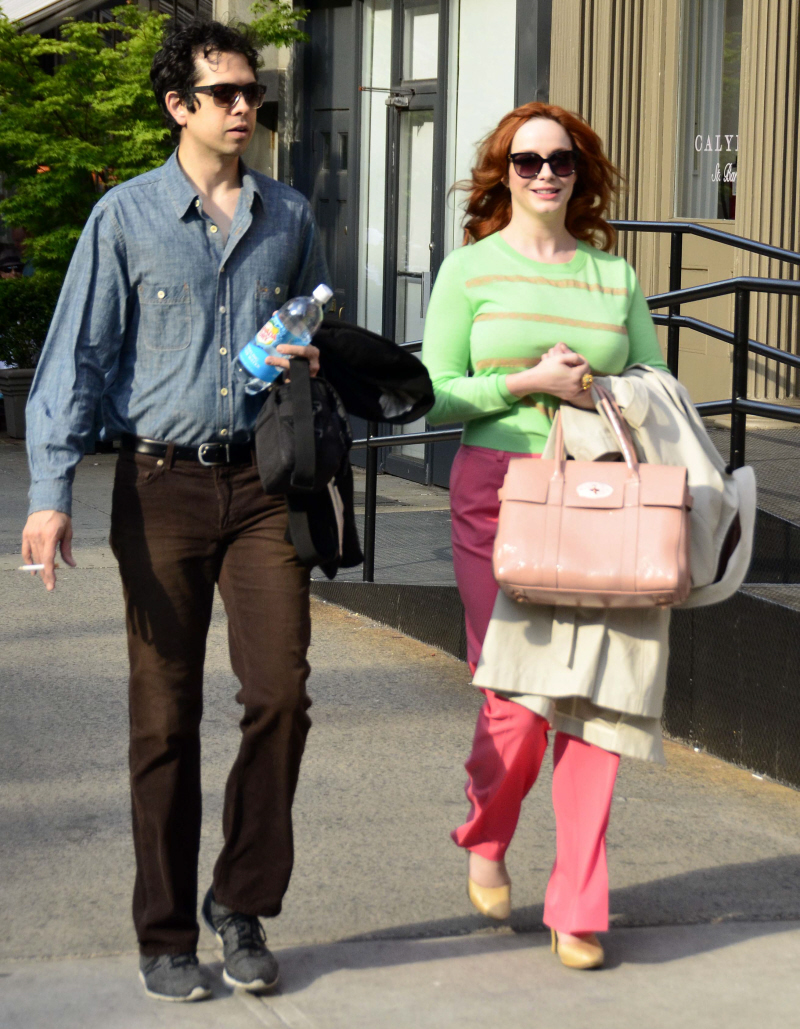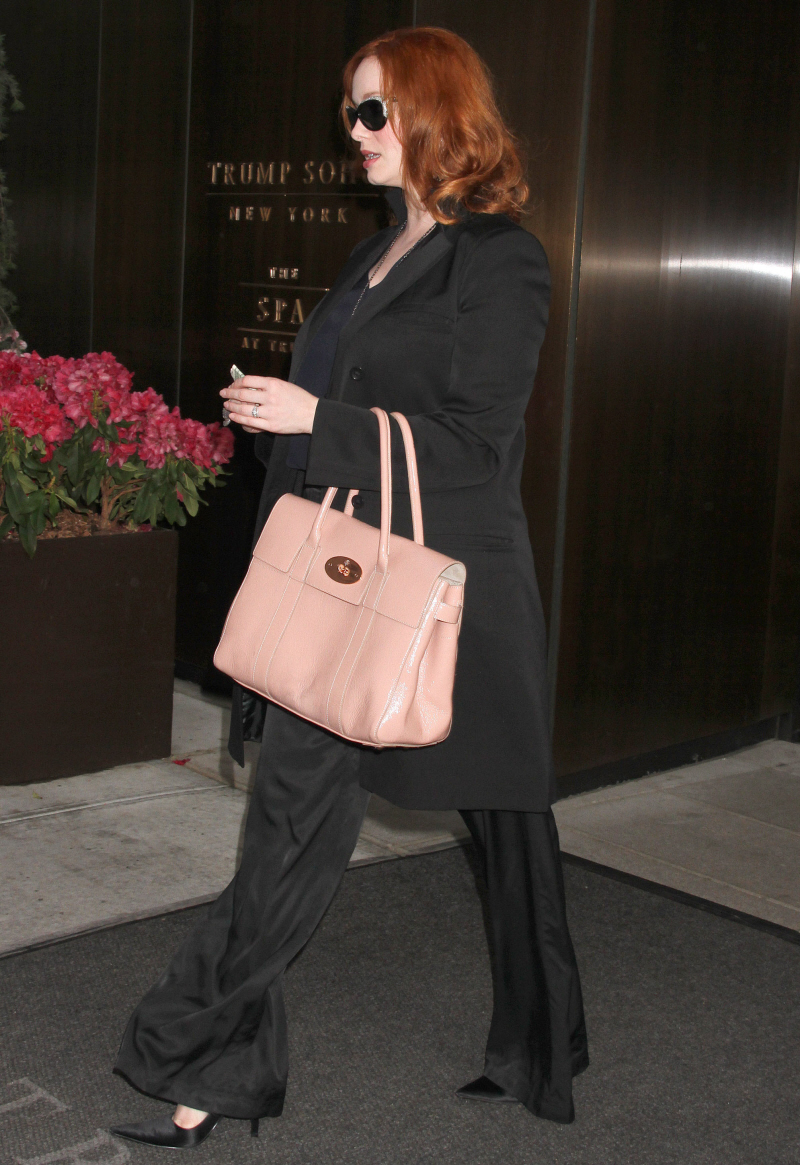 Photos courtesy of Fame/Flynet.