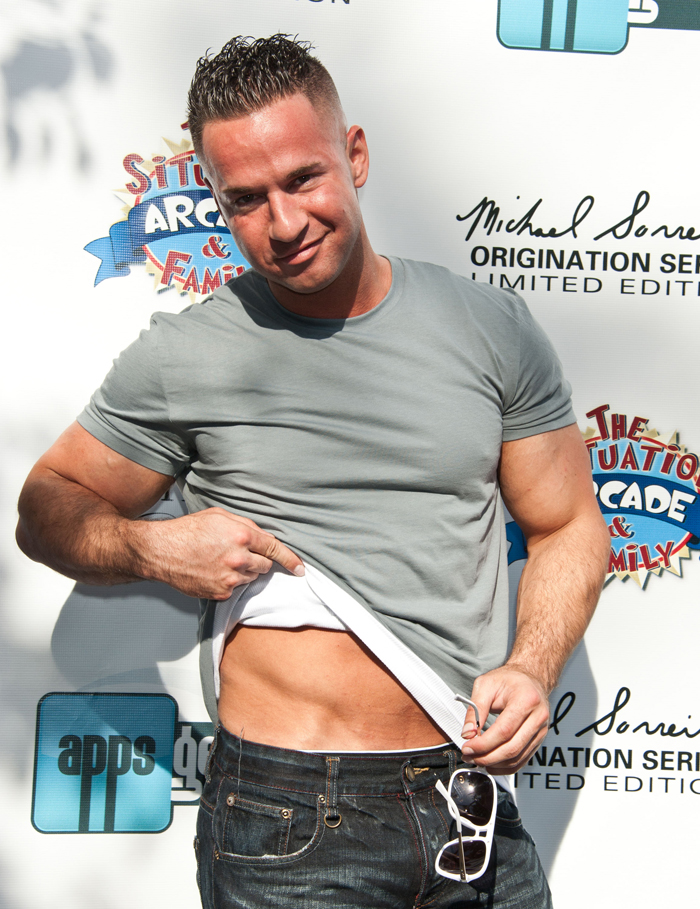 Here's Mike "The Situation" Sorrentino at the launch of his new limited sunglasses line caled, "The Situation Origination Series." Of course he's showing off his revolting abdominal muscles while presumably showcasing the glasses as well. What really annoys me is that there are probably some dudes who will actually buy these overpriced pieces of plastic because they buy into Sitch's "brand" which is definitely not gay. Or something like that.
As for Sitch himself, he just finished a two-month stint of supposedly "resting at an undisclosed location" — but of course we all know the dude was in rehab. While it's easy to assume that Sorrentino was in for coke addiction, he now insists that it was all because of a prescription pain pill problem, which he reportedly developed because being famous is so hard: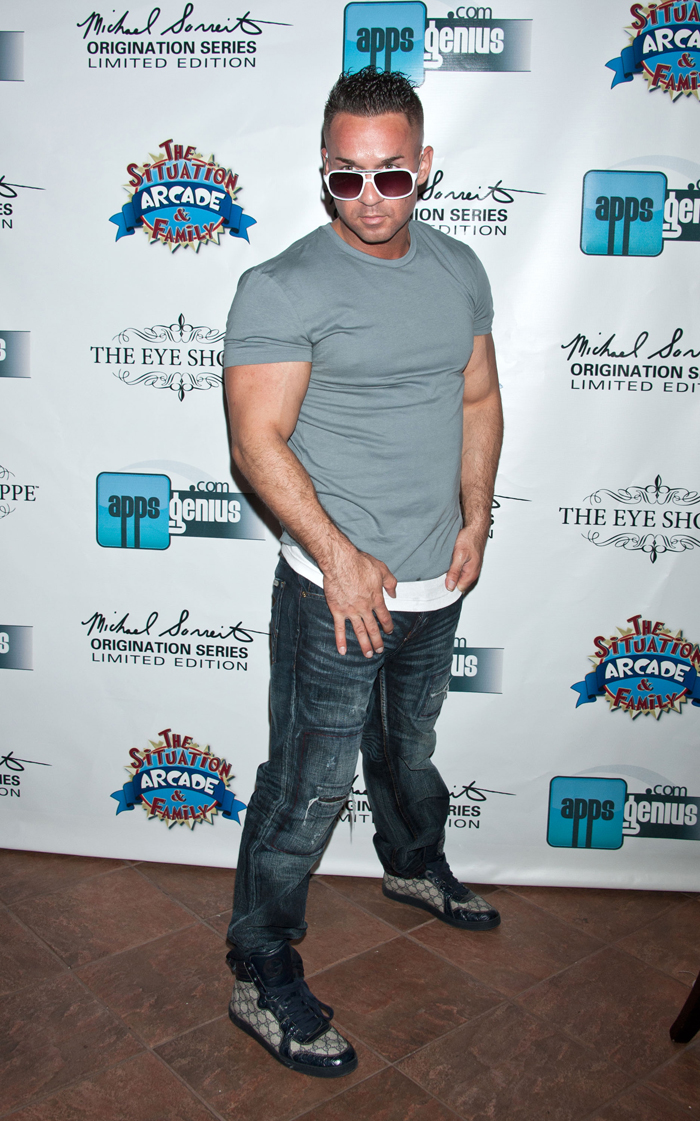 From "Dancing with the Stars" to dancing with the devil, The Situation's had a busy few years.

Now, Jersey Shore's Mike Sorrentino opens up to MTV's Sway about the substance abuse that landed him in rehab, and RadarOnline.com has all the details for you.

The Situation said that his recent stint in recovery was to curb a nasty pill popping habit — a story RadarOnline.com was first to report back in March.

"My addiction was prescription painkillers. At first, I thought it gave me energy, I thought it helped me," he said, citing the nonstop travel demands and plane rides expected of those in show business. "Being in this business is not easy."

The reality star said he "made a mistake by picking a substance over what I previously chose, which is fitness."

He said that he never had any other abuse issues to deal with — i.e. alcohol, cocaine or marijuana — nor did he ever mix his pills with any of the aforementioned substances.

While many might believe his villainous nature on the show might have left him with a lack of support from castmates, The Sitch said that isn't the case.

"At the end of the day," he says, "all the kids care for each other."
[From Radar Online]
Yeah sure, it's not "easy" pulling the gym, tan, laundry routine every day of one's life and doing nothing else but spouting delusional rants while walking around with one's wang hanging out. Poor Sitch. He's got it so rough.
In the meantime, a barely-pregnant looking Snooki (she's about five months along) has been pimping her new (ghostwritten) book, Gorilla Beach, and she says that the upcoming Season Six of "Jersey Shore" (which will be shooting this summer) will see her in her very own private home. So I guess that means she'll be visiting the "Shore" house itself for filming, and she'll probably be super pregnant by then too: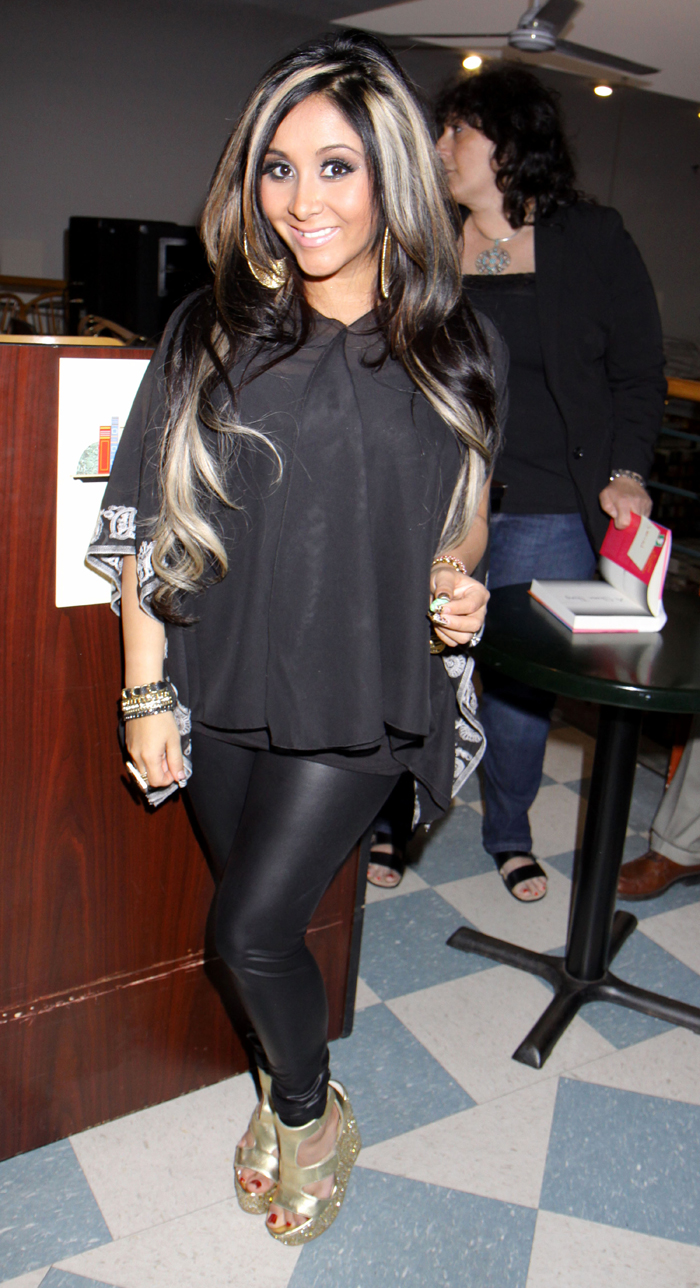 Season 6 of "Jersey Shore" just dropped another major bomb, TMZ has learned … Snooki will NOT be shacking up with her fellow castmates this summer — instead getting her own private nest nearby.

Sources tell us … the mama-to-be is taking her pregnancy very seriously, choosing to live NEAR the "Shore" house rather than IN it because it's not worth it to be surrounded by boozy, loud roommates while pregnant.

If you recall, Snooki announced she was knocked-up in February — when she was already 3 months along — which means while filming this summer she'll be in prime popping position … all the more reason to have a pad of her own.

The guidette's absence is just another in a slew of "Shore" changes this year … which includes a sober Mike "The Situation" Sorrentino (who just got out of rehab) and the possibility of adding a Snooki-baby to the cast.

It's shaping up to be the most boring BEST season ever!
[From TMZ]
I suppose that it's pretty smart for Snooki to have insisted upon her own home while shooting the next season of the show. At least she won't be around all the liquor or the clogged toilets courtesy of Ronnie. So gross.
During the promotion for Gorilla Beach, Snooki reportedly (according to WENN) made an announcement that she was dedicating this latest book to "my husband," which will likely cause speculation that she's already gotten married to fiance Jionni LaValle. I don't buy it though. Snooki's just trying to stir the gossip mill, and there's no way in hell that she'd get married without selling the photos to Us Magazine, who would probably (and unfortunately) be interested in buying them.
UPDATE: Snooki covers this week's issue of In Touch with an exclusive on the sex of her baby, and from her answer, I'm guessing that at least there won't be as much leopard print involved in the nursery decor:
Snooki tells In Touch that she and Jionni are deciding between two names – Lorenzo or Jionni Jr. And while she's thrilled to welcome a son, the 24-year-old admits she was hoping for a mini-me. "I thought it was going to be a girl. I was hoping it would be, because all girls want girls," Snooki says, at first disappointed, but added, "It's still my baby, no matter what. I'm excited either way!"

Proudly showing off her baby bump at her In Touch photo shoot, the mom-to-be says she's traded in her beloved pickles and now craves icy, cold treats. "I love anything cold and juicy, like Italian ices." But even more surprising? While some women find their sex drive enhanced during pregnancy, you won't find Snooki and Jionni anywhere near the smush room! "Our sex life is hardly there! I just feel too icky and gross," Snooki tells In Touch. "I'm so not in the mood to do stuff."
[From In Touch Weekly]
Snooki might be the only pregnant woman that I've ever heard of who doesn't crave pickles. Then again, when she drinks the juice straight out of the bottle while not pregnant, maybe the baby really is putting some sense into her.
Photos courtesy of Fame/Flynet and WENN