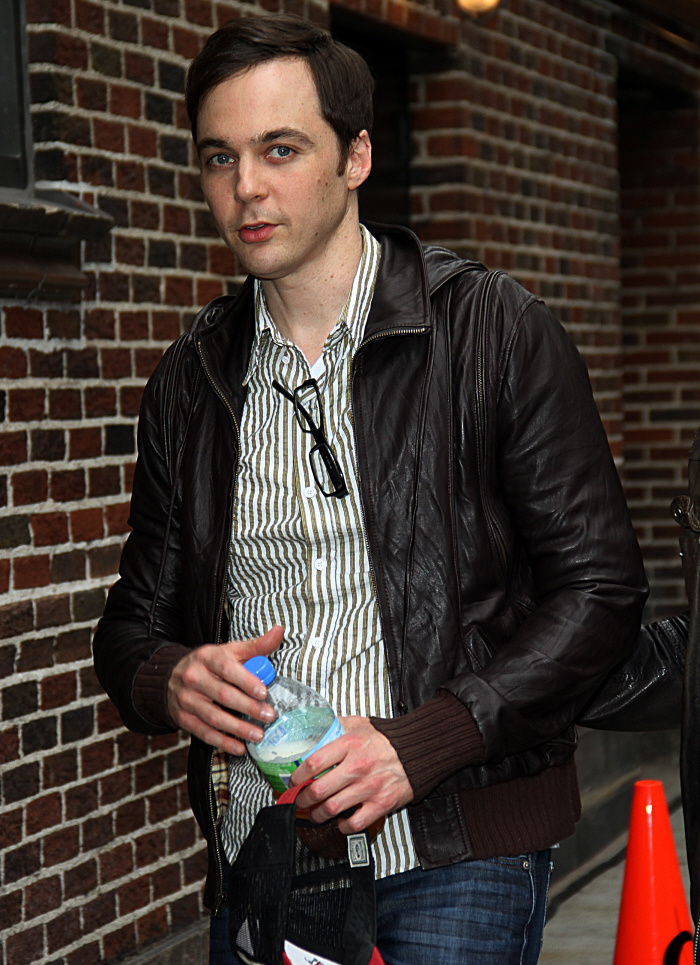 Jim Parsons is gay. You heard it here first. Sort of. Back in 2010, we covered a story from The National Enquirer about Jim Parsons and his live-in boyfriend named Todd Spiewak and how Jim had proposed to Todd. Last year, The Enquirer also claimed that the engagement was "off" because Jim found out that Todd wanted kids, and Jim was all "Meh." Anyway, Jim never really confirmed or denied his sexuality in interviews, and I think most people kind of just thought, "Eh. So what if he's gay? He's pretty funny." Well… Jim just came out of the closet. And he did it in such an old-school way! During the course of a New York Times interview, the Times casually outs him. It's so quaint and old-media! You can read the full NYT piece here (Jim is promoting his lead role in a Broadway production of Harvey) and here's the blink-and-you'll-miss-it reference to his sexuality:
By the winter of 2011 Mr. Parsons had won his first Emmy for "Big Bang" and was midway through Season 4 when he felt he was "spinning my wheels" as an actor, and began looking to do a play again. He landed the role of Tommy Boatwright, a young gay activist in "The Normal Heart" who bucks up the main characters in their fight against AIDS. The humanity and intensity of the play appealed to him, he said, just as Beckett and Büchner once did; in graduate school, too, his thesis project was a 15-minute performance piece about a mentally disabled death-row inmate, a psychiatrist and a murder victim's father — all played by Mr. Parsons.

"The Normal Heart" resonated with him on a few levels: Mr. Parsons is gay and in a 10-year relationship, and working with an ensemble again onstage was like nourishment, he said. As the production was ending last summer, he heard that the Roundabout Theater Company was considering a revival of "Harvey" — initially with John C. Reilly under consideration for Elwood — and last November the play's director, Scott Ellis, asked him and Ms. Hecht to do a private reading of the work in Los Angeles.
[From The New York Times]
Now, Parsons isn't the one saying "I'm gay and I've been in a relationship with a man for ten years." The NYT says it for him. If this was People Magazine, I would say that Parsons definitely approved that line and his publicist cosigned it. But this is the New York Times – did they just casually "out" an actor without his consent? Without directly quoting him? Weird.
I'm pretty sure the other dude in these photos is Todd Spiewak, Jim's boyfriend/fiancé of 10 years.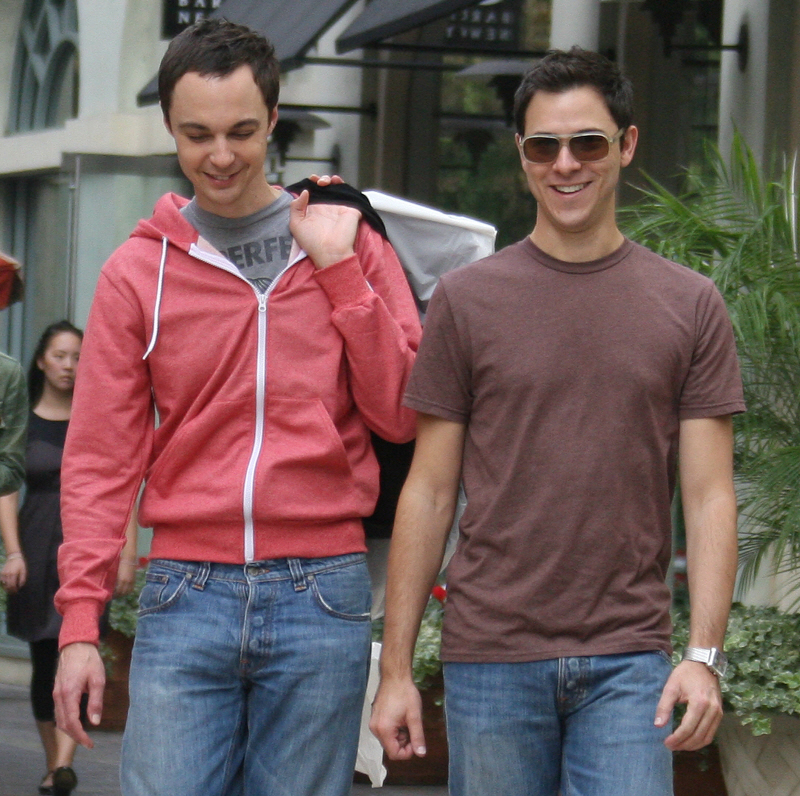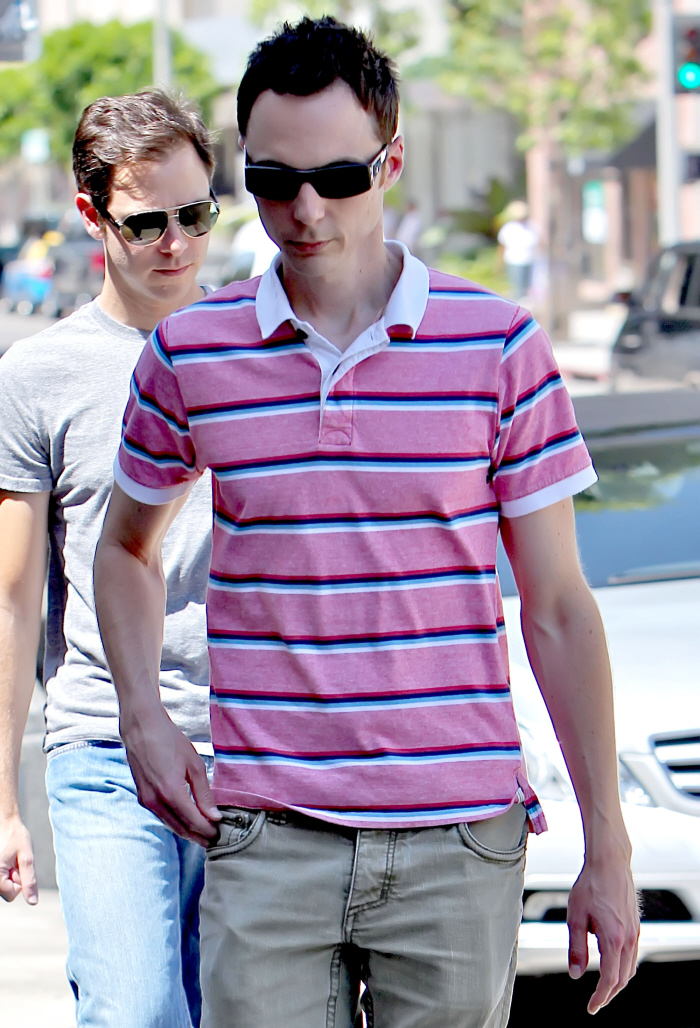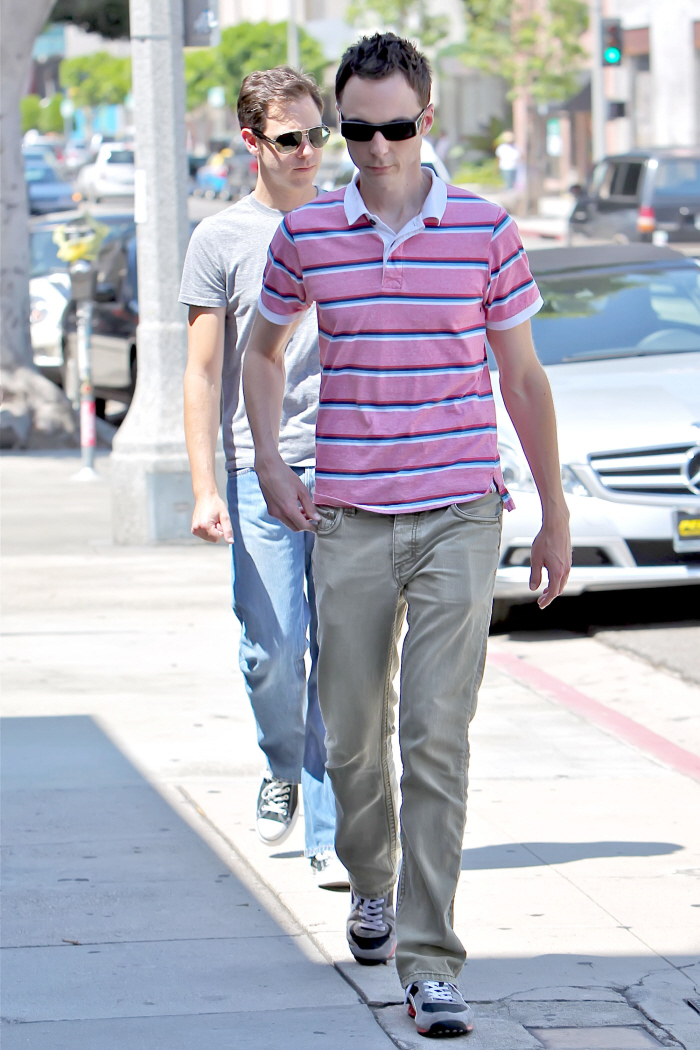 Photos courtesy of Fame/Flynet and WENN.