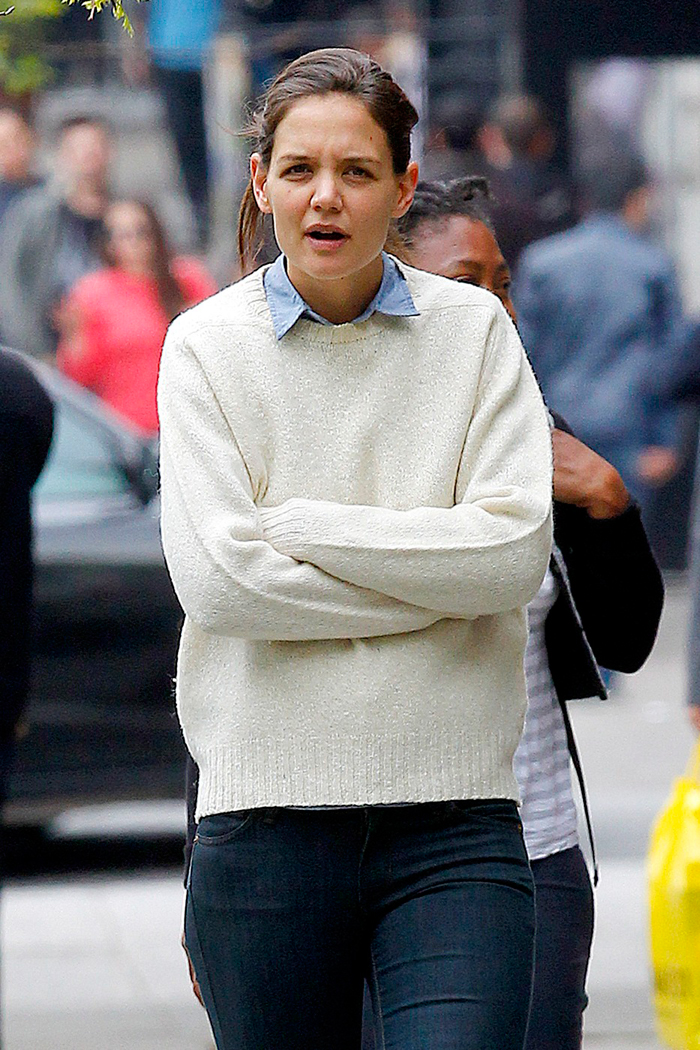 After yesterday's horrific display from Katie Holmes in the unfortunate skirt/fug booties combo department, I'm almost grateful to return to recycling a photo from Katie's recent walk of depression and broken promises, which goes right along with a new story from the Enquirer, which isn't so much Katie's actual reaction to Tom Cruise's latest rock star antics on the cover of W magazine but how certain "sources" imagine that she'll feel after seeing her husband frolicking with two busty blondes, one of whom feigns reaching down Tom's pants. Pretend for a moment that you are Katie gazing upon this image.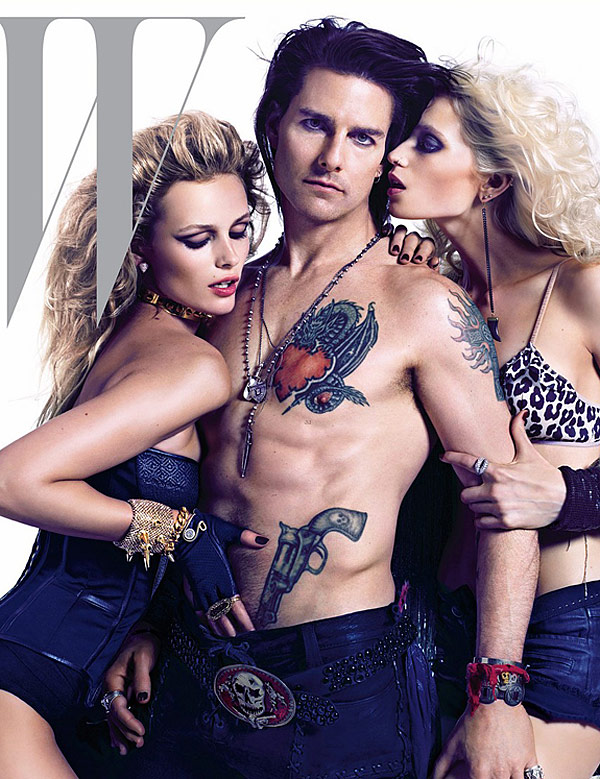 If nothing else, this story is a wonderful exercise in anti-Xenu fan fiction because it paints Katie as a jealous, spurned wife when nowhere in reality, fantasy, or contractual existence has Tom ever preferred a "busty blonde" as his "type." Actually, I'm not sure what his type is, for it's impossible to draw any significant parallels between Mimi Rogers, Nicole Kidman, and Katie. But busty blondes? Forget about it. Tom is not interested, and he definitely didn't get a boner when one one of the blondes let a boob slip out during the implied beej part of the shoot.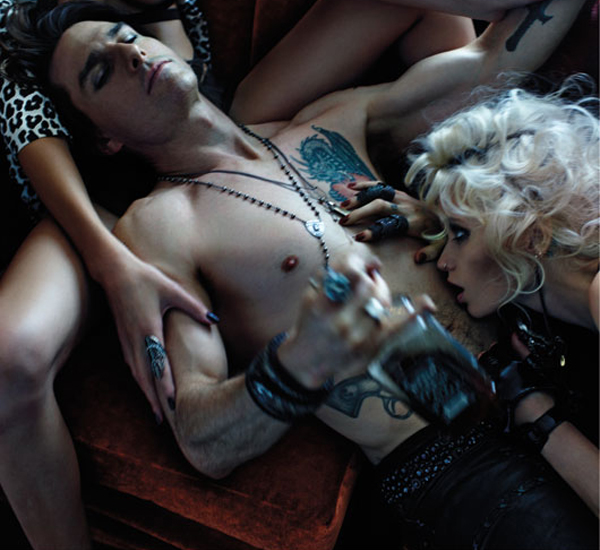 Still, this Enquirer story is almost worth it for the giggle factor involved in Katie's fictionalized reaction and the made-up quotes about the supposed crush that one of the blondes has on Tom. Bitch, please.
They are the photos that will drive Katie Holmes wild with jealousy and tear the couple apart — hunky, tattooed Tom Cruise stripped to the waist and lying in bed flanked by two busty blonde models, one topless and nuzzling his naked chest!

In a bombshell world exclusive, The ENQUIRER has learned the 49-year-old actor's controversial pictorial in the June issue of the fashion magazine W is sure to provoke a bitter battle with his 33-year-old wife.

It will make no difference to Katie that the photos are a promotion for Tom's upcoming fim Rock of Ages, say sources. The pictures are ultra-steamy, the models are ultra-hot, and she's been stuck alone in New York caring for daughter Suri as Tom films movie after movie.

"Katie will be devastated by the erotic and explicit nature of the pictures," said a close source. "And how can she not be terrified Suri will eventually see them? It's certain to spark a shocking blowup between them!"

Cruise is featured on the cover of the magazine and on an inside spread as his movie character — fading heavy metal rock legend Stacee Jaxx. He posed in hot guitar hero mode — sporting hair extensions and makeup while chugging down on a whiskey bottle. There is a fake fire-breathing dragon tattoo on his chest and another of two guns down by his belt.
[From Enquirer, print edition, June 9, 2012]
I know that a few of you actually liked Tom's catatonic stare in the W mag photo shoot, but no one went so far as to describe it as an "ultra-steamy" set of photos, right? Tom is just so asexual and anticeptic that the idea that he's even vaguely erotic in these photos is rather hilarious, and I don't think Katie would actually ever be jealous of him rolling around with a couple of blondes when it merely means that Tom's working to keep her shopping budget intact.
The Enquirer has a lot of fun with this story though and elaborates about how model Abbey Lee Kershaw delighted in rubbing up against Tom's "impossibly ripped abs while trailing her fingers seductively into his leather pants" and, in another shot, Abbey Lee "thrusts her breasts against his bare torso and nuzzles his chest" while the other model (Edita Vilkeviciute) "places a bottle of Jack Daniel's on his crotch." The Enquirer also talks to marriage "experts" who describe Katie's alleged furious reaction as "understandable" and that further alleged humiliation will follow since W is a fashion bible, and Katie will "feel as if she's been made the laughingstock of the fashion world" while she's struggling to launch the Holmes & Yang line. If anything, Katie should be even more embarrassed by her busted clothes than by her ridiculous husband. Let's be realistic though — she probably doesn't care at all about Tom dispassionately staring off into the distance while two blondes make pawing motions for the camera.
Even more amusing is the Enquirer's description of how Abbey Lee supposedly has the hots for Tom (and his stomach) now after their not-sexy shoot: "Word has gotten around the modeling industry that Abbey thought the shoot with Tom was one of the hottest she's ever done" because "she said that she couldn't get over Tom's ripped chest." LOL.
Meanwhile, Bret Michaels is convinced that Tom has modelled his very serious Stacee Jaxx after him. Here's a tiny story from this week's In Touch:
Bret Michaels had some serious deja vu upon seeing Tom Cruise as Stacee Jaxx in the movie musical Rock of Ages (out on June 15). "Tom's cowboy hat, bandanna, tattoos, energy and Rock of Love backstage style are pure Bret with a mix of Axl Rose!" the Poison front man tells In Touch. It's no coincidence, as Tom got a few lessons from Bret himself. "We hung out on the set in Miami and spent time looking at footage of my stage show from Tampa," he explains. Already a fan, he's now a Tom groupie. "Even though the part is over-the-top, he took getting it right seriously — he has rock-star intensity," Bret gushes. "He's one of the coolest people I've ever met!"
[From In Touch, print edition, June 9, 2012]
Really? I don't see Bret in Tom's version of Stacee Jaxx. If anything, I'm mostly seeing a Jon Bon Jovi/Richie Sambora thing going on. With some really gross abs and a very serious attitude. Because Tom's a cowboy. On a steel horse he rides.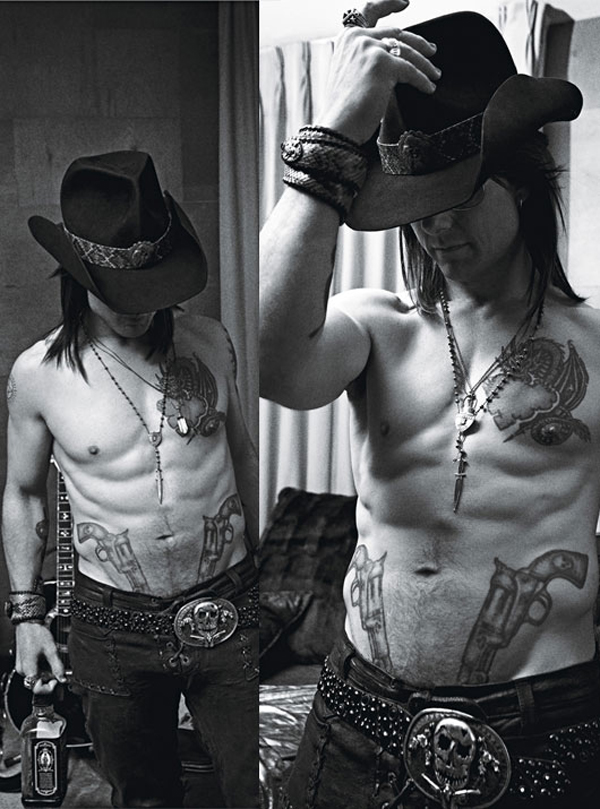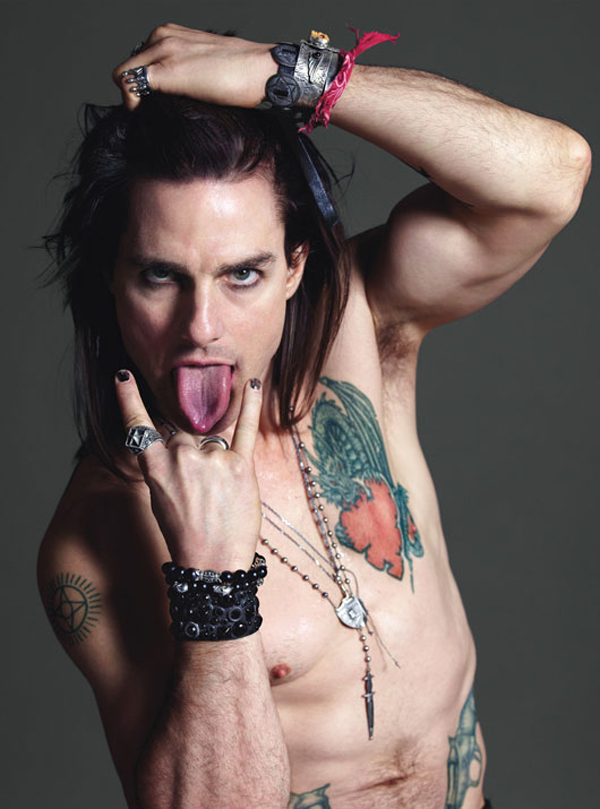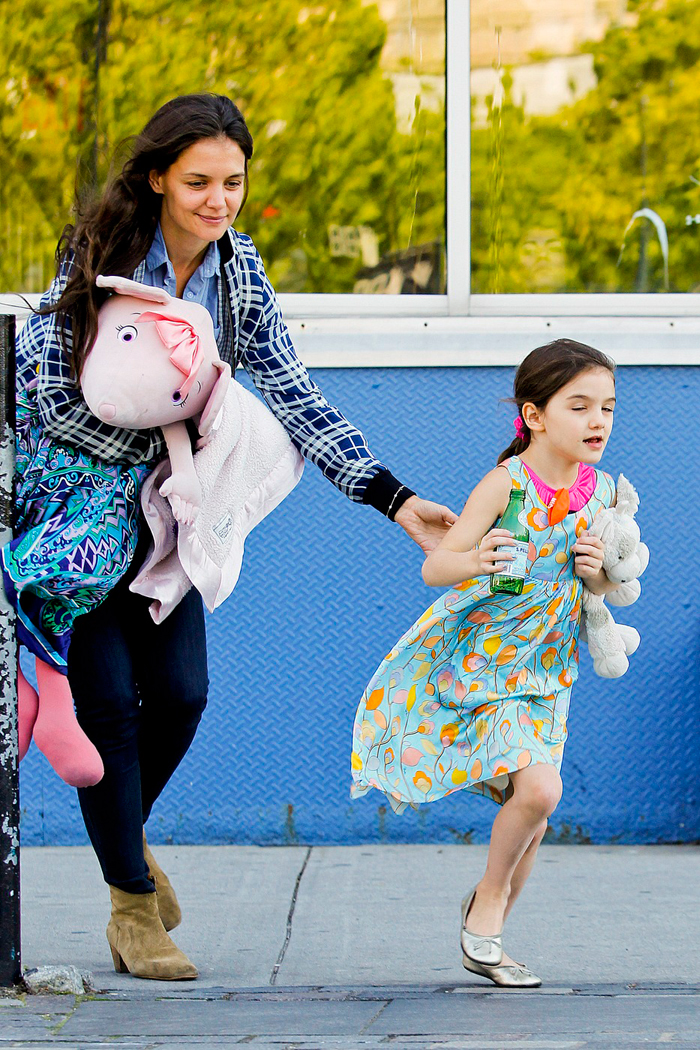 Photos courtesy of Pacific Coast News and W magazine