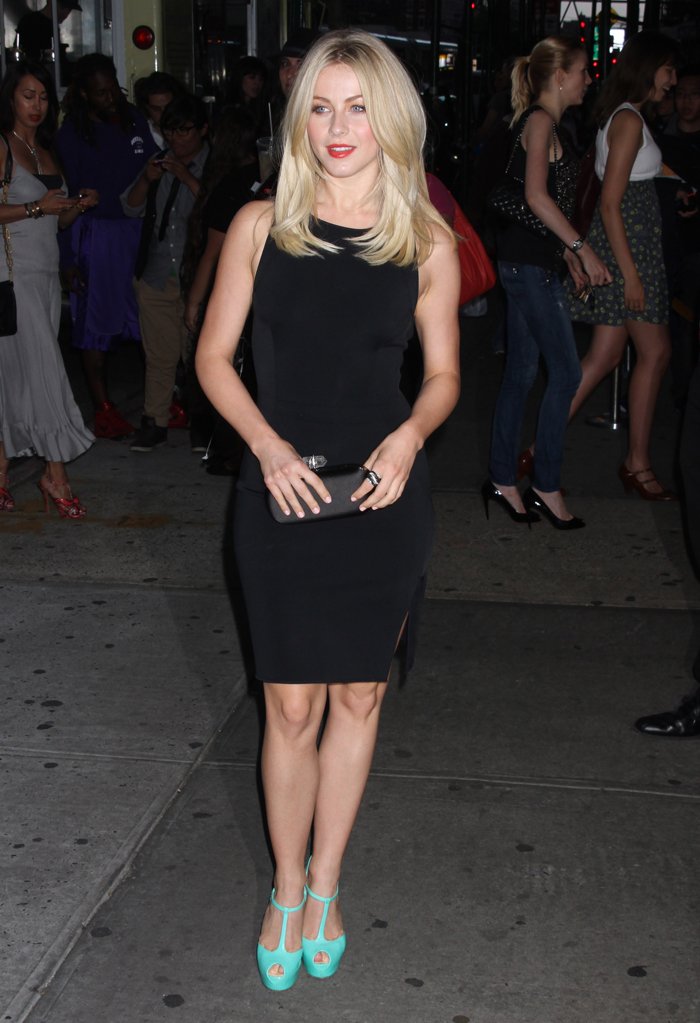 Here's some photos of Julianne Hough attending a screening of Rock of Ages in New York City on June 6. Evidently, the screening wasn't important enough for Tom Cruise to make room in his busy schedule and dust off the Katiebot, which is sort of a shame, but Julianne looks quite spiffy in her little black dress. Yes, she's fairly boring from a gossip standpoint, but she sure is pretty.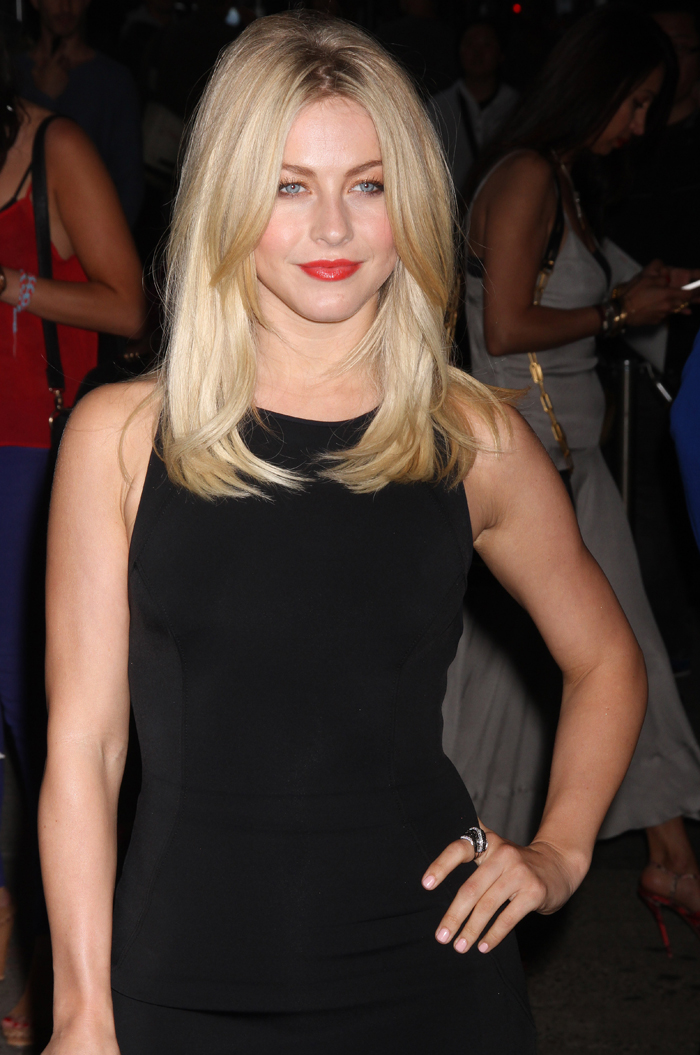 Speaking of gossip, there's a slightly interesting story in this week's issue of Star that has Julianne putting some pressure on Ryan Seacrest to propose marriage. Of course, Ryan sort of brought this on himself as well by buying a huge $37 million estate from Ellen DeGeneres and then deciding that he'd like Julianne to share it with him. In response, Julianne said she needed a ring first, and now Ryan is allegedly plotting to make that dream come true:
He just purchased a massive $37 million mansion from Ellen DeGeneres in the Coldwater Canyon section of Beverly Hills, but Ryan Seacrest, 37, must have realized it's too big for just him. So he asked his girlfriend of two years, Julianne Hough, 23, to move in! But the stunning Rock of Ages star, who comes form a strict Mormon family, won't take that step until he proposes. "Ryan is totally in love with Julianne, and they have been talking about tying the knot," says a friend. "But he hoped they could test the waters first." Julianne, meanwhile, wants to make sure he's in it for the long haul.

"Ryan respects Julianne's decision, and he's secretly been scouting jewelry stores for the perfect ring," the insider reveals. "His plan is to propose by the end of the summer!"

"Ryan thought about Julianne's family when he bought the place," a sources says of the 9,200-square-foot house.
[From Star, print edition, June 18, 2012]
Yep, Julianne wants that ring so bad she can taste it, and I'd be willing to bet that if Ryan doesn't propose this year, she'll probably give him an ultimatum. I wonder if Ryan really bought the house with Julianne's huge Mormon family in mind. Or maybe he just thought of holding pool parties and inviting Derek Hough to come and take his shirt off. One never knows.
Here's Julianne doing more promotion of Rock of Ages in NYC on June 6. I love her skirt in these photos, and her dogs (which she took to MTV studios for some odd reason) are pretty cute too. By preference, I'm a "big dog" sort of person, but doggies of any size will usually score points with me.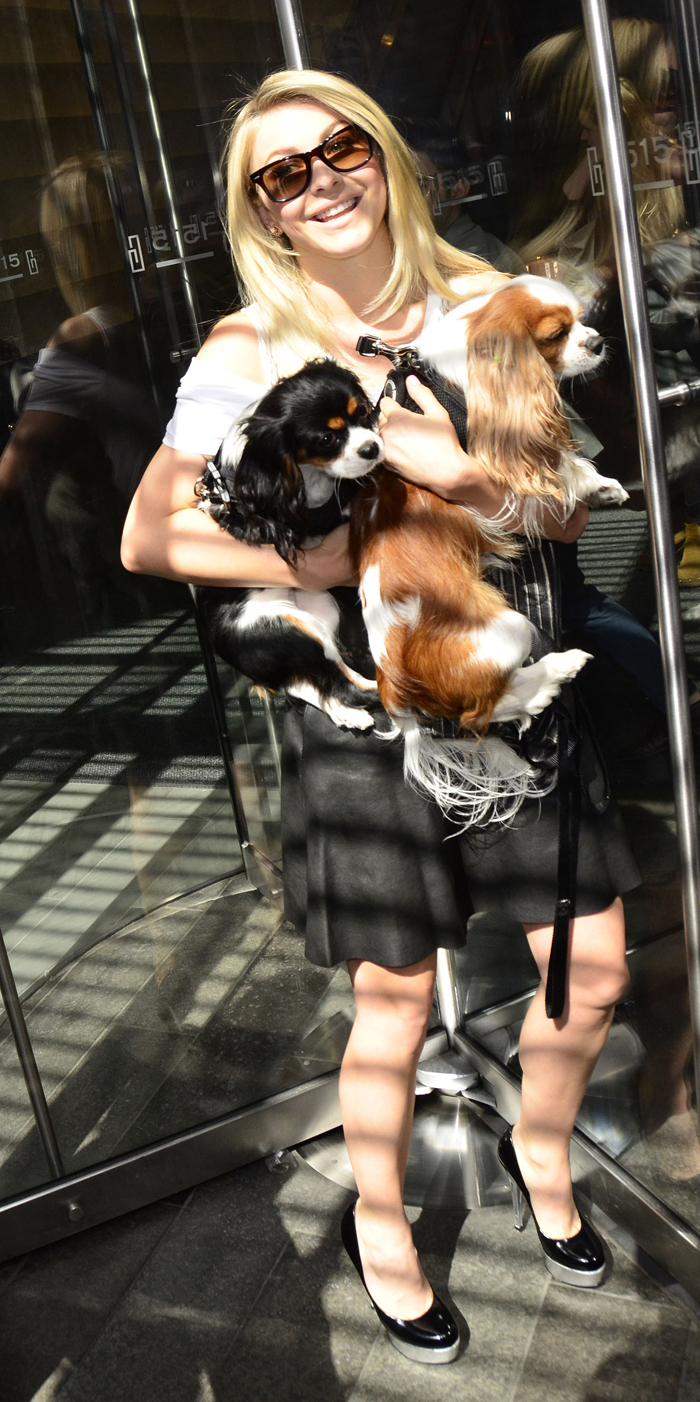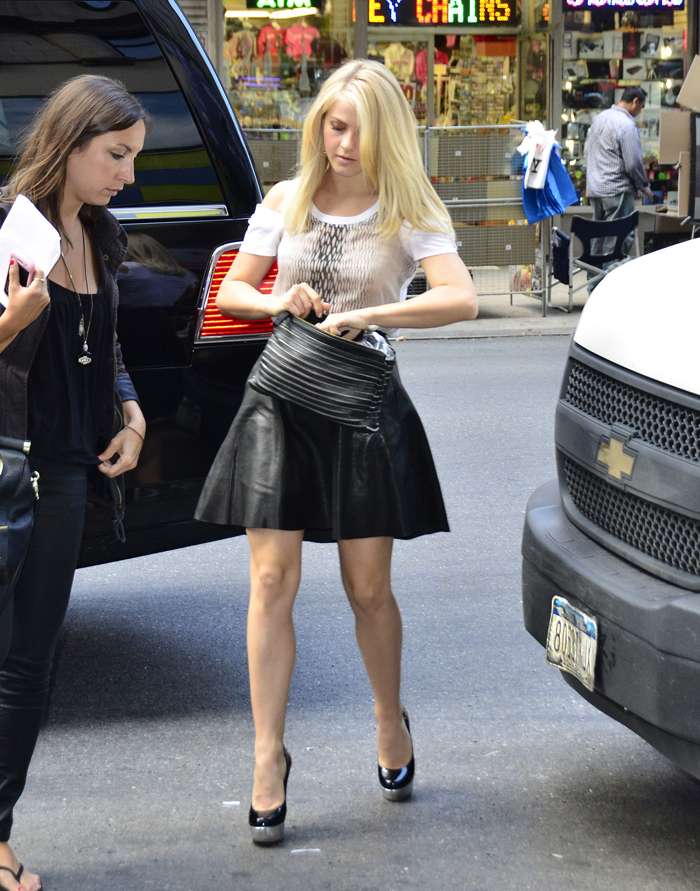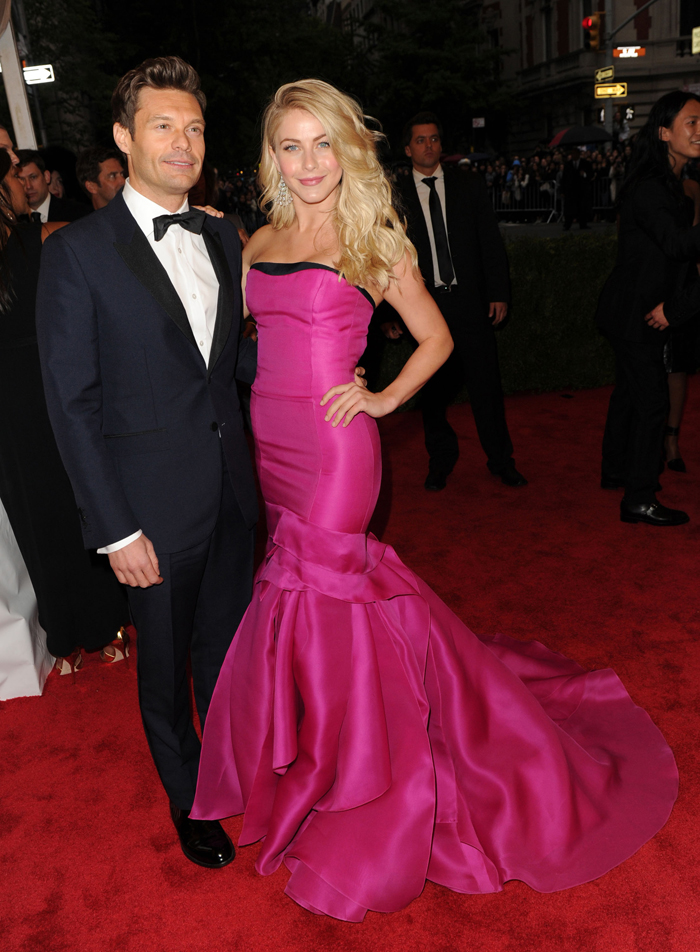 Photos courtesy of Fame/Flynet