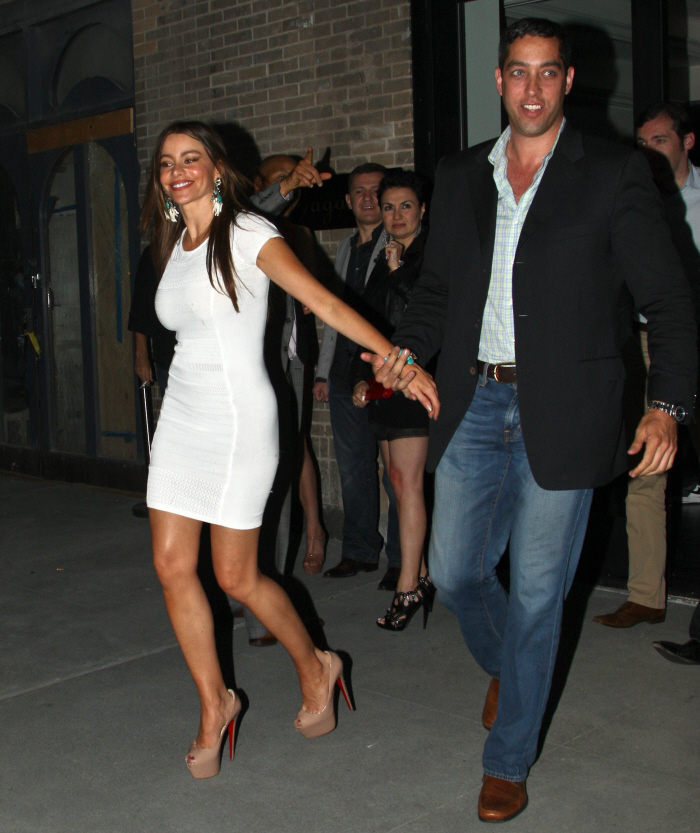 I don't know what to make of this. Back in May, Sofia Vergara dumped her boyfriend of two years, Nick Loeb, after widespread reports of their constant bickering and lack of joint goals. Loeb is a Republican from a prominent and politically active family, and it seemed like he wanted to turn Sofia into a housewife and a political asset for when he eventually runs for a Senate seat (in Florida, probably). Sofia, on the other hand, seemed to indicate in interview after interview that she had no interest in being married again, or having babies, or giving up her career. So… it was a stalemate, there were fights, and everyone kind of understood why they split up. But now it looks like they're back together? These are new photos of Sofia and Nick last week – it looks like they're back on.
Sofia Vergara and Nick Loeb split last month, but the pair certainly didn't look like exes on Thursday night in New York. They pair snuggled up together in a corner booth at the preview of Bagatelle New York with a handful of friends, just like old times.

"They we're laughing a lot and would embrace each other with long hugs," an onlooker tells PEOPLE.

The Colombian Modern Family star wore a skin-tight white dress that showed off her famous curves. After dinner, Vergara ordered the Bagatelle Mega Sundae, and even though the kitchen was closed the owners personally made the dessert for her – which Loeb spoon-fed to the actress.

"Sofia was having the time of her life dancing around Bagatelle and chatting up the deejay," says another source. "They later went to Double Seven and they seemed really affectionate all night. They embraced each other and you can tell they're still in love." At the club, the couple danced to tunes spun by DJ Martial.

So are they officially back together?

A Loeb source tells PEOPLE that the couple, who have been in communication ever since they split, still have differences to work out, but really care for each other.

"Nick is crazy about her, and they do have heated arguments and disagreements, but they enjoy many of the same things and have been seeing each other again," the source tells PEOPLE. "There are compromises to work out on both sides."

Whether the pair will go back to being a full-blown relationship is still up in the air, says this source.
I'm kind of disappointed. I was looking forward to seeing Sofia as a single girl in Hollywood, making celebrity dudes weep with her hotness. I had high hopes that George Clooney would eventually find his way to her, and the angels would sing. My guess is that Nick Loeb is still really, really into her (who isn't?) and that he came begging for another chance on whatever terms she would give him. That's just how I read it – I think Sofia knows what she's doing, and she's not prepared to give up her career, nor does she want to be some Republican housewife. And Nick is okay with that. For now.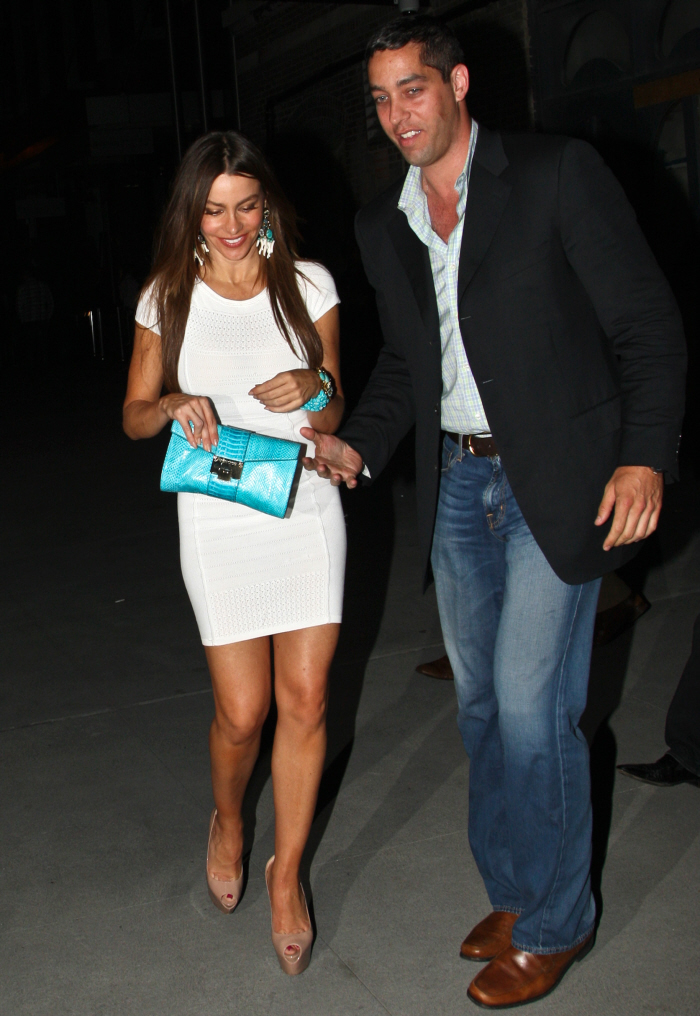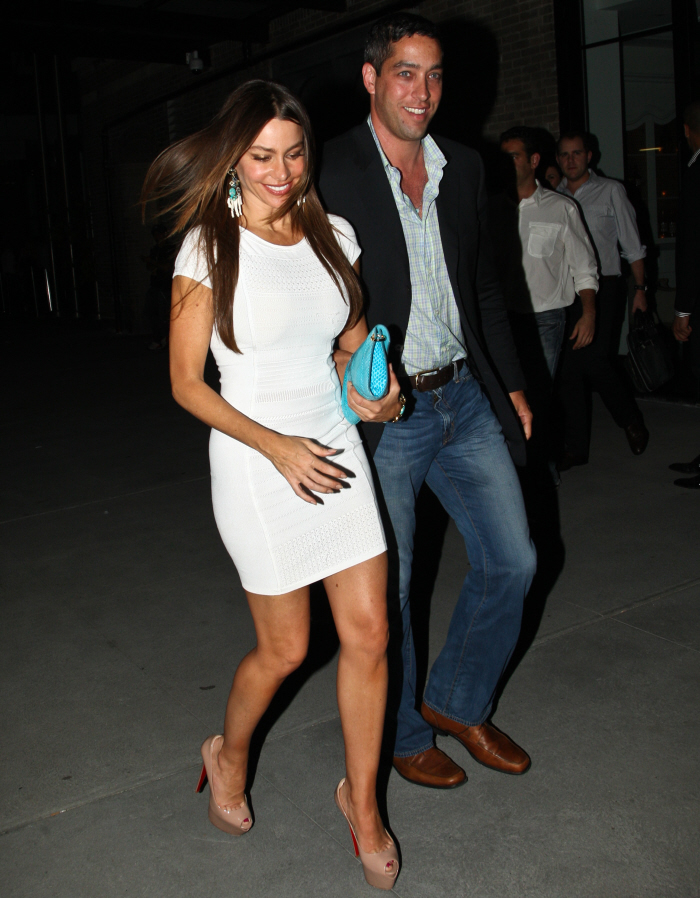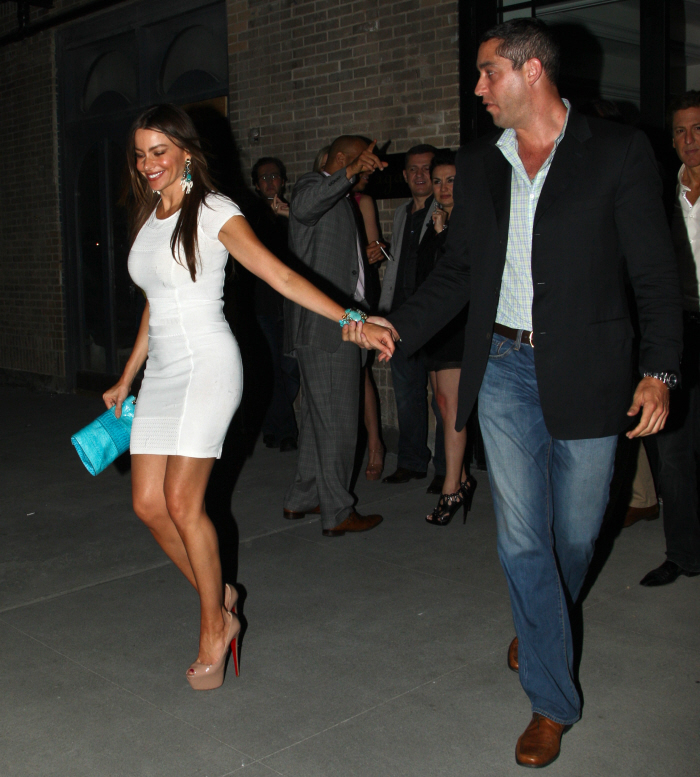 Photos courtesy of WENN.