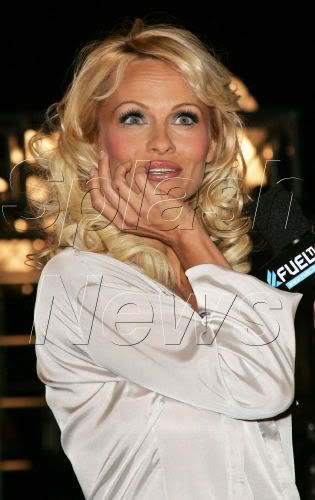 In true Pamela Anderson form, she reconnected with two of her exes right after splitting with her husband of four months, Kid Rock. Of course Rock was also one of Pamela's old loves that she just couldn't let go of and hastily married after a summer fling.
Is newly single Pam Anderson torn between two exes? On Nov. 27, within minutes of filing for divorce from hubby of four months Kid Rock, 35, she was on the phone reconnecting with her "forever flame," ex husband Tommy Lee, 44! "He asked me is it true you are getting divorced, and if it is true, what are you doing later?" Pam told the TV show Extra. Five days later, Pam and Tommy spent the day watching their sons Brandon and Dylan play football and basketball. "They were kissing and hugging most of the afternoon," an eyewitness tells Star. Tommy may have some competition. On November 26- the night before she filed for divorce – a wedding ring –free Pam was in San Diego's Stingaree nightclub attending a party for her ex boyfriend, San Diego Chargers footballer David Binn, 34. "They looked very comfortable and seemed to be tuning out the other partygoers," an eyewitness tells Star. "It was clear that she was there for David."
[From the Star Magazine e-mail newsletter]
Kid Rock has also turned back to an ex. He was seen out with Conchita Leeflang, who he dated after his first breakup with Pamela Anderson in 2003. Word is that he never lost touch with Conchita and Pam suspected him of cheating with her during their brief marriage.
The GQ Interview that came out right after Pam and Kid split may offer clues as to why their marriage was doomed. They fought in front of the journalist, with Pam scolding Kid for his
love of hunting and use of the word "gay"
Recalling their 29 July (06) marriage in the current December 2006 issue of the publication, rap rocker Rock growled the guests were made up of "whoever could afford to come," adding, "None of my friends were there". He later claims, "I'm not in charge of this relationship".

When his new wife attempted to correct him, stating, "They're all your friends, baby..". Rock snapped, "None of my friends were there".

Then, in a further exchange, the couple disputed the use of the word 'gay' when tough guy Rock, real name Robert Ritchie, insisted, "That just takes the gay metre right to the end" when asked to confirm he sang U2′s With Or Without You to his new bride on their wedding day.
Anderson attempted to correct him by saying, "That's enough with the gay word. That's not nice," but her husband glibly jokes, "It's a new word. All the kids are using it".

The actress/model even threatened divorce, which she filed for last week (ends01Dec06), when her husband jokes about her animal rights work.

Asked by the magazine if his wife's love for animals is making an impact, Rock jokes, "Now I shoot the deer and she saves it," which prompts angry Anderson to retort, "That's divorce right there. You shoot anything, it's over.
Nice to know these two are able to learn from their mistakes.
Images from Splash News Online and Conchita Leeflang's myspace.