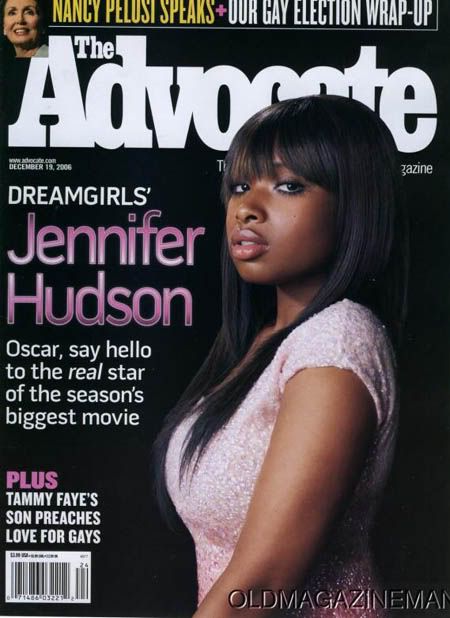 Jennifer Hudson might be getting a lot of positive press for her kick ass role in Dreamgirls, but her recent statements are sure to cast a ashadow over all the positive buzz. She says that being gay is a sin, but it's – you know, not any worse than other sin. She means like stealing and cheating on your wife, right? What bothers me is her opinion of course, which is antiquated and bigoted, but also that she talks about herself in the third person and uses the tired "I have gay friends" excuse. That's so stupid:
As a Baptist who's singing at circuit party, has Hudson reconciled her spiritual beliefs and her gay fan base? Does she support same-sex marriage?
"Nobody has ever asked me these questions," she says.
"Everybody sins," Hudson continues. "No sin is greater or different than the other. To each his own. If it don't bother Jennifer, then Jennifer don't mind. I don't really even think about it because I don't believe in judging people for what they do."

When referencing themselves, lots of divas probably do that schizophrenic thing where they toggle between first and third person. But did Hudson just say that being gay is a sin?

"According to the way we're taught, and what it says in the Bible — it is," Hudson says.

If her answers didn't already sound like fundamentalist clichés, Hudson then added, "I have plenty of gay friends."

Her answers were surprising.

I had a hunch that Hudson was religious. But when it came to questions about the gay community, I had hoped she might emerge with a thoughtful response.

Because she's a relatively new star, some may say it's unfair that Hudson should be asked to comment on social issues. But another reporter at the roundtable pointed out that Hudson is a zaftig, dark-skinned woman. He asked Hudson if she feels a responsibility to represent young African-American women in a positive light.

"I do think it's important to be a good role model," she says. "It just occurred to me a few days ago that I might be a role model. I'm sure that's a part that comes with the territory. And I want to make sure I represent them well. And give all females — no matter what age, what race — something to look up to."
Part of "Dreamgirls" chronicles the rise of the Civil Rights movement. I tell Hudson that gay audiences might feel a connection because they're still fighting for equal rights. And when it comes to same-sex issues, all sorts of people might look to Hudson to shed positive light.

"I feel we should all have our rights," she says. "It shouldn't concern everybody else what somebody's personal life has going on."
Hudson has said this before, so it's not new news, but now that she's getting so much press she should realize it's time to stop talking about it.
It seems like she answered this question because she's not media-savvy enough to know that she should keep her mouth shut and change the subject. She has a right to an opinion no matter how much it makes me shake my head and hope that her career will tank, but she should realize that it's going to hurt her in Hollywood if she continues to talk about it openly.
She also says she "thinks the world of the gay community" and "if they love me, I must be fierce, honey."
Do you think the gay community is going to overlook the fact that she says they're all a bunch of sinners?
I was all "go Hudson," yesterday, because even though I've heard this about her before I completely forgot about it. Now it's not so easy to see her as this up and coming star that has earned her success.
Pictures and story from Faded Youth and ONTD.
Update: Maybe you guys are right that I'm just as bad as Hudson for condemning her for an opinion. It's an emotional topic and I just couldn't keep my mouth shut about it. I have gay family members though and it really annoys me when people say it's somehow a sinful "lifestyle."