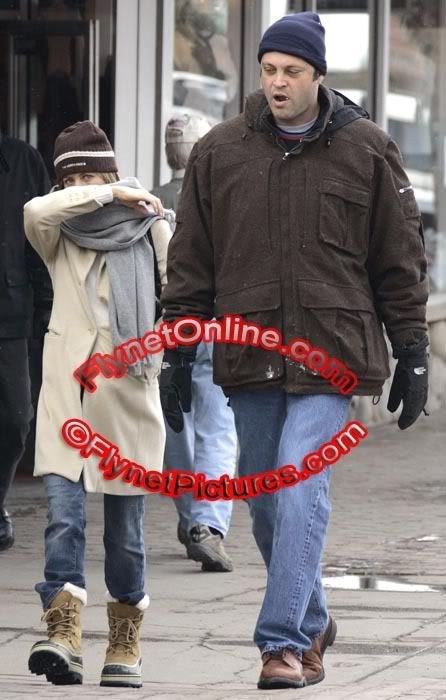 Jennifer Aniston's rep sent a pretty thoughtful letter to Perez Hilton about his attacks on Jen for acting like she was still with Vince for all this time. (Word is they were just friends with benefits and split up months ago.) He said he gets that Perez is mean like that, but doesn't understand why he goes after Aniston and babycorn-mouth Dunst when they're such nice people. (Dunst is kind of growing on me after she hosted an art benefit for children and didn't get a lot of publicity for it.)
The most telling thing about the letter to Perez is that Aniston's rep says that he never claimed that Aniston and Vaughn were together all this time – he just said that they weren't engaged. In fact he kind of admits that they've been apart for a while and is careful to say he never claimed otherwise:
Celebrity blogger Perez Hilton posted an item accusing Aniston and her rep Stephen Huvane of lying about the split for months (Huvane called reports of a break-up "rubbish," while Aniston appeared on the cover of People magazine under the headline "Defending Their Love" and went on The Oprah Winfrey Show to insist she and Vaughn were still going strong).

Within hours, Huvane emailed Perez in response and asked for him to lighten up on Aniston, and even brought his other client Kirsten Dunst into the mix. He wrote:

Hey there.

Just saw your item and wanted to correct you. I understand that being mean is your thing and honestly I am not trying to convince you to be any other way. If that's what makes you happy then by all means go ahead and be mean. It's just that if you are going to be mean then try being right. We never told People magazine that Jennifer and Vince were still together. Just do a little research and you will find that we told People.com that Jennifer was not engaged, had not been proposed to, and had no ring.

Your venom towards Jennifer and Kirsten [Dunst] is something I will never quite understand because if you actually knew these two ladies you would really like them.

I hope you will fix your item but my expectations are really low.

Stephen Huvane
Perez then vehemently points out that Aniston and her rep did lie to People and that Aniston told Oprah in October she was still with Vince. Her half-whispered "yeah" response wasn't that convincing though and no one bought it. He notes that Aniston's rep also called reports of their split "rubbish," but it's possible the publicist is splitting hairs and that it was rubbish that they broke up at that time. Guess it depends on what your definition of a breakup is, since a couple can't split up if they're never together.
Header image from Flynet online.