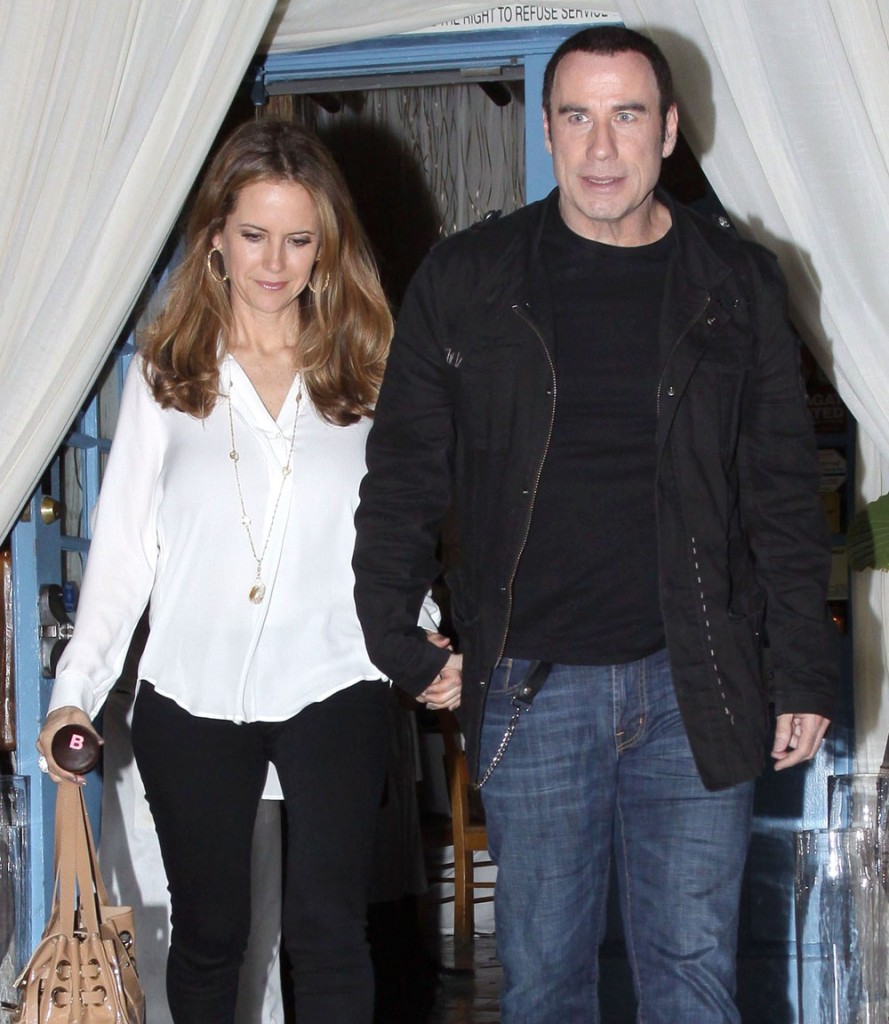 John Travolta and Kelly Preston took a "togetherness" trip to the island of Kauai in Hawaii a couple of weeks ago. It was transparent attempt to repair their family image after all the lawsuits surfaced accusing John of sexually harassing various men. According to which account you read, it either repaired their marriage or made the rifts deeper. I imagine the truth is somewhere in between, and that these two have an unspoken agreement to be together in public and not much else. I could be wrong, but I see Kelly as quietly accepting her position in the marriage. It's possible she's as upset about the stories as everyone says, but I see her as either having a clue and just living with it, or being very deep in denial.
In Touch has photos of the vacation, which only show Kelly and John separately and never together except when they're boarding a plane home. (You can see those pictures here, at The Daily Mail.) In Touch is selling the "family vacation" story. Which makes you wonder, if John and Kelly posed for paparazzi photos separately, and went on this vacation to try and make it look like their marriage was fine, how was it that they couldn't even stage one outing together? The Enquirer has Kelly screaming at John and wanting to leave early, but they also have a photo from 1981 of John with that co-pilot who claimed to have been his lover for 6 years, which incidentally was from 1981-1987, right before he married Kelly. So it's in their interest to make it sound like things are terrible. Here are those two very different stories:
In Touch: John & Kelly Healing in Hawaii
While Kelly believes the allegations – made by multiple male masseurs claiming that John fondled them during separate massages on opposite coasts in January – is "baseless"… it has nonetheless put an almost unbearable strain on [their marriage]…

"Kelly has always given John a long leash, and that's why their marriage has been successful," explains the friend. "But after Jett died, his need for solitude only increased…

"Jett was John's best friend – a part of him died then. Kelly believed the best way she could support him was to give him space to grieve. If John was with his family more, she feels these kind of allegations wouldn't surface…

"They will survive this," predicts the friend. "In the end, their friendship and love for each other always wins out."

---

Enquirer: Kelly's Hawaiian Hell
They stayed with friends at a private home in Kauai, but things didn't go as planned – and a source says Kelly exploded in a fit of rage soon after they landed.

"She boiled over and ripped into him" after our disclosure about John's long-term sexual affair with his pilot lover, the source said. "She lashed out at Travolta and is wondering what's next…

"The reports about the affair with the pilot put her over the top. She told him she was packing her bags and leaving, but he begged her to leave with him and instead to make onlookers think they were a happy couple. She reluctantly agreed."
[From In Touch and The National Enquirer, print edition]
Again, I don't see how Kelly either had a nice vacation with John or cares enough to get mad at him. How could she not know for so long? "Given him a long leash" is code for "ignored his affairs with men in favor of keeping up the facade."
Meanwhile John is facing yet another lawsuit. A guy named Robert Randolph, who wrote a book called You'll Never Spa in This Town Again, is suing John and his lawyer for defamation. The book has passages which detail John's alleged romps in spas with various men. Randolph claims that Travolta and his lawyer, Marty Singer, tried to discredit him by sending out emails (to retailers, I gather) in which they claimed Randolph was crazy and had been in a mental institution. Singer's defense is not that they didn't send out those emails, but that the content of the e-mails is protected by law. Ridiculous! Of course they did this, this is how L Ron Hubbard told his flock how to deal with detractors. In Scientology, ad hominem attacks go way beyond words and get very personal and dangerous. They call it "fair game." Randolph also told the National Enquirer in the fall of 2010that his car was run off the road twice when news of the book first came out. You can read more about the lawsuit he filed on TMZ.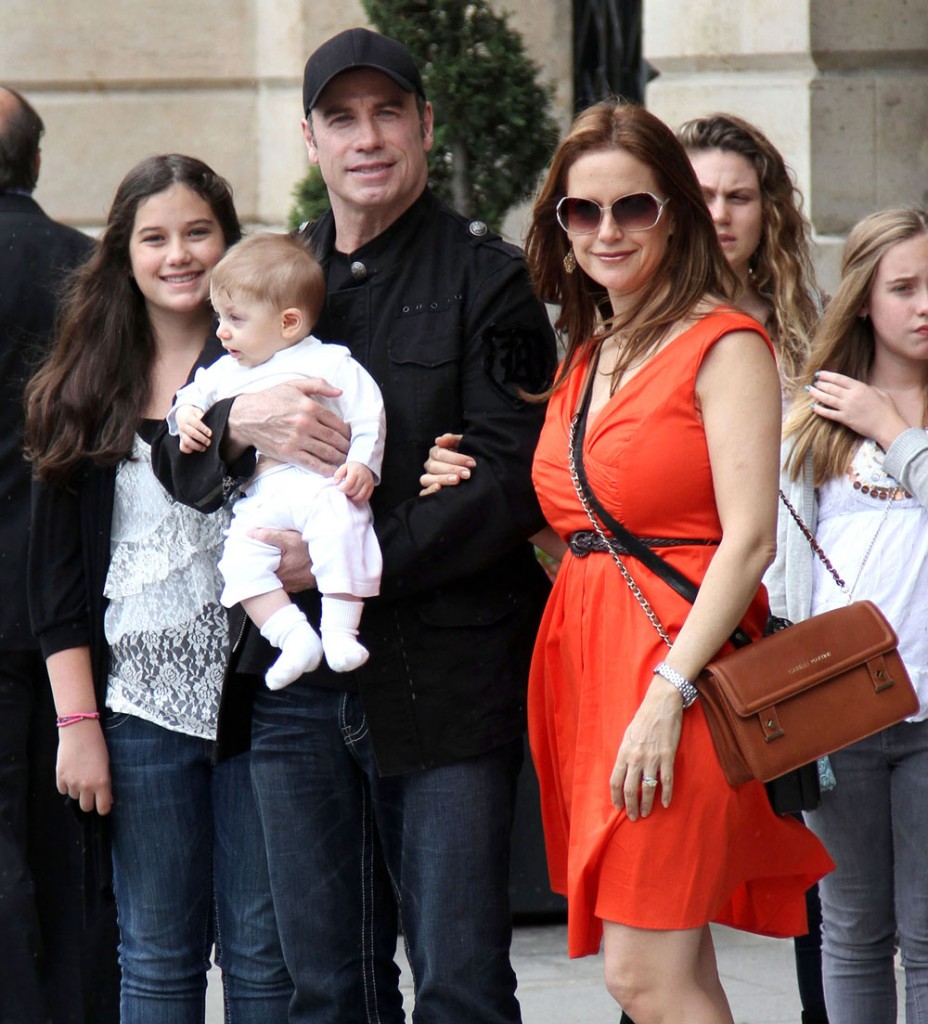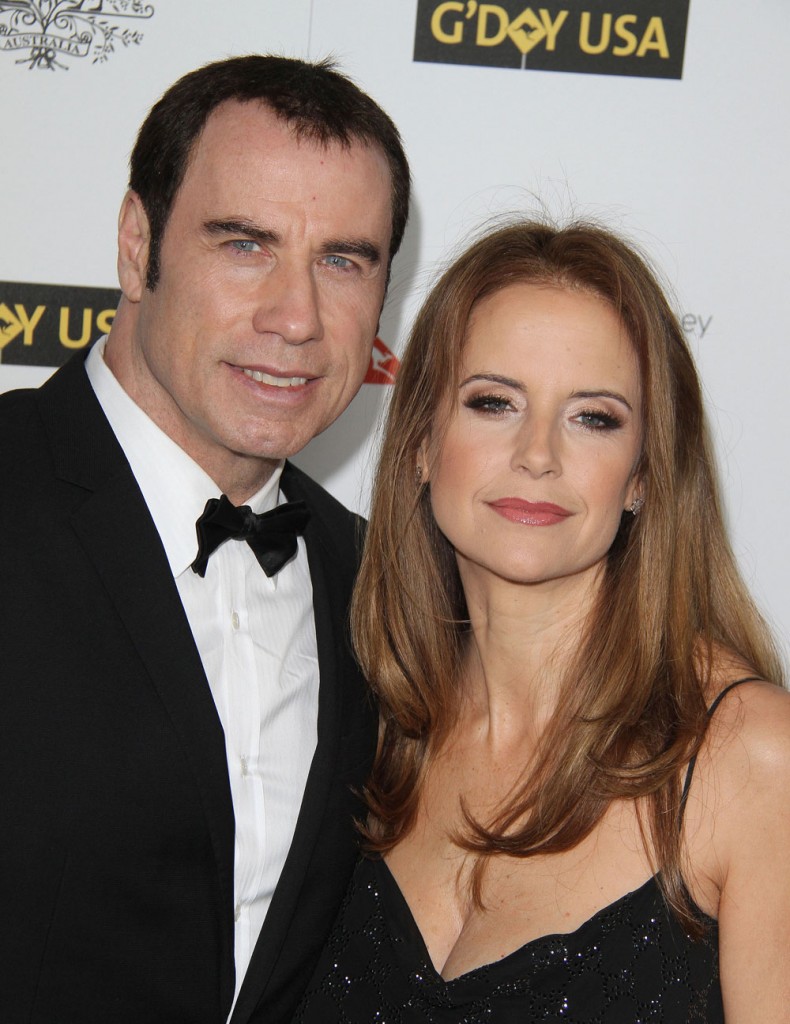 These photos are from 6-23-11 (with their baby, Benjamin, and daughter, Ella), 1-14-12 (event photos) and 4-25-12 (outside a restaurant). Credit: FameFlynet