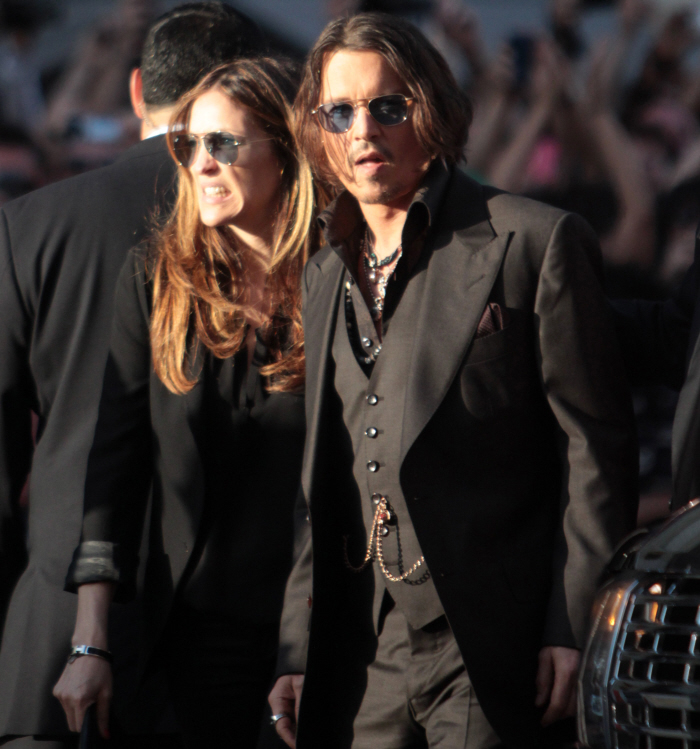 The tabloids are throwing a lot of different stuff at Johnny Depp, and I'm not sure where some of this stuff is coming from, or who is leaking, or if everything is just being made up out of thin air. Yesterday, Radar had a rather nasty story about the reasons behind Johnny and Vanessa Paradis's split, the substance being that "Johnny was bored senseless and he wanted out of the relationship for a really long time." Many outlets are now circling a possible "other woman" too – Johnny's publicist, Robin Baum. We only have photos of Johnny and Robin together during some of his promotional events, where she's in the background (I'm including those photos in the post). You can go here to see the now-infamous photo of Robin and Johnny about to kiss awkwardly. That photo of their awkward kiss led In Touch Weekly to claim that there was something going on. ITW claimed it back in January of this year. And now everyone else is piling on:
Johnny Depp as a single man has hearts fluttering across the world, but RadarOnline.com has learned that even during his 14-year relationship with Vanessa Paradis he was getting close to multiple women – including his publicist!

Depp, 49, has been romantically linked to his co-stars Eva Green and Amber Heard, but a source tells RadarOnline.com that the one woman he has been getting increasingly close with is his publicist, Robin Baum.

"Robin and Johnny spend a lot of time together obviously because of work but their relationship seems to be getting much closer than just business," a source exclusively told RadarOnline.com.

"Robin is twice divorced and a mom but she and Johnny really seem to have some kind of crazy connection that goes way beyond a professional level. They travel a lot together for work and get to spend a lot of time together and they definitely have a total flirty vibe between them. I would put money on them having more than just a friendly relationship."

As RadarOnline.com previously reported, Johnny was "bored senseless," with Vanessa and she was apparently aware of the close relationship between her partner and Robin — and didn't approve.

"She knew that Johnny and Robin were together a lot and she didn't like it, but there was nothing she could do because it was a working relationship she was told," the source said.
Would Johnny have an affair with his publicist? Sure. But I don't think we should cast Robin Baum as "the other woman" in his relationship with Vanessa. Maybe I'm reading this whole thing the wrong way, but there have been rumors about Johnny with lots of ladies over the past year, some famous celebrities, some not so much. If Johnny and Robin were having an affair, I think it was just… I don't know, a weird confluence of power, friendship, need and alcohol…? I just don't see Johnny "giving up" his relationship with Vanessa FOR his publicist. I think he wanted out with Vanessa, and he's been fooling around with lots of women including his publicist. Baum was name-checked in People Magazine's story yesterday too, about "Johnny's Single Life". Baum was named with Amber Heard and Eva Green, all given equal billing as potential "other women."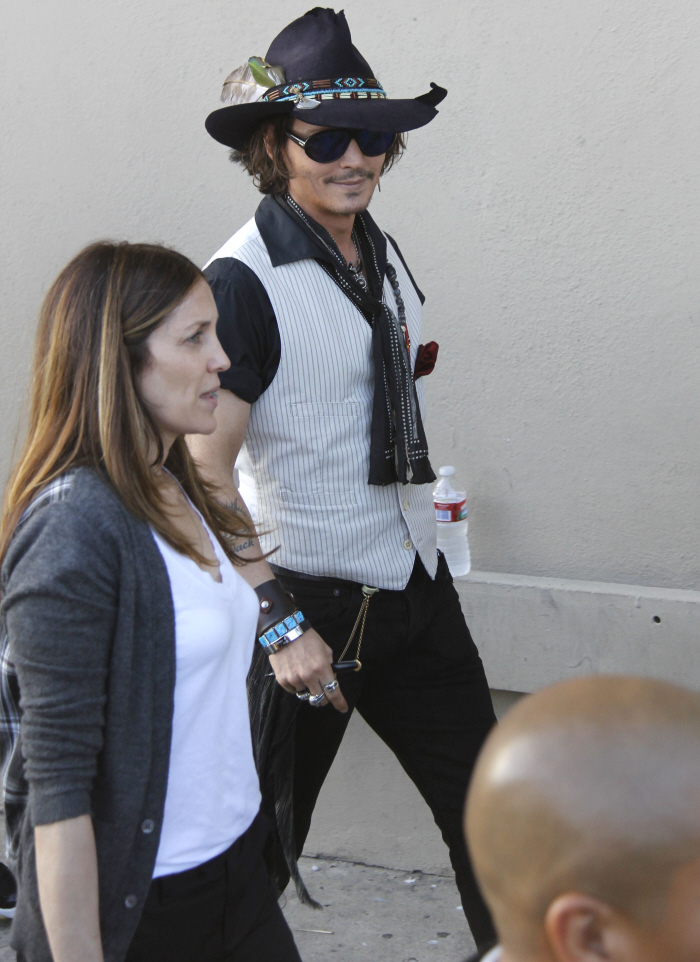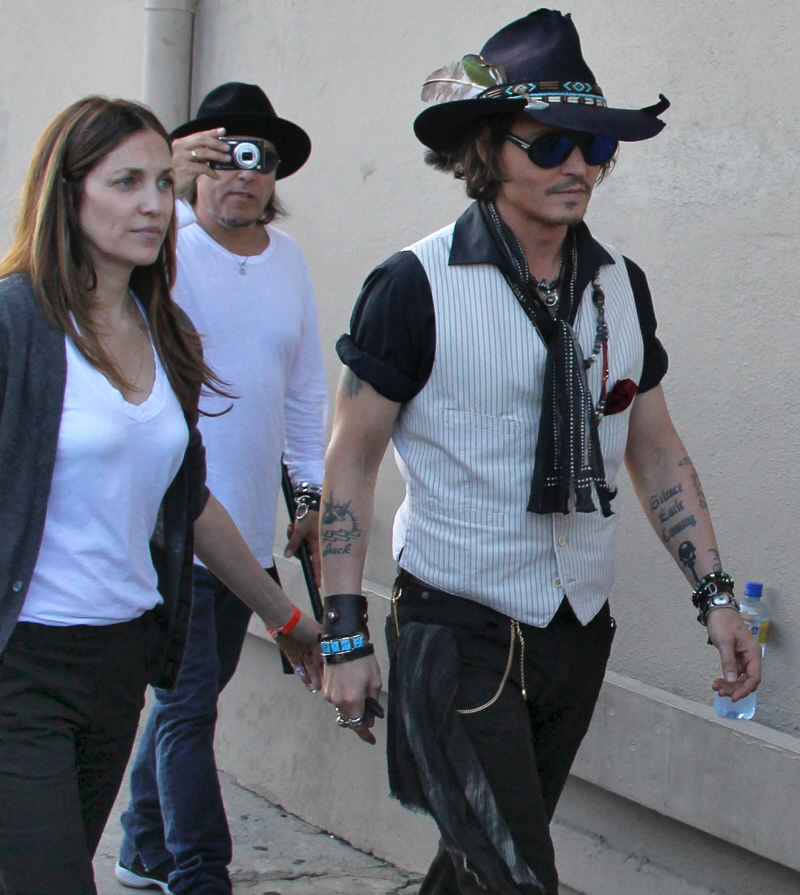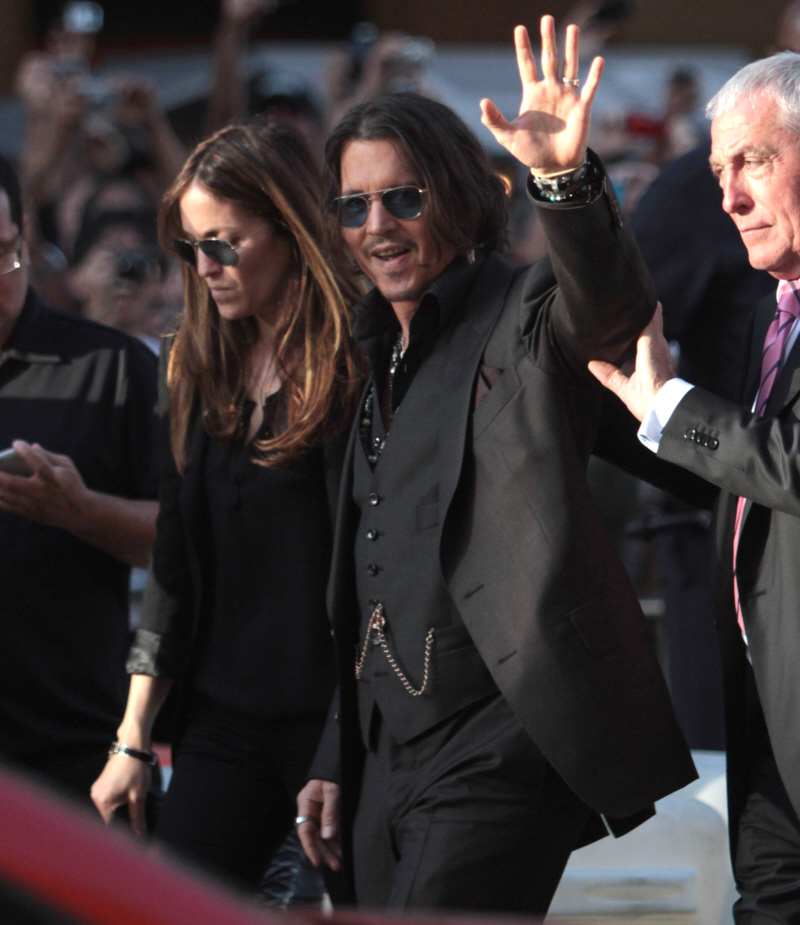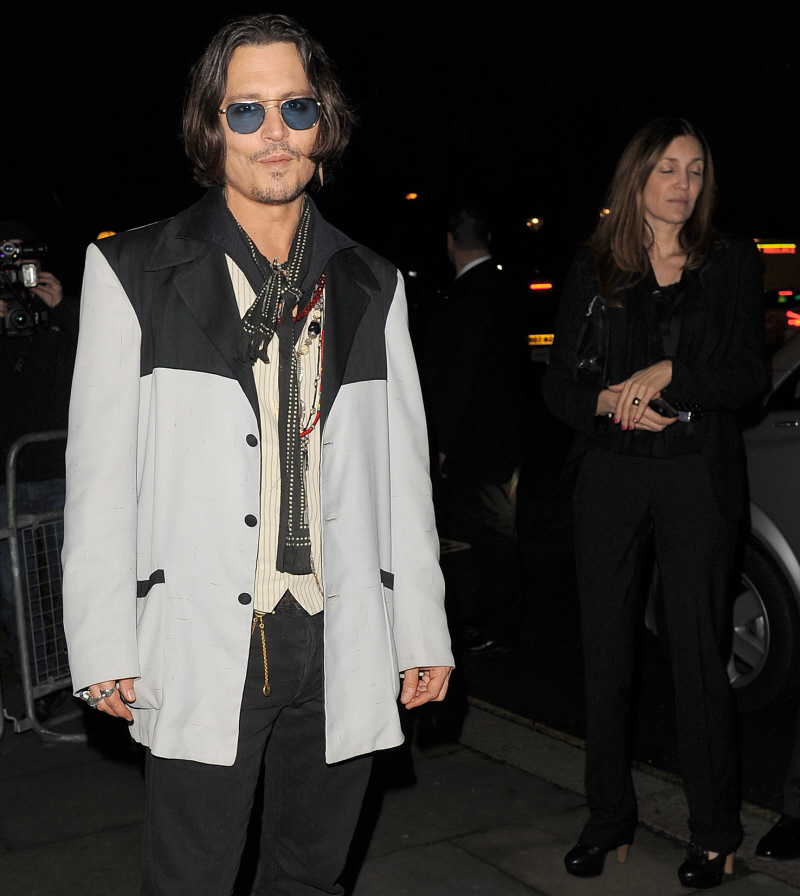 Photos courtesy of WENN.