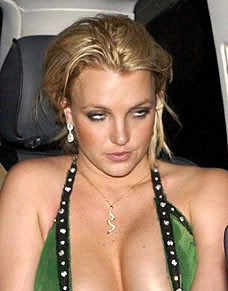 Reliable news source In Touch is reporting that a witness saw Britney in a restaurant bathroom with a purse full of pills, including antidepressant Paxil and the antianxiety drug Xanax. Britney is said to have popped a Xanax right in front of everyone. You're probably not supposed to mix those drugs, and you're definitely not supposed to drink with them. At least they're legal if she has a prescription for them: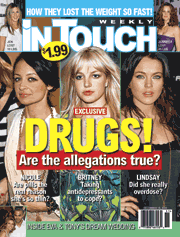 On November 27 Britney dined at Dan Tana's restaurant in West Hollywood – where she was also spotted carrying a glass of red wine out to her car before taking the wheel – and during a visit to the powder room a fellow diner caught a glimpse inside her handbag.

The source told In Touch Weekly magazine: "It looked like a pharmacy in there – I have never seen so many pills.

"There was a bottle of Paxil, an antidepressant, and a bottle of Xanax, which treats anxiety, that she took out and put on the counter."

The directions for both these drugs state they should not be mixed with alcohol.
Taking some medication isn't that damning. I mean Britney never goes home so she has to take her meds somewhere. She shouldn't be drinking too, and driving, and neglecting her kids, but whatever. I was going to mention something about breastfeeding, but it's not prohibited while you're on Paxil and that seems to be a non-issue with little miss vag.
Oh I read a doubtful rumor yesterday that Britney was in talks to design her own panty line. She name-dropped Victoria's Secret on her website, so it's possible.
There's also this explosive news that K-Fed is accusing Britney of banging Mario Lopez when she hung out in Vegas with him one weekend. According to The National Enquirer (as reported by Splash News, and it must be the print version because it's not on their website) K-Fed says that Britney bragged about how she slept with Lopez, and that she spent a whole weekend holed up with him in a Vegas hotel:
Mario Lopez and Britney Spears met in the high rollers lounge at The Palms Casino when Britney was in town recording some tracks for her new album. This chance meeting led to a two day sex romp in Britney's hotel room.

Honestly, I don't know if any of this is true because they story comes from someone in Kevin Federline's camp but here are some highlights of the story:

Kevin Federline is demanding that his baby son Jayden James is blood-tested to see if hard-partying Britney is putting him at risk by breastfeeding.
When she was introduced to Mario, she giggled, 'I've heard so much about you.' Mario replied, 'I hope it was good.' With a wicked grin, Britney said, 'Oh, yes, it was very good.'
The pair headed to Moon nightclub where they put on a show on the dance floor. Britney was drinking a lot (of course) and her dancing with Mario became more and more suggestive. The two of them put on quite a show for the other patrons.
Afterwards, K-Fed heard that Mario was going around saying that Britney cried at the oddest time (gross).
Kevin says that Britney threw out that Mario was 'better' than he was (duh!)
And he said he wouldn't be surprised if Britney slept with someone she just met – because that's exactly what happened when he met Britney. (way to label your soon-to-be ex-wife and mother of your two kids a whore)
If this is true Lopez didn't waste time moving on. He was seen kissing and groping his "Dancing with the Stars" partner, Karina Smirnoff.