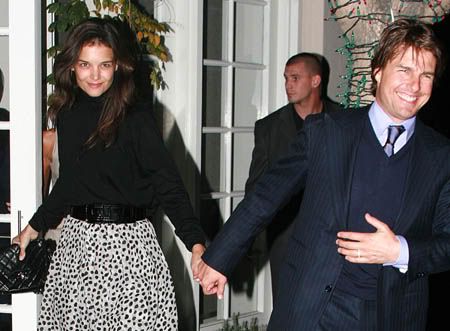 It turns out that rumor that the head of Scientology accompanied Tom and Katie on their honeymoon in the Maldives was untrue, because the Scientologists denied it and we should just take them at their word. Now there's news that Tom and Katie are going to follow up their second wedding party with yet another honeymoon. Their first honeymoon on a tugboat yacht was cut short due to bad weather. This time they're said to be going alone to Tahiti and leaving little Suri at home.
Tom & Katie are indeed planning a second honeymoon for the two of them only … Suri will stay with the family in the US as they head to a romantic & exotic location.
Rumor has it that the couple have booked a holiday in Tahiti, at the $15000 a night Le Taha'a Private Island and Spa.
Hmm … This will definitely be a real honeymoon!
I'm not sure this is true, because they were initially said to be going to Tahiti on their honeymoon, and only a few sources are reporting that they're planning a second honeymoon there. They were in Tahiti back in February when Katie was pregnant.
Their stateside wedding party will take place this Saturday at the malibu estate of Tom's business partner. Tom, Katie, Victoria Backham, J.Lo and Marc Anthony were seen out to dinner at a steakhouse last night in what looked like a second-wedding party rehearsal dinner. Pictures from Gossip Rocks.