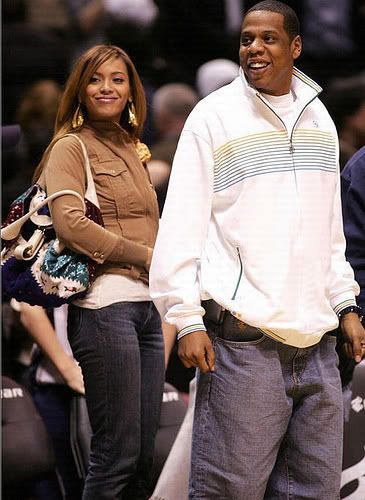 Beyonce and Jay-Z are not getting married this weekend in a lavish ceremony on the island of Anguila, as we reported earlier. It was supposed to be a surprise ceremony to follow Jay-Z'a 37th birthday party, but the party is finished now and their reps say there's not going to be a wedding:
The New York Post trumpeted on Tuesday that the star couple were bound for a "rap wedding" disguised as a 37th-birthday party. The paper said that after boarding "a yacht in St. Barts," the guests "will also be ferried over to Anguilla for the wedding at Cap Juluca."

The couple actually won't be anywhere near Anguilla, our sources vouch. What's more, they're already back from the birthday party.

Here's what really happened:

Monday night, right after Beyoncé walked the red carpet at the New York premiere of "Dreamgirls," she shanghaied her unsuspecting rap-star boyfriend to an airport where she'd chartered two customized 757s. (One had a 20-seat movie theater.)

Waiting were about 20 of their closest friends, including Beyoncé's Destiny's Child sista Kelly Rowland and music and marketing honchos like Lyor Cohen, Steve Stoute and Kevin Lyles.

After an in-flight feast prepared by two chefs, the gang touched down in St. Martin, where everyone boarded a 270-foot yacht.

For the next two days, Jay and his friends did the biggest of pimpin'. Two helicopters were on standby, and the lobster and Champagne – Jay-Z's own Ace of Spades vintage – flowed. There was swimming, snorkeling and even a four-man minisub to take guests on deep-sea explorations.

"The party must have cost $1 million a day," estimates one source.

The revelers finally returned yesterday morning. Jay stopped off in Miami for the Art Basel fest, where he was said to be considering a $7 million painting.
That must have been some party. Everyone was speculating that Beyonce was motivated to have a wedding by the fact that she's being upstaged by Jennifer Hudson's role in their firlm "Dreamgirls." Now it's said that producers are gunning for Beyonce, not Hudson, to be nominated for an Oscar.
Meanwhile that document that we published from MediaTakeOut that claims that Beyonce is 32, not 25, seems to have been altered. Reader betsy found that another person on the list was born in 1981 according to Texas Birth Records, available online. We were able to verify online through an ancestry site that Beyonce is listed as being born in 1981, not 1974.
Header image is from this spring and was found at Haute Gossip.