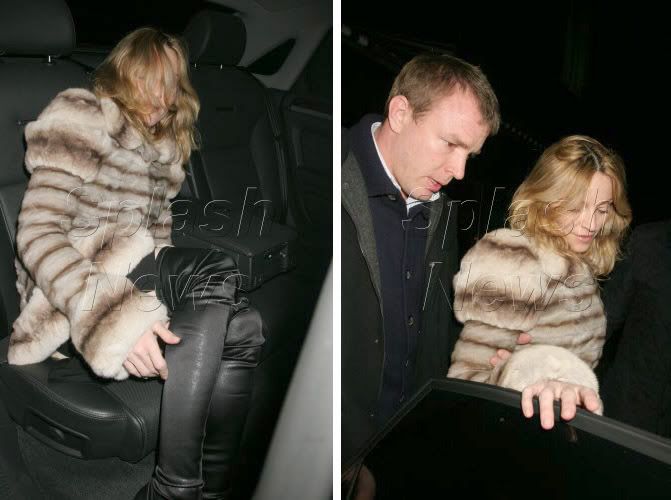 I'm not really buying this news, because The Mirror makes a lot of shit up based on paparazzi pictures. It's likely that someone saw some pictures of Madge and Guy looking unhappy after leaving a restaurant and invented this dialogue. Maybe it's true as it's possible that another diner or one of the staff overheard this. The fact that they lead with how they looked afterwards kind of tips me off that they're using the photos to make up this story.
Madonna and Guy are said to have fought loudly in a restaurant over how controlling Madonna is:
The couple, just two weeks away from their sixth wedding anniversary, had a furious row at in front of stunned diners at exclusive Italian restaurant Cecconi's in Mayfair.

Fellow guests were shocked to hear film director Guy, 38, attacking his wife for being so "controlling" all the time. Pop queen Madge, 48, meanwhile looked miffed as she sat at the table toying with her food.

The Lock, Stock … director later emerged stony faced from the London restaurant, while the superstar singer just looked drained.

A customer revealed: "The atmosphere between them was more than frosty. Guy was the one who was raising his voice the most – you couldn't help but hear what he was saying.

"They were sitting in a corner booth and he was telling her that he'd had enough of her being so controlling all the time and that something had to give.

"Madonna tried to give it back to him, but he would just talk over her. She just seemed really embarrassed. They didn't enjoy their meal and left after about an hour and a half."

The row comes less than a week after it emerged the couple were planning to see marriage therapist Tricia Barnes as the cracks deepened in their six-year marriage.

Two months ago the couple were celebrating the adoption of Malawian orphan David Banda.

But despite their devotion to the toddler and children Lourdes, 10, and Rocco, six the marriage is said to have hit an all time low.

An insider said: "Guy and Madonna both dote on David, but her attitude can irritate and upset Guy.

"She drove the whole adoption thing and Guy was just left trailing in her slipstream just nodding and going along with things.

"The bottom line is that Guy sometimes feels he's not allowed to have an opinion."
There was a rumor that Madonna wanted another Malawian infant right away and was eyeing a one and a half year-old girl named Jessica. Another couple was said to be in the process of adopting her and was worried that Madonna would snatch her first. That seems to have been put on hold, and it was said that Guy told Madonna that he didn't support another adoption so soon after they took little Davie home.
Given Madonna's personality, it's not that much of a stretch to assume these two are fighting, but I doubt that The Mirror has any insider information in this case. I've caught them making up stories based on pictures before, and they're not that reliable of a source. (What gossip rag is?) They also say that Madonna and Guy left after an hour and a half, which is just about the amount of time it usually takes to have dinner. Why would they add that detail unless they don't have much else to use for the supposed eyewitness quote?
Madonna is said to have accessorized her evilness by wearing a coat made of 60 widdle chinchillas that evening. She is also working on a new fashion line with H&M called M by Madonna. Her H&M tracksuits failed to sell, so the Swedish retail chain is giving her another chance.
Header picture from swaggyp's Flickr. Inset image from SkyNews.
Update: Thanks to Splash News for the new header image of Madonna and Guy on the evening in question. Here's the fug picture of Madonna that I used for the header image earlier: