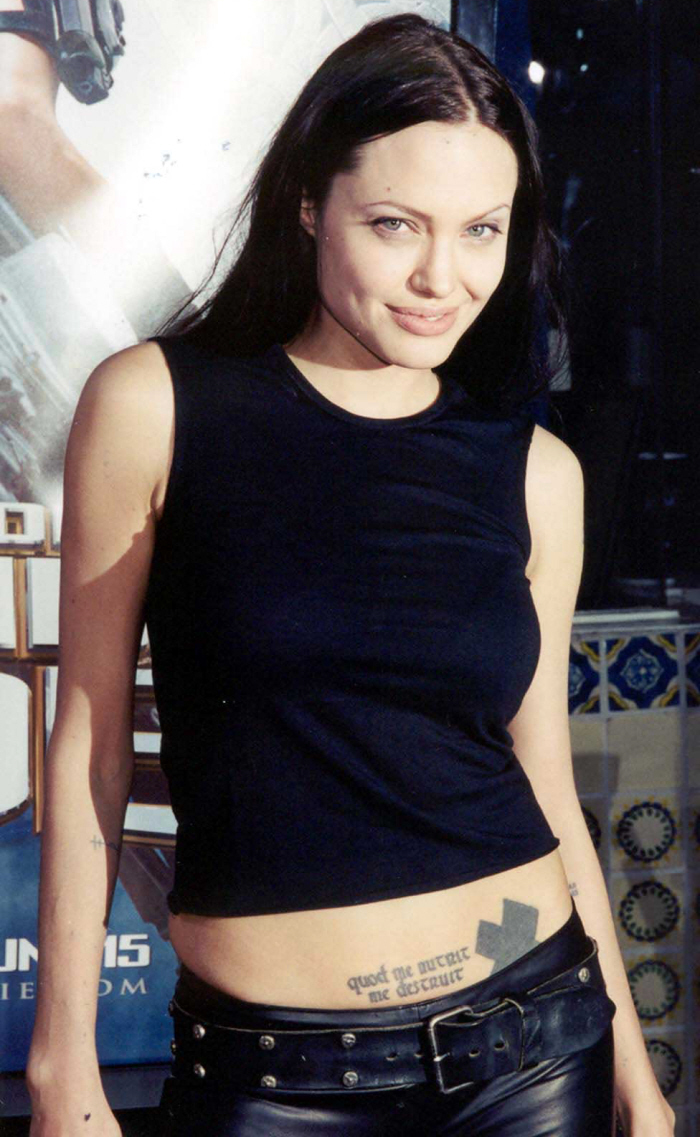 A few years ago, a couple of hacks wrote a few books about Angelina Jolie and her crazy sex life. Most of it read like either "The Villainess Jolie Attacks Men" OR "Angelina boned whoever she felt like boning." One of my favorites of her alleged lovers was Ralph Fiennes – several "sources" claimed that Angelina and Ralph had some kind of torrid booty call situation circa 2004. Another favorite? Some people claimed that Angelina and Mick Jagger had an affair circa 1997 (when he was married to Jerry Hall) and then again in 2004 (when Angelina was allegedly juggling Ralph, Jonny Lee Miller, Colin Farrell and Brad Pitt). On the whole, I've always believed that Angelina was sleeping with Jonny Lee Miller for years after their divorce – and I always found the idea of it hot (mostly because I think JLM is beautiful). I don't think she boned Ralph, but I enjoy the fan-fiction of that story. As for Mick… well… I can see how Angelina would be his type. But I can't see Angelina falling for it. But! Radar has a story about a new "tell-all" book about Mick Jagger, and this book claims Mick was obsessed with Angelina for years. Hm.
The hypnotic effect Angelina Jolie has on men is well documented but the fact that she drove one of rock's most notorious lady killers, Mick Jagger, to obsession and had him "virtually sobbing" over her is now being exposed in a new book.

Christopher Andersen reveals that the Rolling Stones frontman would constantly bombard Jolie with calls begging to see her and it was all encouraged by her mother Marcheline Bertrand.

Jagger fell for Jolie when she played a stripper in one of the band's music videos in 1997 and despite being married at the time to Jonny Lee Miller and having an affair with her Playing God co-star Timothy Hutton, Bertrand "loved Mick for Angie… and felt that he could teach her about fame," the late actress's friend Lauren Taines says in the book.

In excerpts of MICK: The Wild Life and Mad Genius of Jagger printed in The New York Daily News, the pouty-lipped singer went after Angelina hard and was infatuated by her wild side even admitting that, "She scares me a little. I like that."

At the time Angelina "used hard drugs, had a fondness for S&M and was a self-confessed cutter."

The tome reveals that the brunette beauty initially refused to return Mick's calls which did little to deter him and only served to make him pursue her more.

"Angelina, it's Mick. Will you please, please call me?" "Miss Jolie, why aren't you returning my calls?" "Angelina, I have got to speak to you. Call me," were some of the incredibly desperate message left.

The cat and mouse game continued between them for several years and Taines added that she was amazed at how Jolie was "messing with Mick's head" and he was "virtually sobbing" on the phone trying to get her to spend time with him.

Even when Mick was ending his marriage with Jerry Hall in 1999, he was still in hot pursuit of the now mother-of-six, and presented her with a $5,000 pair of earrings. The book alleges that by this stage Angelina was juggling Tim Hutton, future hubbie Billy Bob Thornton, Nicolas Cage and Russell Crowe.
In 1999 she was boning BBT, Timothy Hutton, Nick Cage AND Russell Crowe? Good God! If Angelina managed to get with Russell Crowe circa 1999, that righteous bitch gets another slow-clap from me. 1999 Crowe = The Hottest He's Ever Been. I would love to think that Angelina hit it and quit it like a good girl. Anyway… as for the Mick rumors… I don't know. It could have happened. Considering it's coming from the Jagger side of things, I think it might be slightly more plausible. But the 1999 version of Angelina was kind of rough – she was still using pretty heavily back then, and she didn't really get clean until the next year. Do you think more of Angelina for not returning Mick's calls? I kind of do.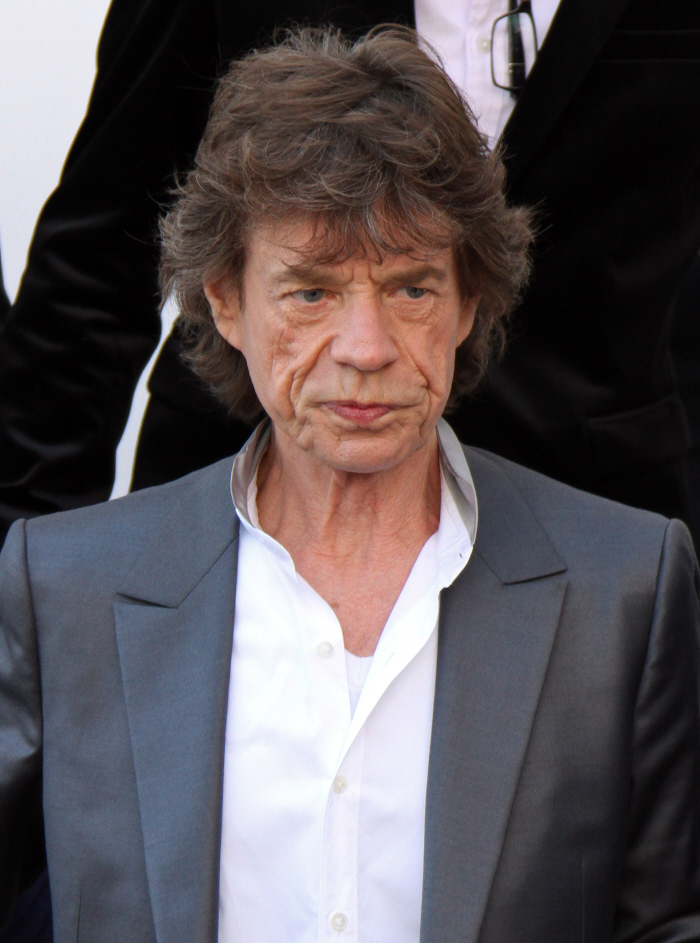 More photos of Angelina and the kids in Sarajevo over the weekend: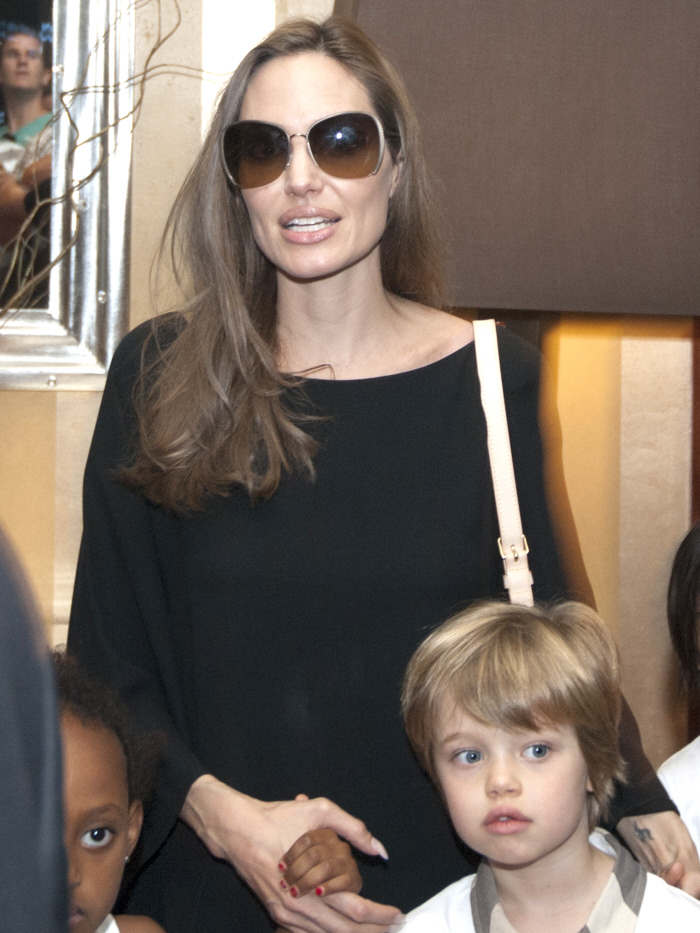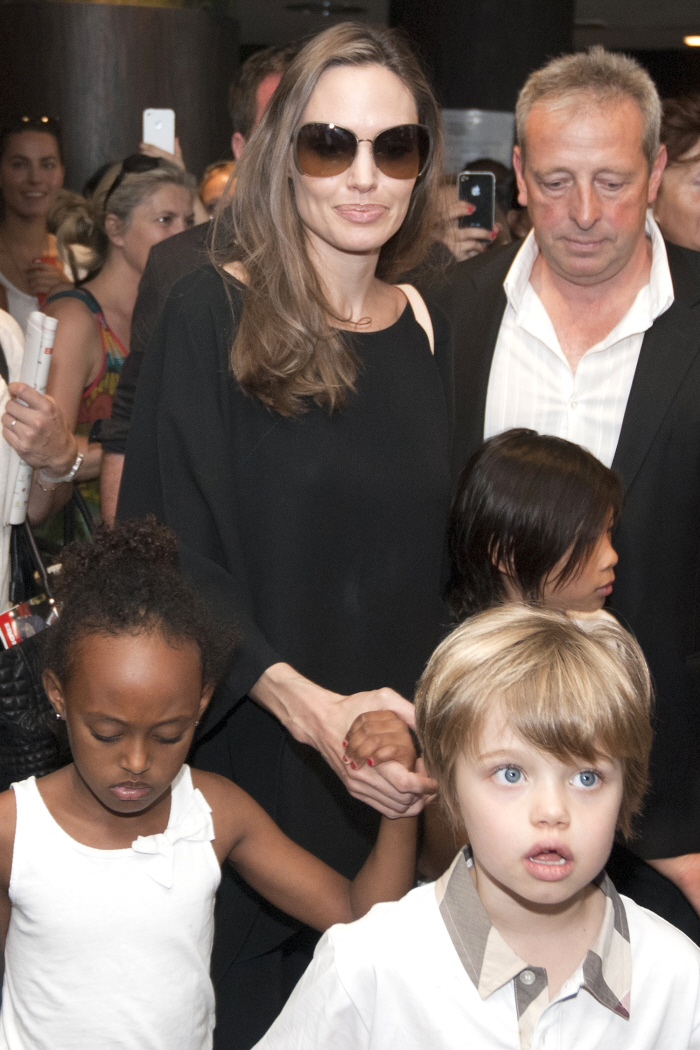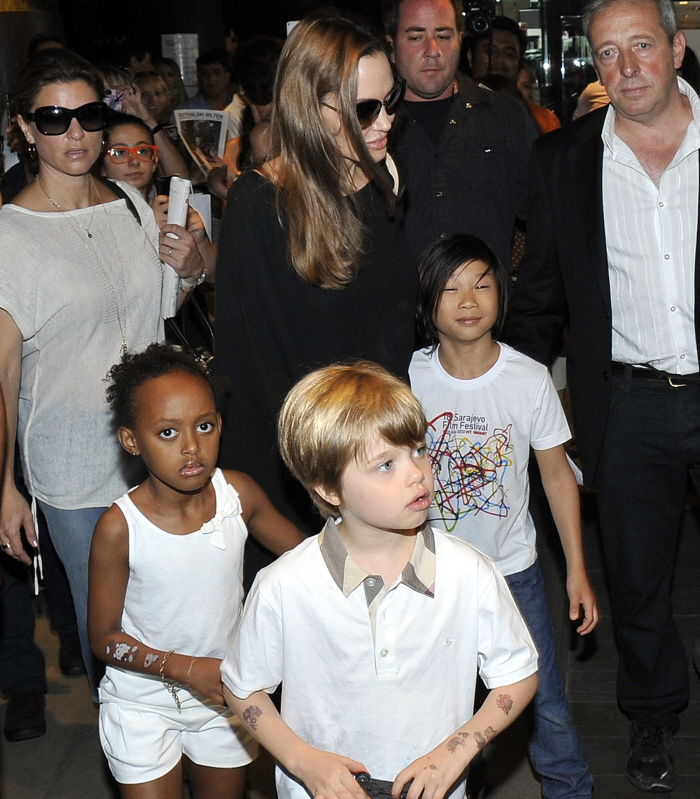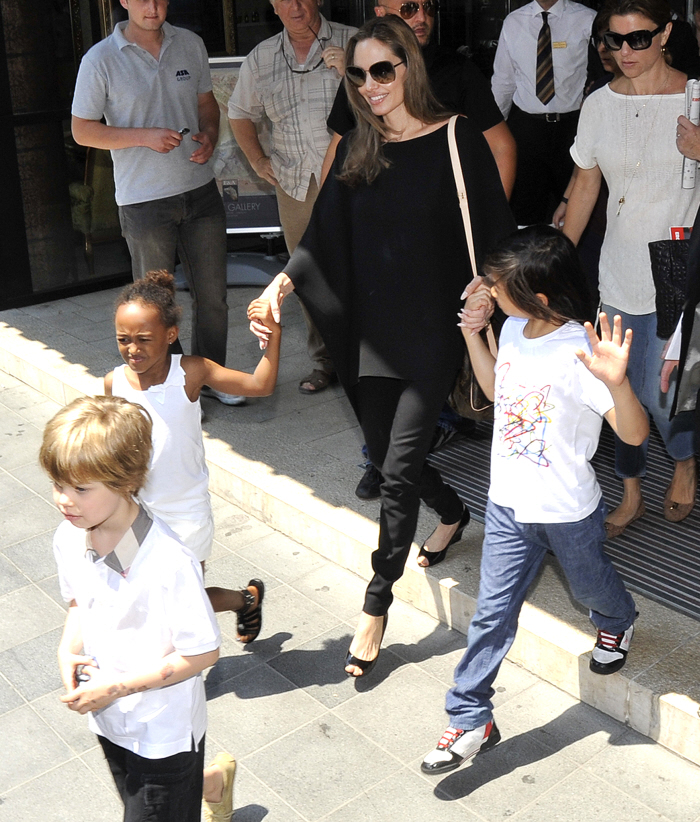 Photos courtesy of WENN.