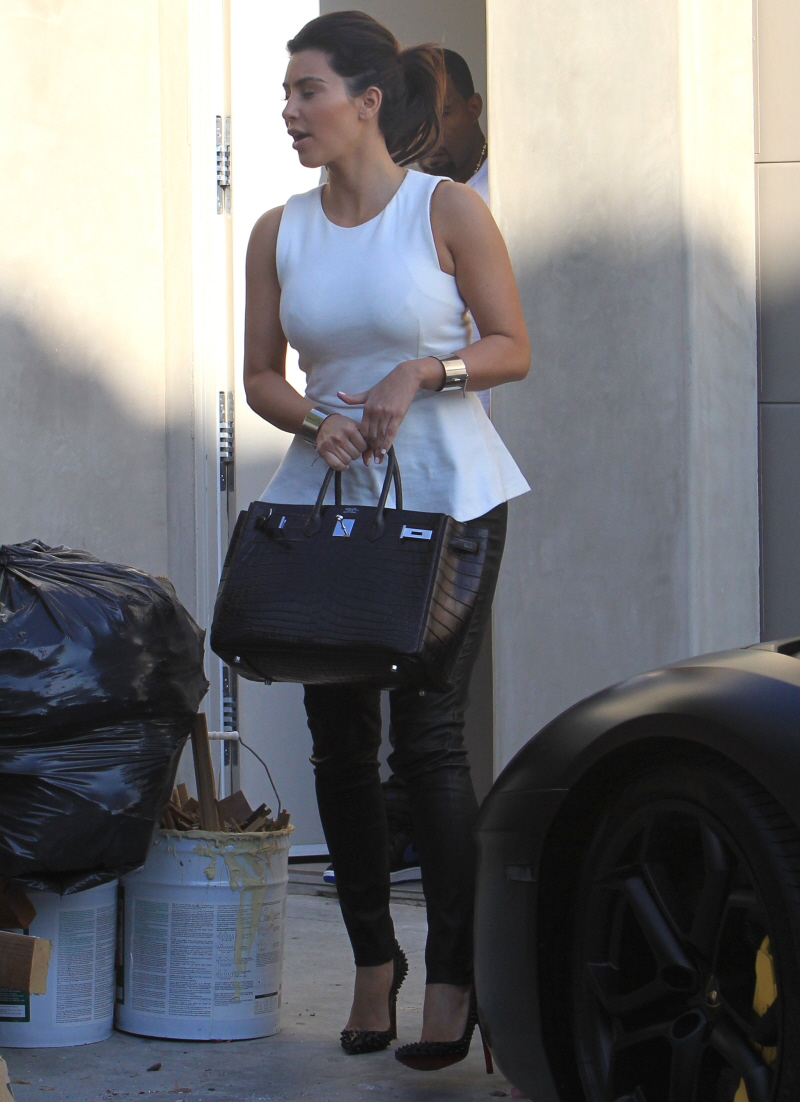 I don't know why PETA doesn't just change their name to "We have a Hate-On for All Things Kardashian". Generally, I can't stand PETA as an organization, and I'm beginning to loathe their various hissy fits and PR campaigns. I mean, we get it. People shouldn't wear fur and they shouldn't be wearing animal skins of any kind. I don't wear alligator skins or furs or anything like that, but PETA is aggravating me so much, I kind of want to run out and buy a mink jacket. So… just a few months after flour-bombing a leather-clad Kim Kardashian on the red carpet of her latest perfume launch, and just weeks after issuing a public hissy fit-press release about Kim's python boots, PETA has launched into yet another anti-Kardashian screed. Today's issue: the Birkin bag in Kim's hands in the header photo. PETA is attacking Kim for carrying a $50,000 Hermes Birkin bag made out of either alligator or crocodile.
Kim Kardashian cemented her title as PETA's most hated celebrity on Friday by adding a pricey crocodile-skin Birkin bag to her cruel closet, which includes countless fur coats and python knee-high boots.

The cost of the rare designer purse can reach $50,000, but the animal rights group says the price paid by the creature that died for it is far greater.

"For every alligator or crocodile-skin accessory, an animal was likely beaten but still conscious and able to feel excruciating pain as his or her skin was peeled off," PETA spokesperson Wendy Wegner told RadarOnline.com in an exclusive interview.

"These animals feel fear and pain and they don't want to die. Alligators and crocodiles have no real legal protection, but they have done nothing to deserve the violent treatment that they endure. PETA urges consumers to watch Joaquin Phoenix's video expose of the cruel exotic-skins industry and vow today never to buy items made from the skin of alligators, snakes, or crocodiles."

As RadarOnline.com previously reported, the Keeping Up With The Kardashians star was compared to evil Disney character Cruella de Ville by the animal rights group last month after she was spotted strutting around Paris in a pair of thigh-high Christian Louboutin python boots, which retail for $5,495 and are banned in her home state of California.

"They'd go well with a Dalmatian-fur coat, which is also illegal to sell in California and immoral to sell anywhere else," Wegner told Radar.
Honest question: is PETA making a concerted effort to only attack the people who purchase the "cruel" animal skins, or do they also issue public statements about the companies that use animal skins in their products? Because I would like to see PETA try to take on Hermes – because I don't think Hermes would stand for it. They're one of the most elite luxury houses in the world, and they would treat PETA like a gnat to be swatted. Anyway, I know you guys hate her, but for goodness sake, I really think PETA needs to find a new target. Who takes it seriously when a supposed activist group can't move beyond attacking a C-list reality star?
Since you guys enjoyed the booty shots of Kim in yesterday's post, here are some photos of Kim over the weekend in Miami with Kanye. That dress is really… hooker-ish. Usually Kim isn't letting it all hang out in such a sloppy manner. It makes me think that Kim and Kanye had a quickie in a trailer or something. Also: those booties are hideous.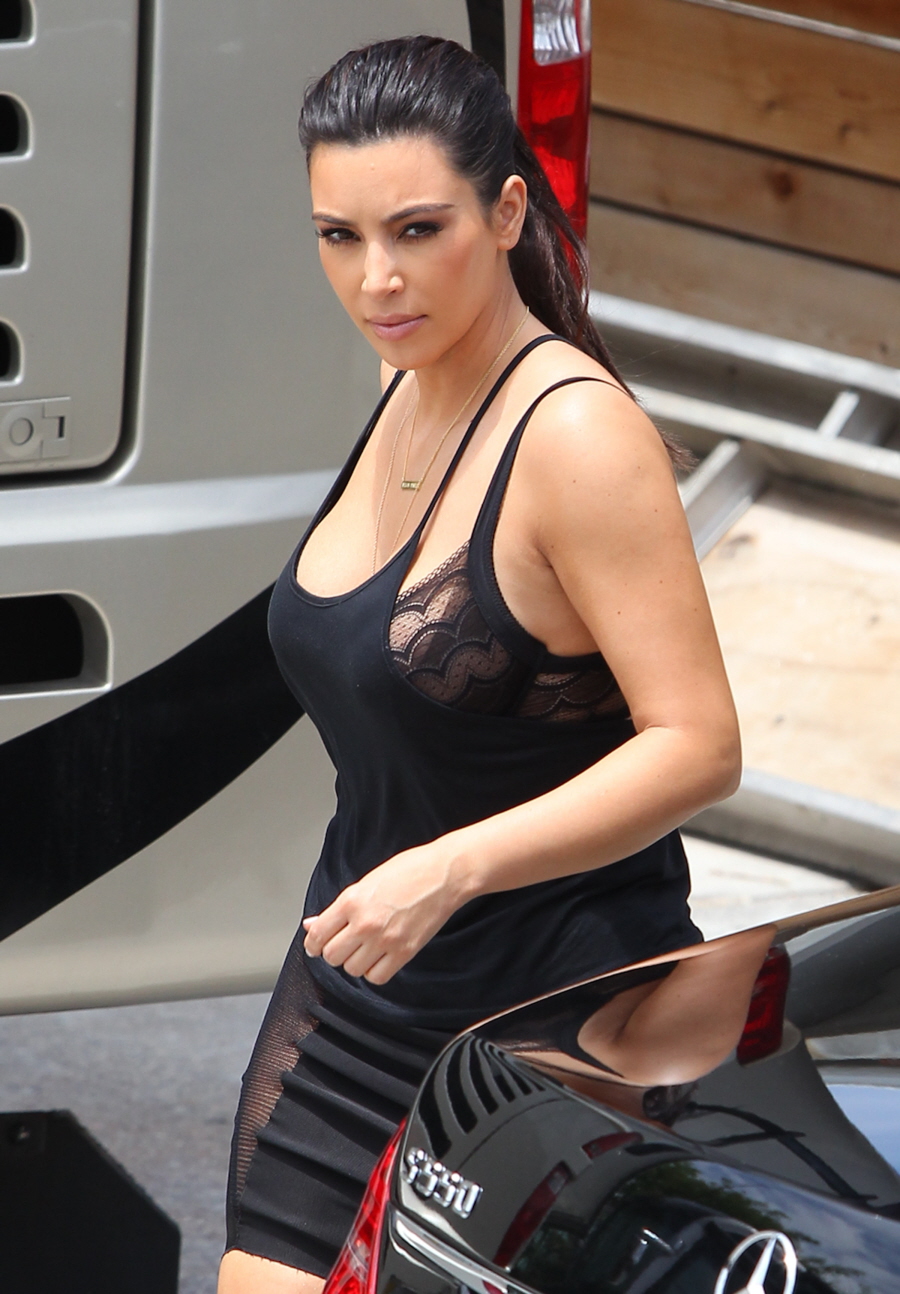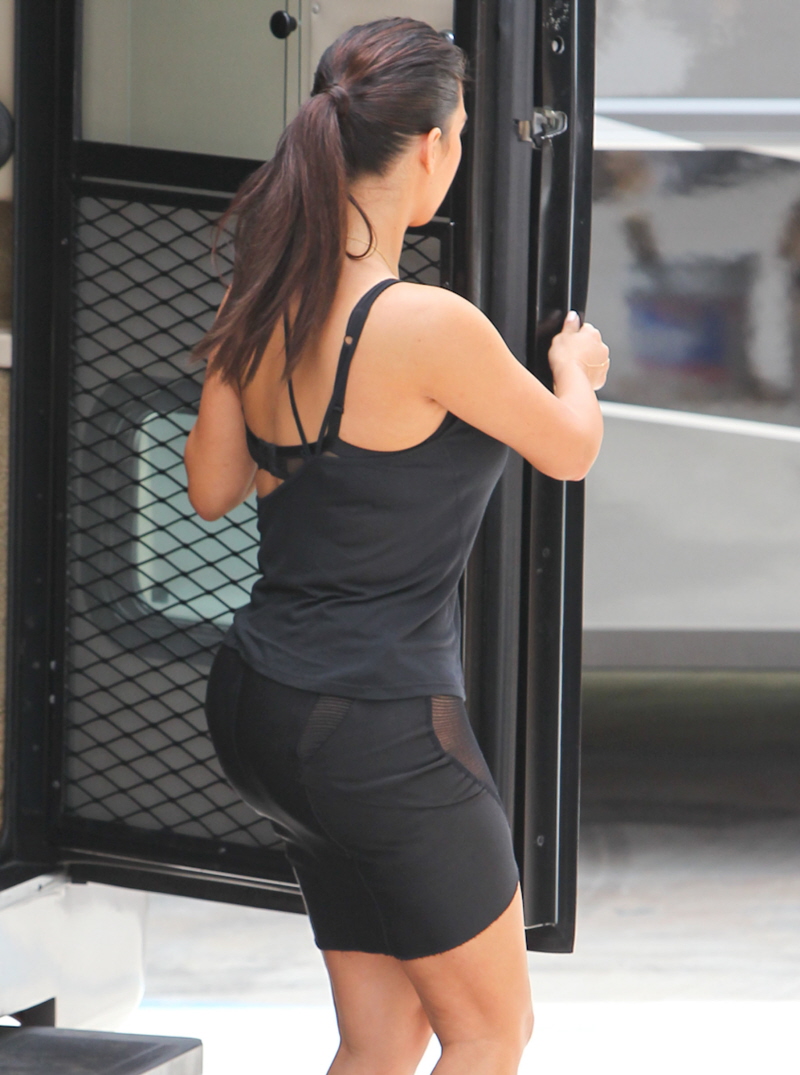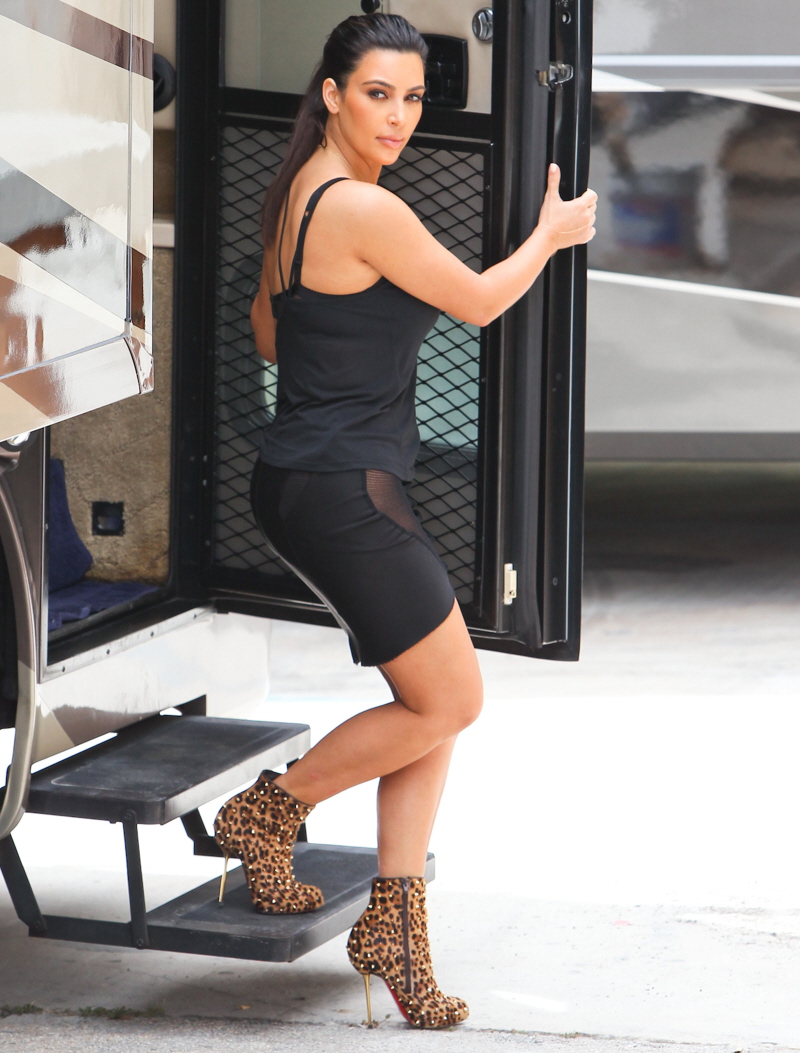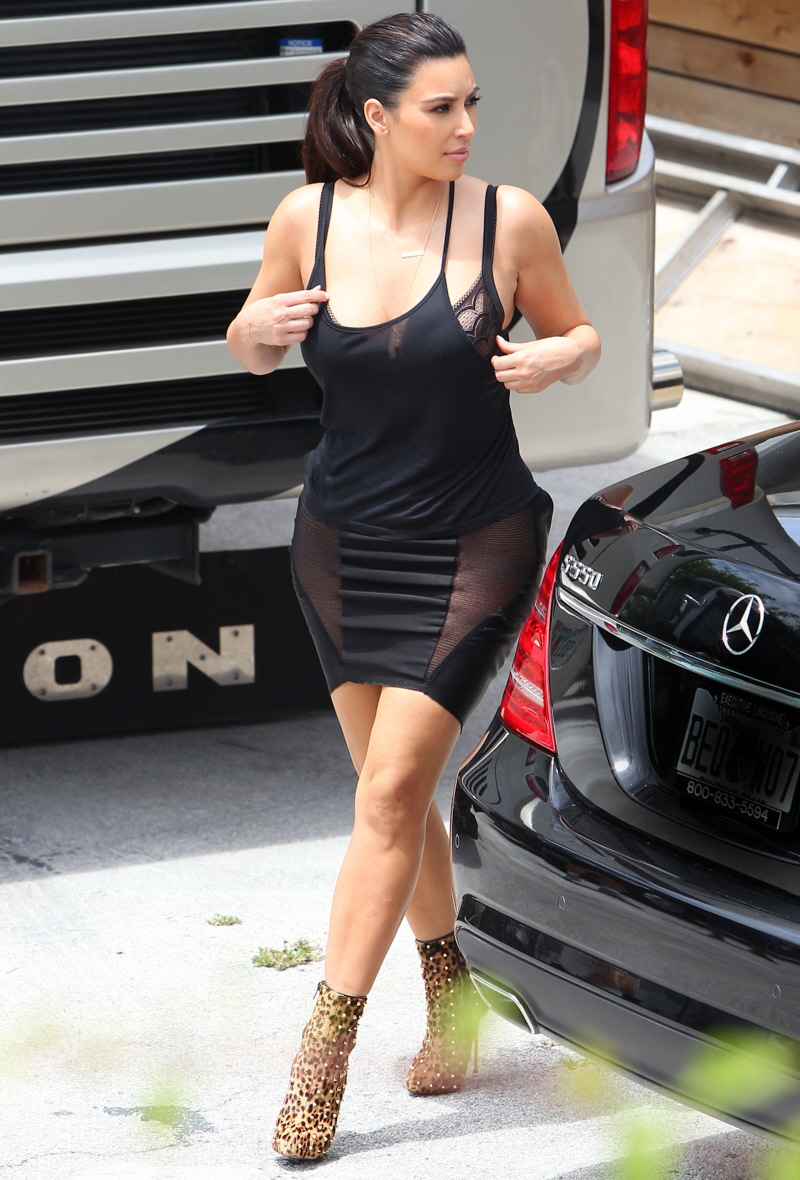 Photos courtesy of Fame/Flynet.