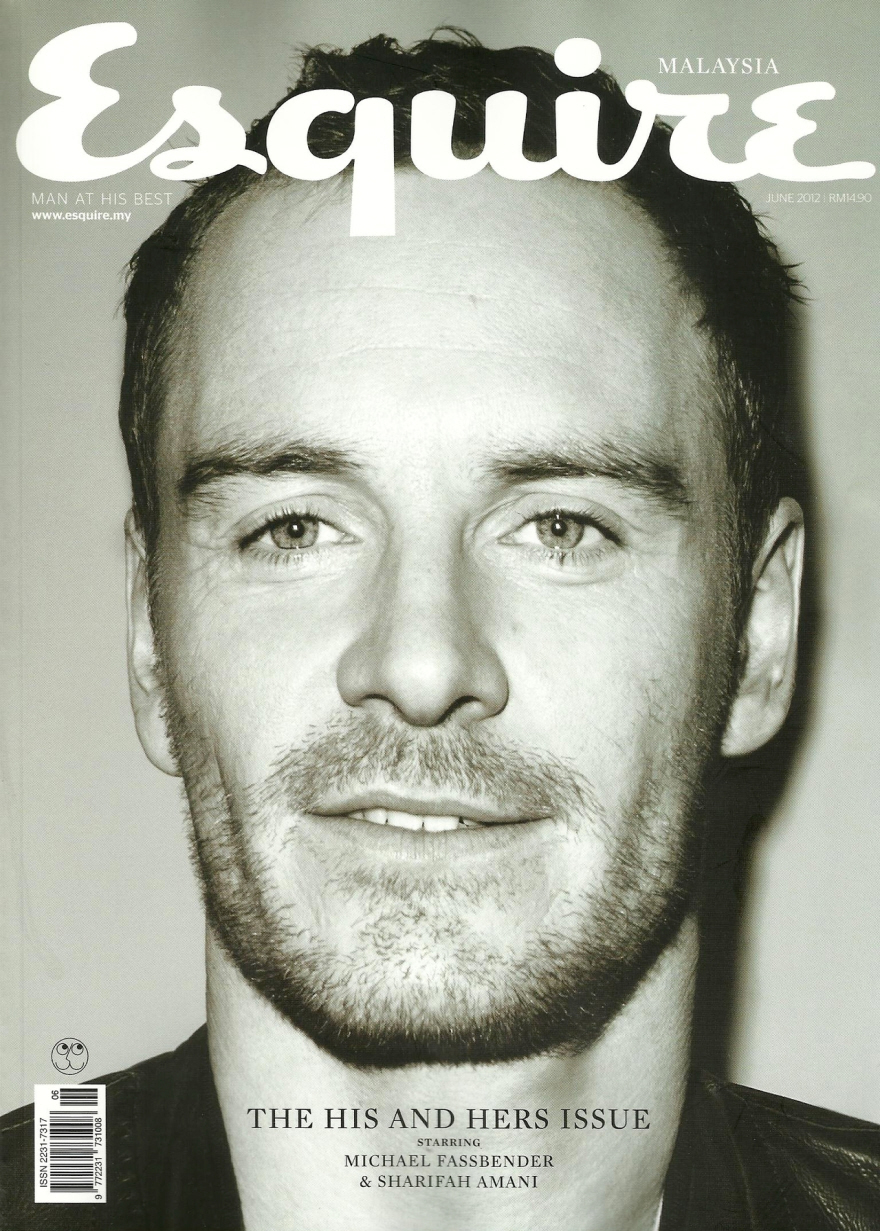 In my continuing quest to feast my eyes on all things Michael Fassbender-related, I have to admit, you bitches are my enablers. Over the course of just two years or so, commenter reaction to Fassbender has gone from "WHO?" to "OMG, let me email you with every single detail about this obscure foreign interview I just read!" So I have trained you well, and now I am dealing with the consequences of a much-larger-than-anticipated Fassbender addiction. 'Tis alright. I shall bring the Fassy!
In today's obscure-Fassy-news, he allegedly sat down for an interview with the German edition of Playboy for an interview. This thing has been translated a bunch of times, and you can really tell, but it's still enjoyable. Some highlights:
PLAYBOY: Mr Fassbender, are you a womanizer?
Fassbender: One could say that—or what do you mean by a womanizer?

PLAYBOY: Someone who likes it very much to bed very often as many women as possible.
Fassbender: (laughs) I know how to enjoy myself, but I find that a bit exaggerated.

PLAYBOY: What does that mean you know how to enjoy yourself?
Fassbender: That I know how to savor my life. And that I, if I go out, want to have fun. But I really don't go out on purpose to pick up women. However, should something arise, I'm not definitely averse. Sex is a part of life.

PLAYBOY: Do you have a favorite pick-up line when flirting?
Fassbender: Oh God, no. I haven't got a certain fad. And I only flirt when I'm drunk.

PLAYBOY: Since a few months you are the absolute shooting-star among the actors. Directors are lining up to work with you, and you are courted by Hollywood. Does that increase one's sex appeal?
Fassbender: This attention is certainly good for my ego. And I also don't mind that my popularity has drastically increased compared to my past. But I don't think that I became more attractive for women. Of course because of my many travels and the many new encounters the hunting area has grown slightly larger.

PLAYBOY: With your career explosion have the distractions and the occasional lapses increased?
Fassbender: No, maybe they are just a bit more expensive (laughs). The opportunities to crash and lose sight of my goal have always been there—and still are. That's why I eventually focused very deliberately on what is most important to me: the acting. That's why I'm also pretty sure that I'm immune to thirst for fame and egomania. That has partly to do with the fact that I had my international breakthrough relatively late in my early 30′s.

PLAYBOY: What did you do differently than ten years ago?
Fassbender: That's the crazy thing: nothing! The only difference was that several directors believed in me. As an actor you're always dependent on somebody to give you a chance to show what you can.

PLAYBOY: One overcomes fear if one challenges it?
Fassbender: Exactly. I well remember a kind of key moment in terms of coping with fear. That was a few years ago when I was out of work again. In order not to sink into self pity, I assigned myself with a new task every week, I had to deal with. One day diving was on the program. So I went to the swimming pool and up the 10-metre tower. After much hesitation I jumped feet first into the water. Then I wanted to try a dive. But I dared not to do it. I was on the tower for maybe 20 minutes and was about to descend the ladder, when a boy asked me: "Are you scared?". I said, "yes, you have no idea!" He said: "Just dive in. The first time you might hurt you. But that's not as bad as you think. Just jump again. And you will see that it gets better with each try." I jumped, and that was one of the best advices I ever got. In the imagination it's often worse than in reality.

PLAYBOY: And this experience has made you a daredevil?
Fassbender: That was the beginning. From that day on, I got more and more courageous. By now I've become a real thrill-seeker. To expose myself to physical risks and dangers gives me each time a surge of adrenaline. Then I feel very intensely that I'm alive.

PLAYBOY: Any other vice we will not tell your life insurance company?
Fassbender: I'm totally fascinated by speed. But I want to feel the pace really up close, preferably on a motorcycle. When I accelerate my machine, I feel this unique thrill that comes when you barely have something under control — and it could very easily spiral out of control.

PLAYBOY: You drive in motorcycle races?
Fassbender: No, but if I'm out and about on a lonely highway, then I sometimes test my limits. When I am travelling with friends or relatives I drive civilised. Last year I finally fulfilled my dream: a motorcycle tour through Europe with my father. We drove about 7000 kilometres.
[From Playboy Germany August 2012 via Fassinating Fassbender]
He only flirts when he's drunk? I find hard to believe. And I really hope that he didn't refer to the single's scene as "the hunting area" – it sounds so awkward, I'm just going to believe that it's a weird translation. He talks a lot about his need for speed and he sounds like a boring adrenaline junkie – I guess if he was truly addicted to the "adrenaline high" he wouldn't be talking about it so openly, though? Whatever is going on with him, I hope he stops with the dangerous stuff.
Also – the August issue of W Magazine has gradually started leaking online, and there are some low-quality images from Fassy and Charlize's shoot. The photos are all kinds of WRONG, especially the "69" photo. Charlize is really hot for him, right? Bitch better re-read my letter and STEP OFF.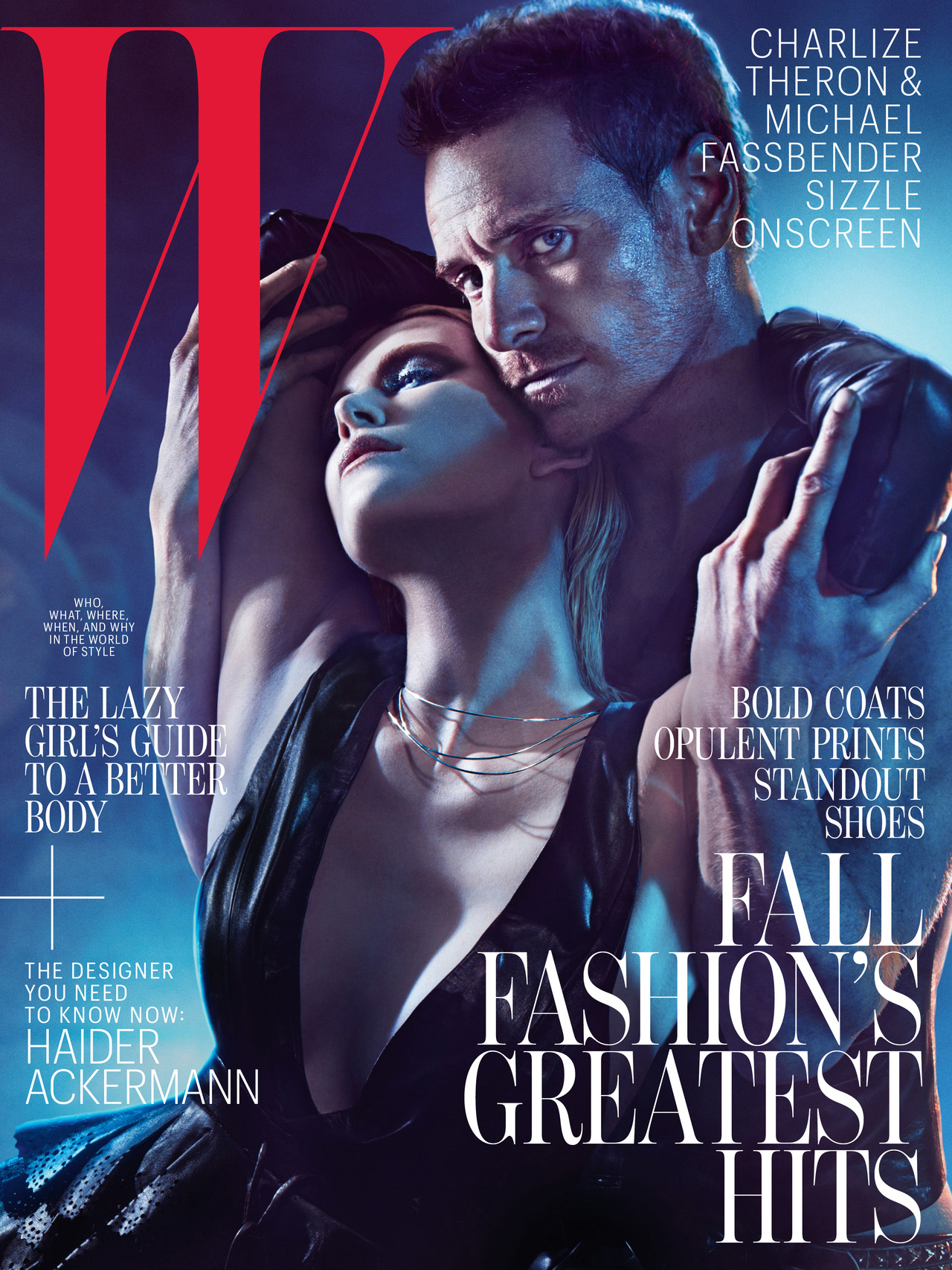 Photos courtesy of W Magazine, Esquire Malaysia, GQ France, etc.