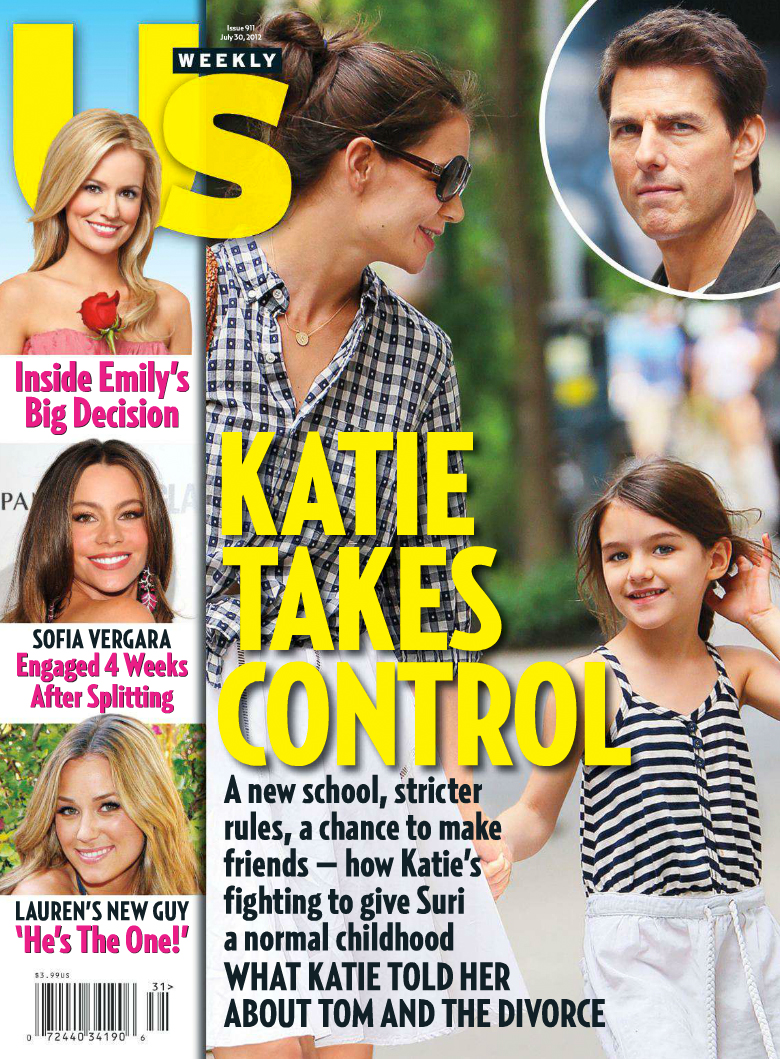 This week's Us Weekly continues the assumption that while the Tom Cruise-Katie Holmes divorce news may have slowed to a virtual trickle, there's still plenty of details to be squeezed out of the split. To jump right into the fray, the tabloid asserts that the recent puppy shop experience was not a trivial experience but, instead, a lesson from Katie to tell Suri that she needs to grow accustomed to not always getting what she wants. After all, we've already heard that Katie was furious when CO$ handlers barred her from disciplining Suri in any way, shape or form.
Now this week's issue of Us Weekly proffers the theory that not only is Katie attempting to keep Suri safe from Scientology but also from the spoiled, privileged upbringing that also comes from being the biological child of Tom Cruise. As such, Katie is trying to enforce a "no more all-night TV marathons and ice cream for dinner" sort of lifestyle upon Suri. Will she be successful? Who knows.
Insiders say Holmes was driven to file for divorce — and demand ull custody — from husband Tom Cruise because she's on a mission to take control of Suri's upbringing. For years, the precocious tot had been raised under the discipline-free guidelines of Scientology. "Tom would let Suri do whatever she wanted," says a Holmes source. Add an unlimited clothing and toy budget and the world-famous 6-year-old "had become very demanding and bratty," says the insider. "Katie saw that Suri was growing into a monster." Now she is determined to be more than just her daughter's best friend. "She wants to really become a parent and start teaching her strong discipline. Suri's life is going to change."

Growing up Cruise and Holmes' little princess has been good for Suri. From a young age, she was treated to lavish shopping sprees and luxe fashions. "Tom bought her whatever she wanted, whenever she wanted it," says a Cruise insider. For Suri, that meant an $850 Salvatore Ferragamo tote or a cherished $169 Eliane et Lena faux-fur coat. The unlimited access to designer duds has turned the youngster into a budding fashionista. She is well-versed on the difference between Chloe and Chanel. "Suri knows her fashion labels. She will lay out her clothes and say, 'This is Dolce & Gabbana,' or "this is Stella McCartney for Gap.' She's seriously like a little stylist."

Because Scientology's parenting philosophy dictates that children be treated like little adults, insiders say Cruise allowed his daughter to indulge in ice cream for dinner and choose her own bedtime. And if she wanted to visit the American Girl store or a candy shop? Done. "She has been brought up to be in charge of everything," says the Holmes source, "so she is used to getting her own way."

Not anymore. Now that she has been awarded primary custody, Holmes is finally putting her foot down. "Katie is getting Suri to bed by about 8 P.M. on most nights — she's trying to put her on a regular schedule. Tom just used to let her stay up all night watching Scientology kids' videos!" And like most children her age, Suri is starting to pick up a few chores. "Katie's plan is to get Suri to make her own bed, put away her clothes and help clean up her room."

But after years of living rules-free, Suri is bristling a bit at being told what to do. "There has been some resistance," admits the insider. "But Suri adores her mom. So, little by little, she's starting to listen." And the actress knows her pampered daughter won't change overnight. "Katie is taking things very slowly."

Holmes is also anxious to have Suri spend the day with her peers. Because the pair have been constantly on the move and spend so much time together, Suri doesn't have any close friends her own age. "She's not used to sharing or playing with other kids, so going to school will be a big change for her. Katie wants her to get used to that. She just wants her to be a normal kid."

So far her plan is a success. Thanks to Holmes' careful strategizing, Suri's social calendar has been all filled up. In the first few weeks of July, Suri has been meeting new kids in the play area of their apartment building, walking hand in hand with one of her cousins at NYC's Children's Museum of the Arts and bonding with the 9-year-old twins of Holmes' stylist pal Jeanne Yang. Says one insider, "Suri plays nicely with other kids and really seems to enjoy it."

All the scheduled playtime has helped distract Suri from her missing-in-action dad. "Suri is used to Tom being away for work, so this is nothing new," said the insider. "Katie has delicately told her that Mommy and Daddy will spend time apart, but Suri will still see him. She's trying to let her adjust to this easily." Holmes is determined to turn her privileged daughter into a humble little girl. "It will be a process. Katie knows it will take time to undo the damage, but she sees this as a way to start over."
[Us Weekly, print edition, July 30, 2012]
Indeed, Katie faces an uphill battle because we all know that Tom will continue to give Suri anything that she desires – even puppies. So that's going to be an ongoing issue that Katie will need to deal with.
A few other details from Us would lead us to believe that Tom "feels like he dodged a major bullet" with the quick settlement because "his entire life was under attack!" Yes that's right, Tom. Throw some money at Katie (or at least drop some hints as to doing so), and the whole Scientology mess just falls to the wayside, right?
Here's a few photos of Tom and Suri heading out of NYC on a helicopter ride Wednesday morning. Oddly enough, Suri is still wearing the same orange dress that she wore during their Tuesday outings.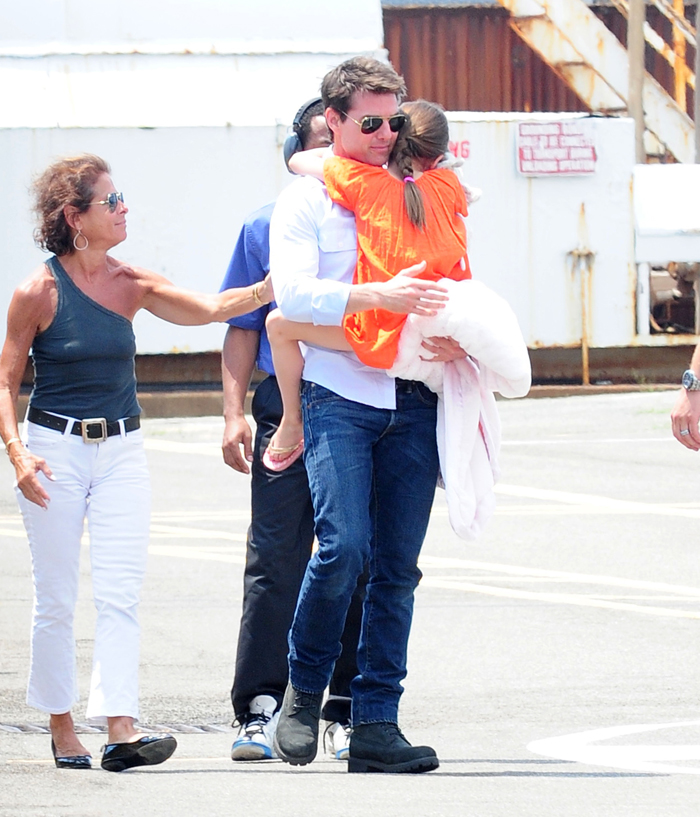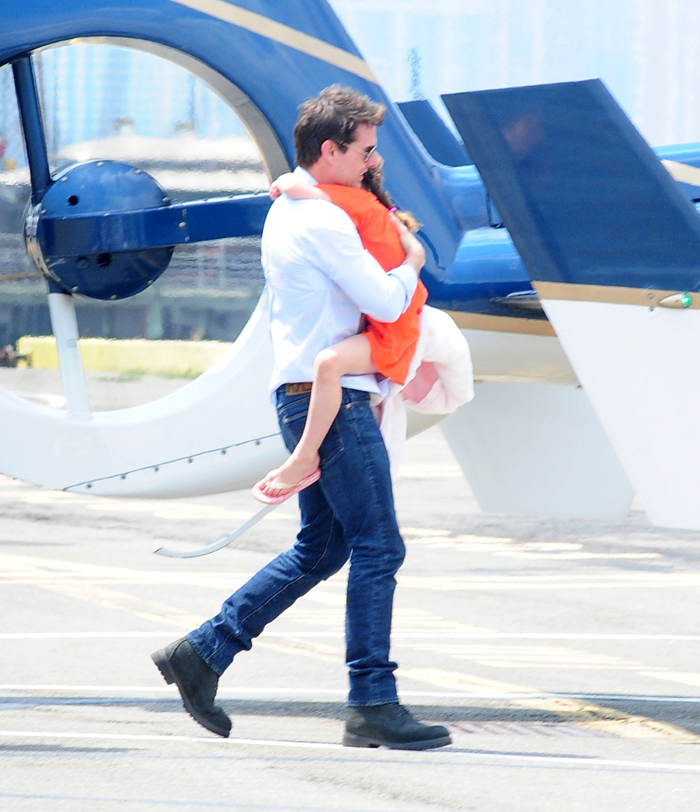 In addition to the fact that Tom didn't bother to change Suri's clothes (was this a planned "everyday dad" sort of strategy?) after an overnight visit, Tom has now also hit out at an upcoming Life & Style report (via TMZ) that he's a "bad dad" because he's so often away at work:
Tom Cruise has had it with reports he's a bad dad, and his lawyer is calling one of the mags on the carpet.

Attorney Bert Fields just fired off an email, attacking "Life & Style," for what he says is "a bogus cover headline that Suri has been 'ABANDONED BY HER DAD.'" Fields says, "That, as anyone knows who saw their photos together yesterday and today, is a disgusting, vicious lie." Fields goes on, "Until this week, Tom was shooting a film on location, but he spoke to Suri every day."

Fields adds, "He's with Suri right now; and he was with her the day before Life & Style trumpeted their cruelly false accusation. Tom dearly loves Suri and the last thing he would ever do is abandoned [sic] her."
See how that works? Tom's lawyer is using Tom and Suri's non-photo-op as evidence that Tom is a great dad. Of course, I do disagree with the assertion that Tom is a bad dad merely because he's often away at work. However, it seems mildly amusing that Tom's attorney is using the recent photo ops as proof that Tom is an awesome dad when the Cruise camp pretended all along that photo ops proved nothing, but that claim was in reference to Katie's parental skills. With Tom, it's (obviously) an entirely different matter.
In other Katie-related news, Radar has a story about how Tom's eldest kids, Connor and Isabella, haven't attempted to contact Katie since the divorce filing — even though the Mail has a story about how Connor is secretly "missing" his "mom". Here's Radar's take on the topic:
Tom Cruise's older children Connor and Isabella Cruise have not been in touch with the actor's ex, Katie Holmes, since she shockingly filed for divorce from their father less than three weeks ago.

A source tells People that during Katie's "entire time with Tom, it was never lost on anyone that [Connor and Bella] do have a mother and her name is Nicole [Kidman.]"

Isabella, an artist and Connor, a DJ, are both Scientologists like their father.

As RadarOnline.com previously reported, Isabella had been working for Katie's clothing company until she was mysteriously fired recently. A source close to the family claims that Bella worked for Katie's Holmes and Yang line and was suddenly terminated for no reason.

"There was never any trouble between them," the source told the Hollywood Reporter. "Bella called Katie 'Mom.' She was fired out of the blue, and once Katie filed for divorce, it all made sense. This was a carefully planned ambush. Katie didn't want Bella working for her anymore because she was Tom's kid."
[From Radar Online]
The NY Post also had a story (which has since been removed) about how Connor's latest DJ gigs have been flanked with an army of bodyguards to protect against anyone who dares to inquire how he feels about the divorce. While I suspect that Connor is truly hurt by Katie's sudden departure, it's also necessary to mention that Connor (as a devout Scientologist) would also be precluded (per the cult's disconnection policy) from speaking to Katie since she's now denounced the CO$.
Not to worry about Katie though — she's currently occupying her free time in the way that many single (and not-so-single) girls would prefer to do — here are some photos of her leaving the gym after a spinning workout yesterday afternoon. Notice: the fug booties are nowhere to be seen.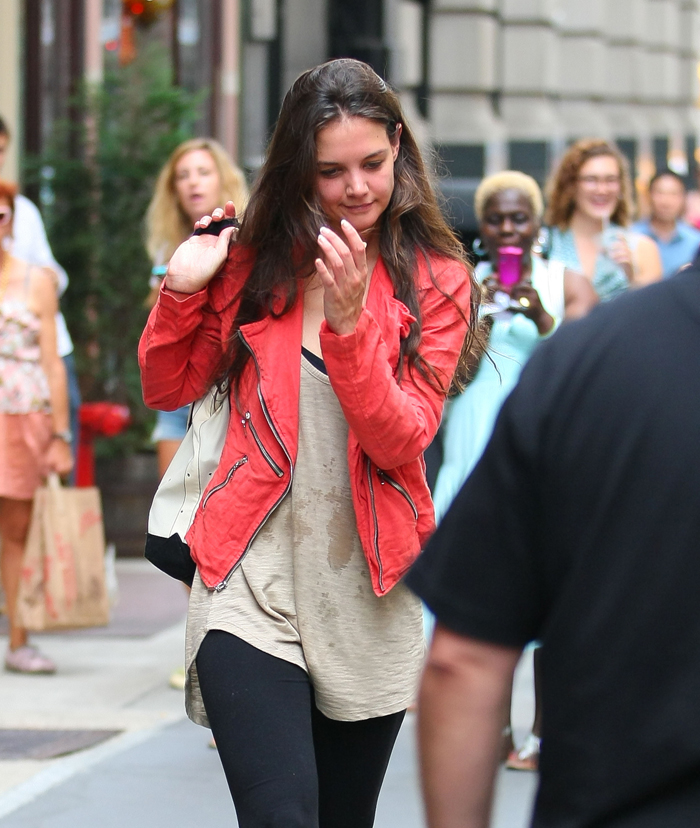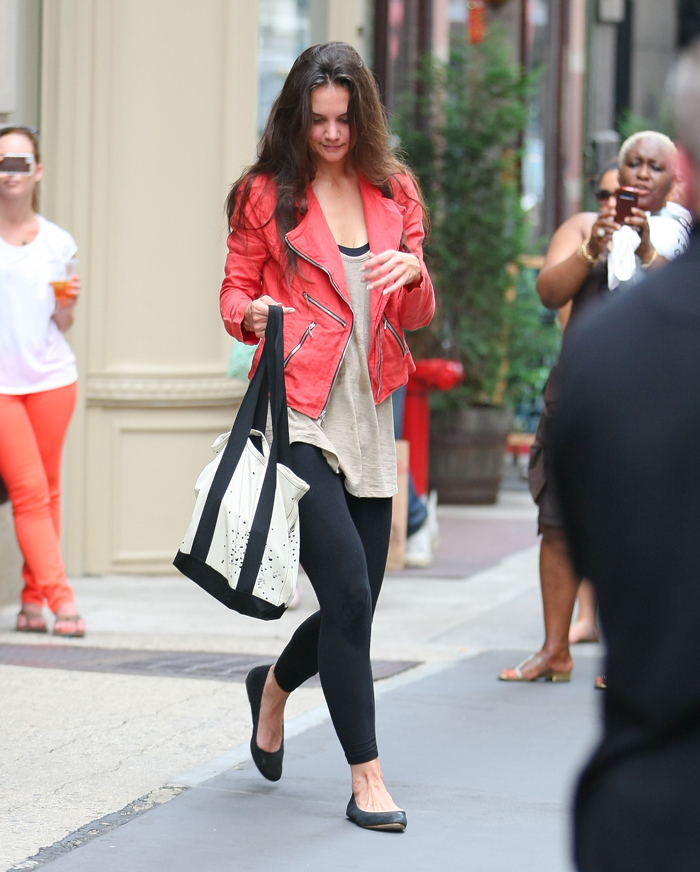 Photos courtesy of Us Weekly and Fame/Flynet