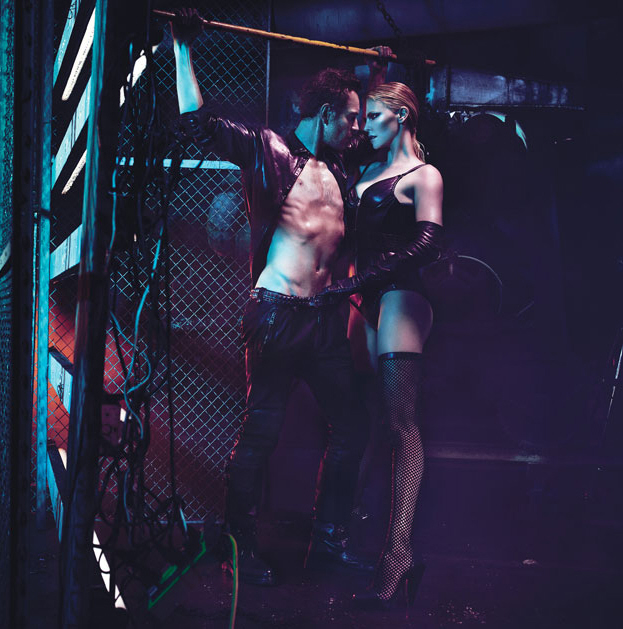 Finally! Here's the sanctioned and official photo shoot from W Magazine's August cover story, featuring Charlize Theron and Michael Fassbender promoting Prometheus, because it's not like that movie didn't come out seven weeks ago. Oh, wait. I previewed the photo shoot yesterday, and last week I wrote an open letter to Charlize telling her to BACK OFF The Fassbender. Did she listen? Of course not. Now, I get that a lot of you Charlize-loonies think that she and Fassy are hot together and you think they're boning of course, because how could ANY dude not want to hit it with your ice queen? But I'm still of the opinion that Charlize has an uncomfortable, one-sided attraction to Fassy and she's really trying to make it happen, and he's just not into it. You know what it reminds me of? The way Julia Roberts was (and probably still is) with Clive Owen. Julia is ALL ABOUT Clive and he's like, "Eh, she's nice. But does she know I'm married?" Anyway, some highlights from W's interview (you can read the full piece here):
Charlize on her Young Adult character and Michael's Shame character: "I would like to see a romantic comedy between those two characters."

Fassy on the first Charlize Theron movie he ever saw: "The Devil's Advocate. I knew nothing about it before I went, and during the movie I thought, Well, who's this person? I had no idea what the movie was about.

Charlize on her first Fassy movie: "Hunger. A friend said, "You have to see this movie. It's the best thing I've seen in my entire life." I thought, Just chill out, okay? But I was absolutely blown away by it. It was, like, all bets are off from now on. This is the guy."

Fassy on how he dies in so many movies: "I try to die in most films I do. In 300 I was killed by arrows. In Inglourious Basterds I got my testicles blown off through my ass… I had two exit wounds sewn into my pants: one on each butt cheek. It was a great death."

Fassy on sex scenes versus death scenes: "I don't know. Sex scenes sound like more fun than they are. Death scenes are easier, really. Maybe because I've died so many times. I've had a lot of practice. In my movies, I'm often naked or dying."

A funny exchange:

W: What's harder to do? A death scene or a sex scene?
CT: It depends on who you're doing the sex scene with. I don't have issues being naked [pauses]. That sounds very slutty.
MF: Kind of. I didn't want to say anything, but yes.
CT: What I mean is, I'm not hung up on my body, and I've been lucky to work with people I've been really comfortable with. I've had maybe two occasions where…
MF: It's been uncomfortable.
CT: And Michael's one of the two who did not make me feel very comfortable [laughter].
MF: I was a robot!
I like where he (jokingly!) slut-shames her. I would imagine he's friendly and nice to all of his costars and SOME of them just read it the wrong way and convince themselves that Fassy is their immortal beloved (coughCharlizecough). Now, I completely understand how that can happen, which is why I haven't issued a Fassy-fatwa on Charlize. I can't hate her too hard because WE ARE THE SAME. I too could easily convince myself that Fassy is my immortal beloved and perhaps if I just organize a sketchy, leather-clad photo shoot and shove his face into my biscuits while he's hanging upside down… maybe THEN HE WOULD LOVE ME.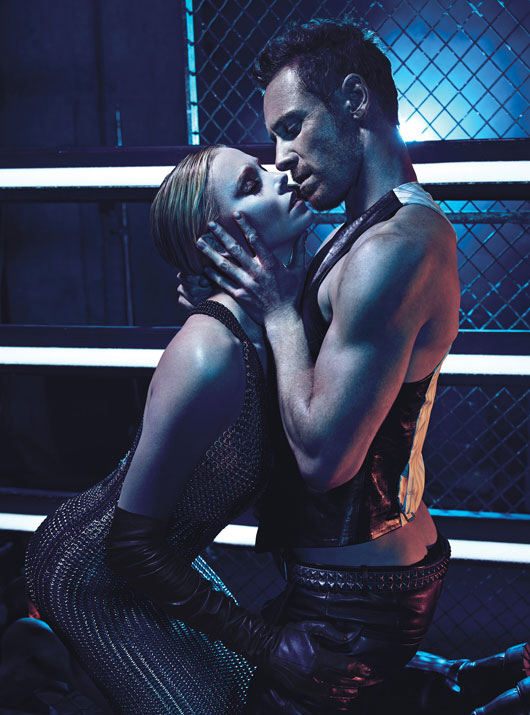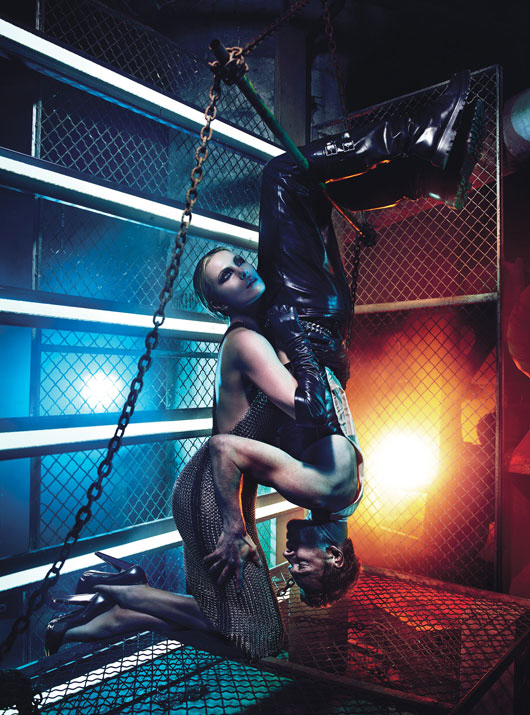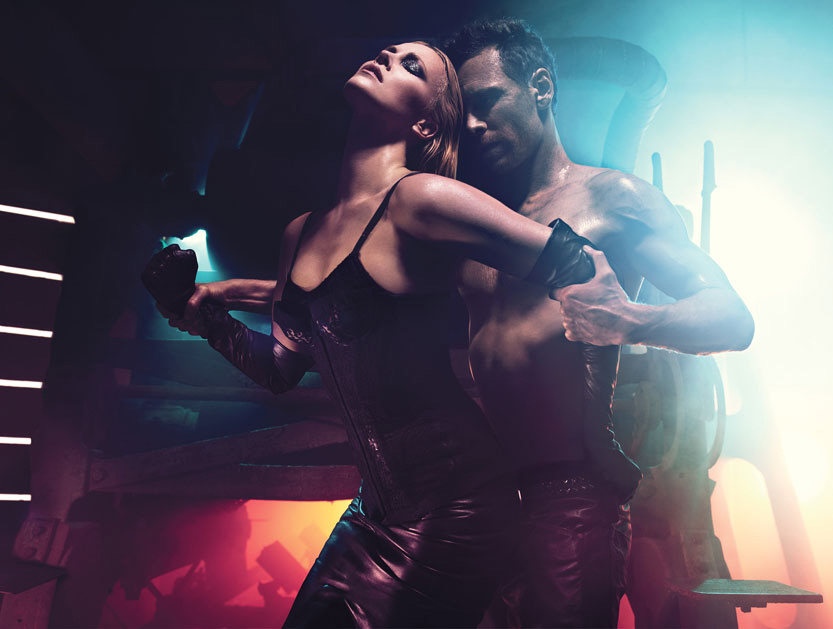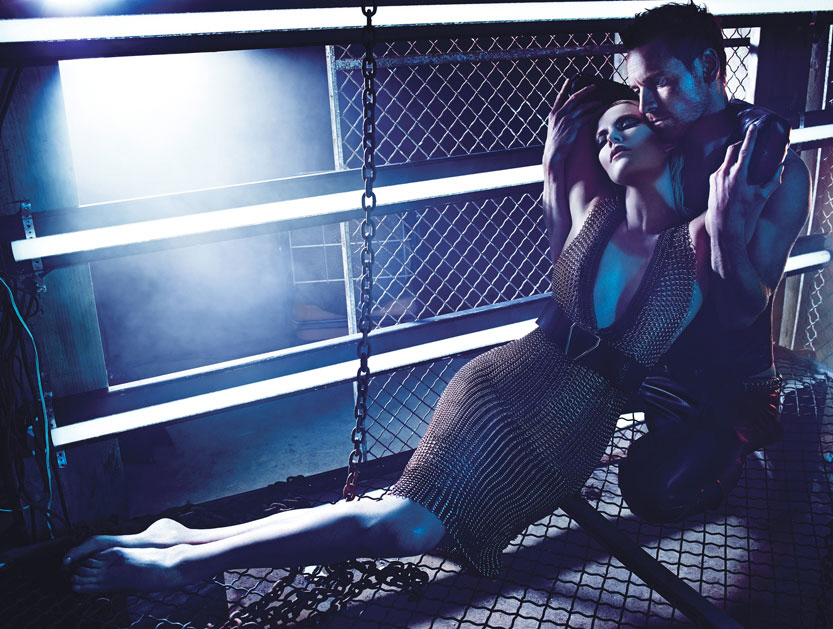 Photos courtesy of W Magazine.